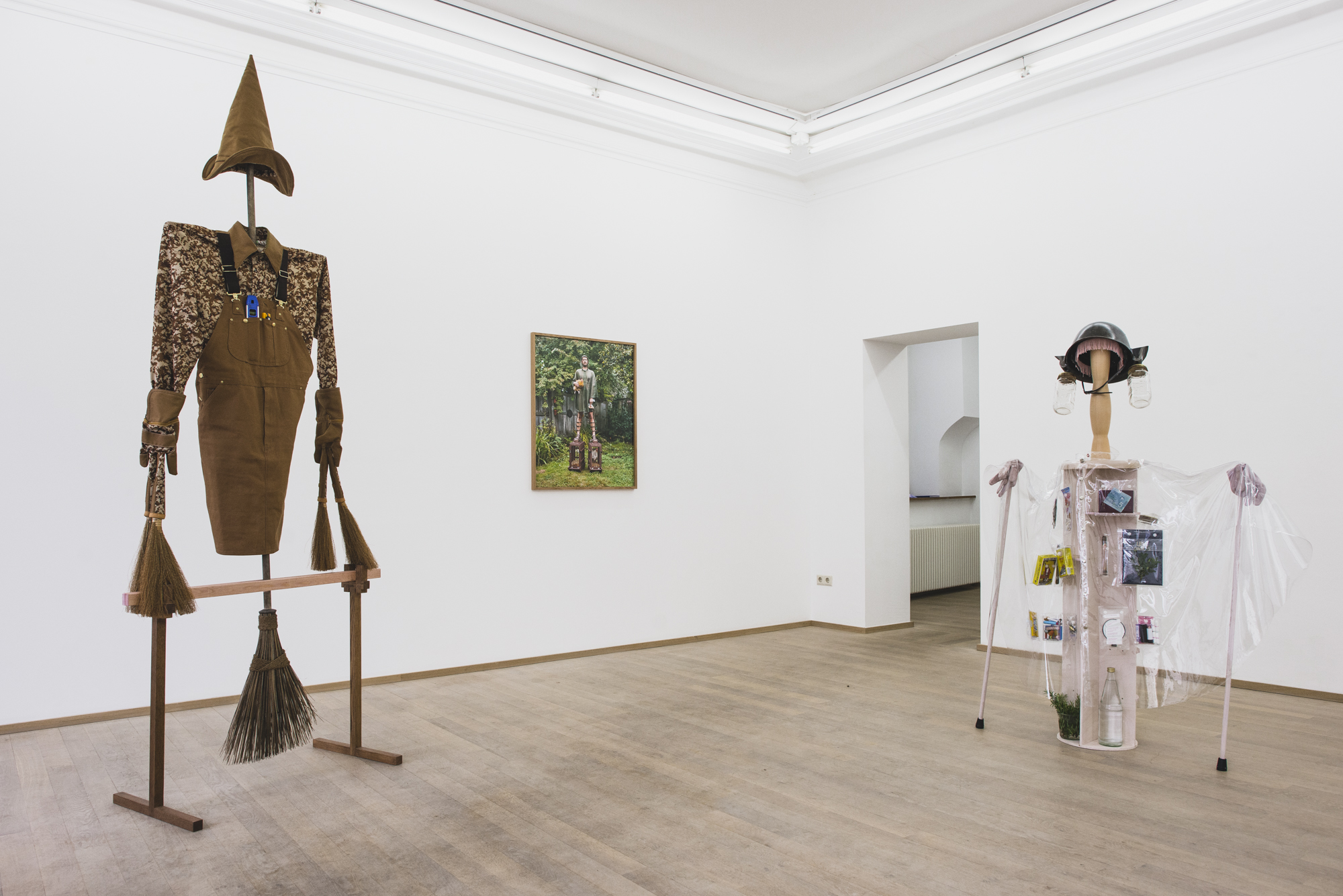 Exhibition view, Nosbaum Reding, Luxembourg, 2020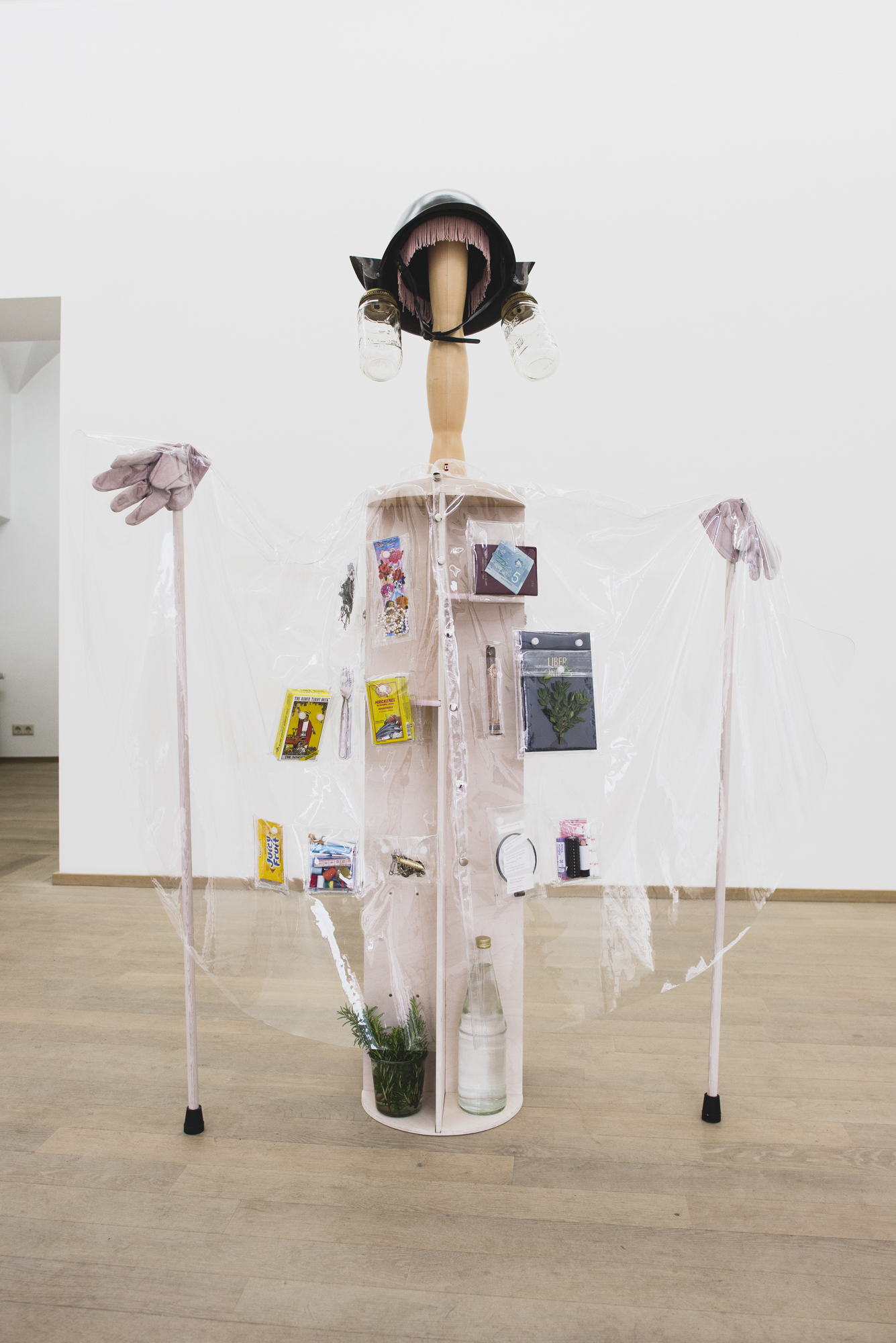 Exhibition view, Nosbaum Reding, Luxembourg, 2020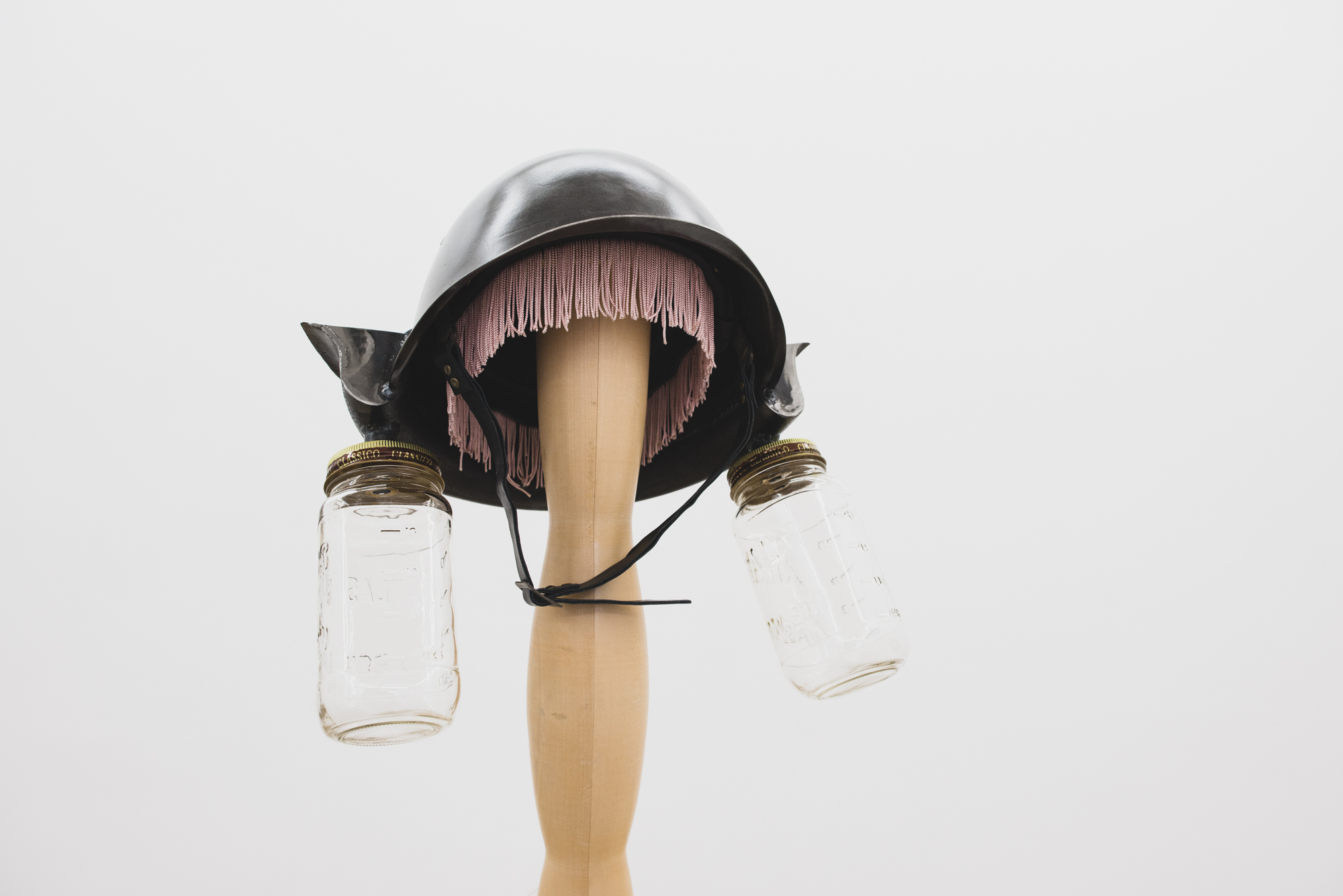 Exhibition view, Nosbaum Reding, Luxembourg, 2020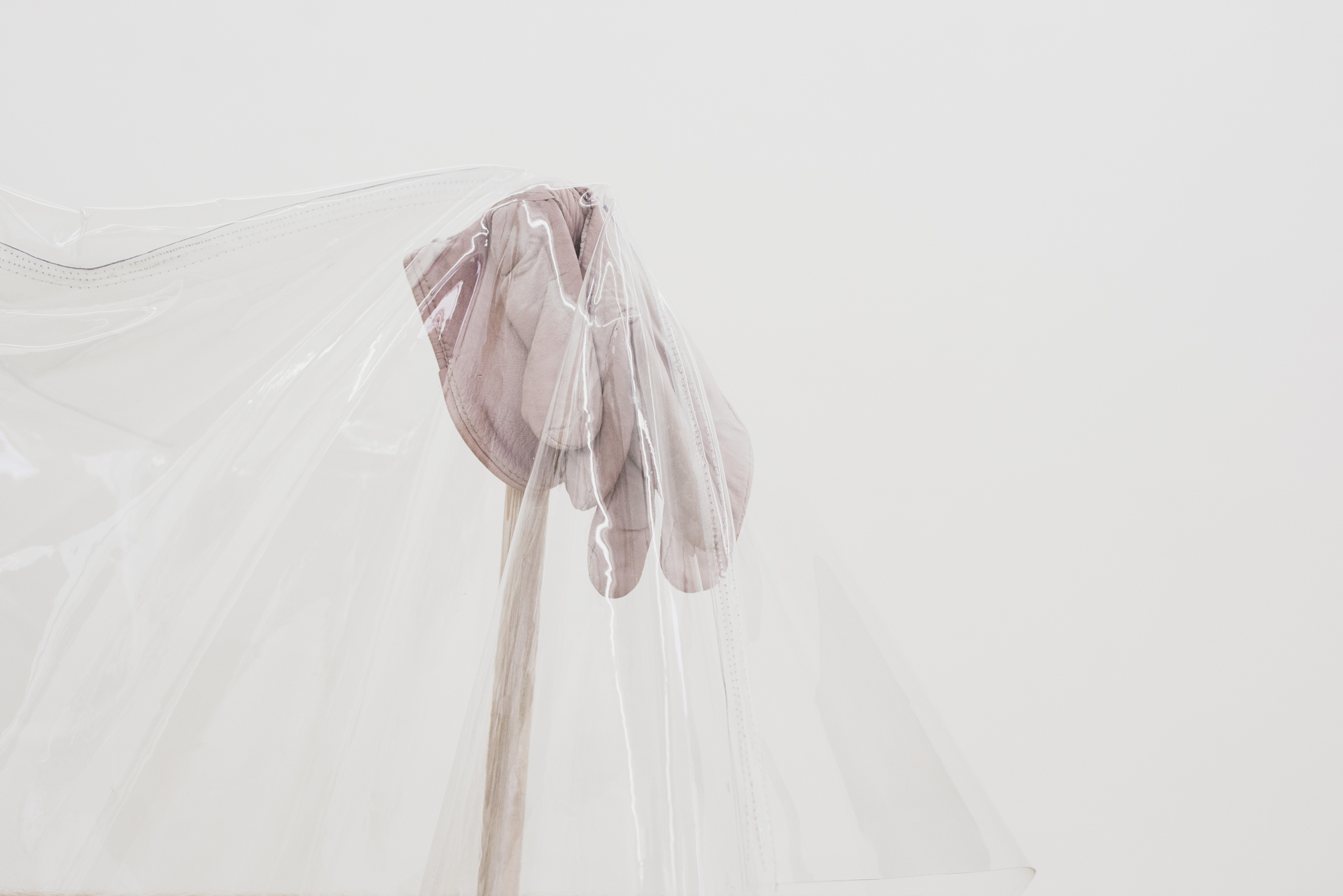 Exhibition view, Nosbaum Reding, Luxembourg, 2020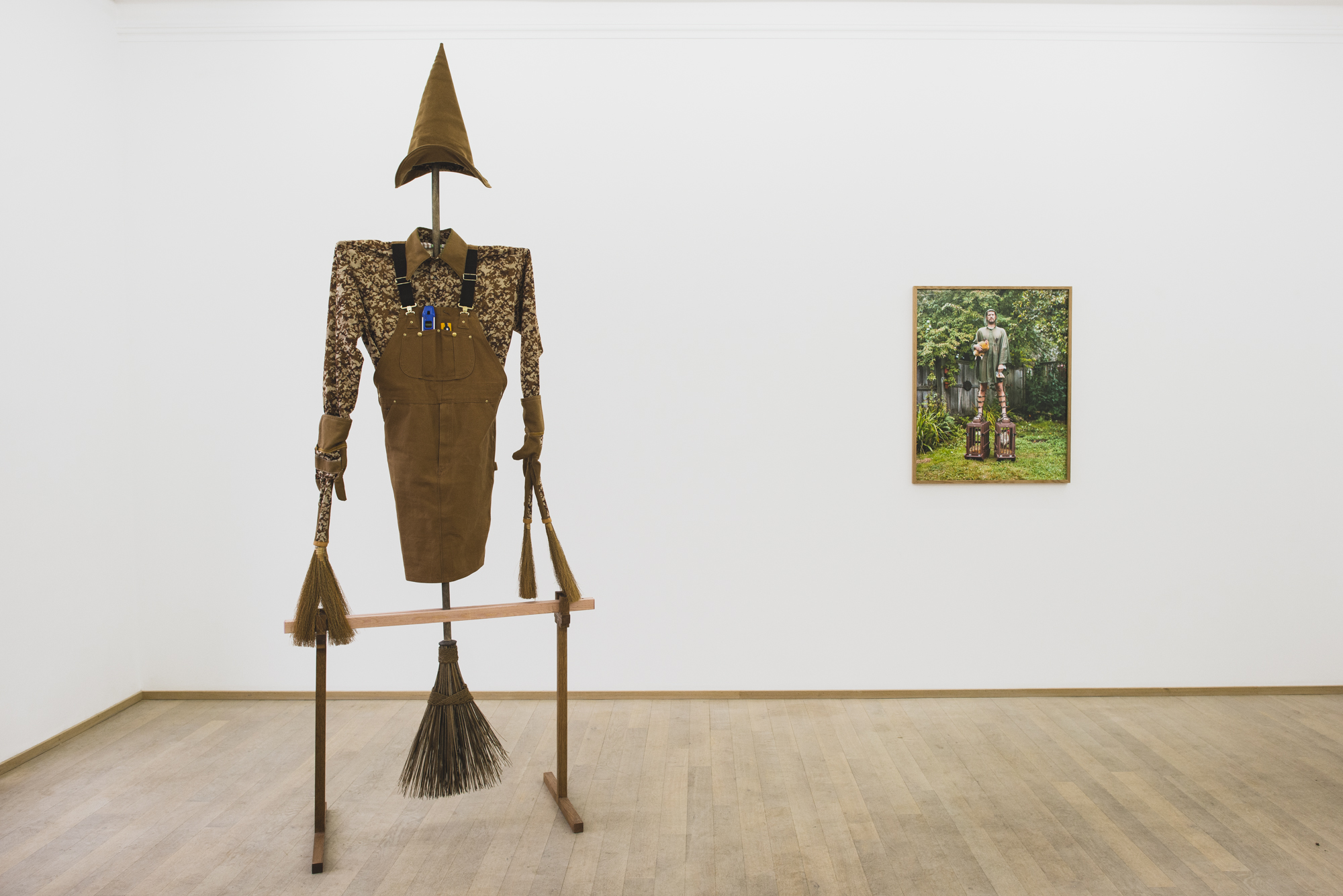 Exhibition view, Nosbaum Reding, Luxembourg, 2020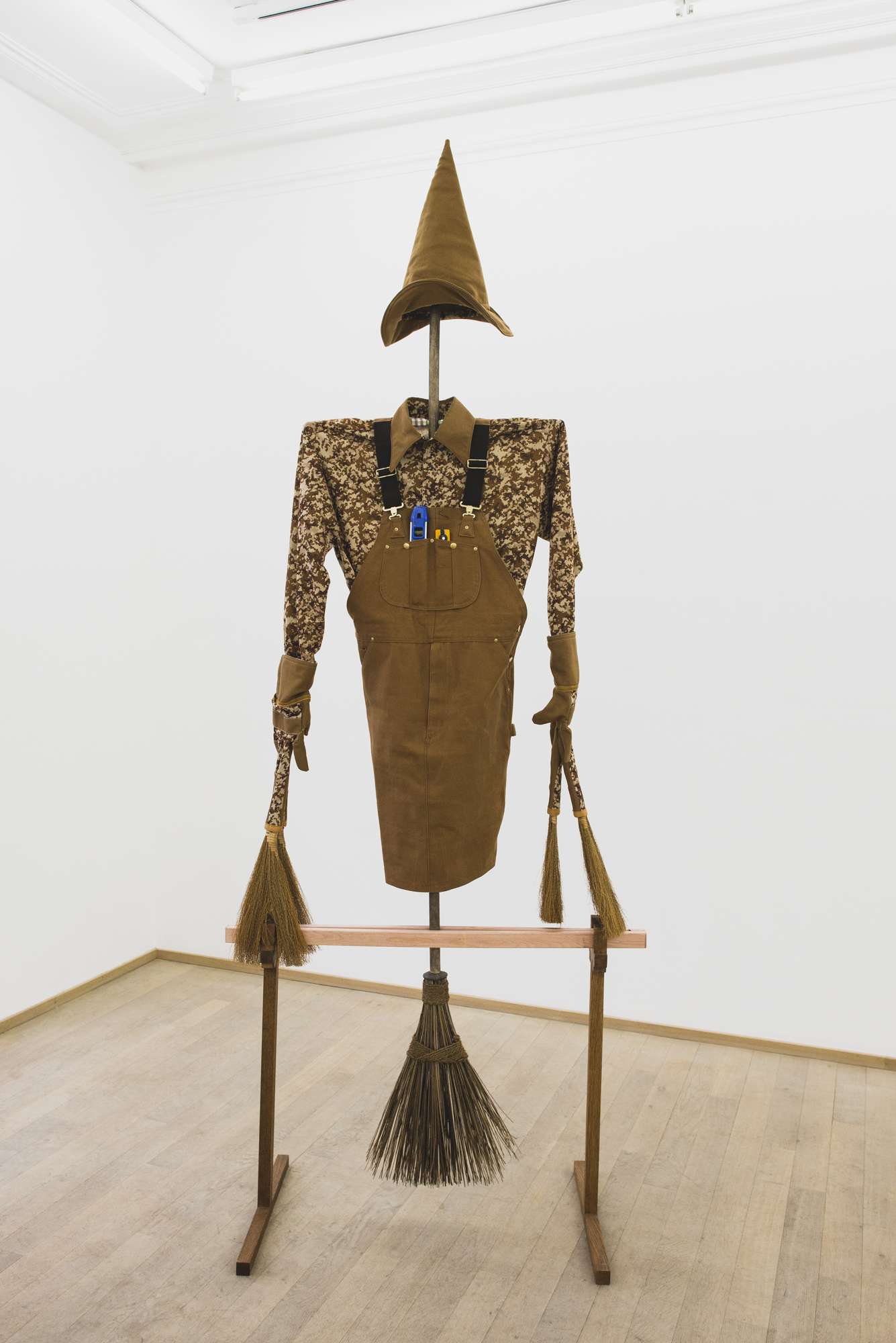 Exhibition view, Nosbaum Reding, Luxembourg, 2020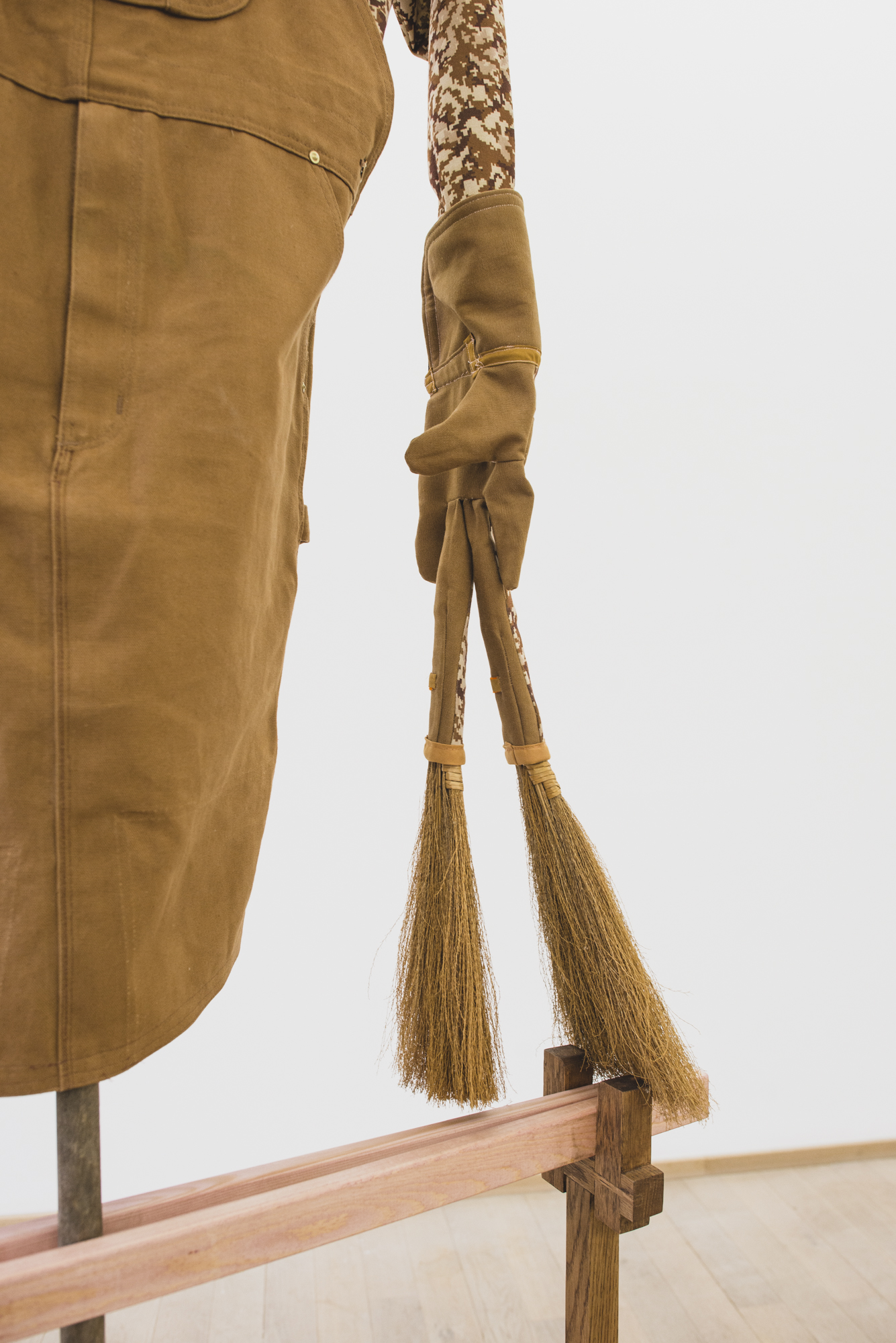 Exhibition view, Nosbaum Reding, Luxembourg, 2020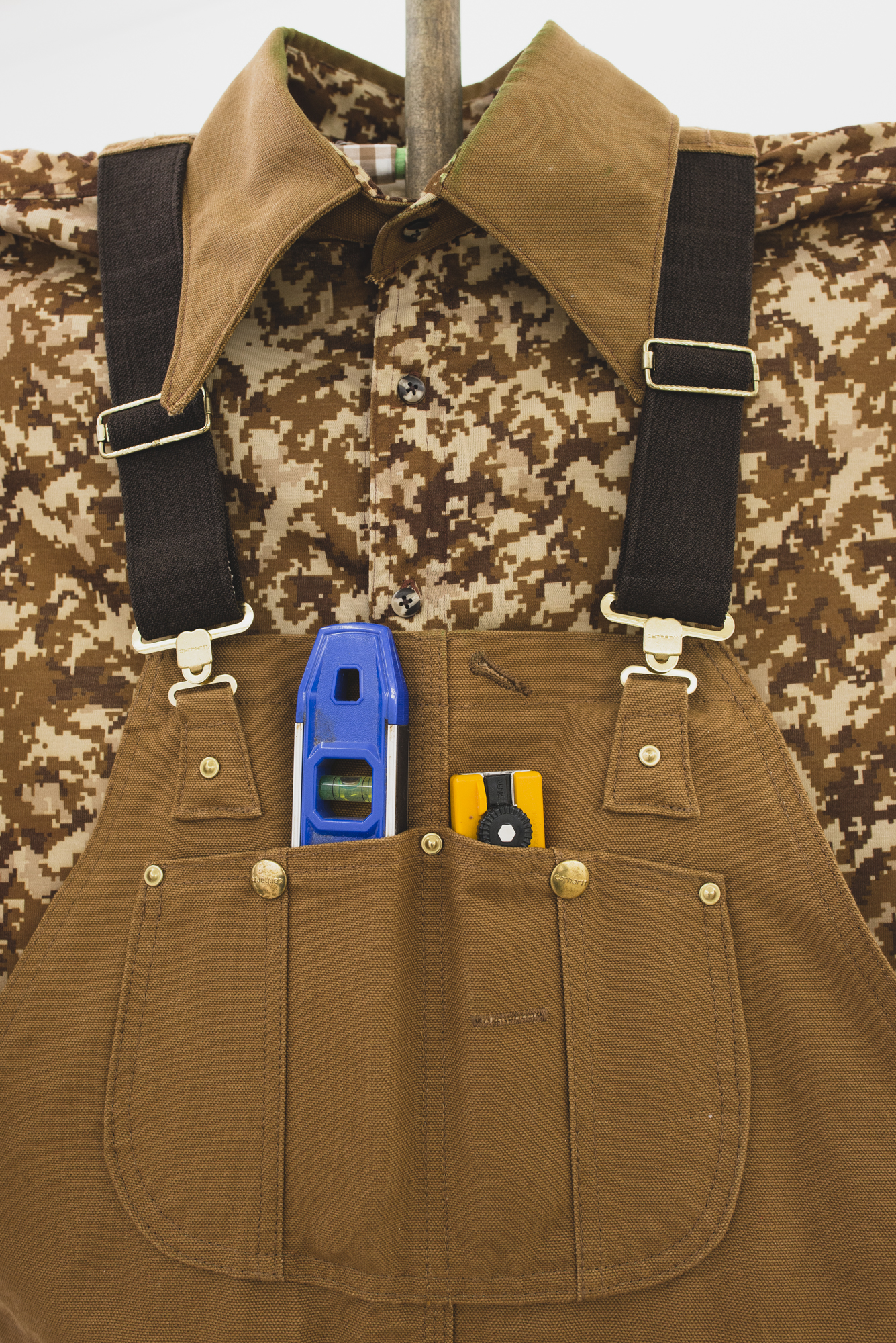 Exhibition view, Nosbaum Reding, Luxembourg, 2020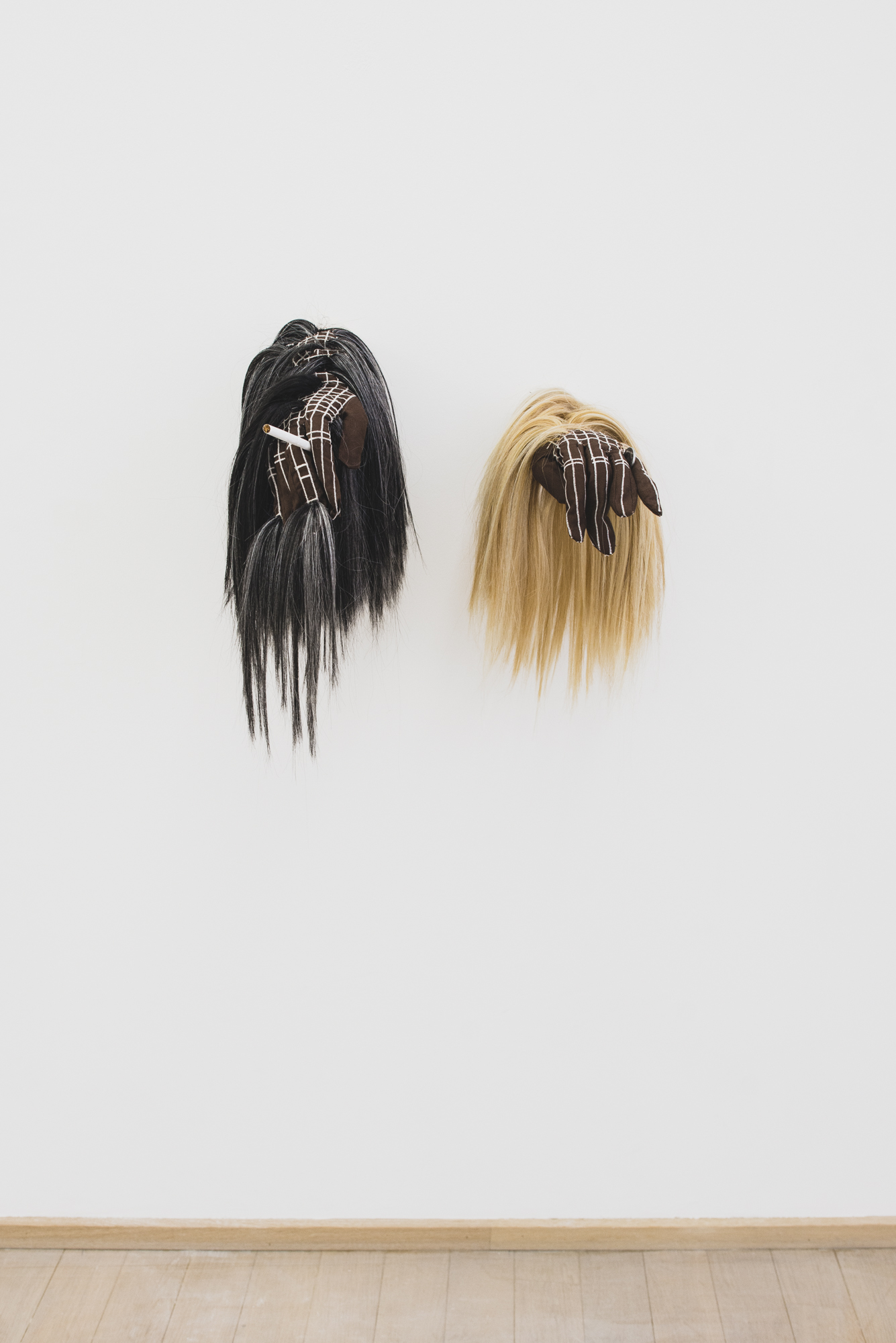 Exhibition view, Nosbaum Reding, Luxembourg, 2020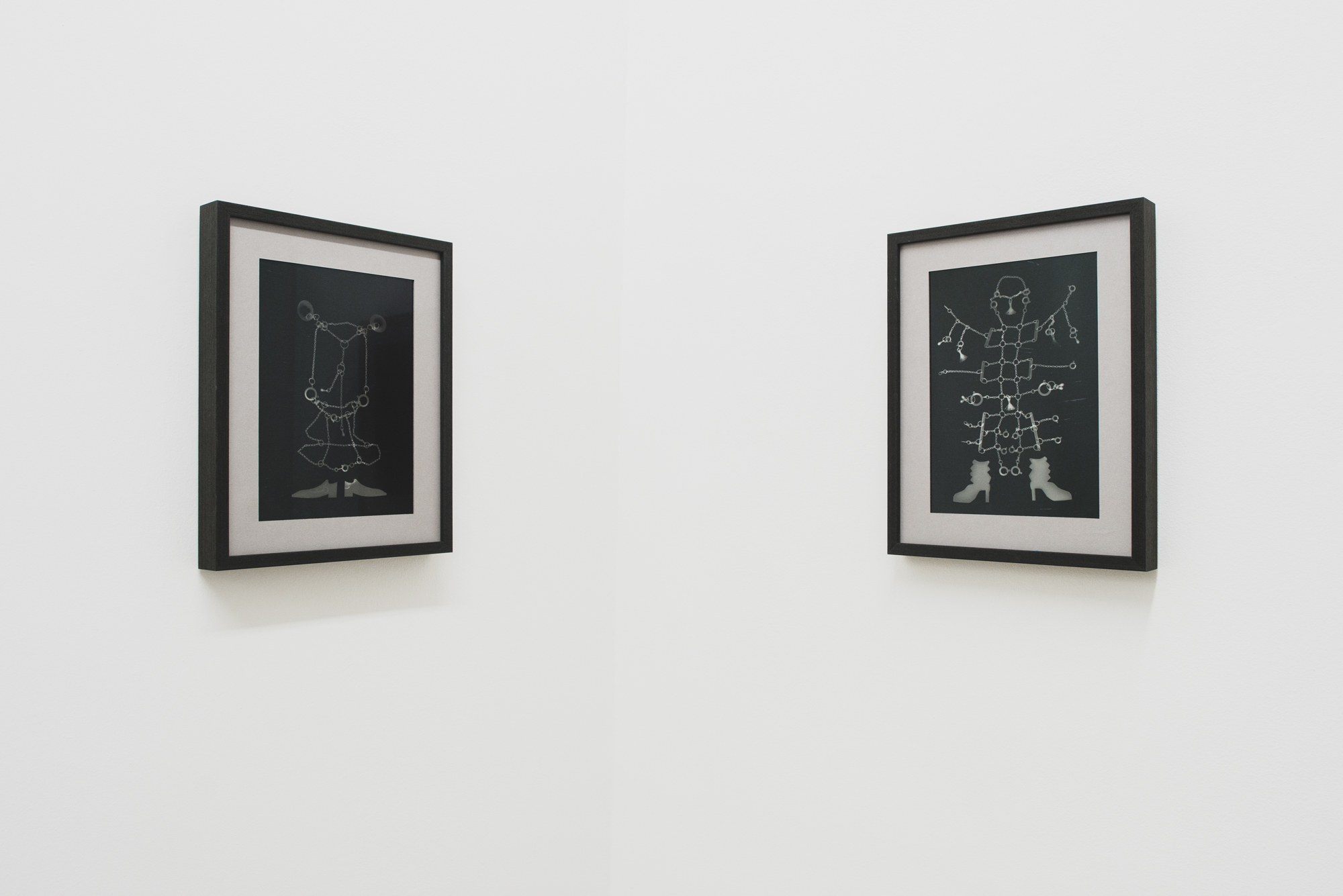 Exhibition view, Nosbaum Reding, Luxembourg, 2020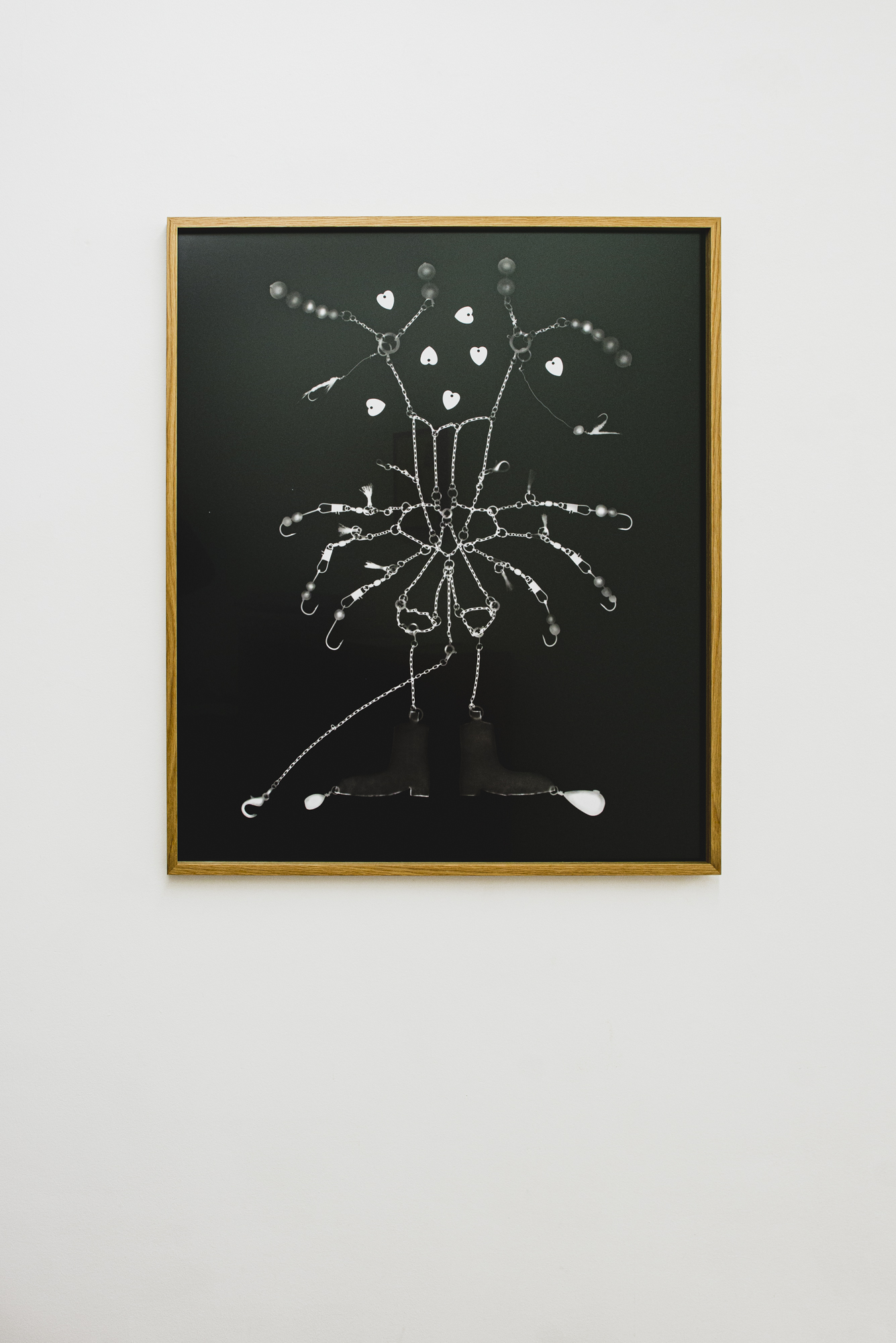 Exhibition view, Nosbaum Reding, Luxembourg, 2020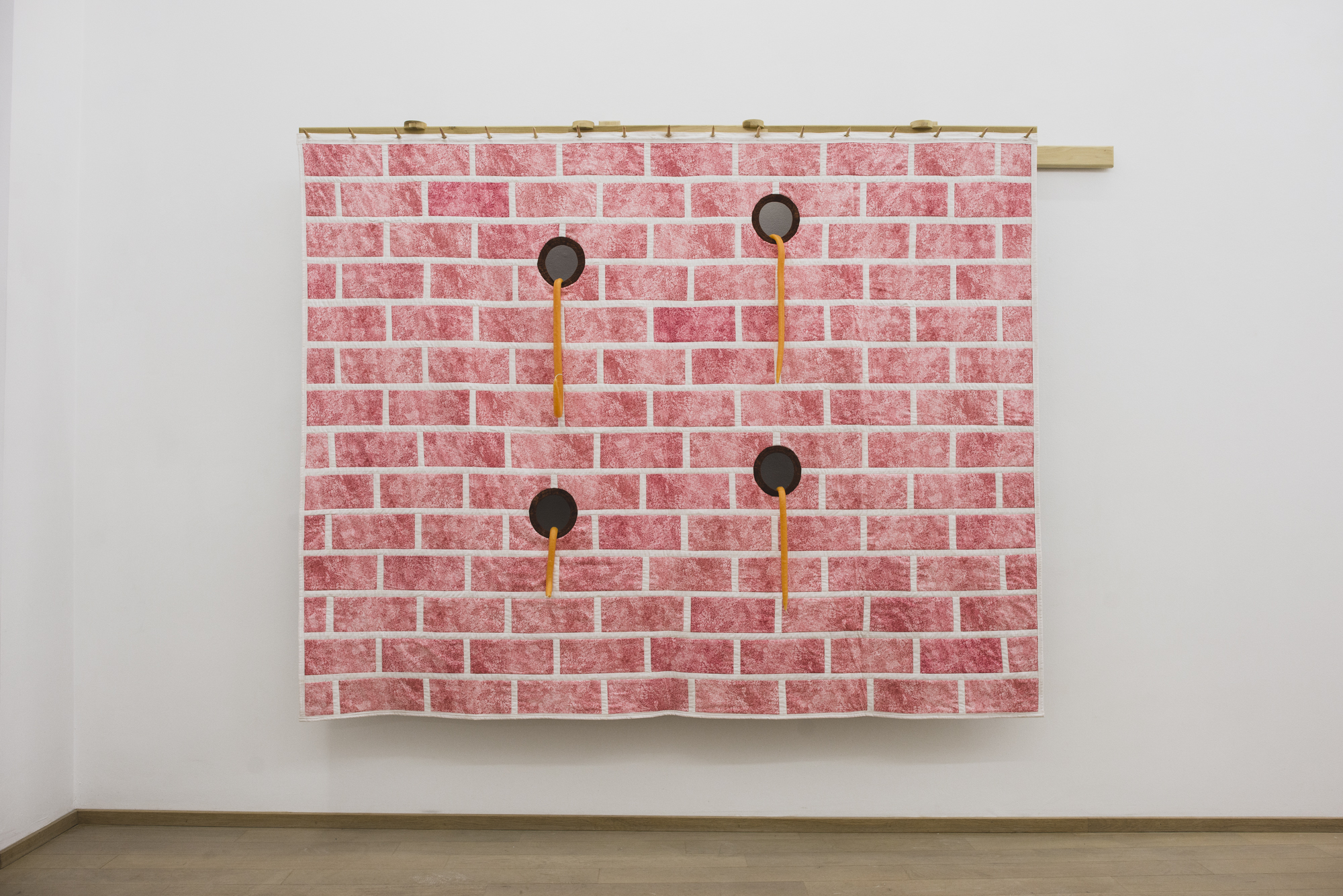 Exhibition view, Nosbaum Reding, Luxembourg, 2020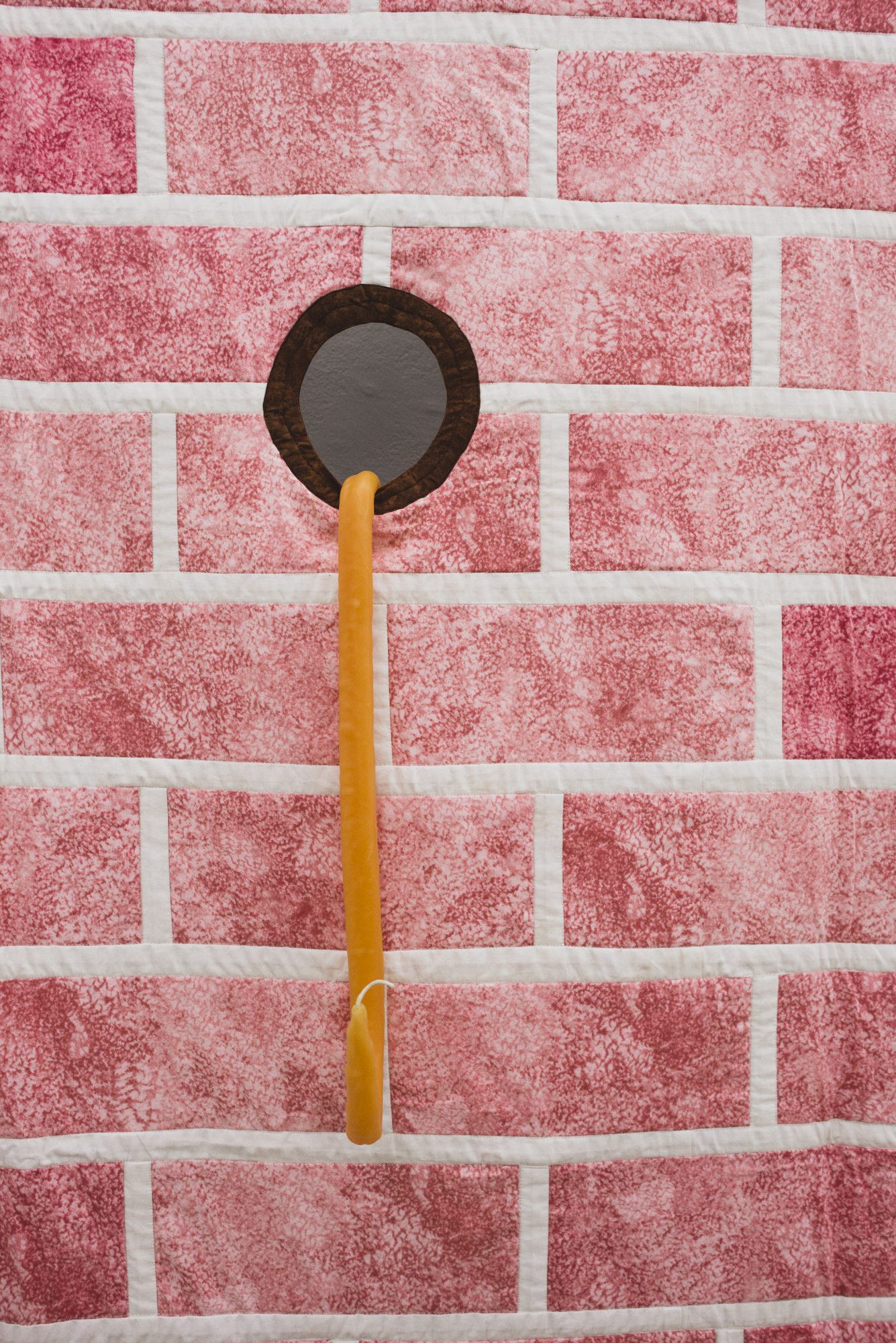 Exhibition view, Nosbaum Reding, Luxembourg, 2020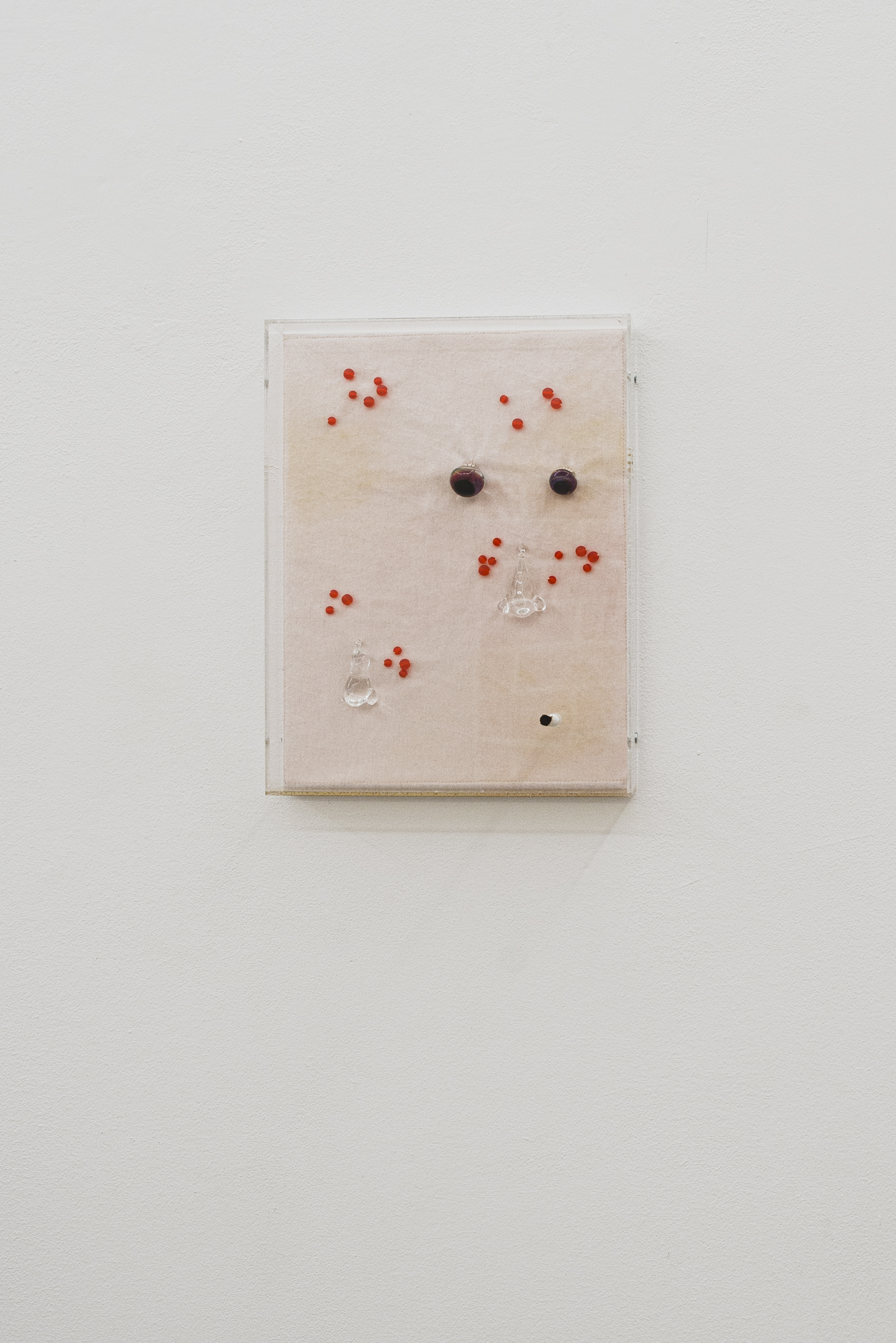 Exhibition view, Nosbaum Reding, Luxembourg, 2020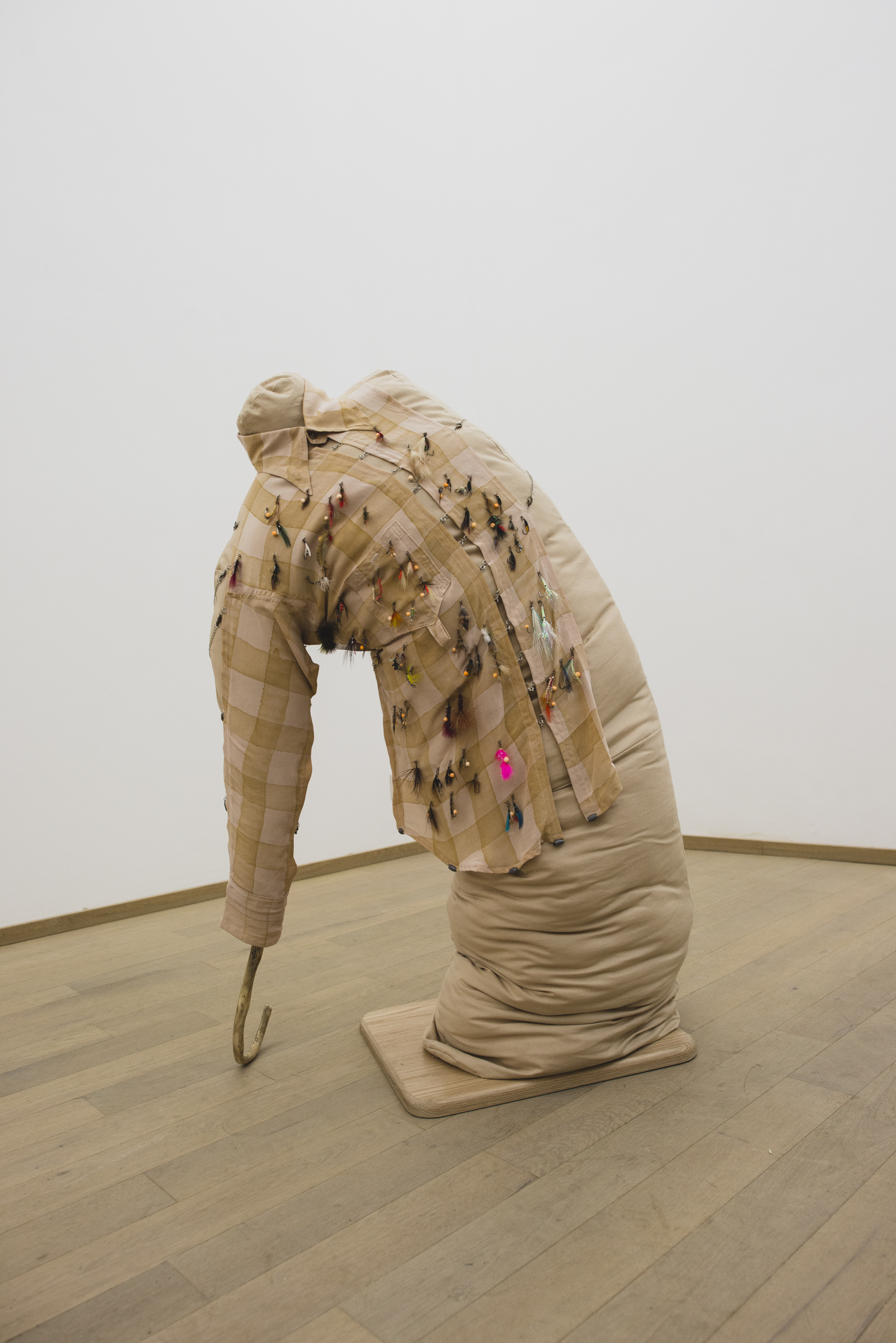 Exhibition view, Nosbaum Reding, Luxembourg, 2020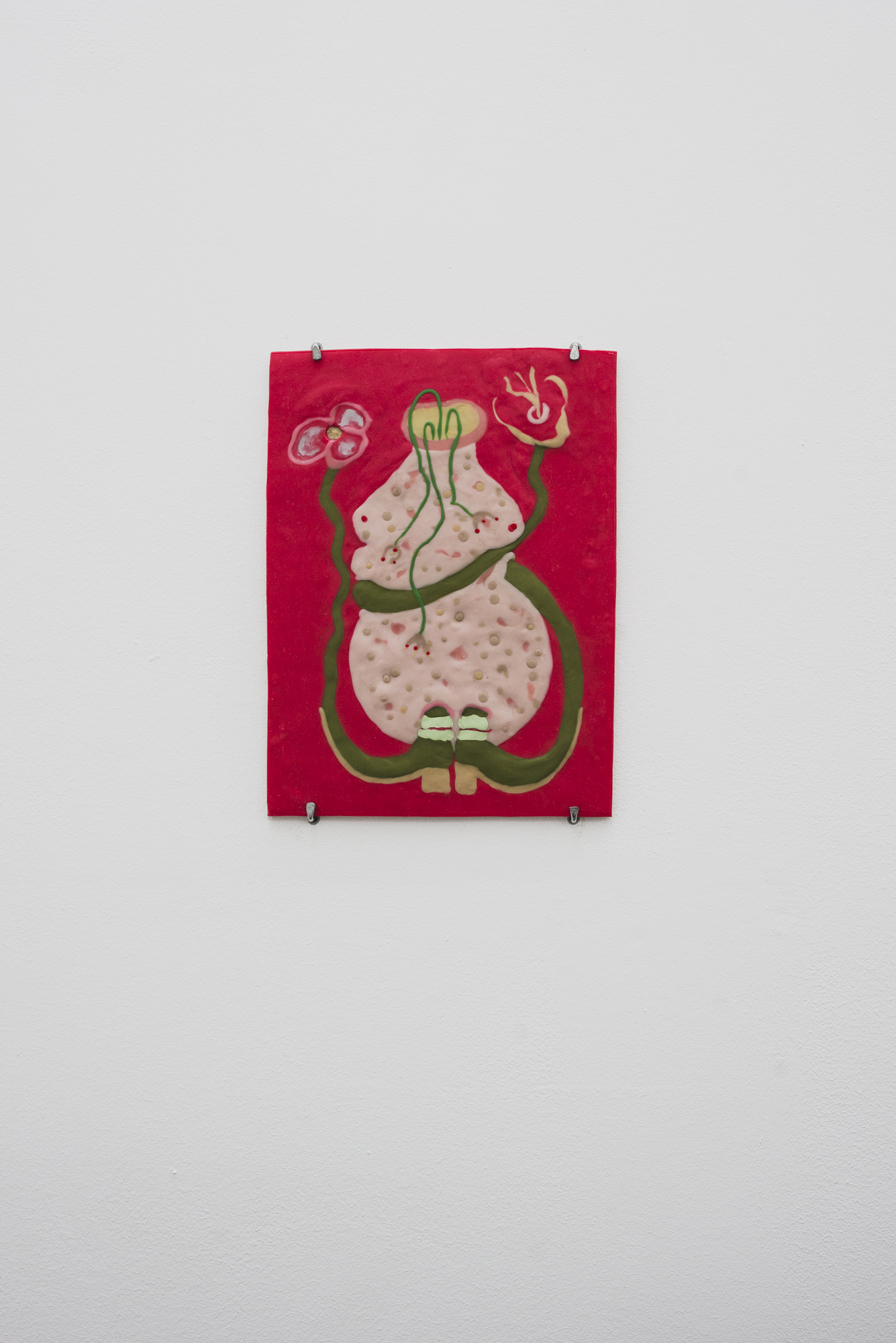 Exhibition view, Nosbaum Reding, Luxembourg, 2020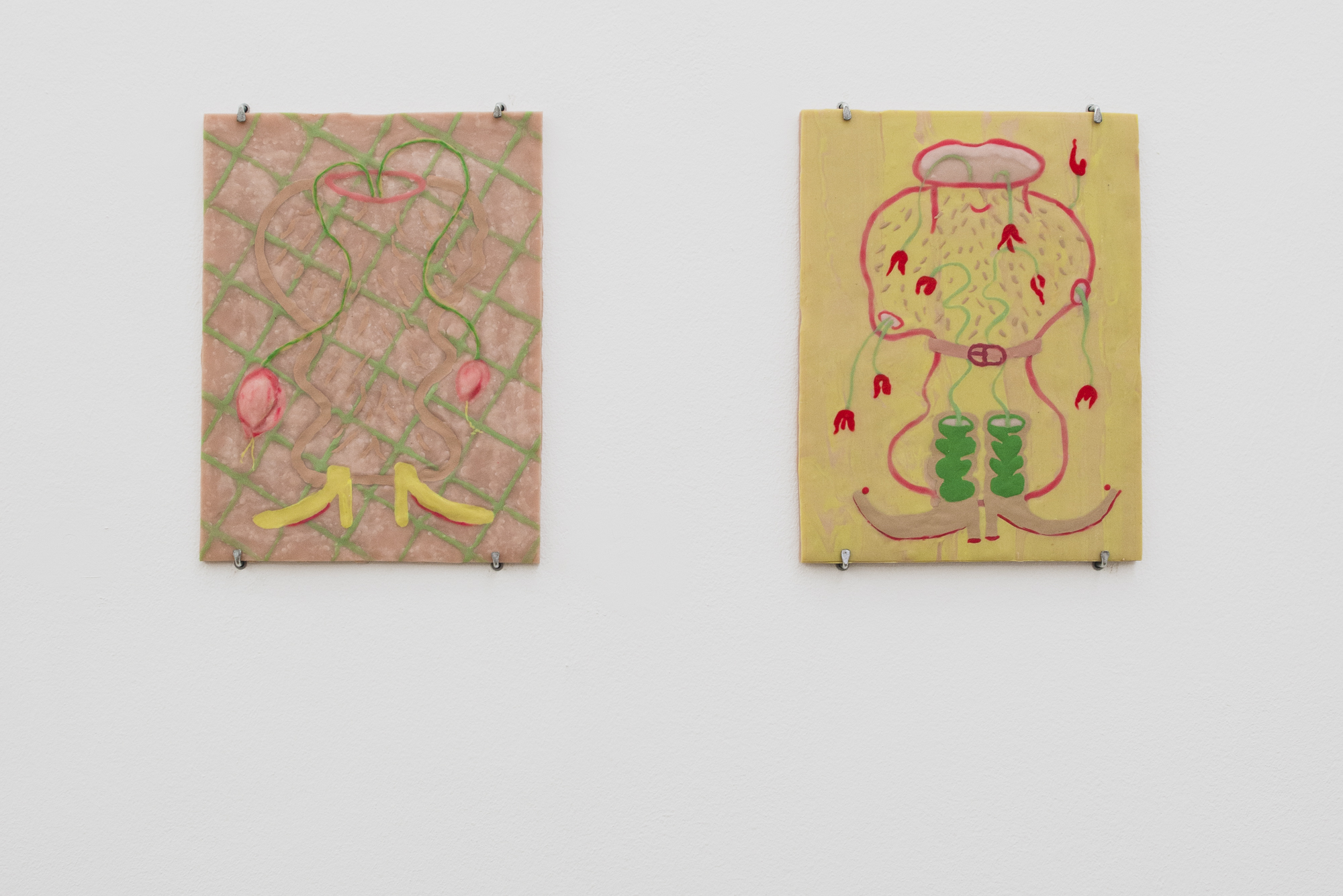 Exhibition view, Nosbaum Reding, Luxembourg, 2020
Exhibited Works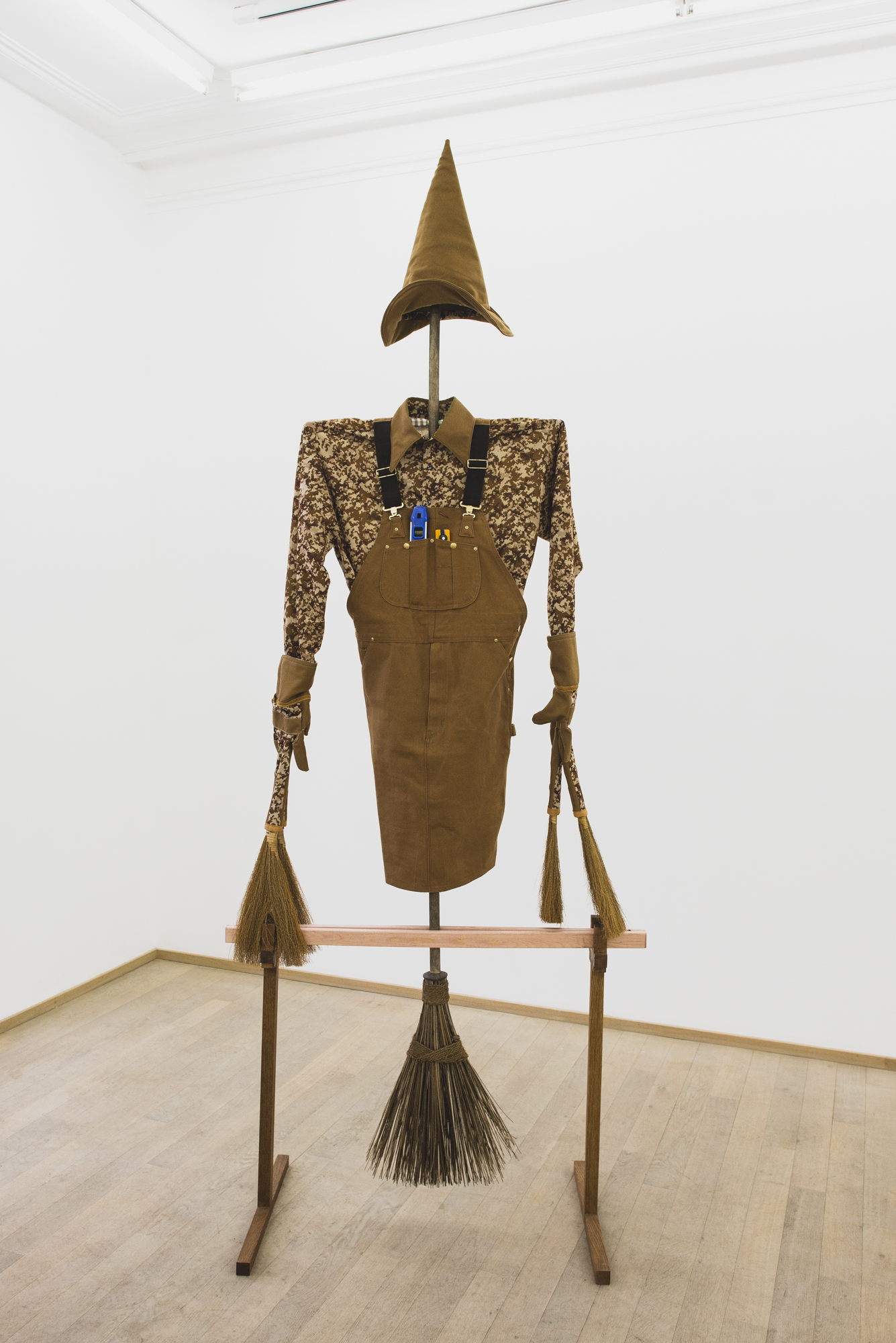 Mike Bourscheid
The wicked scarecrow
, 2020
Camouflage Fabric, duck canvas, handmade gloves with 2 handmade brooms, Carhartt pants made into a skirt, found broom, wood stand (oak, pine)
90.55 x 23.62 x 19.69 in ( 230 x 60 x 50 cm )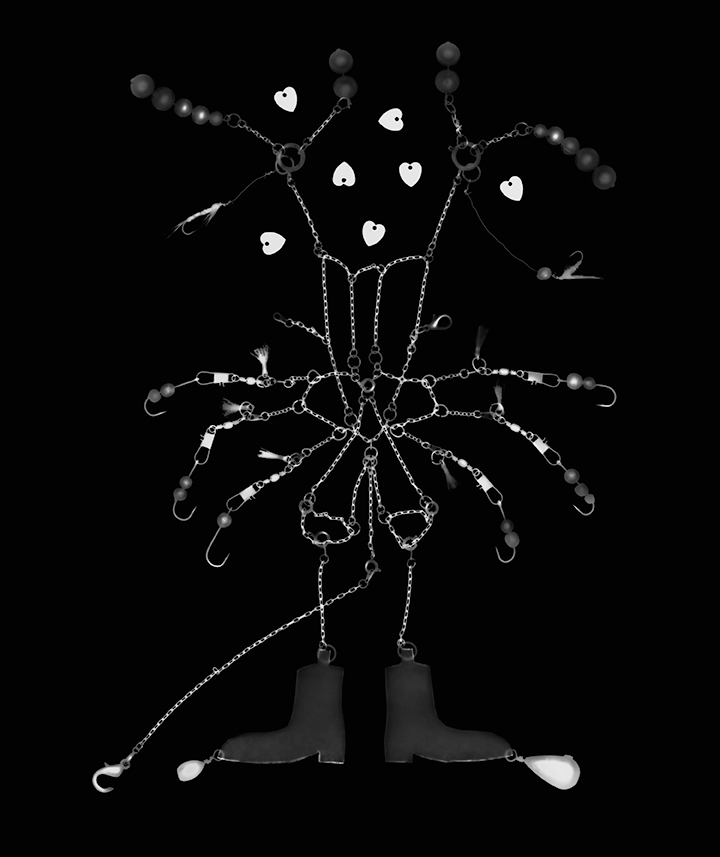 Mike Bourscheid
Fisherman in love
, 2020
Inkjet print
Image : 35.43 x 29.92 in ( 90,5 x 76 cm )
Frame: 92,5 x 78 cm
Edition of 3 ex + 2 EA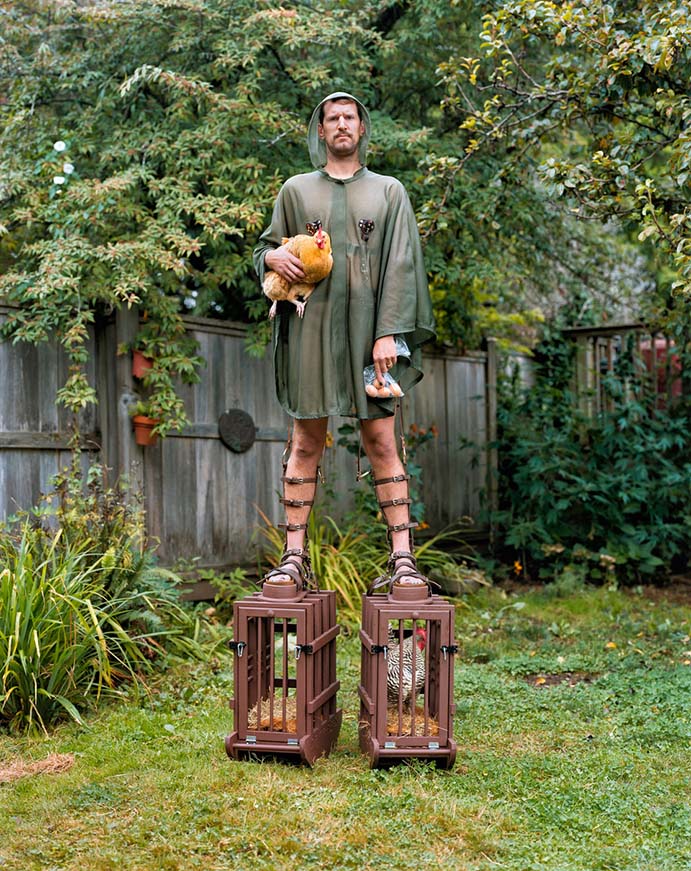 Mike Bourscheid
Frantz H.B. ("A true Libra")
, 2020
Archival Inkjet print
Image : 35.83 x 29.13 in ( 91 x 74 cm )
Frame: 93,3 x 75,3 cm
Edition of 3 ex + 2 EA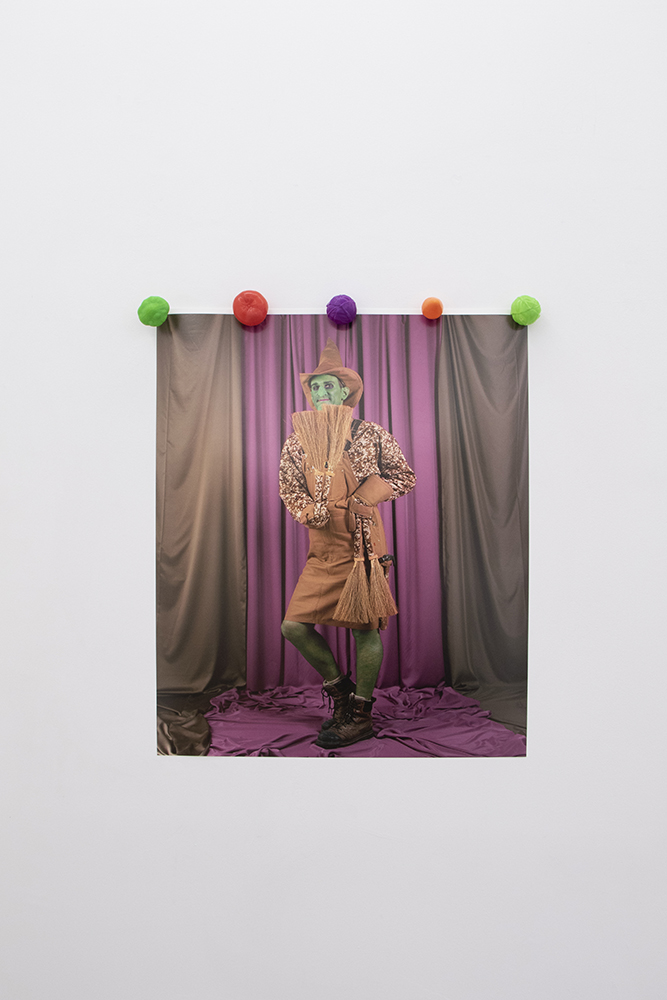 Mike Bourscheid
A farmer's apprentice: A day in the field
, 2020
Inkjet print, plastic vegetable magnets
Image : 29.92 x 24.41 in ( 76 x 62 cm )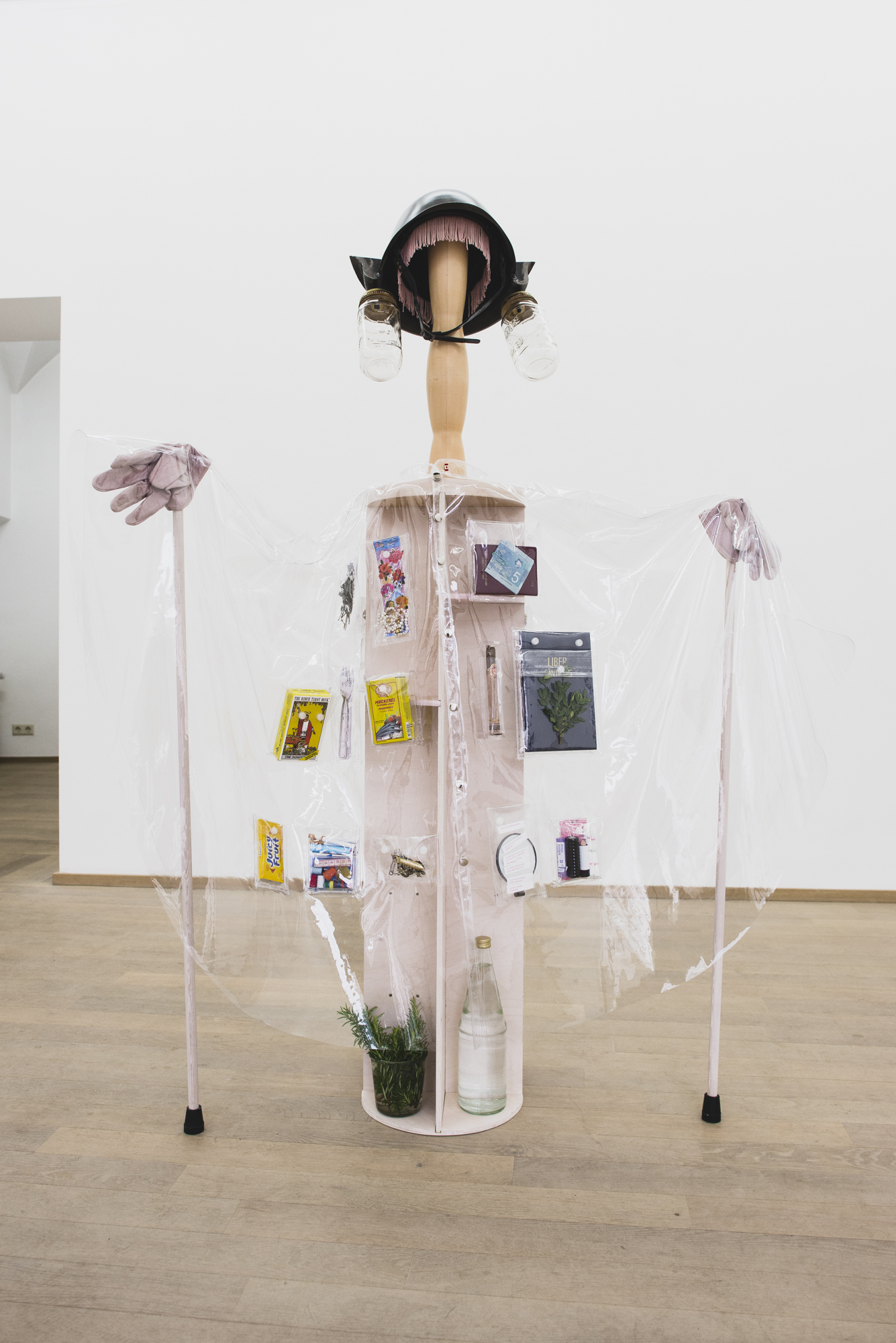 Mike Bourscheid
Jean-Louise
, 2020
Altered military helmet, 2 mason jars, handmade plastic cape, Tarot card deck, cutlery, Tin of Mackerels, juicy fruit gum from my mother, Sewing repair kit, cigarettes and lighter, house keys, cigare, passport, money, fortunes, mirror, tampons, lipstick, arnica, cover-up stick, package of Alesse birth control, Singing book with dogwood, rosemary, lavender and mint, stickers, gifted pearl chain, 2 pairs of leather gloves, 2 walking sticks with rubber stoppers, wooden stand, glassware, collected rainwater, flowers
59.06 x 61.02 x 19.69 in ( 150 x 155 x 50 cm )
Mike Bourscheid
Parenthood and other questions
, 2020
Hand embroidered cotton Gloves, synthetic hair, cigarette, crafted double sided coin, wooden display system
Mike Bourscheid
Houdini's wardrobe
, 2018
photogram, framed
11.81 x 8.66 in ( 30,5 x 22,5 cm )
Edition of 5 ex + 2 EA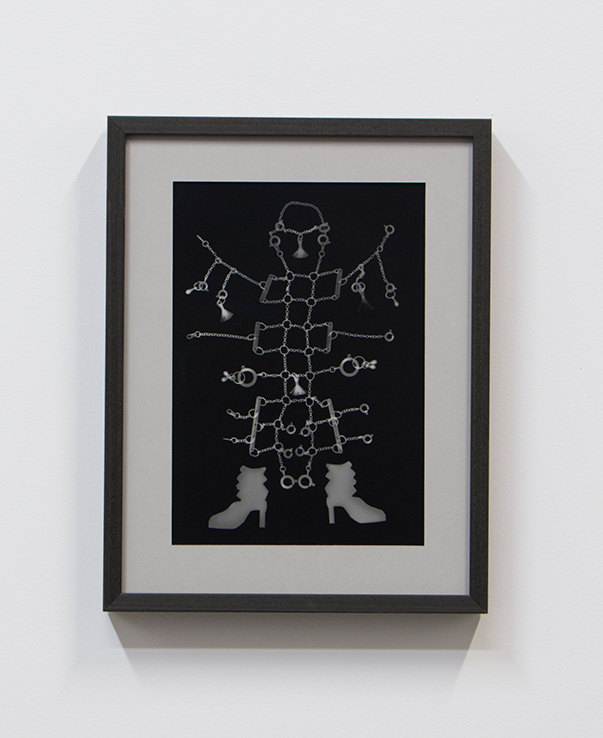 Mike Bourscheid
Houdini's wardrobe
, 2018
Photogram, framed
11.81 x 8.66 in ( 30,5 x 22,5 cm )
Edition of 5 ex + 2 EA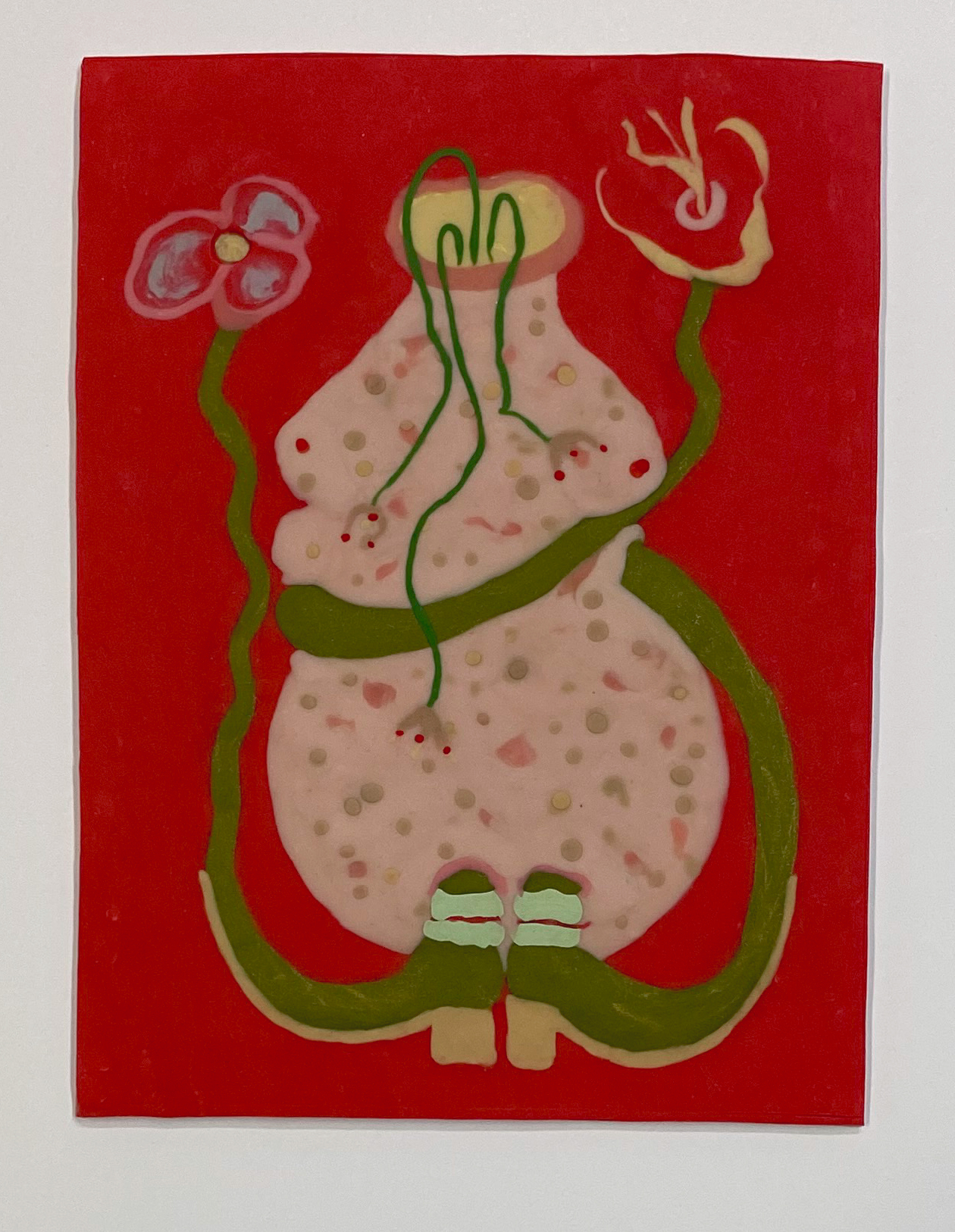 Mike Bourscheid
Categorical Imperative 3
, 2020
Polymer clay
10.24 x 7.48 in ( 26 x 19,5 x 0,5 cm )
Not available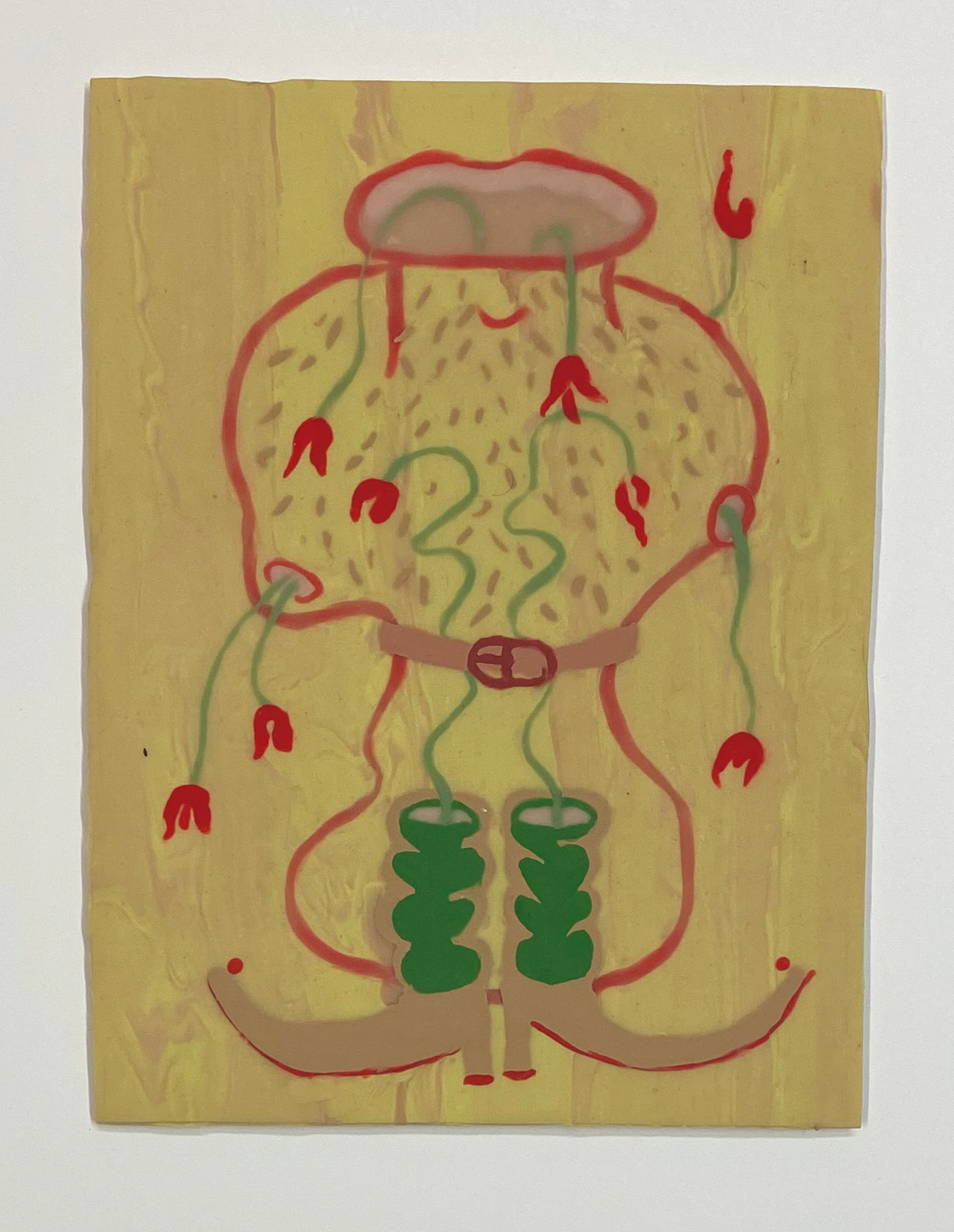 Mike Bourscheid
Categorical Imperative 1
, 2020
Polymer clay
10.24 x 7.48 in ( 26 x 19,5 x 0,5 cm )
Mike Bourscheid
Categorical Imperative 2
, 2020
Polymer clay,
Pâte polymère
10.24 x 7.48 in ( 26 x 19,5 x 0,5 cm )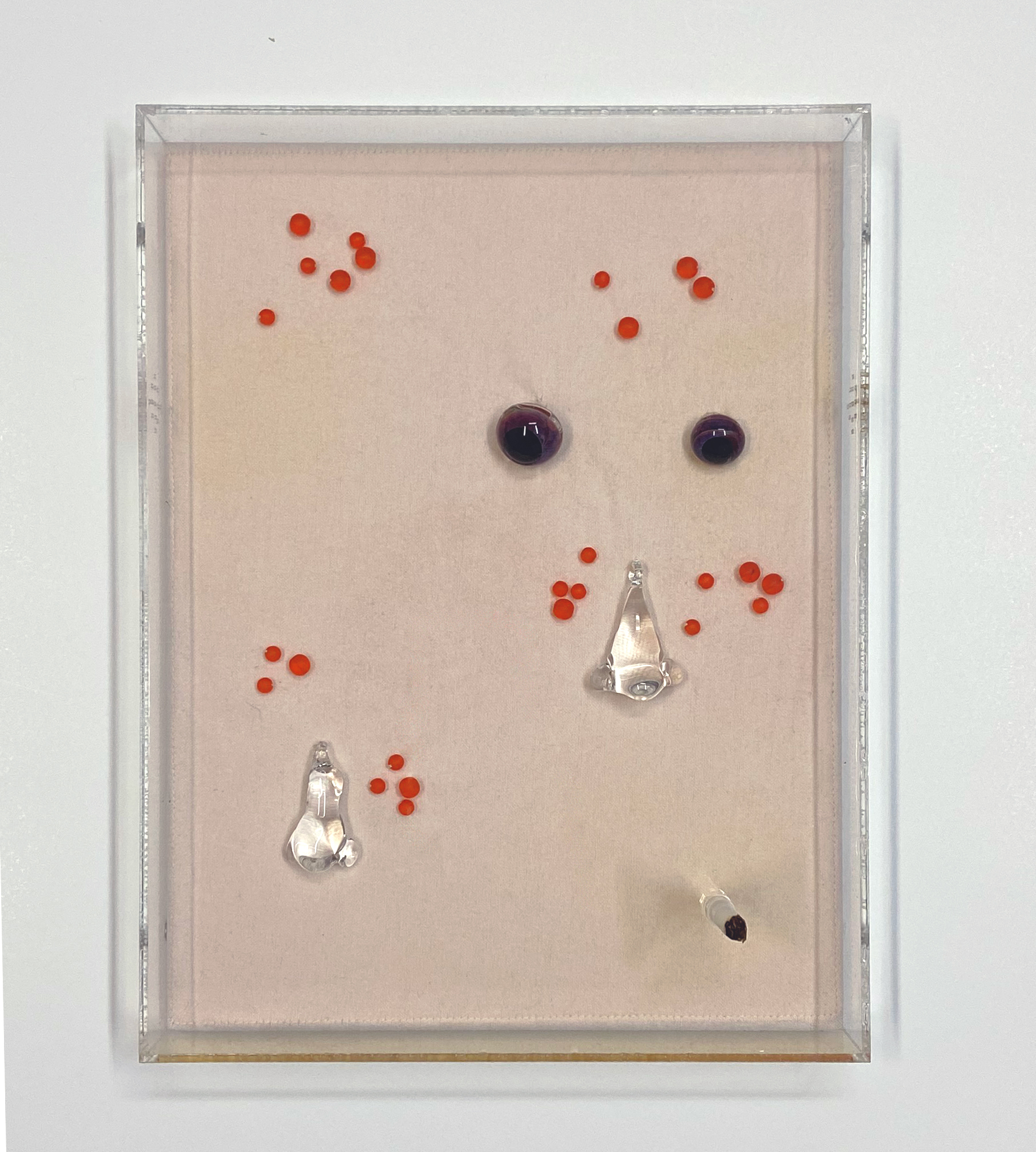 Mike Bourscheid
Quitting smoking
, 2020
Glass eyes and noses, glass beads, fabric, Plexiglas frame, cigarette
12.99 x 10.24 x 4.33 in ( 33,5 x 26 x 11 cm )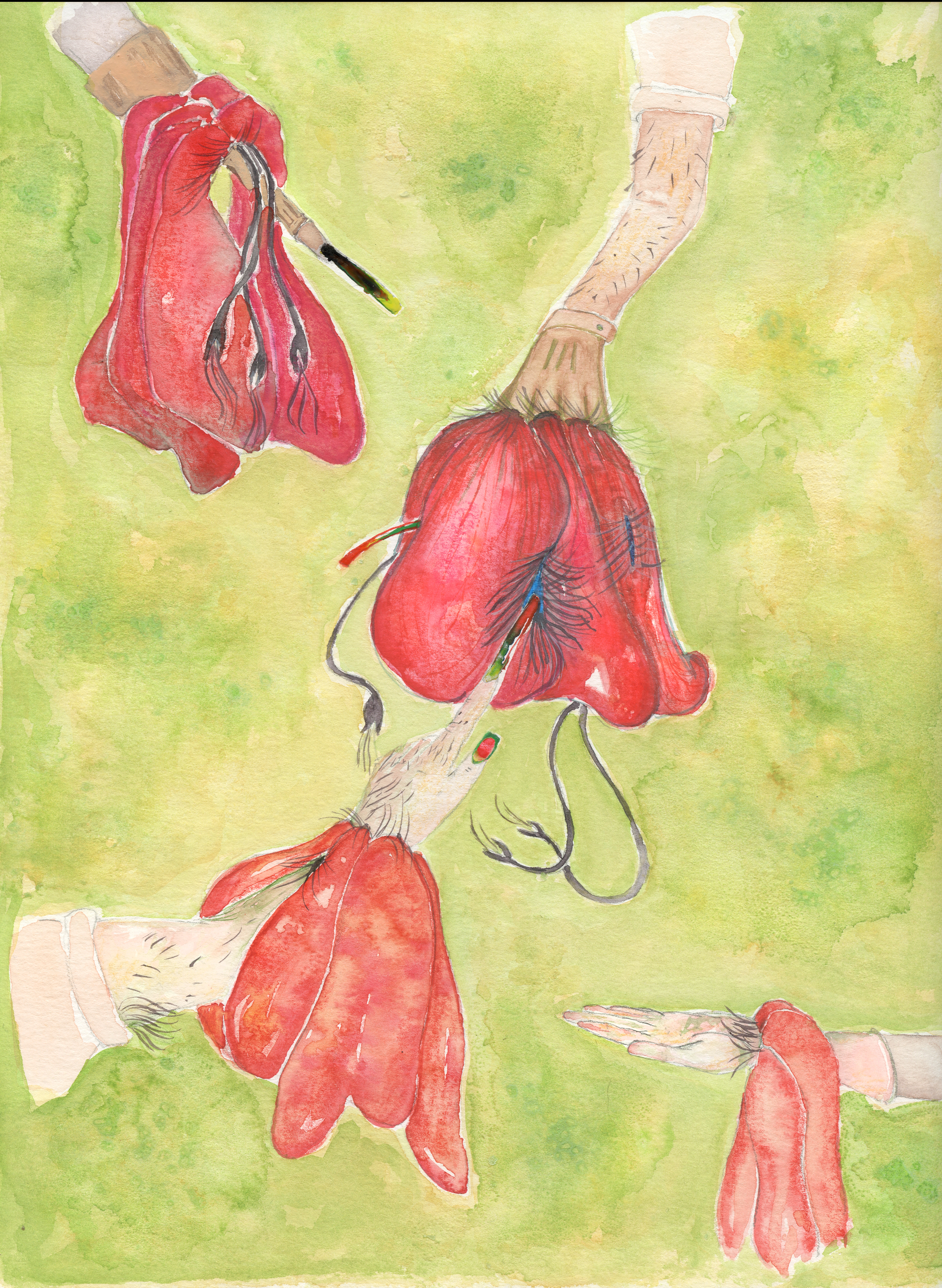 Mike Bourscheid
Sleepless gestures
, 2020
Watercolor and pencil on paper
11.81 x 8.66 in ( 30 x 22 cm )
Not available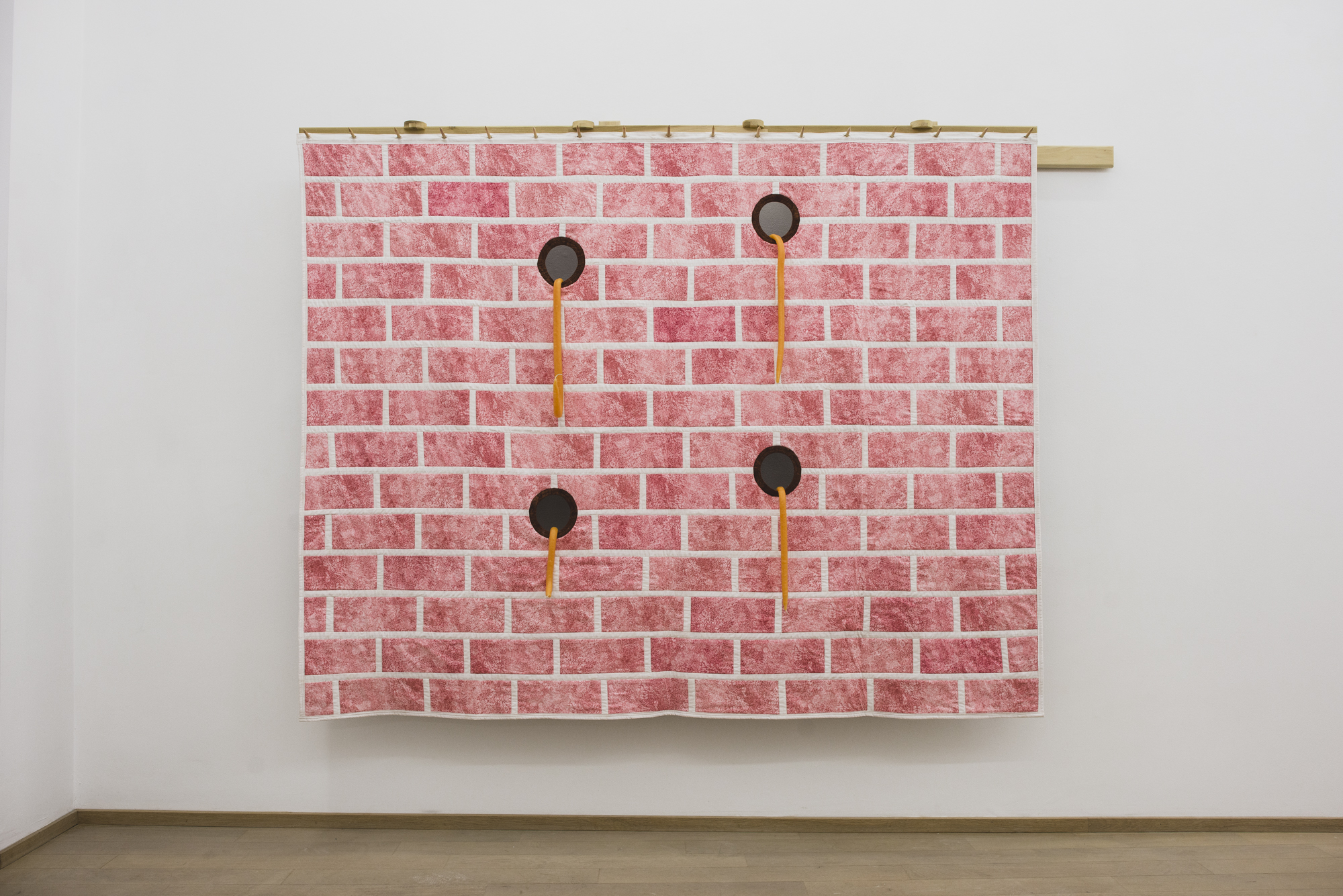 Mike Bourscheid
Cozy conversations in the catacombs
, 2019-20
Handmade quilt, wooden hanging system, handmade dipped candles
63.39 x 78.35 x 9.45 in ( 161 x 199 x 24 cm )
Not available
Informations
Pour sa deuxième exposition personnelle chez Nosbaum Reding, l'artiste luxembourgeois Mike Bourscheid (né en 1984, vit et travaille à Vancouver, Canada) présente un ensemble d'œuvres réunissant sculptures, peintures, dessins et photogrammes. Le titre de l'exposition renvoie à une vision fluide des identités qui va à l'envers des idées reçues : dans le langage courant, le terme fluff désigne ainsi une chose, une action ou une conversation insignifiante ou futile, tout en évoquant la douceur, celle des peluches, des duvets ou encore des plumes dont sont affublés les appâts de pêche multicolores qui transpercent autant qu'ils ornent les « personnages » peuplant l'espace d'exposition.

Au premier rang de ceux-ci figure un torse incliné en tissu rembourré qui ne tient debout que par une branche cintrée à la vapeur – méthode de contrainte « douce » – et qui puise son inspiration dans l'univers intime de l'artiste. Il est rejoint par une sorte d'épouvantail-sorcière brinquebalante dont les balais semblent réservés aux tâches ménagères et un « soldat » affublé d'un casque à frange d'abat-jour et d'une cape de pluie transparente dont les poches recèlent une collection d'objets insolites (cigarettes, cartes de Tarot, pilules contraceptives, boîte de maquereaux, tampons…) comme autant d'indices sur l'identité du porteur qu'elle entend protéger, quoique de manière forcément imparfaite.

Tant par les sujets qu'il effleure que par les techniques et les matériaux qu'il met en scène, Mike Bourscheid revendique la sensibilité et la vulnérabilité comme ressorts créatifs, comme dans ces photogrammes de pendentifs à hameçons, dont le processus de réalisation est lui-même empreint d'une fragilité extrême, le moindre déplacement des chaînons laissant sur l'émulsion (photo)sensible des rayures indélébiles.
___
For his second solo exhibition at Nosbaum Reding, the Luxembourg-born artist Mike Bourscheid (born 1984, lives and works in Vancouver, Canada) presents a series of works across different media including sculptures, paintings, drawings and photograms. The title of his exhibition points to a fluid vision of identities that runs counter to familiar conceptions: while in everyday language, 'fluff' refers to insignificant or futile objects, actions or conversations, it also conjures the idea of softness, here encapsulated by the feathers on the brightly coloured fishing baits that adorn and simultaneously 'wound' the 'protagonists' of this show.

First among them is a contorted padded torso propped up by a steam-bent branch (that is, formed using a method of 'soft' restraint) – a tender yet harrowing figure that is intimately linked to the artist's recent family history. It is sided by a rickety scarecrow or witch whose brooms seem reserved for dusting, and a 'soldier' decked out in a fringed helmet and a transparent rain cape whose pockets hold an unconventional collection of objects (cigarettes, Tarot cards, contraceptive pills, can of mackerel, tampons . . .), which could be read as clues about the identity of the wearer whom the coat purports to protect, albeit imperfectly.

Both in terms of the issues he touches upon and the techniques and materials used in his work, Bourscheid celebrates sensitivity and vulnerability as drivers of creativity, as is best evidenced perhaps by his photograms of charm pendants: the production process of these ghost-like images is characterised by extreme fragility, as the slightest movement of the chain links on the photographic paper leave indelible marks on the sensitive emulsion.



Photos: Sven Becker - Atelier d'Images