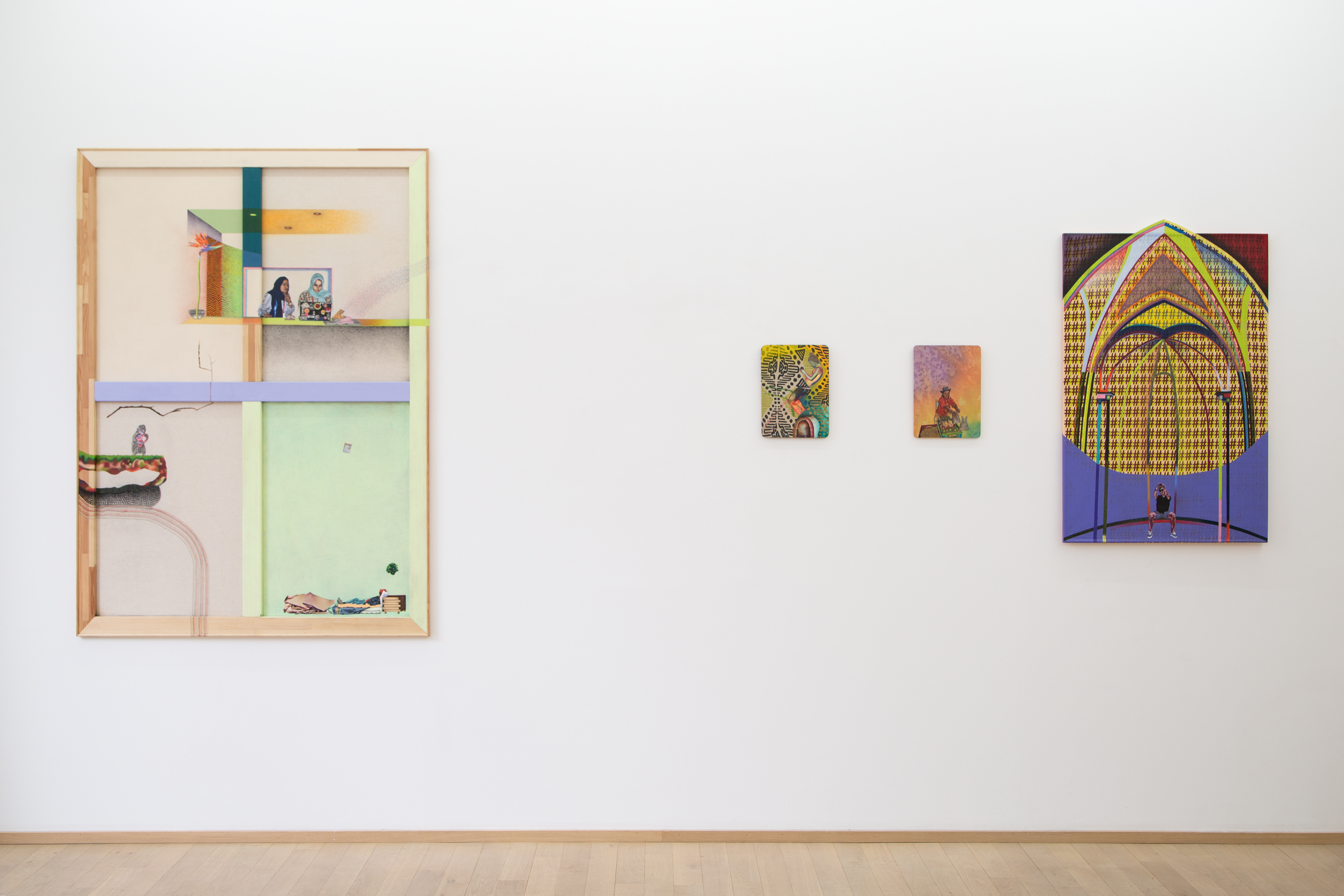 Exhibition view, Nosbaum Reding, Luxembourg projects, 2019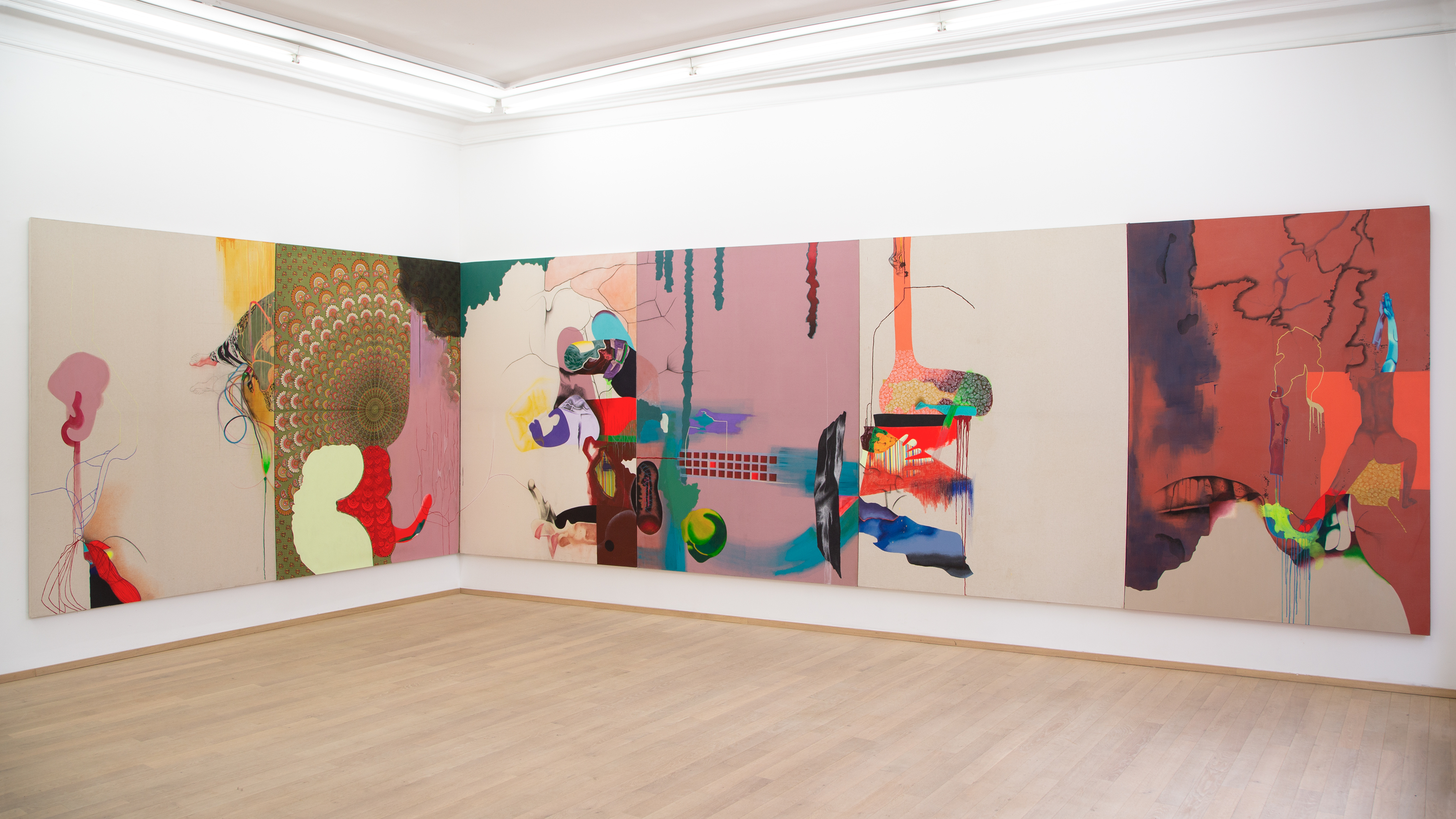 Exhibition view, Nosbaum Reding, Luxembourg projects, 2019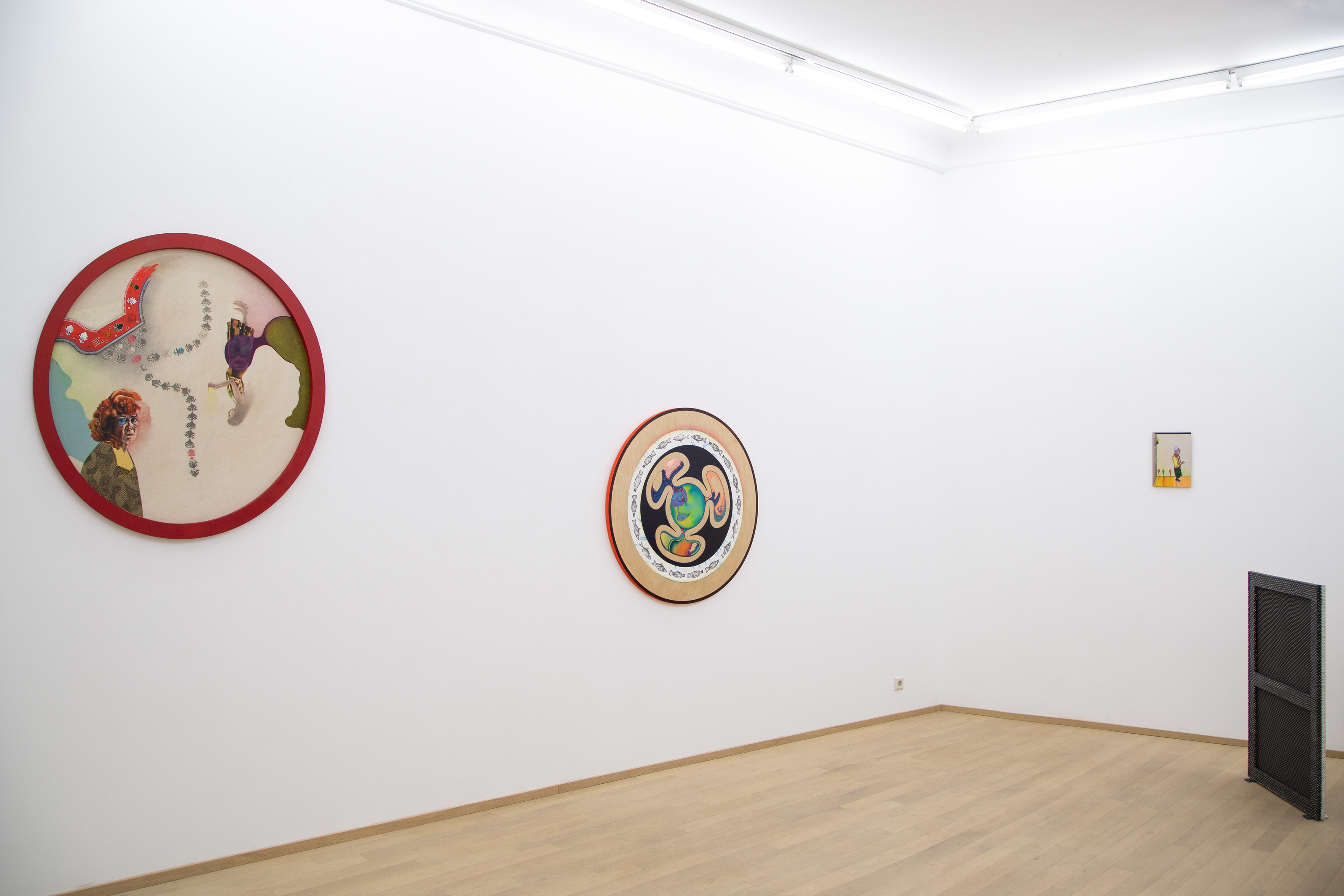 Exhibition view, Nosbaum Reding, Luxembourg projects, 2019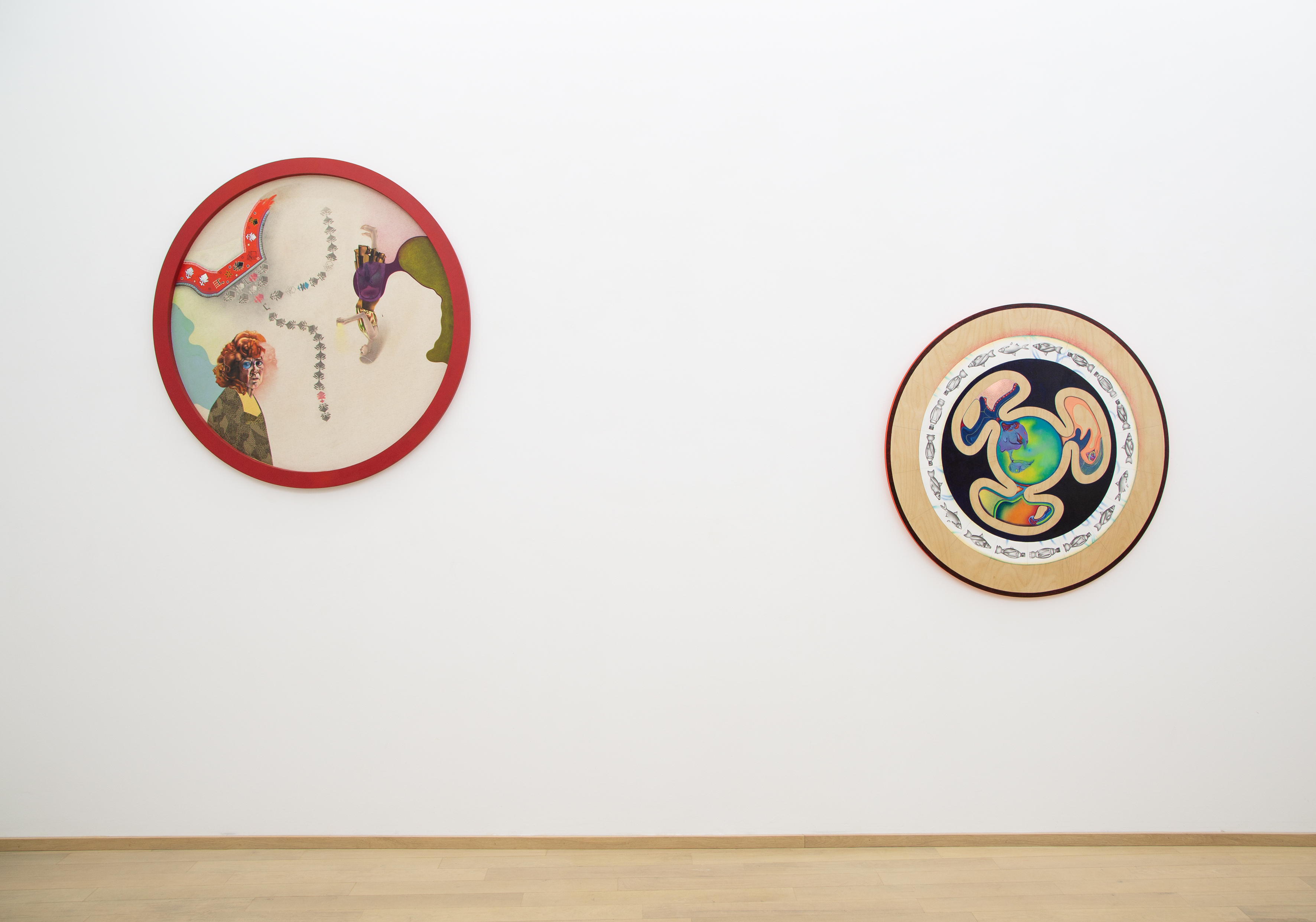 Exhibition view, Nosbaum Reding, Luxembourg projects, 2019
Exhibition view, Nosbaum Reding, Luxembourg projects, 2019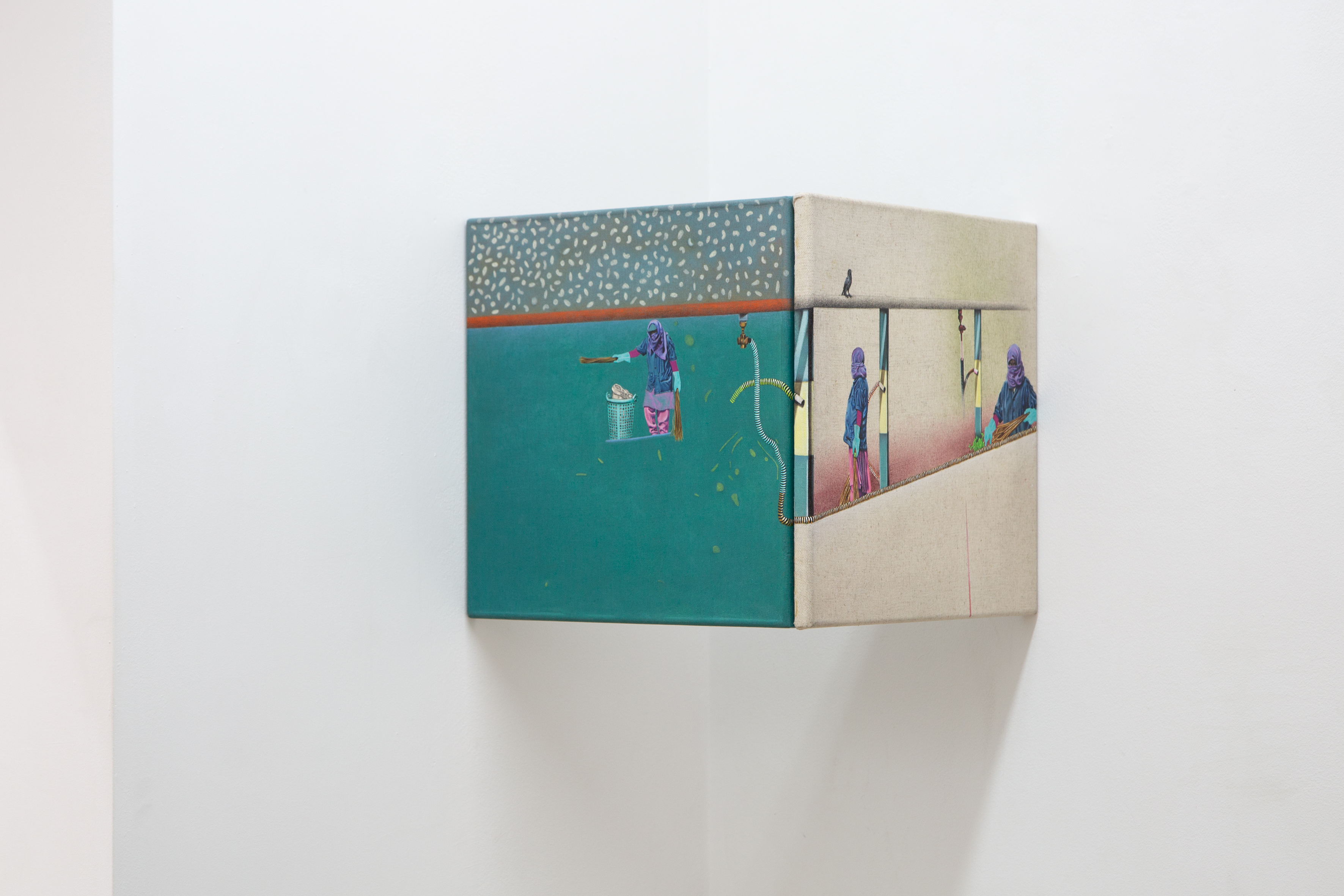 Exhibition view, Nosbaum Reding, Luxembourg projects, 2019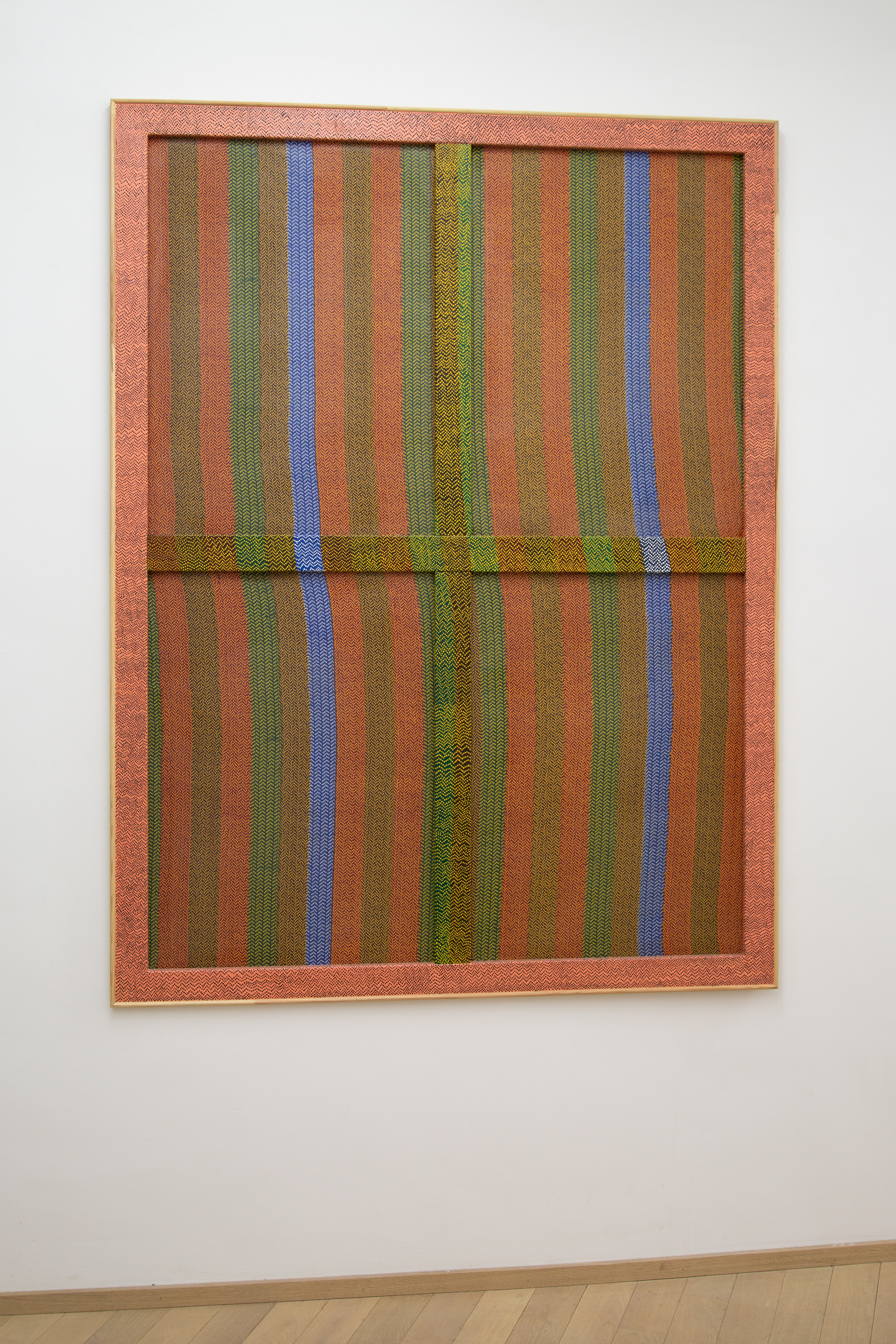 Exhibition view, Nosbaum Reding, Luxembourg projects, 2019
Exhibited Works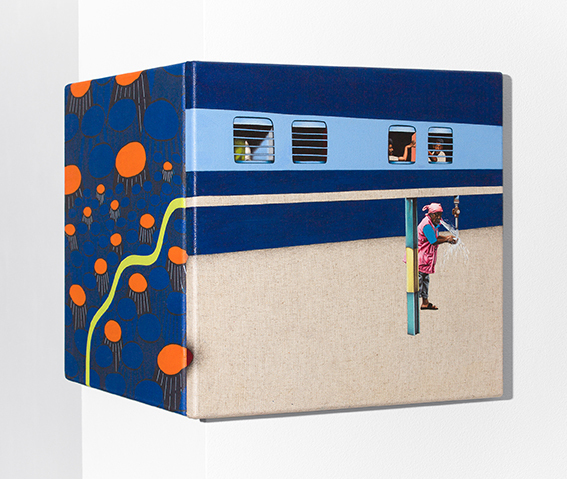 Source chaude, 2018
oil and pencils on canvas and printed textile
37 x 37 x 37 cm

Not available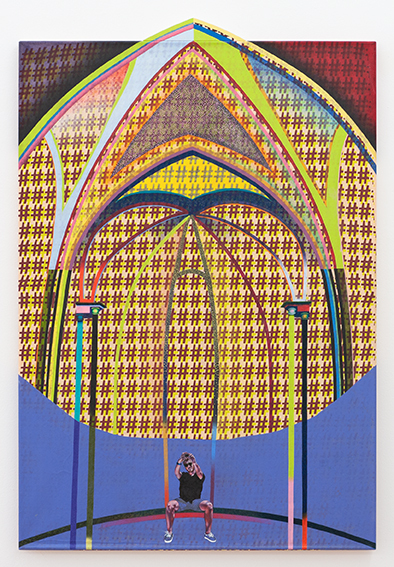 Prière de m'aimer, 2019
Serigraphy, oil and pencils on canvas, oil and acrylic on wood
100 x 70 cm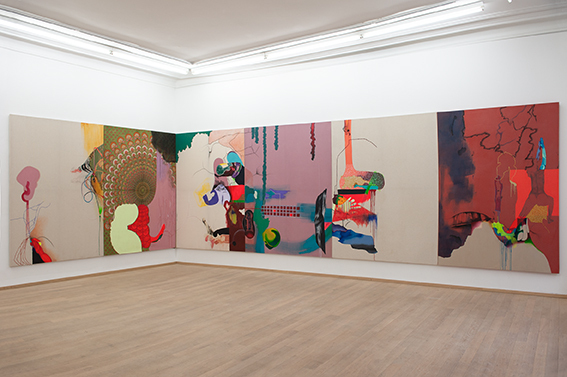 Sens uniques, 2016
Acrylic, pastels, pencils, charcoal and collage on canvas and printed textile
200 x 900 cm (6 paintings, each 200 x 150 cm)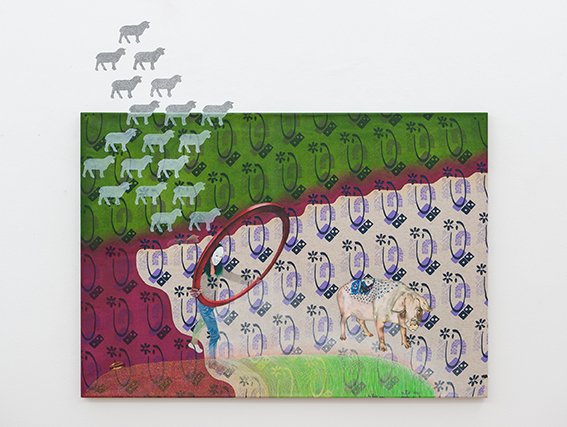 Ferme-la!, 2018
Sérigraphie, huile et crayons sur toile


Not available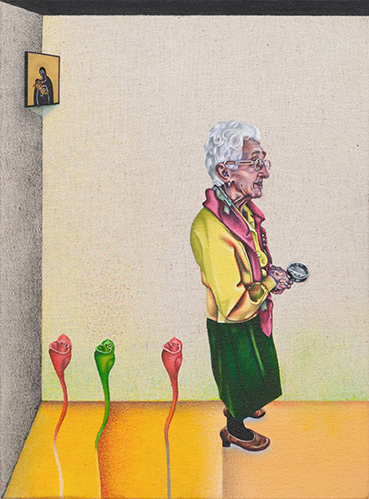 Chercheuse de fil, 2018
Huile, collage et crayons sur toile


Not available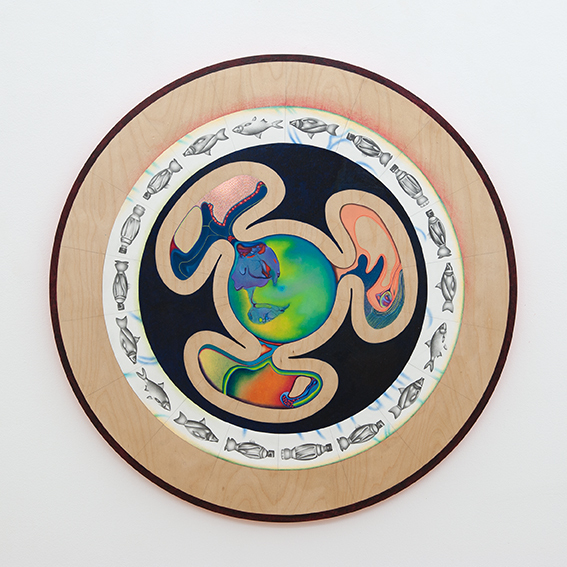 Les baobabs du petit prince, 2018
Huile, acrylique et crayons sur bois


Not available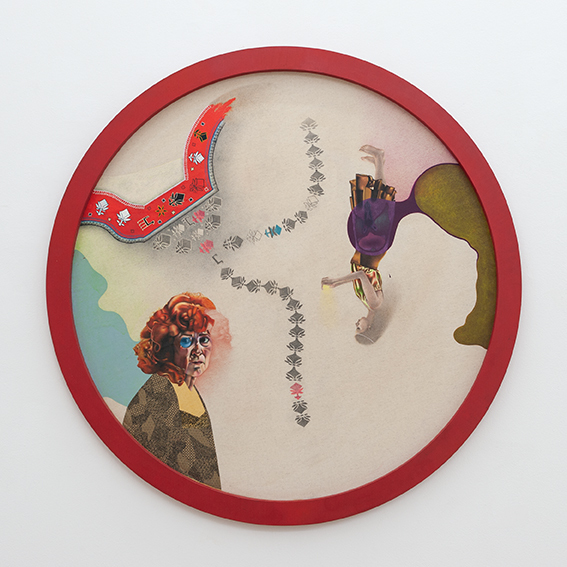 Silence hystérique, 2018
Oil, acrylic, pencils and collage on wood


Not available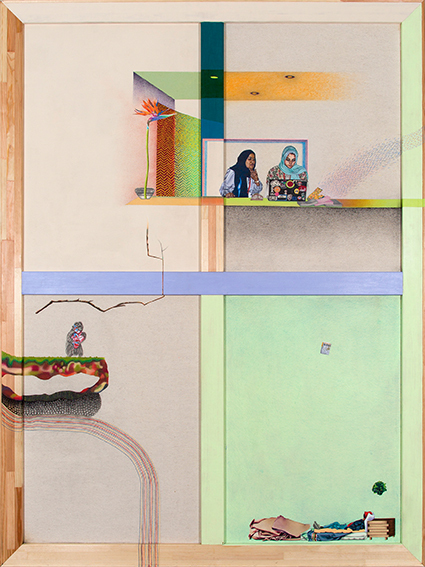 Petit creux, 2018
Oil, acrylic, charcoal, pastels, pencils and collage on canvas and wood
160 x 120 cm

Not available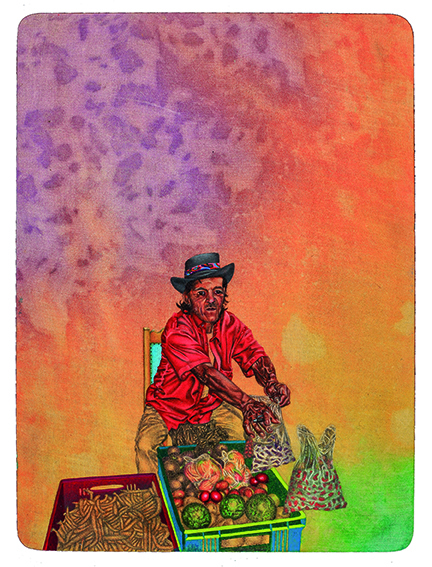 Kaki dit (tablette 4), 2018
Huile et crayons sur textile imprimé
30 x 22 cm

Not available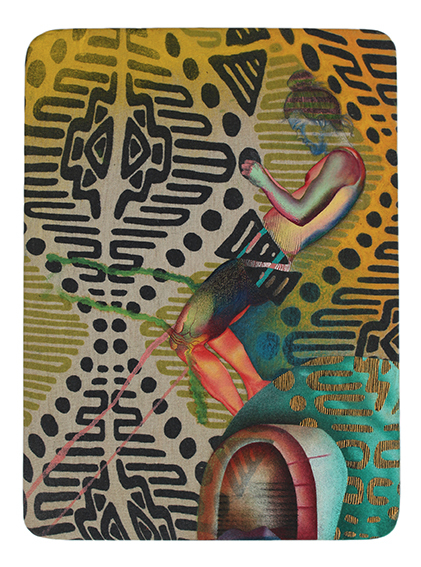 Kaki dit (tablette 2), 2017
Oil, acrylic, charcoal and pencils on printed textile
30 x 22 cm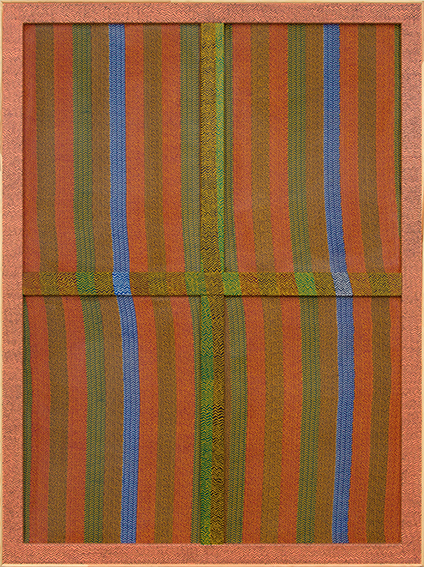 Extinction, 2018
Printed textile, oil on wood
160 x 120 cm

Not available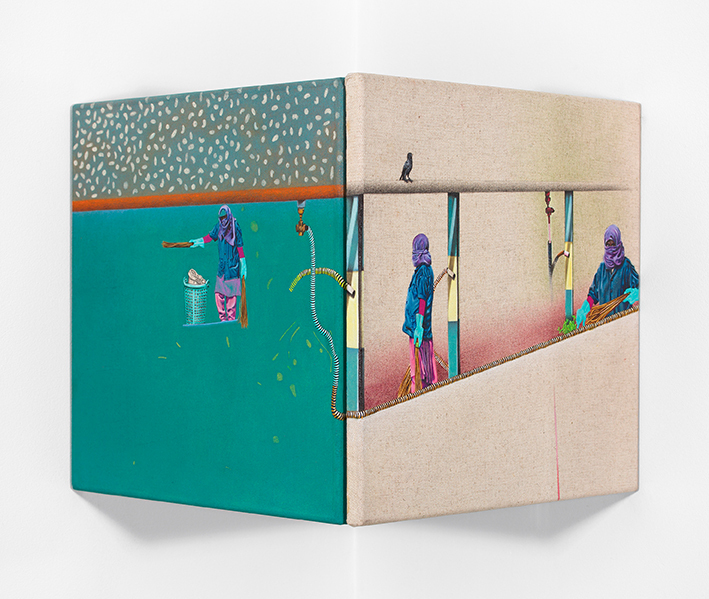 Aspirer c'est cacher, 2018
huile, acrylique et crayons sur toile
37 x 37 x 37 cm

Not available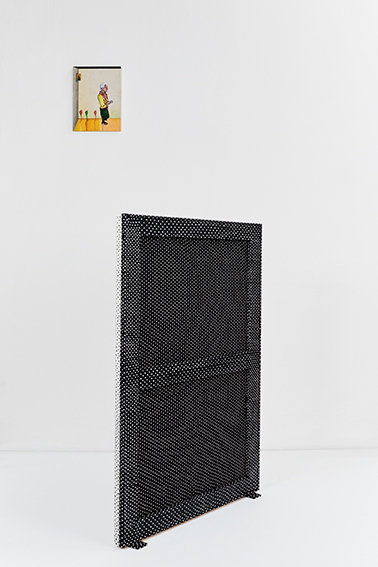 Ascenseur spirituel, 2018
huile sur bois, textile imprimé
100 x 70 x 4 cm

Informations
La peinture de Nina Tomàs engage beaucoup en termes de sujets (systèmes écologiques, économiques, informationnels, nerveux ; vies singulières, la sienne et surtout celles des autres, rencontré.e.s au fil de voyages ou proches ; identités locales, globales et hybrides...) et de dimensions : matérielles (aussi bien dans ce qu'elle représente d'écosystèmes que dans l'exploration des matérialités des représentations qu'elle propose et des supports qu'elle travaille comme volumes, recto et verso) et oniriques. La part du rêve, et de son travail*, anime en effet ses œuvres dans leurs modes de compositions basés sur l'association de figures, de temps et d'espaces hétérogènes.
S'il n'est pas à proprement parler question de collage dans ses tableaux, tous établissent progressivement un complexe narratif, toujours mâtiné d'abstraction, à partir de fragments d'images et de motifs retirés, séparés de leurs contextes d'origine et articulés entre eux de façon à la fois empirique et critique. À chaque connexion, à chaque relation entre ces éléments se nouent des effets de signification et d'interprétation (tel le déplacement des regards occidentaux sur des femmes musulmanes indiennes dans Petit creux). S'ouvre un vaste espace mental chez celles et ceux qui les regardent et qui engagent à leur tour un travail de traduction des signes agencés. Ceux-ci sont minutieusement dessinés et peints, comme pour induire une attention supplémentaire de notre part (ce que la loupe de la Chercheuse de fil semble nous suggérer): y voir mieux, y débusquer le détail, l'élément qui permettrait de dénouer l'énigme que demeure, in fine, chaque tableau.
À ces agencements internes s'ajoutent deux autres degrés de complexités spatiales, visuelles, tactiles et mentales. D'abord à travers l'articulation en diptyques de petits formats disposés en angles, complétée par de dialogues entre des petits tableaux accrochés aux murs et d'autres, aux motifs décoratifs abstraits, disposés en volumes au sol. Mais aussi à travers le trouble visuel induit par la reprise picturale des trames de motifs de tissus (Extinction, Ascenseur spirituel). Enfin, l'exploration récente du format circulaire (tondo), propice au retournement des flux de significations relationnelles entre les signes agencés, à la perte des repères traditionnels (haut-bas-droite-gauche), augmente le trouble, l'énigme et l'expérience visuelle et mentale des regardeurs.
Se dégage de l'ensemble une poétique singulière et complexe, qui explore les relations possibles d'analogies et de significations entre des régimes hétérogènes de signes, où le travail archaïque du rêve rencontre le flux contemporain des images, de leurs médiations (ce que le format tablette de certaines peintures souligne), de leurs connexions et de leurs énigmes.
Tristan Trémeau
* Le travail du rêve (Traumarbeit) est l'opération qui, selon Freud, permet de transformer les pensées latentes d'un rêve en contenu manifeste du rêve, tel que celui-ci se présente au rêveur ou à la rêveuse.
Tristan Trémeau est critique d'art et docteur en histoire de l'art. Professeur à l'ARBA-ESA à Bruxelles et à l'ESAD TALM-Tours, il est commissaire d'expositions en musées et centres d'art et a publié de nombreux articles dans la presse artistique francophone depuis le milieu des années 1990 (Artpress, Art 21, L'art même...) et essais pour des catalogues d'expositions (Wim Delvoye au MUDAM à Luxembourg, 2016, Radenko Milak. University of Disasters, Biennale de Venise, 2017...).
---

The paintings of Nina Tomàs touch upon numerous subjects (ecological, economic, informational and nervous systems; singular lives – her own but especially those of others, the people she encounters on her travels or her relatives; local, global and hybrid identities . . .) and dimensions, namely, the material dimension (both through the ecosystems she represents and by exploring the materiality of her representations and treating her supports as three-dimensional volumes with a front and a back) and the oneiric dimension. Indeed, the role of dreams, or dream-work,* animates her works in their modes of composition based on the association of figures, time and heterogeneous spaces.
Although her paintings are not the result of collages properly speaking, all of them gradually establish a complex narrative, invariably tinged with abstraction, based on fragments of images and recurring motifs, which are removed from their original context and re-assembled to form empirical and critical relationships. With each connection or relation between these elements, new meanings and interpretations are created (such as the displacement of the western gaze on Indian Muslim women in Petit creux). A vast mental space opens up for the beholder, who in turn accepts the task of translating these semantic arrangements. The signs are drawn and painted with painstaking care, as though vying to sharpen the spectators' senses (as the magnifying glass in Chercheuse de fil seems to suggest), allowing them to see more clearly, to make out a detail, an element that would enable them to unravel the mystery each painting ultimately represents.
These internal arrangements are reinforced by two further levels of spatial, visual, tactile and mental complexity. The first of these concerns the arrangement of the small-format works as diptychs in or around corners, complemented by dialogues between small paintings on the walls and others, with abstract decorative motifs, arranged in volumes on the floor. The second is the visual disruption caused by the painterly reproduction of the fabric of textile motifs (Extinction, Ascenseur spirituel). Finally, the artist's recent exploration of the tondo – a circular format conducive to the reversal of the flow of semantic relationships between the depicted signs and to the loss of traditional points of reference (up/down/left/right) – enhances the feeling of disruption and mystery and thus heightens the viewer's visual and mental experience.
A singular and complex sense of poetry radiates from the resulting works, which explore the possible relations of analogy and meaning between disparate symbolic systems by conjoining archaic dream-work with the contemporary flow of images, their dissemination (as underlined by the tablet-like format of certain paintings), connections and enigmas.
Tristan Trémeau

* Dream-work (Traumarbeit) is the operation by which, according to Freud, latent dream thoughts can be transformed into manifest content of a dream as it presents itself to the dreamer.


Tristan Trémeau is an art historian and critic. A professor at ARBA-ESA in Brussels and at ESAD TALM-Tours, he has curated numerous exhibitions in museums and art centres. He has regularly contributed to specialist magazines (Artpress, Art 21, L'art meme, a.o.) and exhibition catalogues (Wim Delvoye, Mudam Luxembourg, 2016; Radenko Milak: University of Disasters, Venice Biennale, 2017; a.o.) since the mid-1990s.