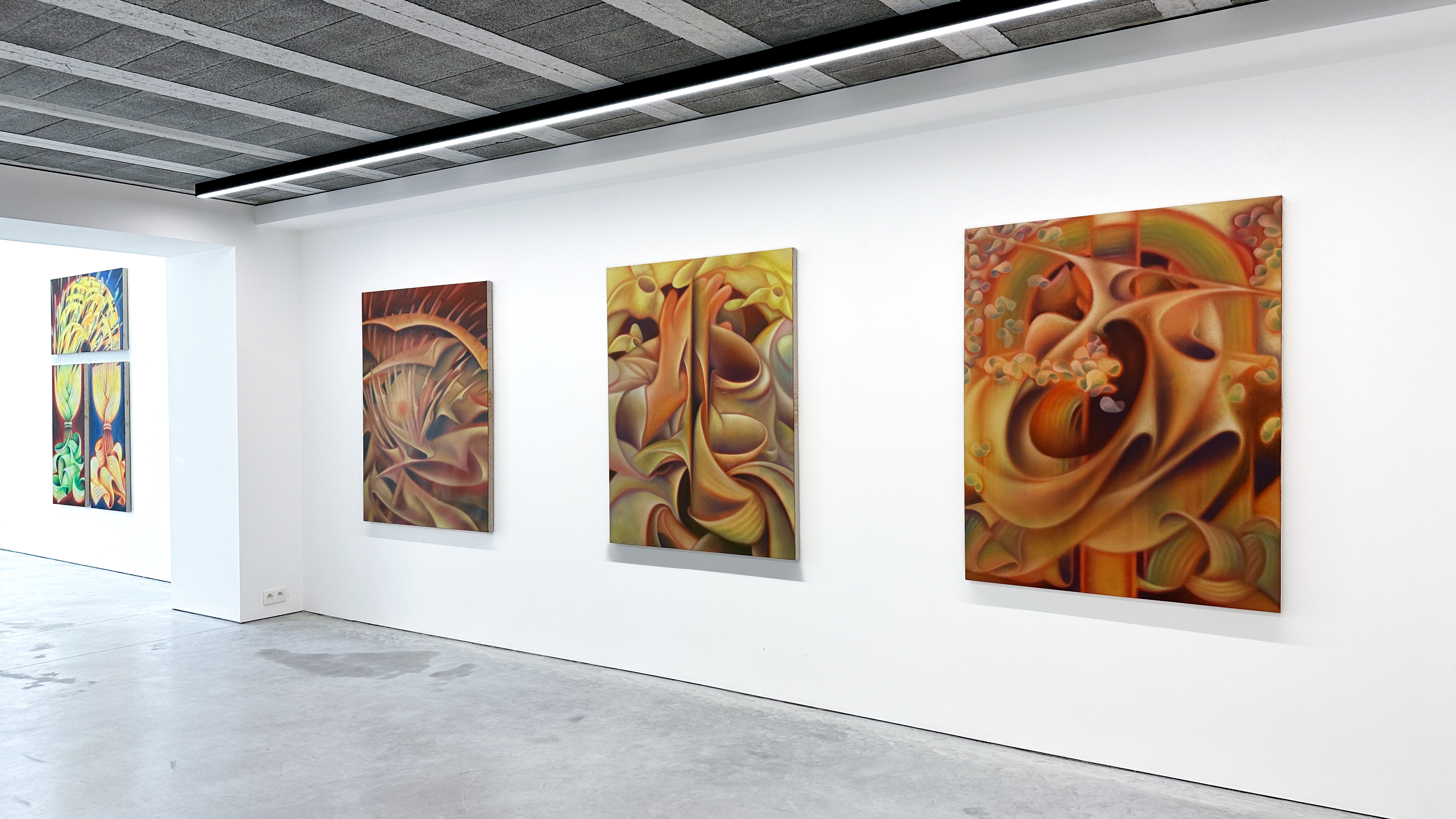 Exhibition view, Nosbaum Reding, Bruxelles, 2023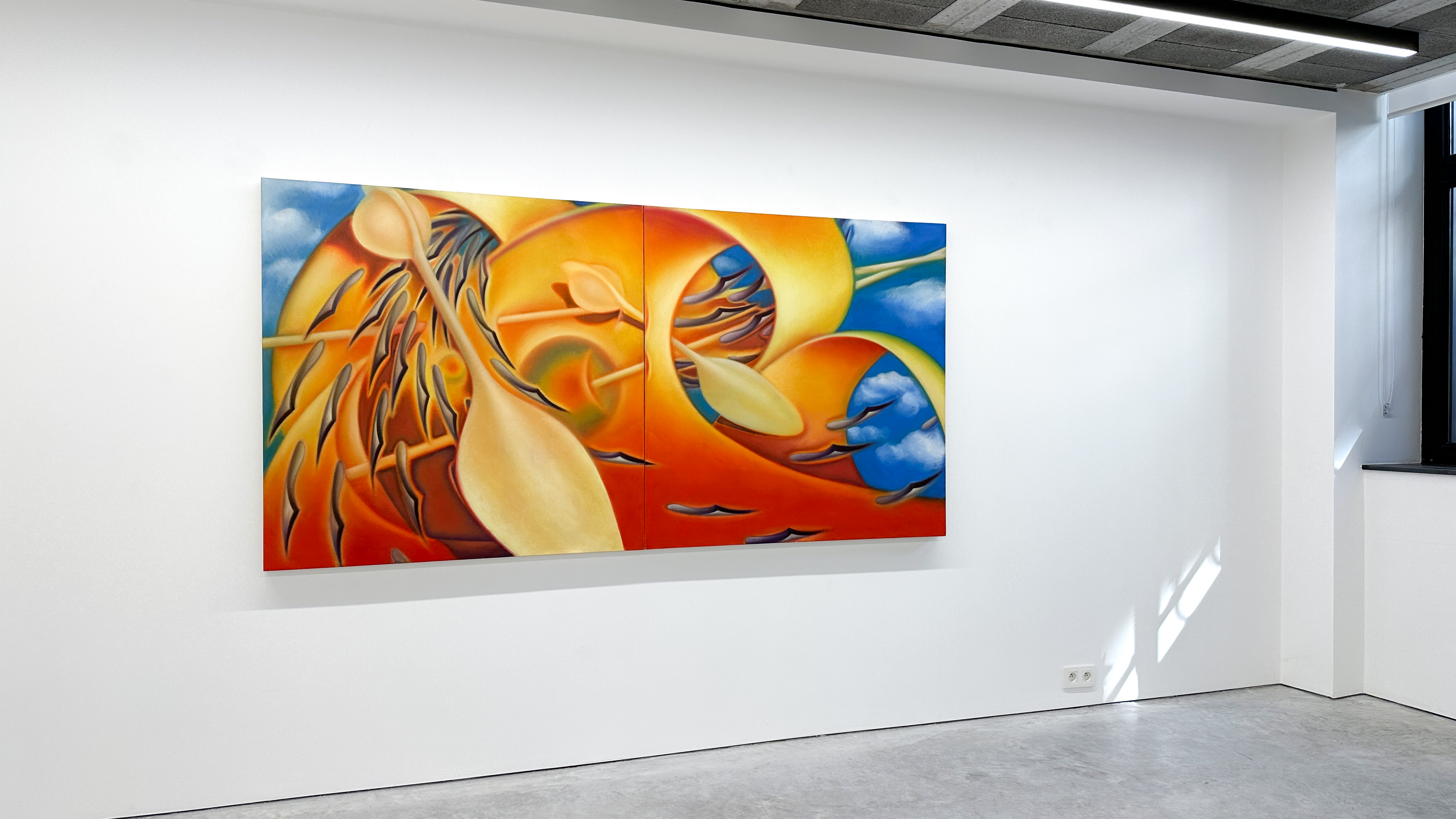 Exhibition view, Nosbaum Reding, Bruxelles, 2023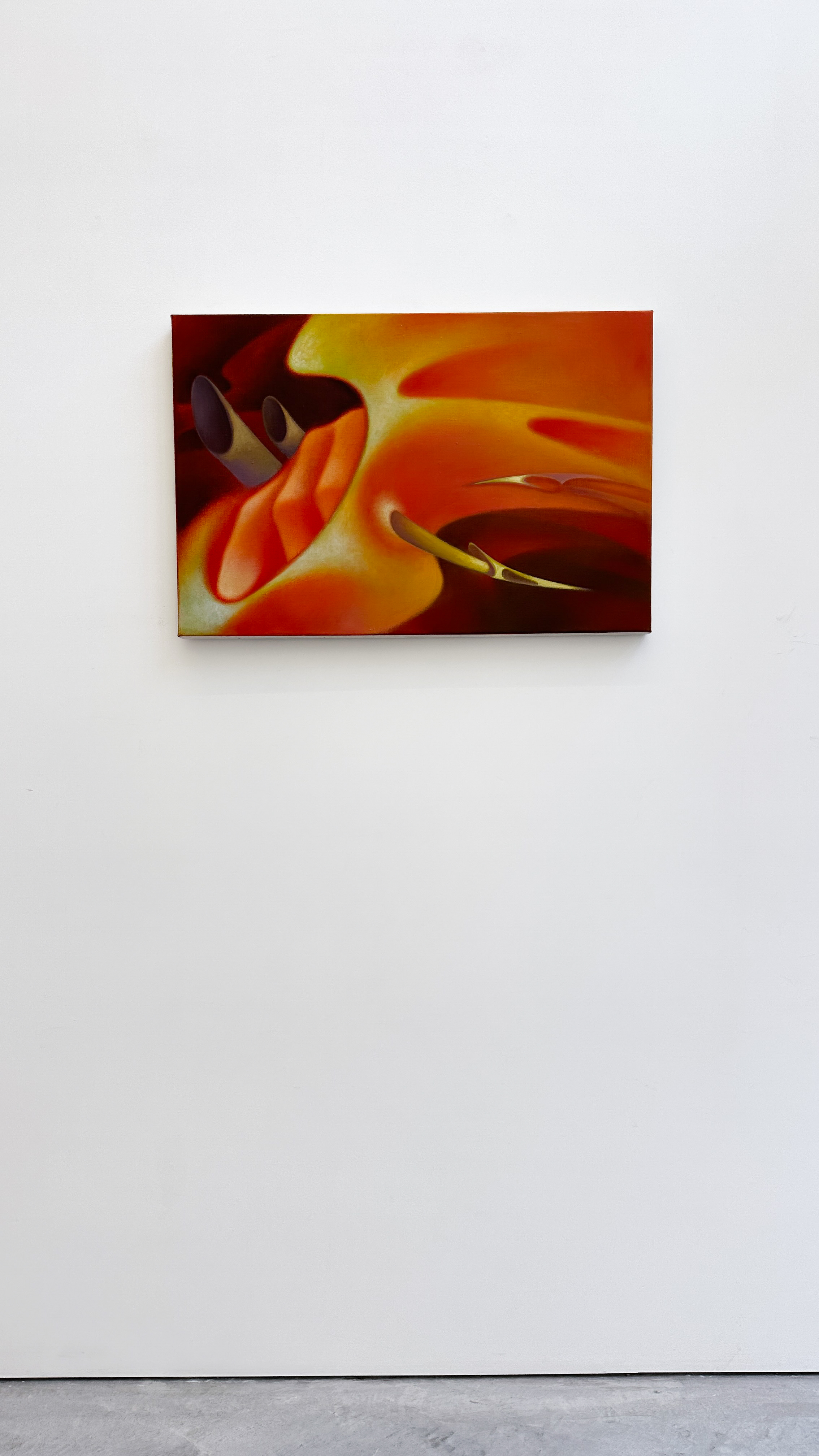 Exhibition view, Nosbaum Reding, Bruxelles, 2023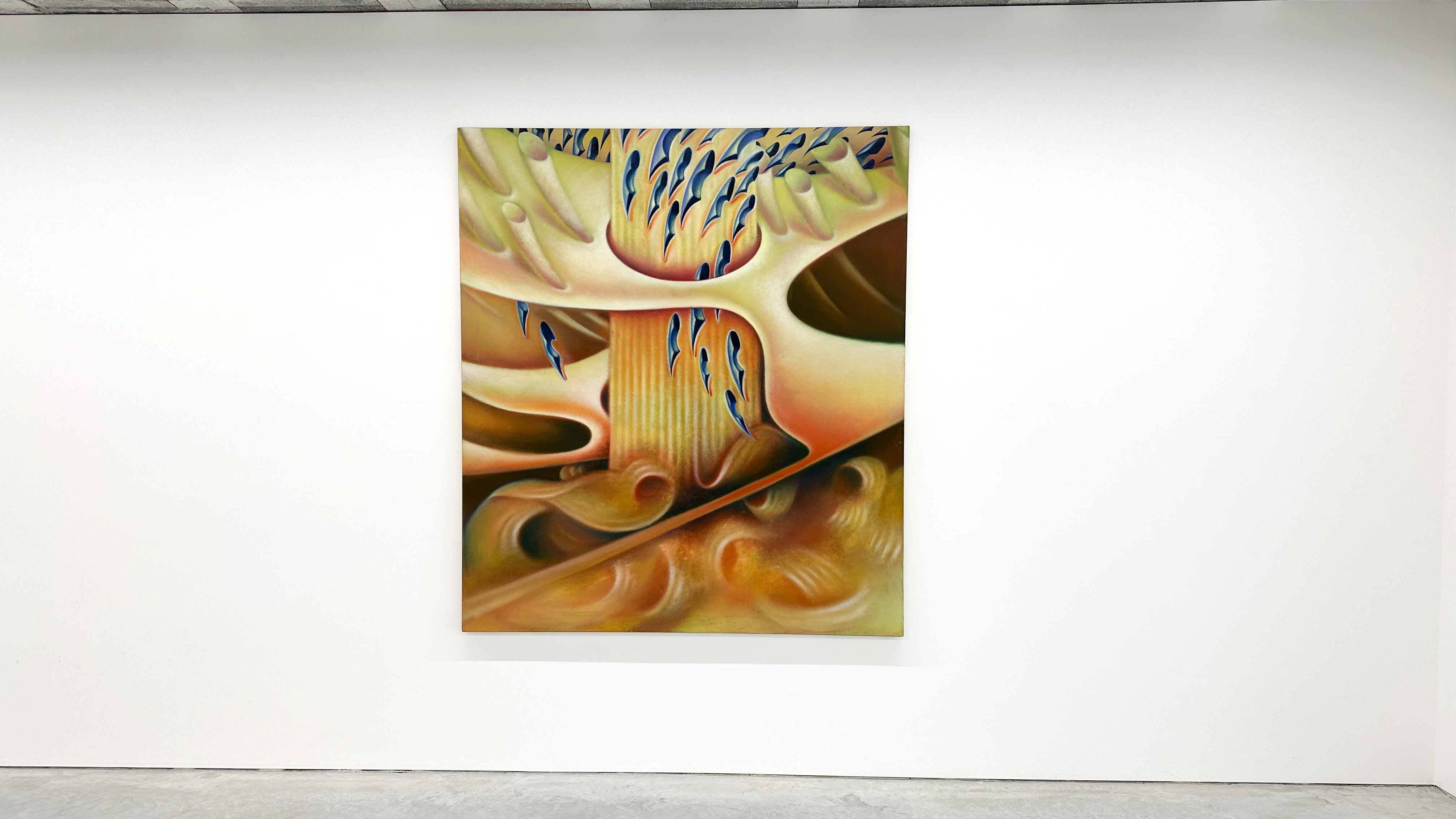 Exhibition view, Nosbaum Reding, Bruxelles, 2023
Exhibited Works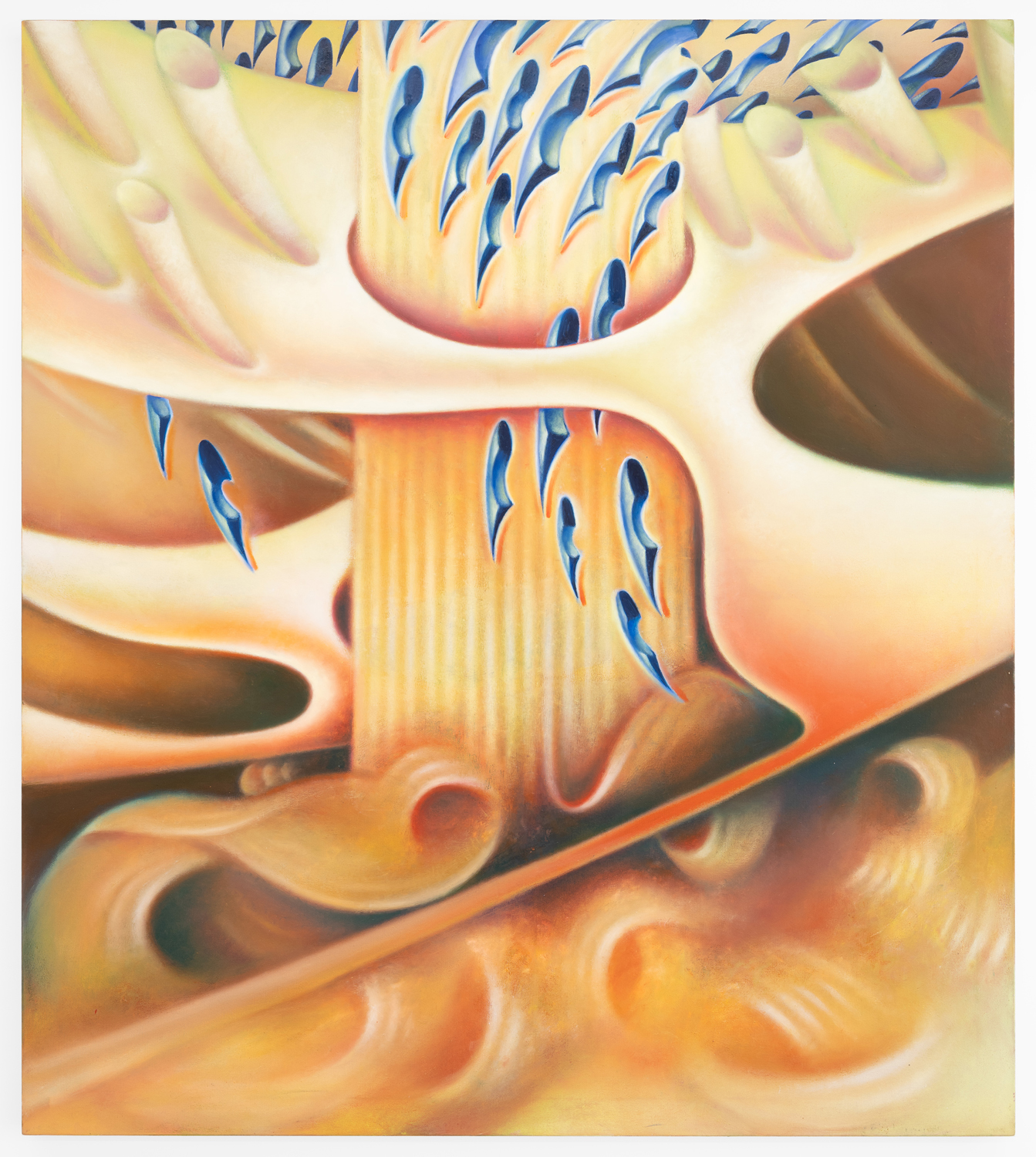 Kate Burling
Rain Pipe
, 2023
Oil on linen
66.93 x 43.31 in ( 170 x 150 cm )
Informations
Solo show The Rain Has Changed by Kate Burling
Vernissage: Thursday 7th September, during Brussels Gallery Weekend
On show from 8.09.23 to 7.10.23
Nosbaum Reding | Bruxelles
Kate Burling
b. 1998 in Reading, UK, lives and works in South London
'My paintings are bodies, and they must bleed', says Kate Burling, whose works mimic and violate organic structures within the sensitive body. Using her hands and latex gloves as tools, she considers the impact of 'sharp' externalities on the soft bodily core, presenting a near-explosive tension at their meeting point. Her paintings have the unmistakable presence of a body, vibrating with tension and dissipating explosive energy from their core.


The Rain Has Changed
'Across the water plane, turbines are rising, and the screeching waves are dense with nails and pins. The mountains, dissolved by swarms of barbed raindrops, scatter like flint confetti across the land.
In the relentless march of progress, fragments of familiarity shift and crumble. The Rain Has Changed, an ominous harbinger of the chaos that is to come, encapsulates a transformation that strikes at the core of human survival. Rain, once a symbol of life and rejuvenation, has twisted into a force for destruction.
My paintings explore a metaphorical realm where swarms of sharp, human-made materials have infiltrated the very fabric of the weather cycle. Through violent downpours and surges of evaporation, they sow turmoil and mass devastation upon the land and its inhabitants.
Through my tactile process of finger painting, I summon a semblance of bodily control amidst the tumult, urging viewers to contemplate the delicate balance between mastery and encroaching anarchy.
In the space between flesh and debris, twisted rainbows emerge as a recurring motif. Within my paintings, they flow like the rain itself, amalgamating into hair-like locks and circular targets. In extreme weather, this familiar emblem of kitsch, biblical glory takes on a sinister allure, as if to taunt those sifting for hope amidst the debris.
Within a dystopian tapestry, my paintings stand as a cautionary tale – a poignant dialogue on collective climate anxiety and a sombre plea for empathy towards an anxious generation.'—Kate Burling
---
Kate Burling
née en 1998 à Reading, Royaume-Uni, vit et travaille dans le sud de Londres


« Mes peintures sont des corps, et il faut qu'elles saignent », déclare Kate Burling, dont les œuvres imitent et violent les structures organiques du corps sensible. Avec ses mains et des gants en latex pour outils, l'artiste étudie l'impact d'éléments extérieurs « tranchants » sur le tissu mou du corps. De ses peintures, qui possèdent une indéniable corporéalié, se dégage l'impression d'une tension extrême et d'une énergie explosive.
The Rain Has Changed
« Sur l'autre rive s'élèvent les turbines, on entend le crissement des vagues transpercées de clous et d'épingles. Les montagnes, criblées par un essaim de gouttes de pluie acérées, s'éparpillent sur la terre tels des confettis de silex.
Dans la marche inexorable du progrès, les notions familières glissent et s'effondrent. The Rain Has Changed, sinistre messager du chaos à venir, figure une transformation qui menace la survie même de l'humanité. La pluie, autrefois symbole de vie et de rajeunissement, s'est transformée en force destructrice.
Mes peintures donnent à voir un univers métaphorique où une multitude de matériaux tranchants, fabriqués par l'homme, ont infiltré le tissu même du cycle météorologique. En déclenchant de violentes averses et des pics d'évaporation, ils sèment le trouble et menacent de dévaster la terre et ses habitants.
En ayant recours à la peinture au doigt, j'invoque un semblant de contrôle corporel au milieu de ce tumulte. J'incite ainsi les spectateurs à contempler le fragile équilibre entre maîtrise et l'anarchie qui guette.
Les arcs-en-ciel déformés sont un motif récurrent qui, dans mes peintures, vient occuper l'espace entre la chair et les décombres. Ils semblent s'écouler à l'instar de la pluie elle-même, pour s'amalgamer en mèches de cheveux ou en cibles circulaires. Dans des conditions météorologiques extrêmes, cet emblème biblique, voire kitsch, associé à la splendeur prend un aspect sinistre, comme pour narguer ceux qui, au milieu des décombres, veulent garder espoir.
Sur fond de dystopie, mes peintures s'apparentent à une mise en garde, un commentaire acerbe sur l'éco-anxiété collective, un sombre plaidoyer en faveur de l'empathie à l'égard d'une génération angoissée. » —Kate Burling
Documents
Download Press Kit
As part of Brussels Gallery Weekend, Nosbaum Reding will be marking the second anniversary of its presence in Brussels by opening up to new artistic horizons.


To this effect, the gallery has given carte blanche to the independent consultant and curator Vincent Vanden Bogaard, with whom the gallery also collaborates in Luxembourg. Together, we have conceived an ambitious project that will enable exhibition-goers to discover two young British artists whose work is part of a wider dynamic in painting.


Diagonal Lovers, the first solo exhibition in Belgium by William Grob (b. 1992), charts the emotional landscape of Generation Y by drawing on the artist's personal experiences, while The Rain Has Changed by Kate Burling (b. 1998) immerses spectators in a world between abstraction and figuration that mirrors a young artist's questions and doubts on the state of the world.
Join us for the start of this new promising season!
---
À l'occasion du Brussels Gallery Weekend, la galerie Nosbaum Reding marquera le deuxième anniversaire de sa présence à Bruxelles en ouvrant sa programmation artistique sur de nouveaux horizons.
Pour ce faire, nous avons donné carte blanche au consultant et commissaire d'exposition indépendant Vincent Vanden Bogaard, avec qui la galerie collabore également au Luxembourg. Pour cette rentrée bruxelloise, nous avons conçu un projet ambitieux autour de la peinture, qui doit permettre au public de découvrir deux jeunes artistes britanniques dont le travail pictural s'inscrit dans une dynamique nouvelle.
Dans Diagonal Lovers, sa première exposition personnelle en Belgique, William Grob (né en 1992) cartographie le paysage émotionnel de la génération Y en s'appuyant sur ses expériences personnelles. Dans The Rain Has Changed, Kate Burling (née en 1998) nous plonge quant à elle dans un univers entre abstraction et figuration où s'expriment les doutes et les réflexions d'une jeune artiste face à l'état du monde.
Nosbaum Reding se réjouit de vous accueillir nombreuses et nombreux pour cette rentrée placée sous le signe du renouveau !