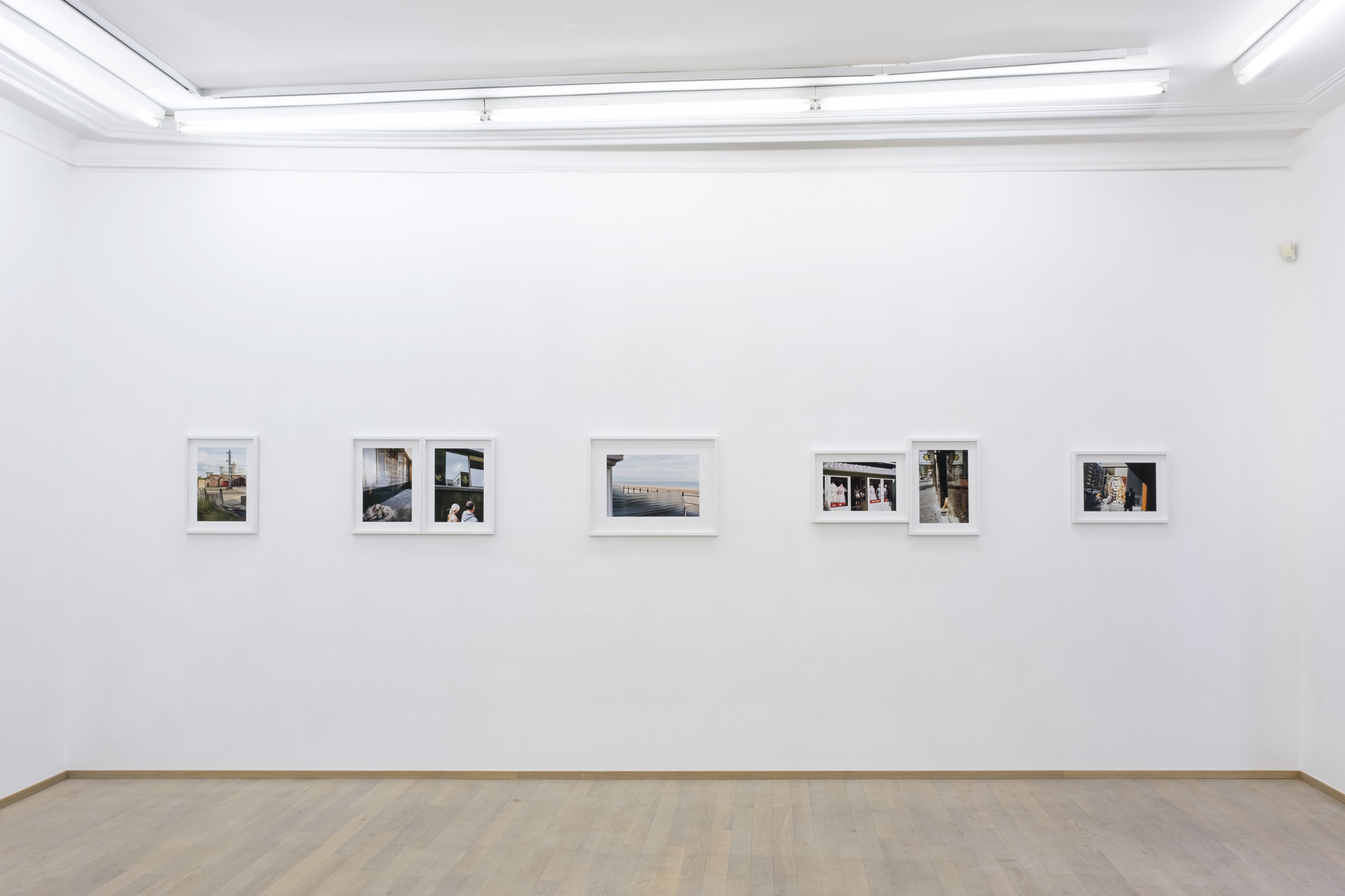 Exhibition view, Nosbaum Reding, Luxembourg projects, 2022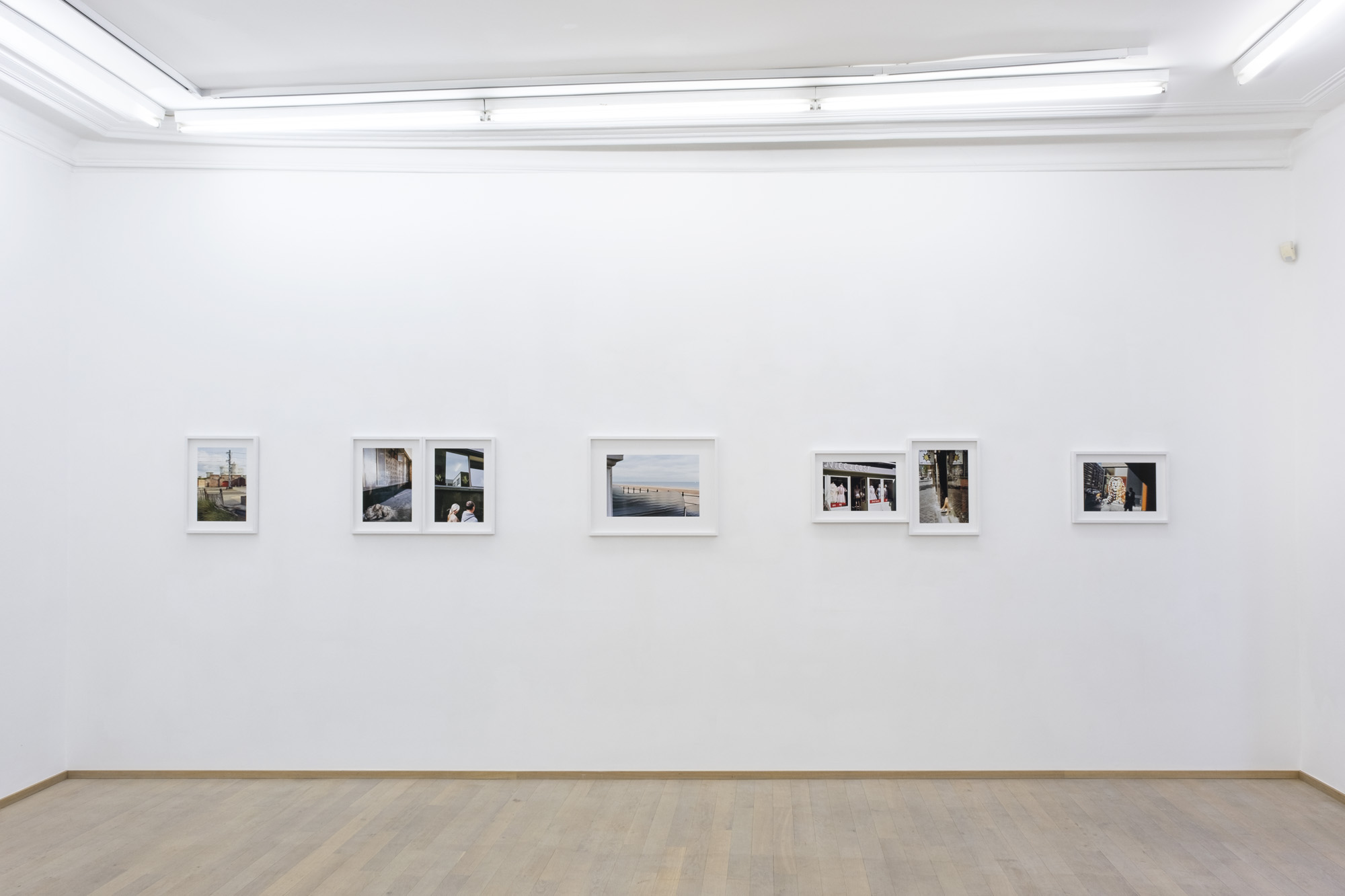 Exhibition view, Nosbaum Reding, Luxembourg projects, 2022
Exhibition view, Nosbaum Reding, Luxembourg projects, 2022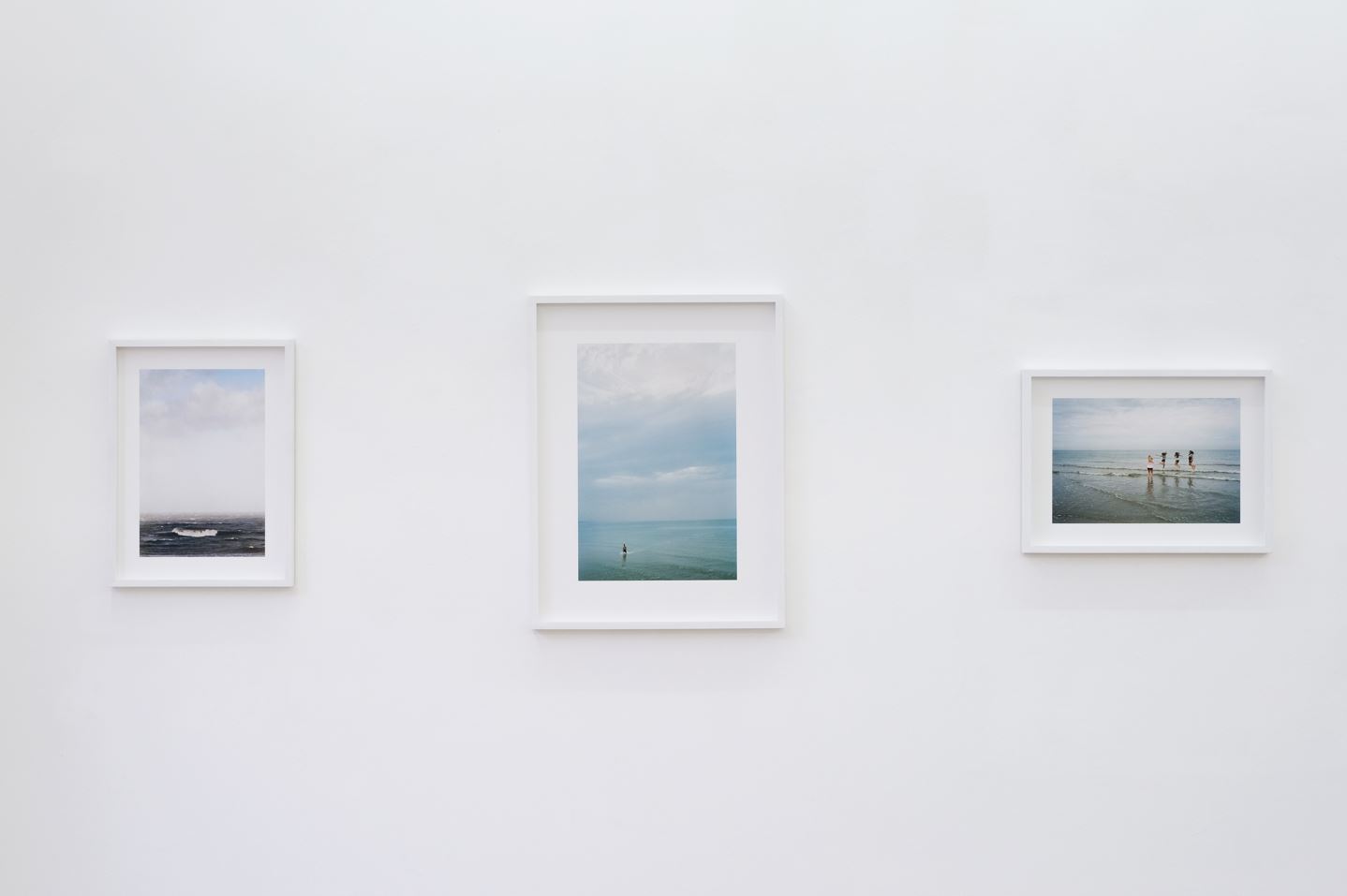 Exhibition view, Nosbaum Reding, Luxembourg projects, 2022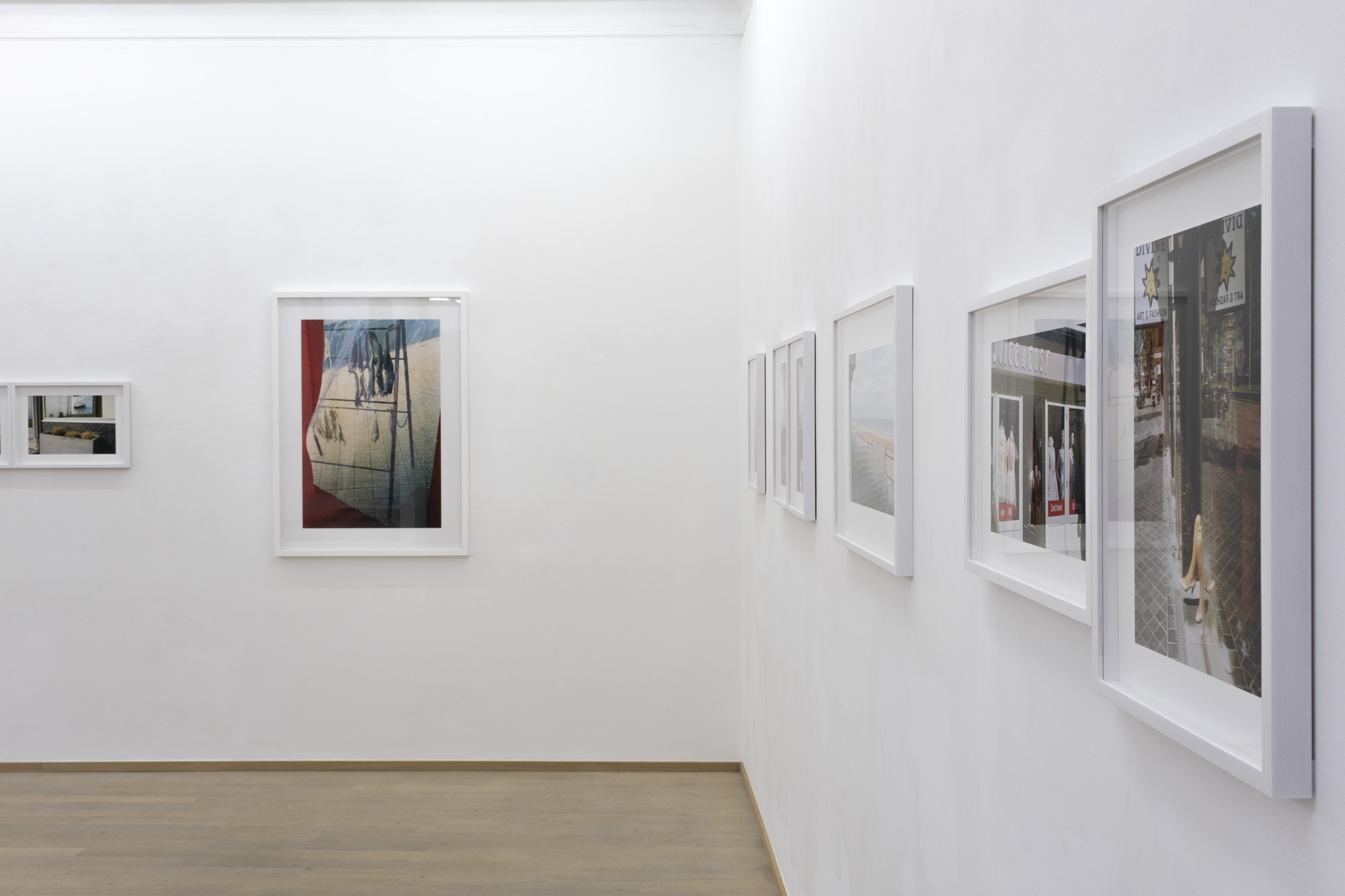 Exhibition view, Nosbaum Reding, Luxembourg projects, 2022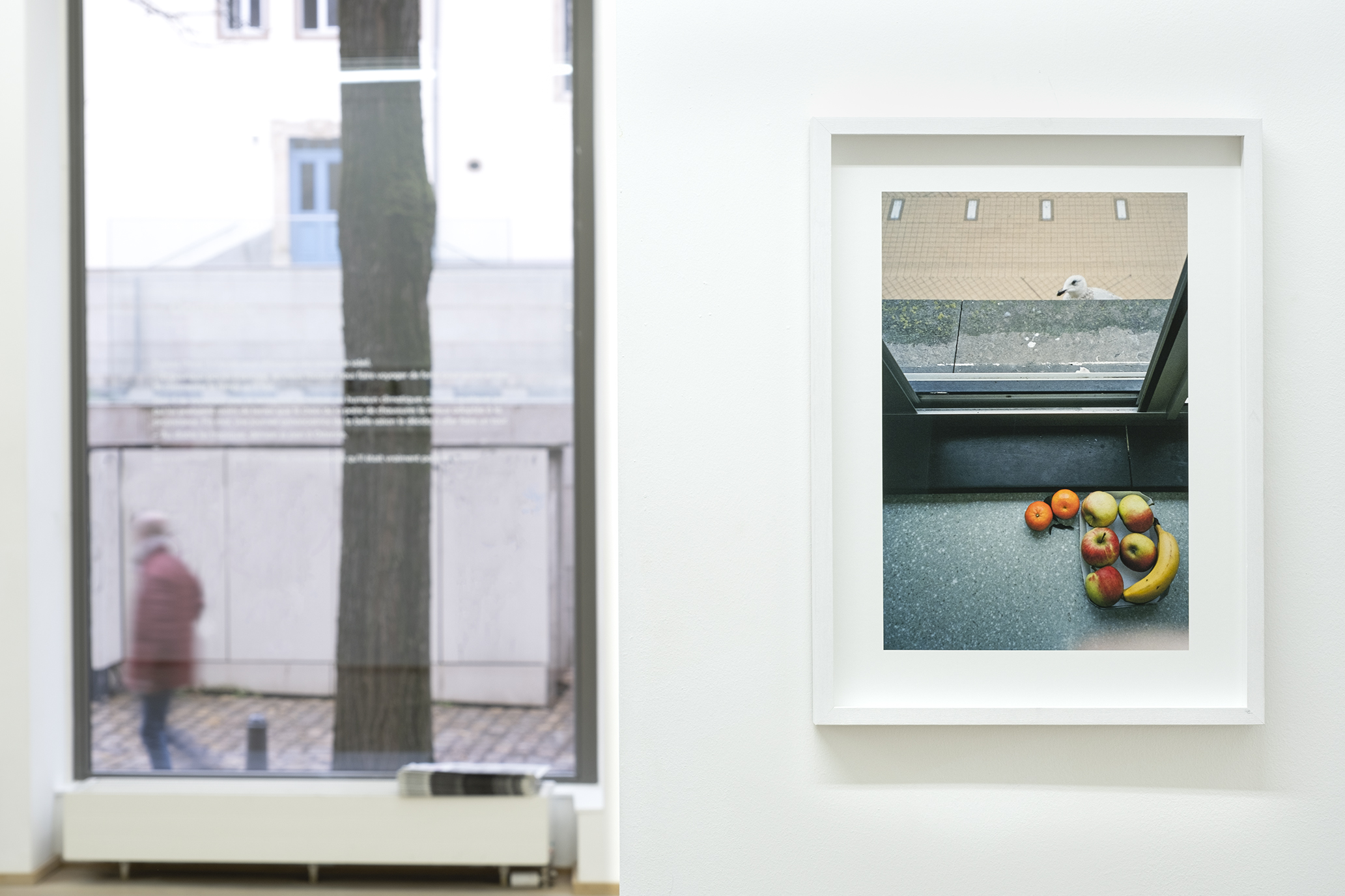 Exhibition view, Nosbaum Reding, Luxembourg projects, 2022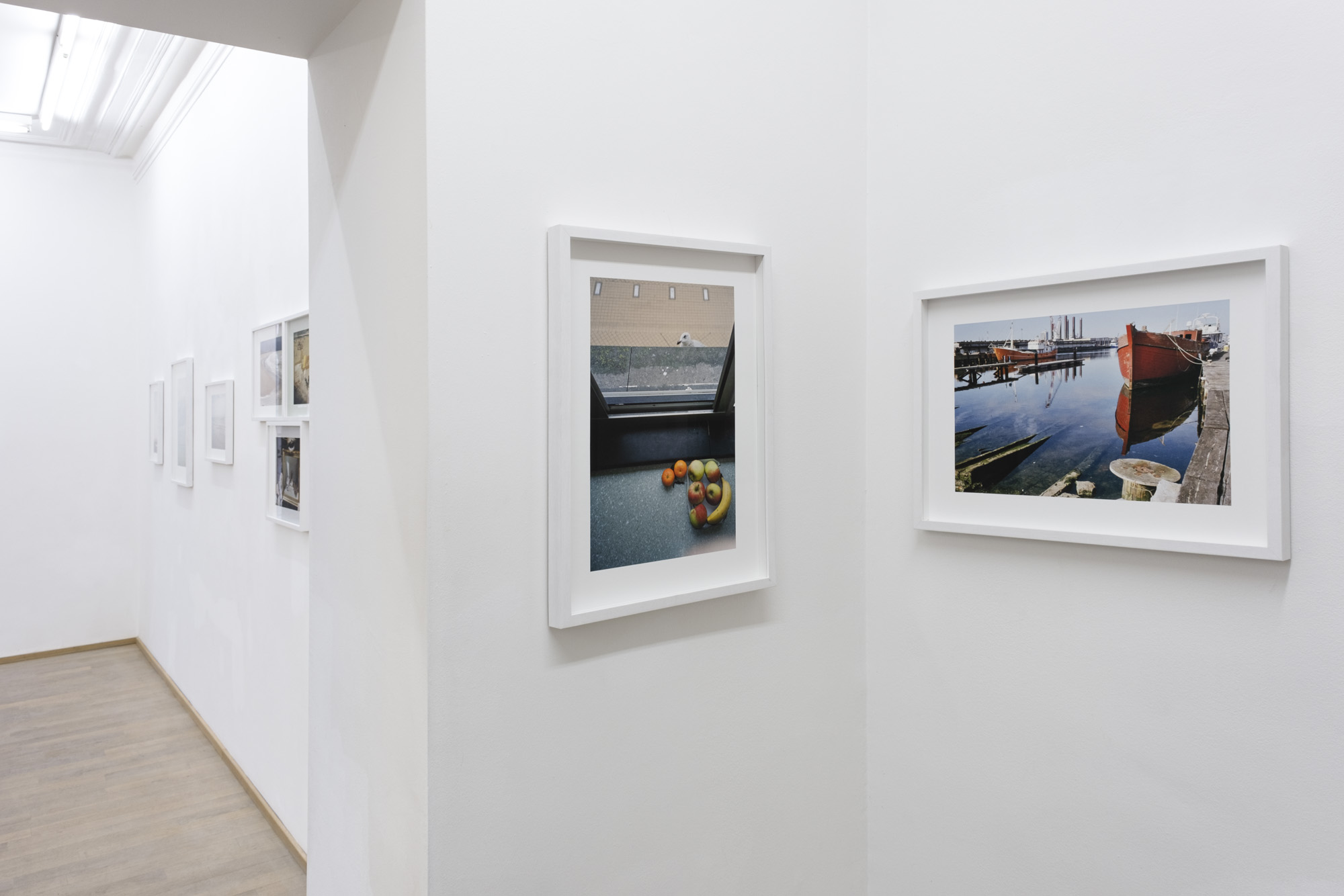 Exhibition view, Nosbaum Reding, Luxembourg projects, 2022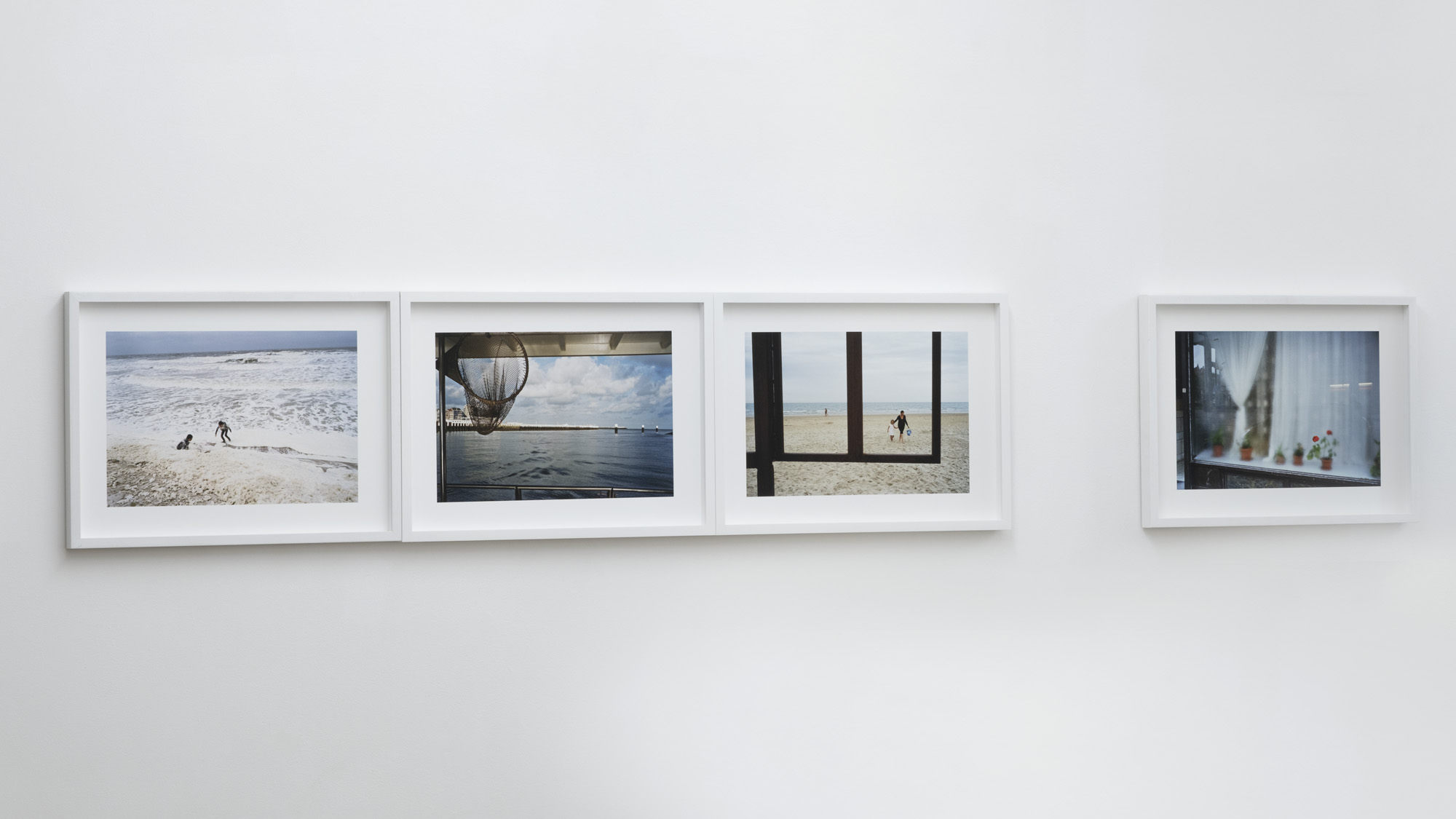 Exhibition view, Nosbaum Reding, Luxembourg projects, 2022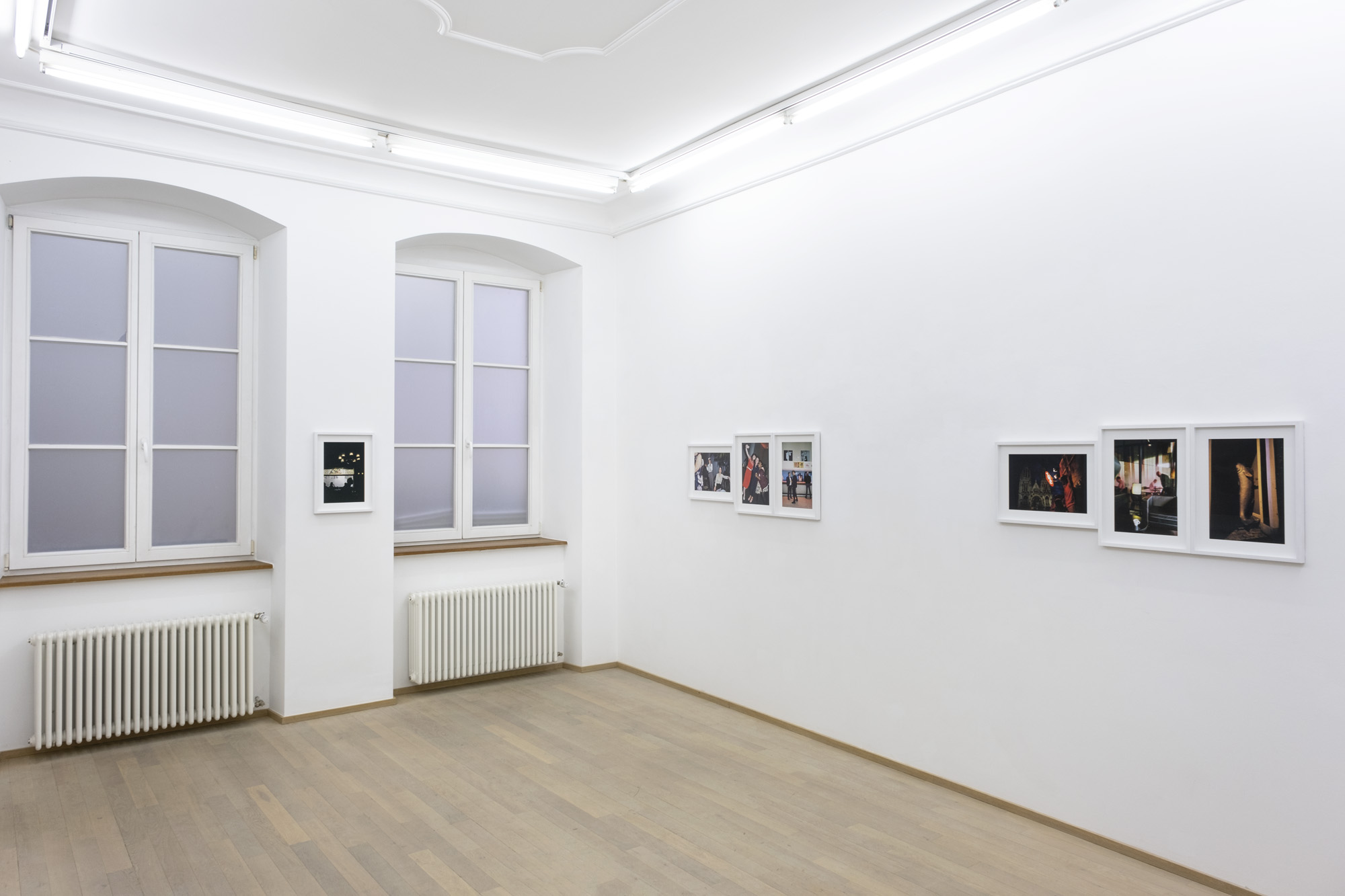 Exhibition view, Nosbaum Reding, Luxembourg projects, 2022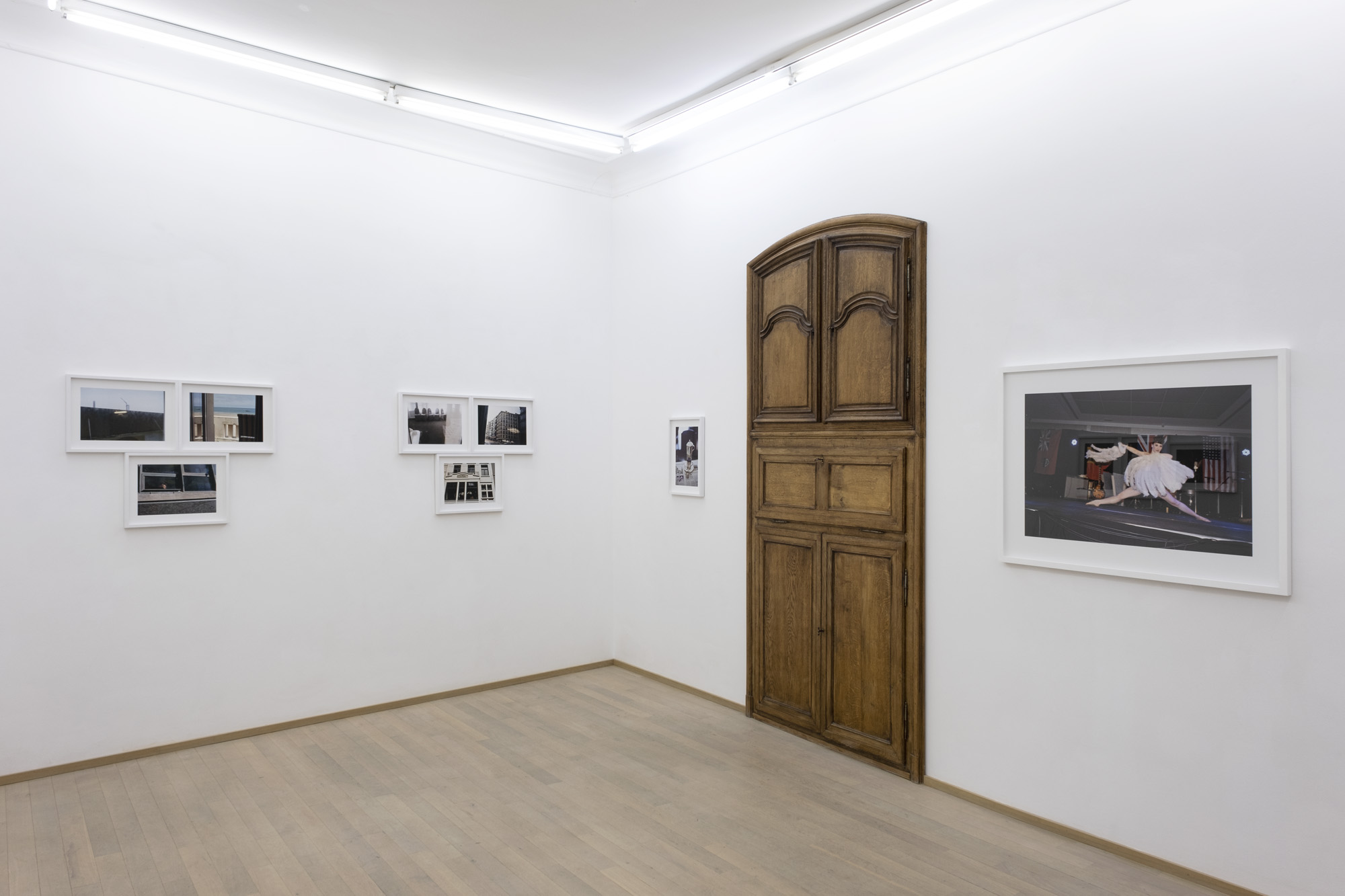 Exhibition view, Nosbaum Reding, Luxembourg projects, 2022
Exhibition view, Nosbaum Reding, Luxembourg projects, 2022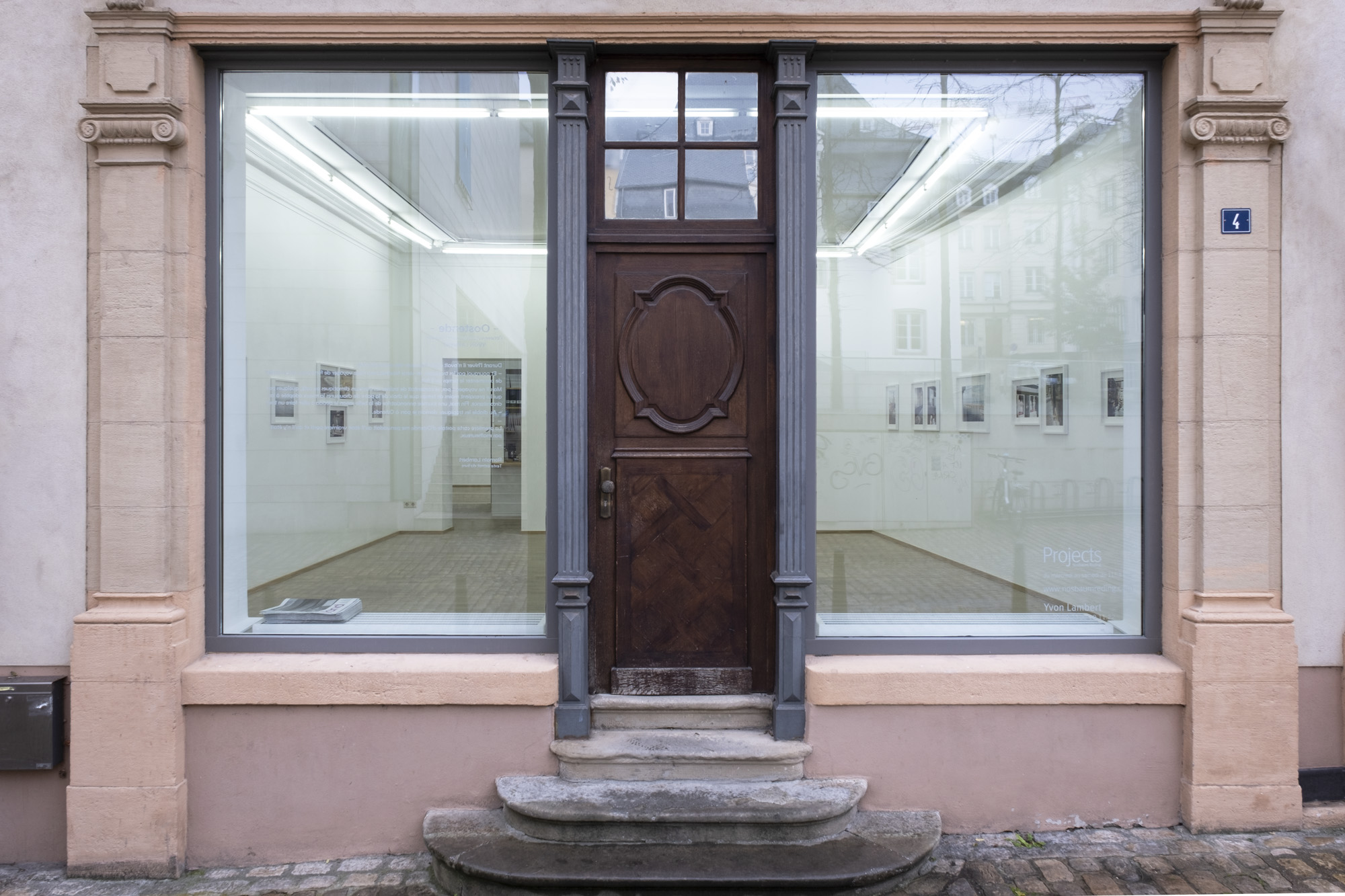 Exhibition view, Nosbaum Reding, Luxembourg projects, 2022
Exhibited Works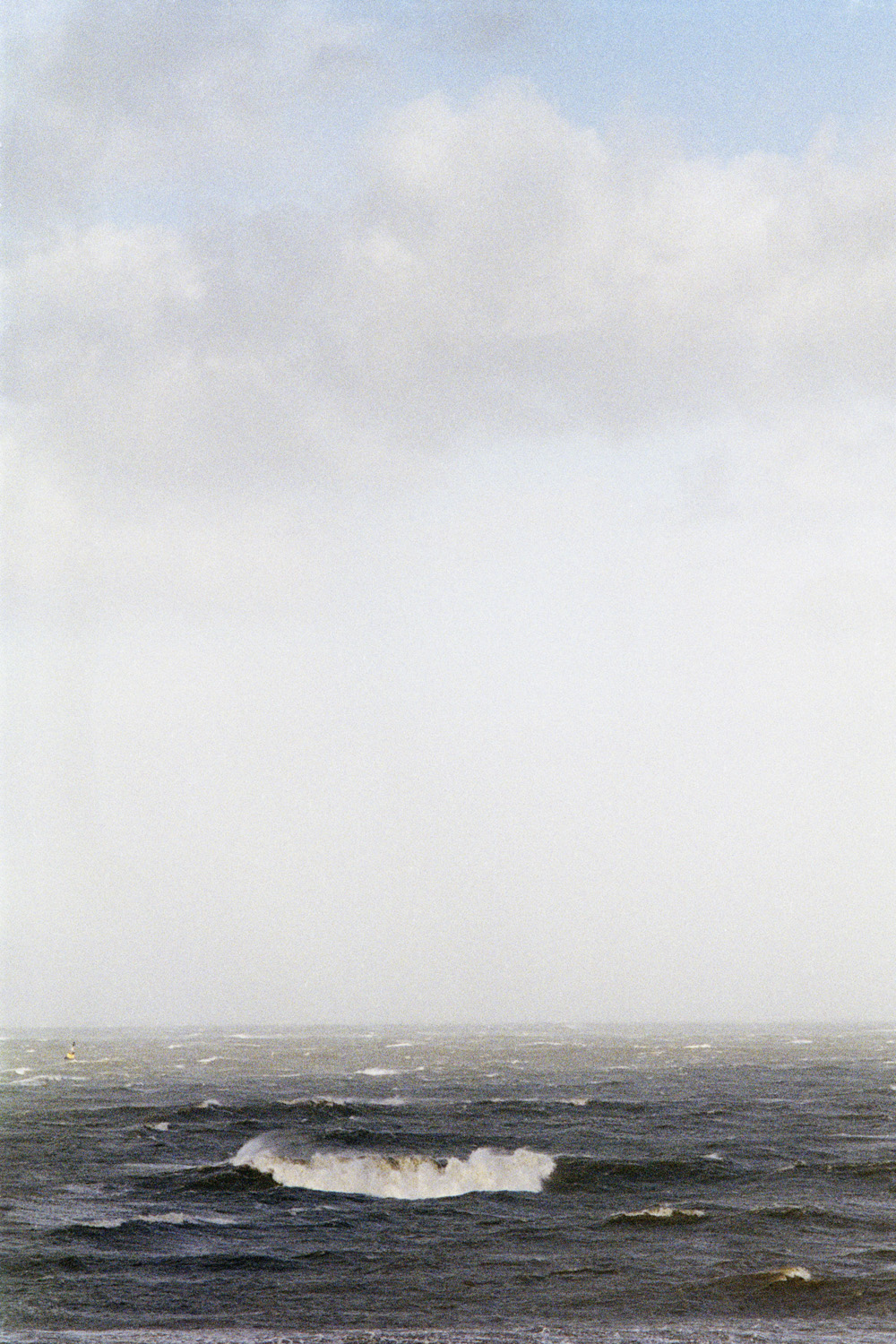 Yvon Lambert
La mer du Nord
, 2013
Analog photography, Hahnemühle Photo Rag 308 g paper
Image : 18.5 x 13.39 in ( 47 x 34 cm )
Edition of 15 ex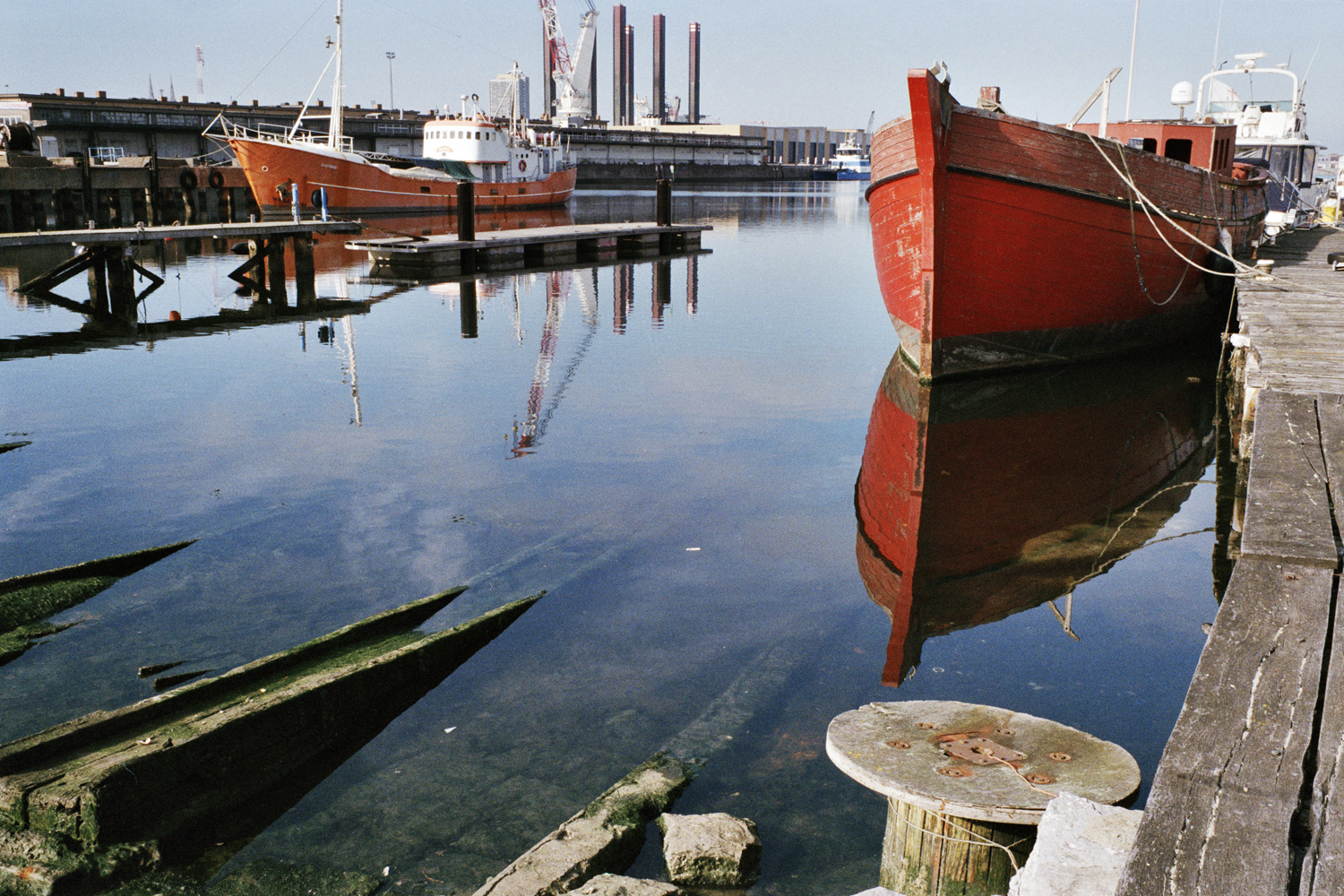 Yvon Lambert
Dans le port
, 2018
Analog photography, Hahnemühle Photo Rag 308 g paper
Image : 13.39 x 18.5 in ( 34 x 47 cm )
Edition of 15 ex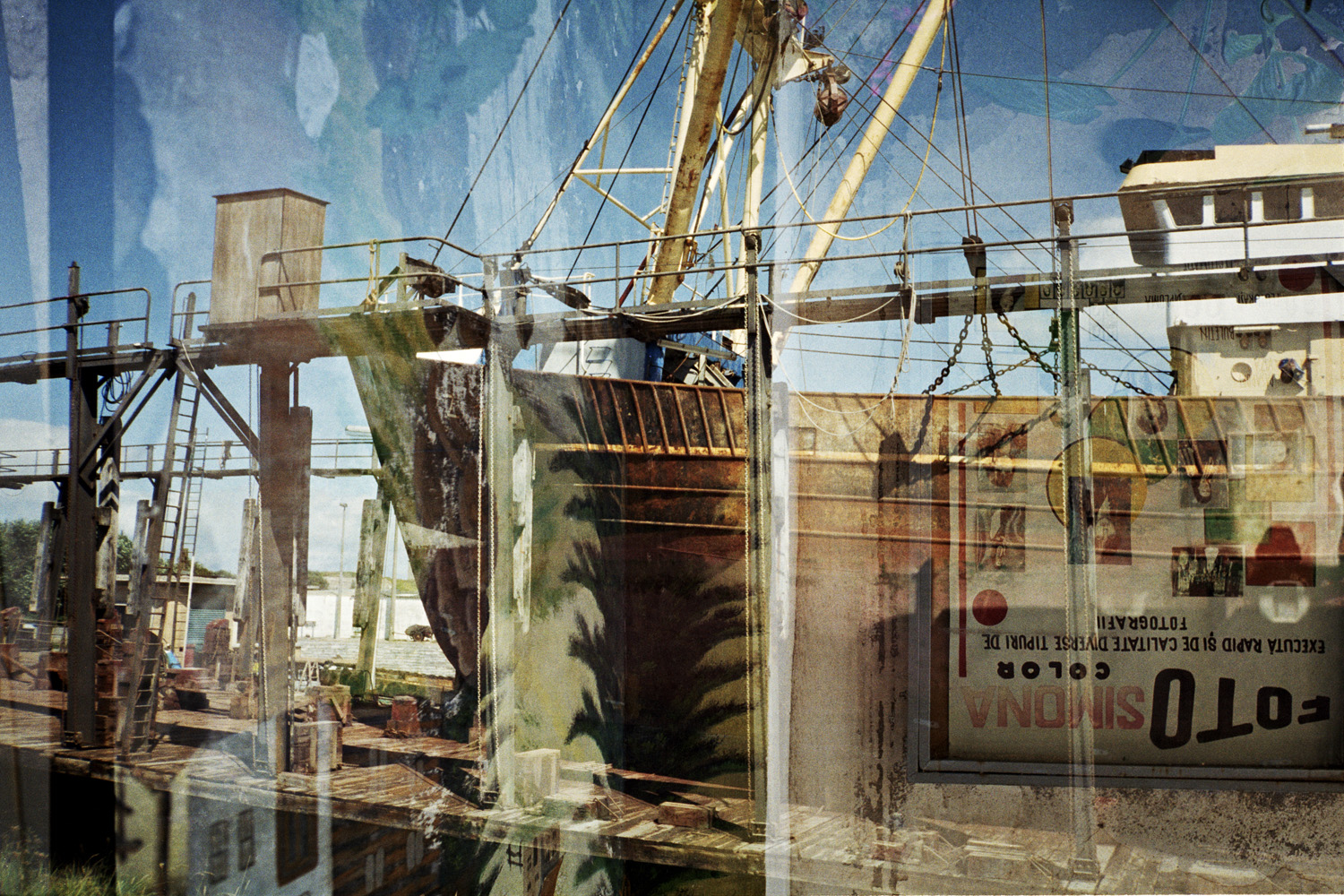 Yvon Lambert
Havengeulkaai
, 2009
Analog photography, Hahnemühle Photo Rag 308 g paper
Image : 14.57 x 19.69 in ( 37 x 50 cm )
Edition of 18 ex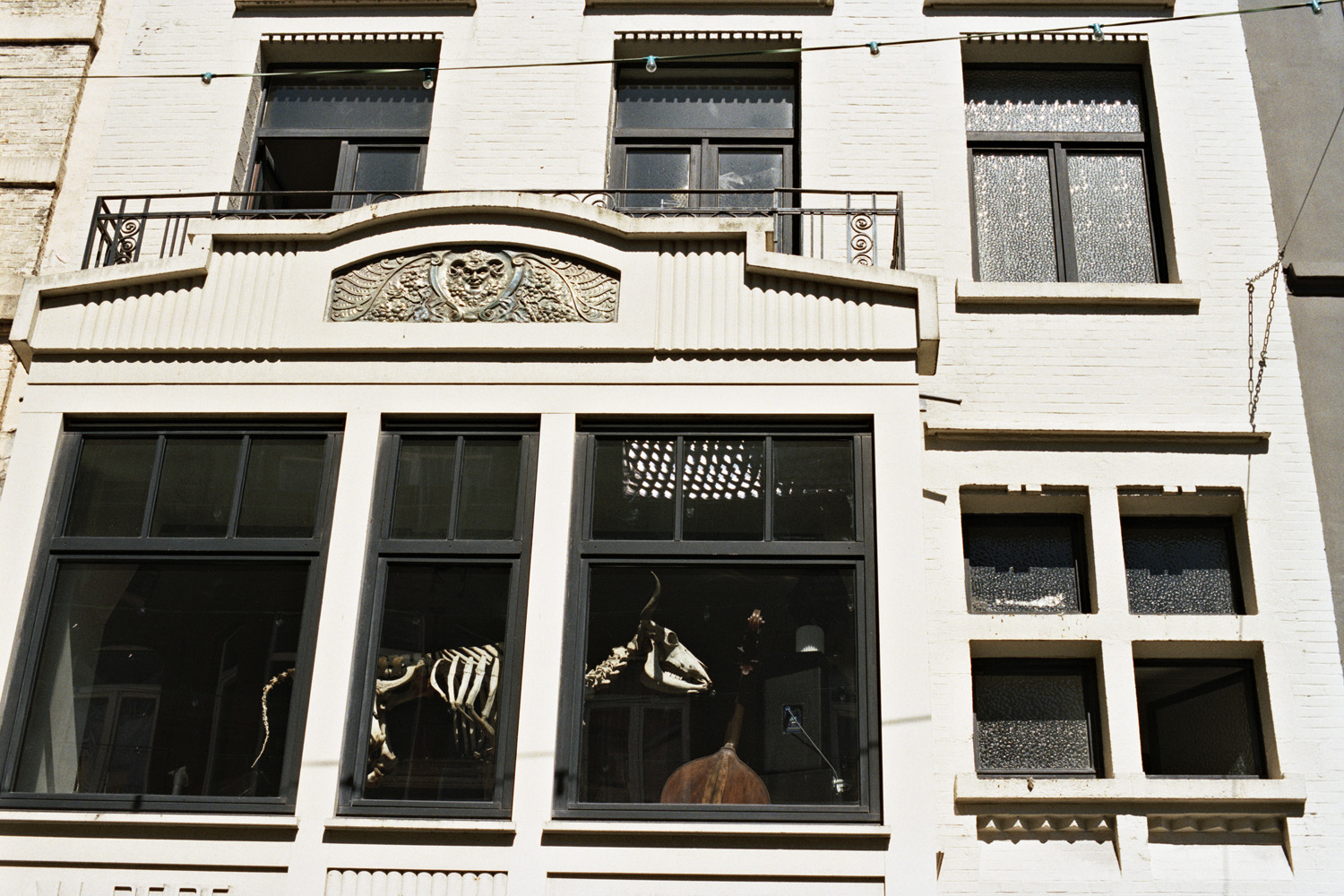 Yvon Lambert
Langestraat
, 2015
Analog photography, Hahnemühle Photo Rag 308 g paper
Image : 13.39 x 18.5 in ( 34 x 47 cm )
Edition of 15 ex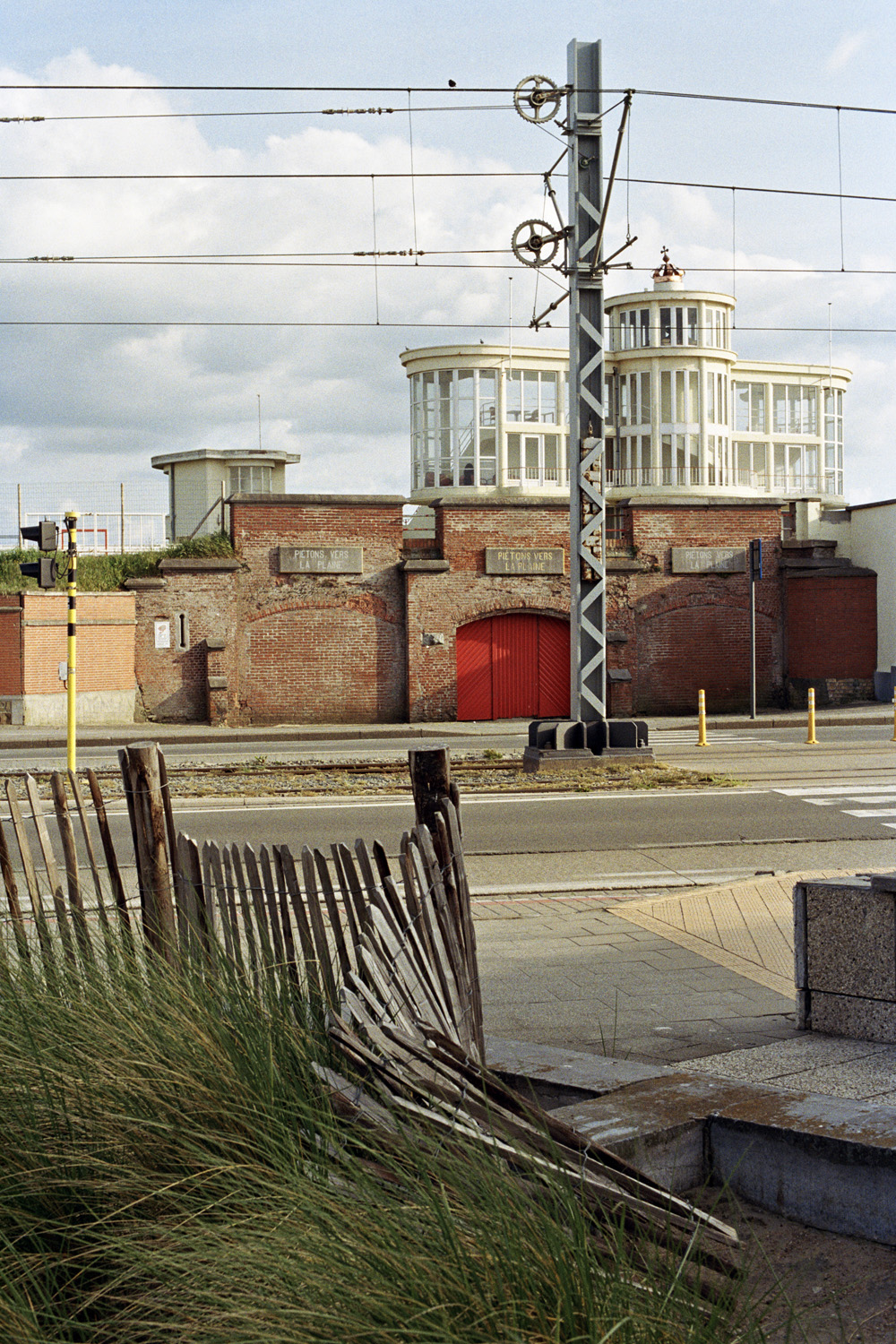 Yvon Lambert
Hippodrome Wellington
, 2015
Photographie argentique, papier Hahnemühle Photo Rag 308 g
Image : 18.5 x 13.39 in ( 47 x 34 cm )
Edition of 15 ex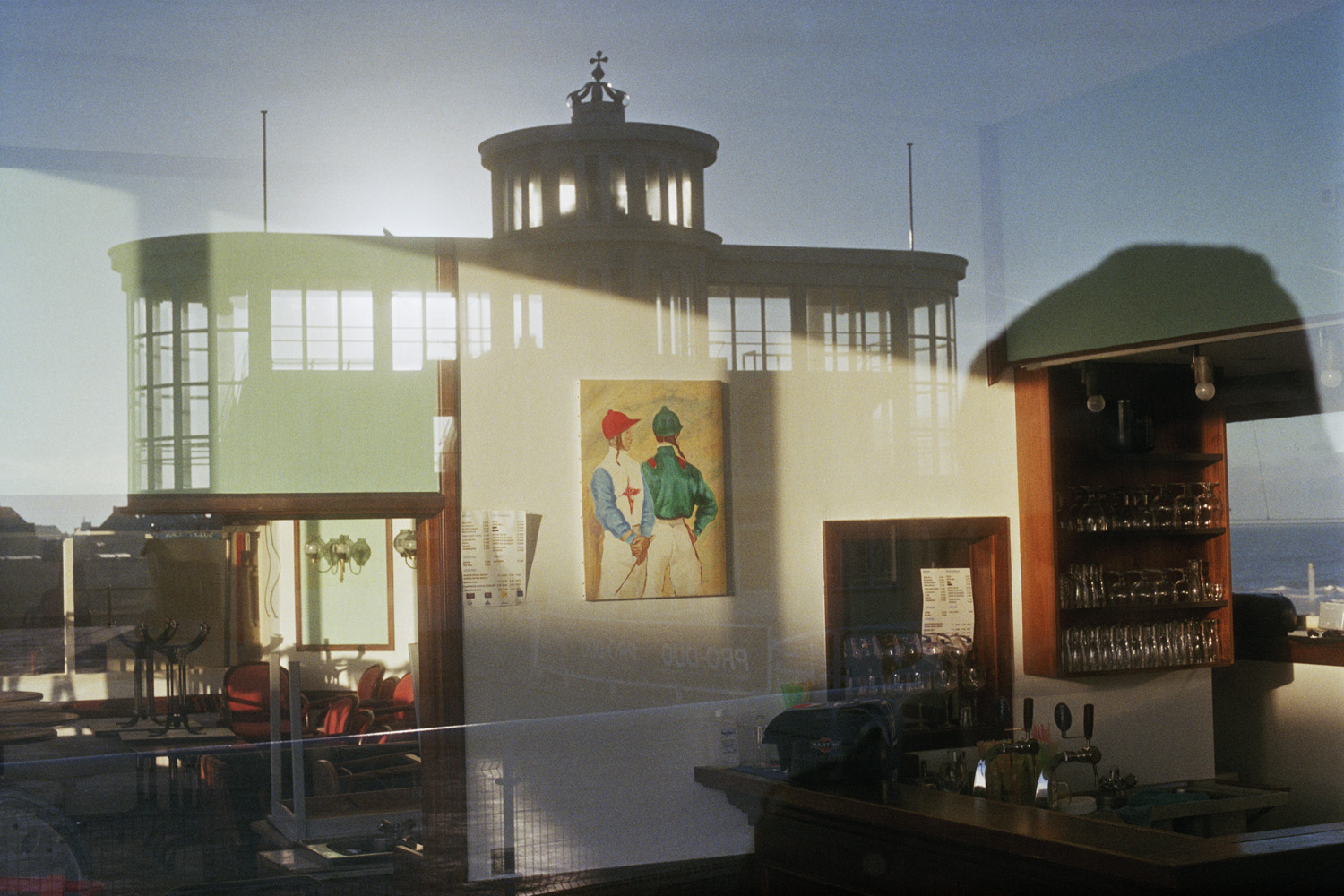 Yvon Lambert
Hippodrome Wellington
, 2015
Analog photography, Hahnemühle Photo Rag 308 g paper
Image : 13.39 x 18.5 in ( 34 x 47 cm )
Edition of 15 ex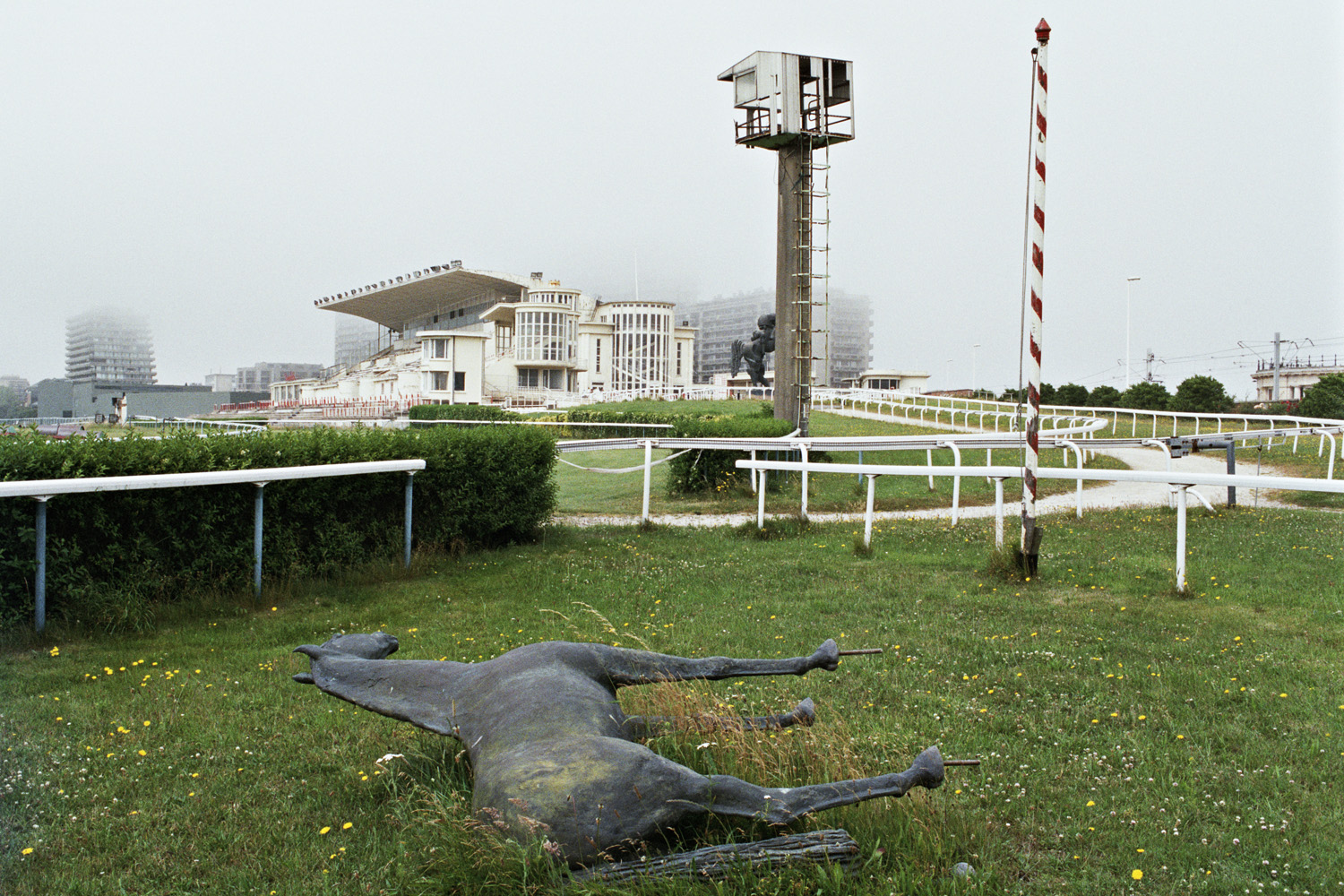 Yvon Lambert
Hippodrome Wellington
, 2008
Analog photography, Hahnemühle Photo Rag 308 g paper
Image : 13.39 x 18.5 in ( 34 x 47 cm )
Edition of 18 ex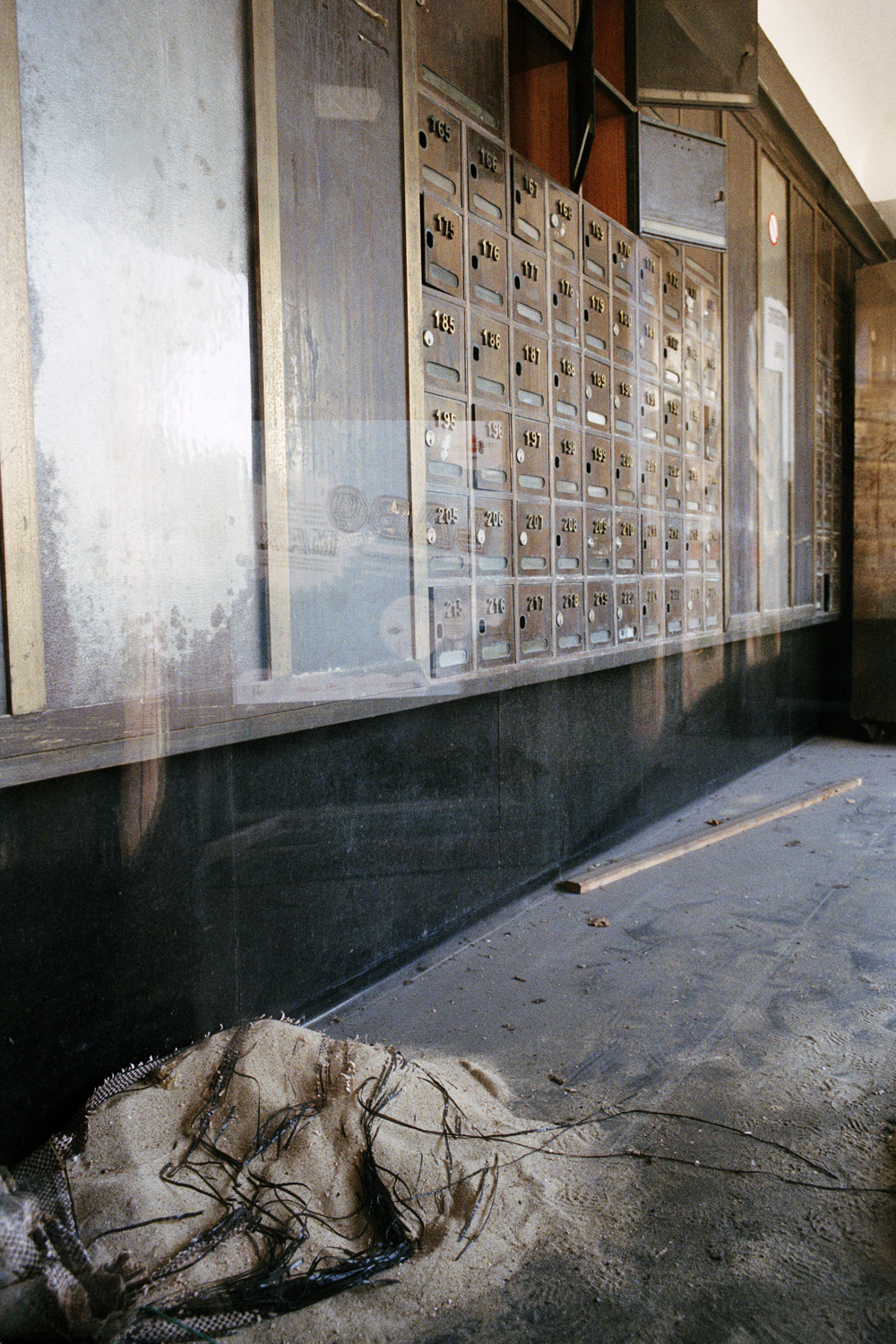 Yvon Lambert
De Grote Post
, 2016
Analog photography, Hahnemühle Photo Rag 308 g paper
Image : 18.5 x 13.39 in ( 47 x 34 cm )
Edition of 15 ex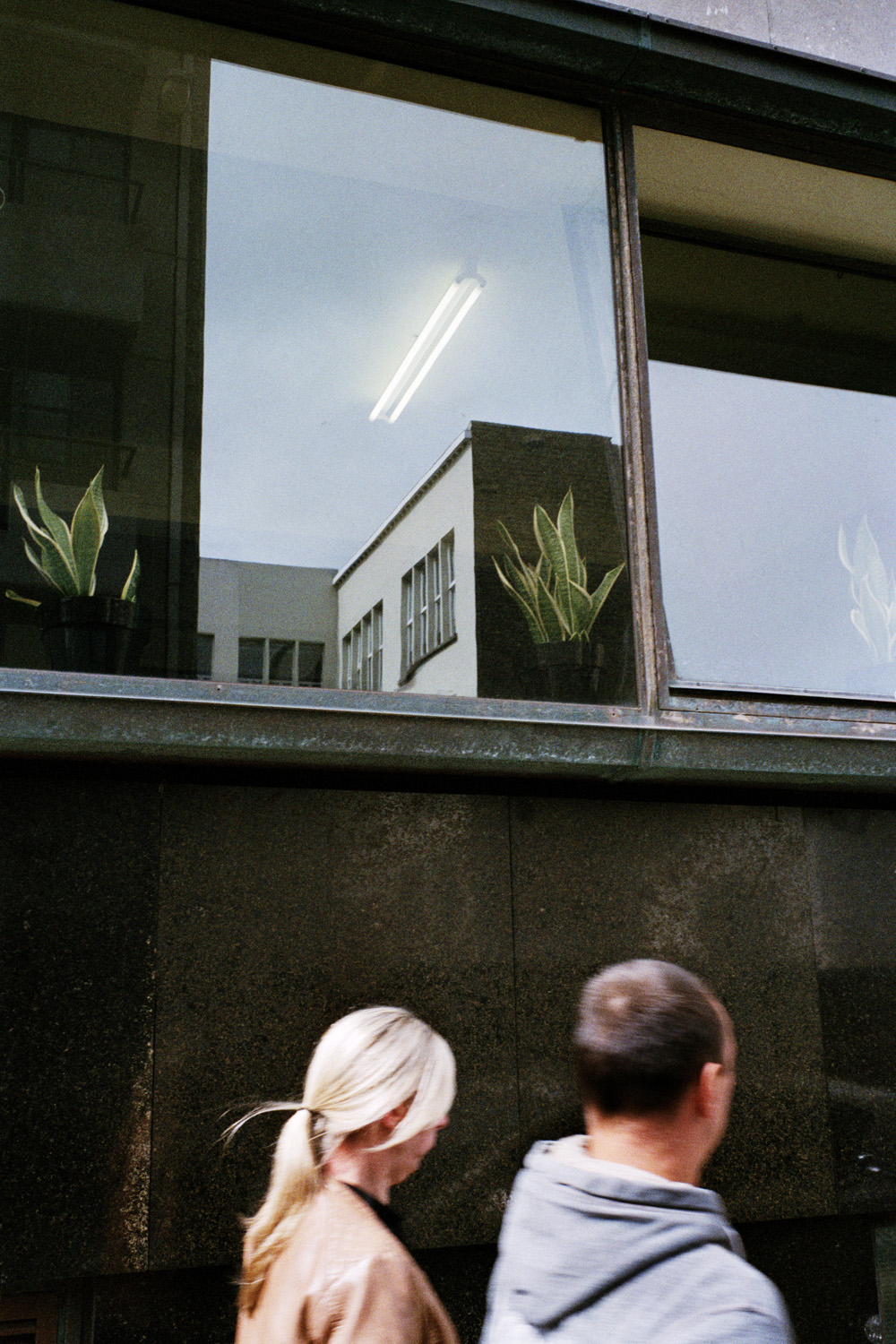 Yvon Lambert
De Grote Post
, 2018
Analog photography, Hahnemühle Photo Rag 308 g paper
Image : 18.5 x 13.39 in ( 47 x 34 cm )
Edition of 15 ex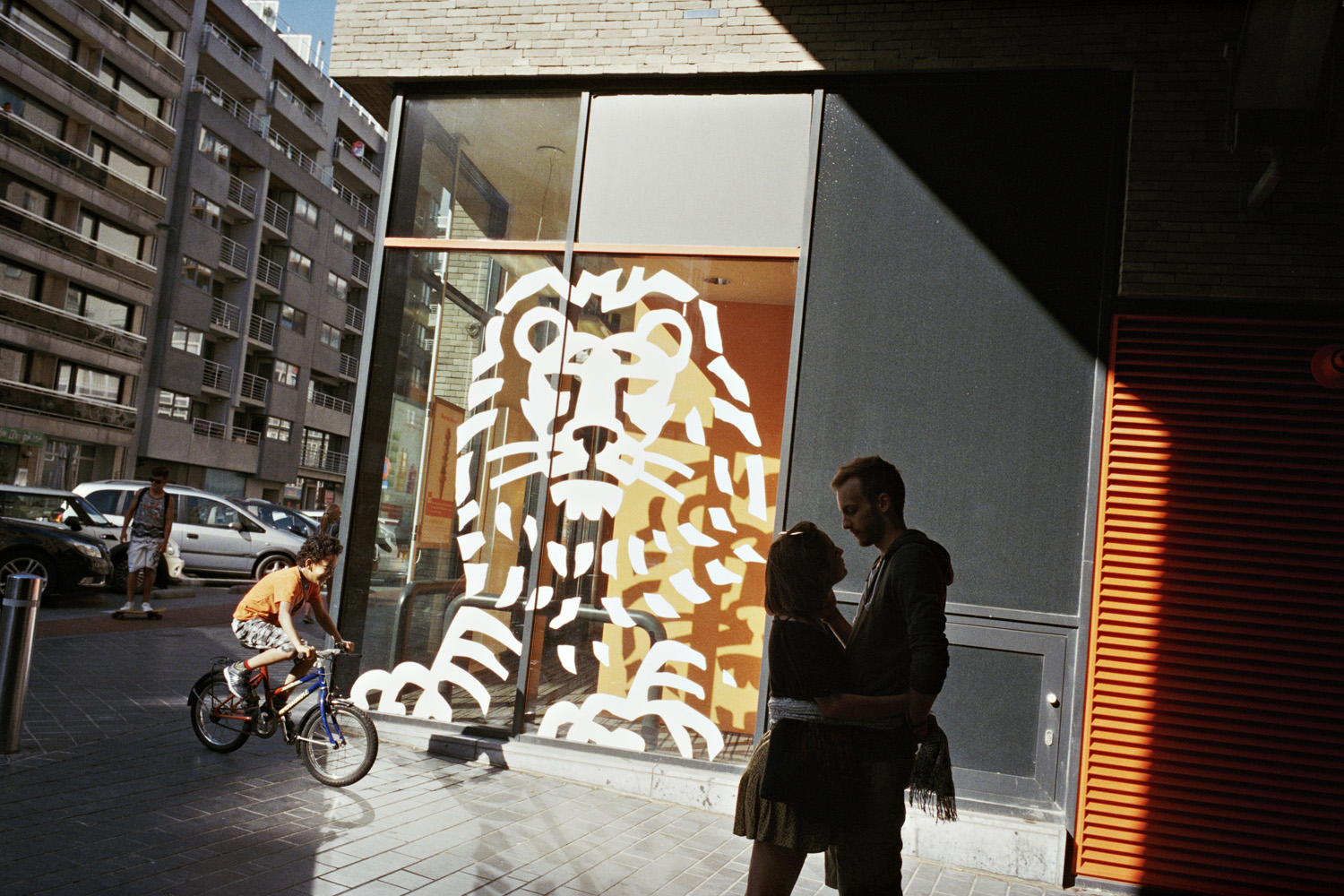 Yvon Lambert
Van Iseghemlaan
, 2015
Analog photography, Hahnemühle Photo Rag 308 g paper
Image : 13.39 x 18.5 in ( 34 x 47 cm )
Edition of 15 ex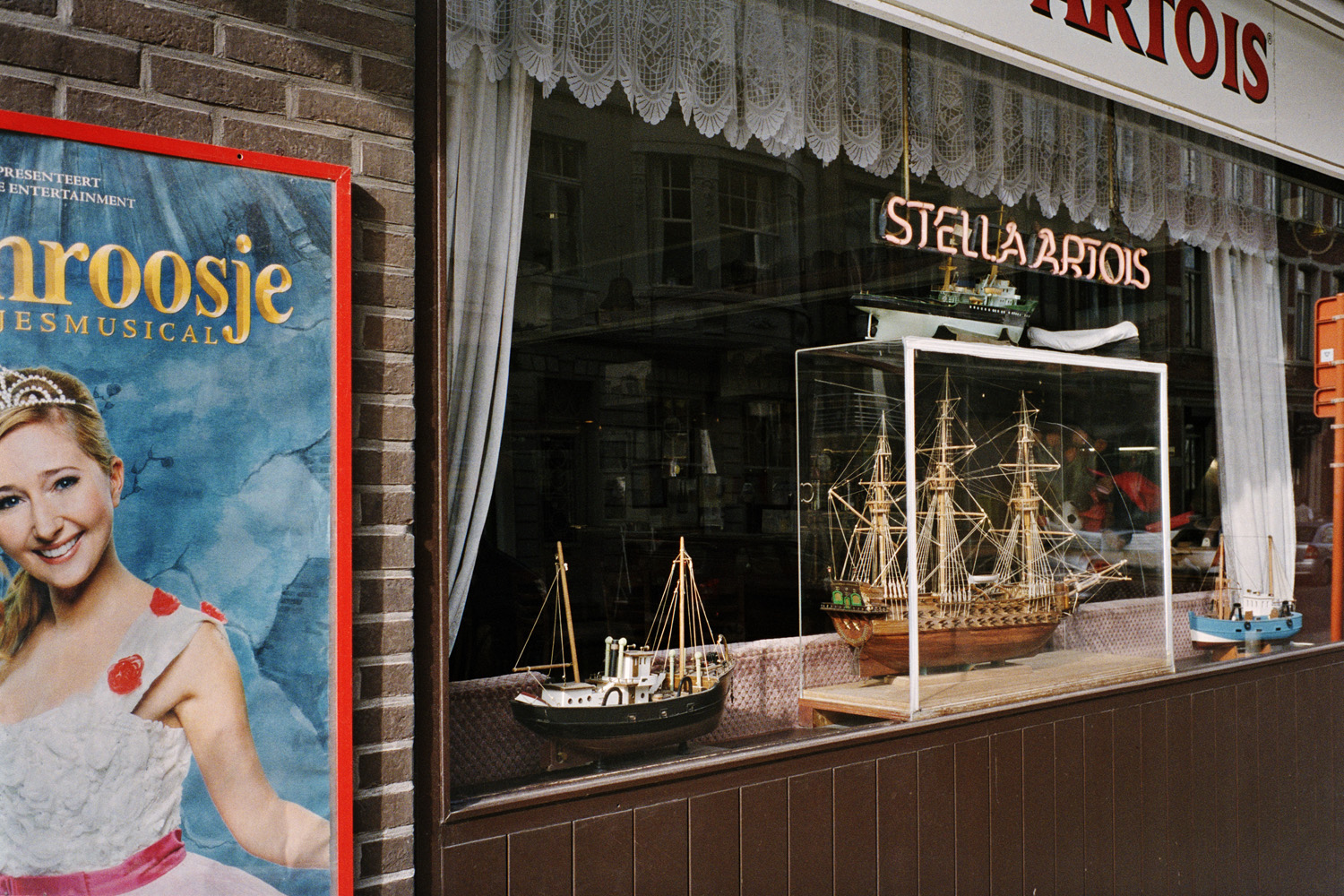 Yvon Lambert
Karel Janssenslaan
, 2014
Analog photography, Hahnemühle Photo Rag 308 g paper
Image : 13.39 x 18.5 in ( 34 x 47 cm )
Edition of 15 ex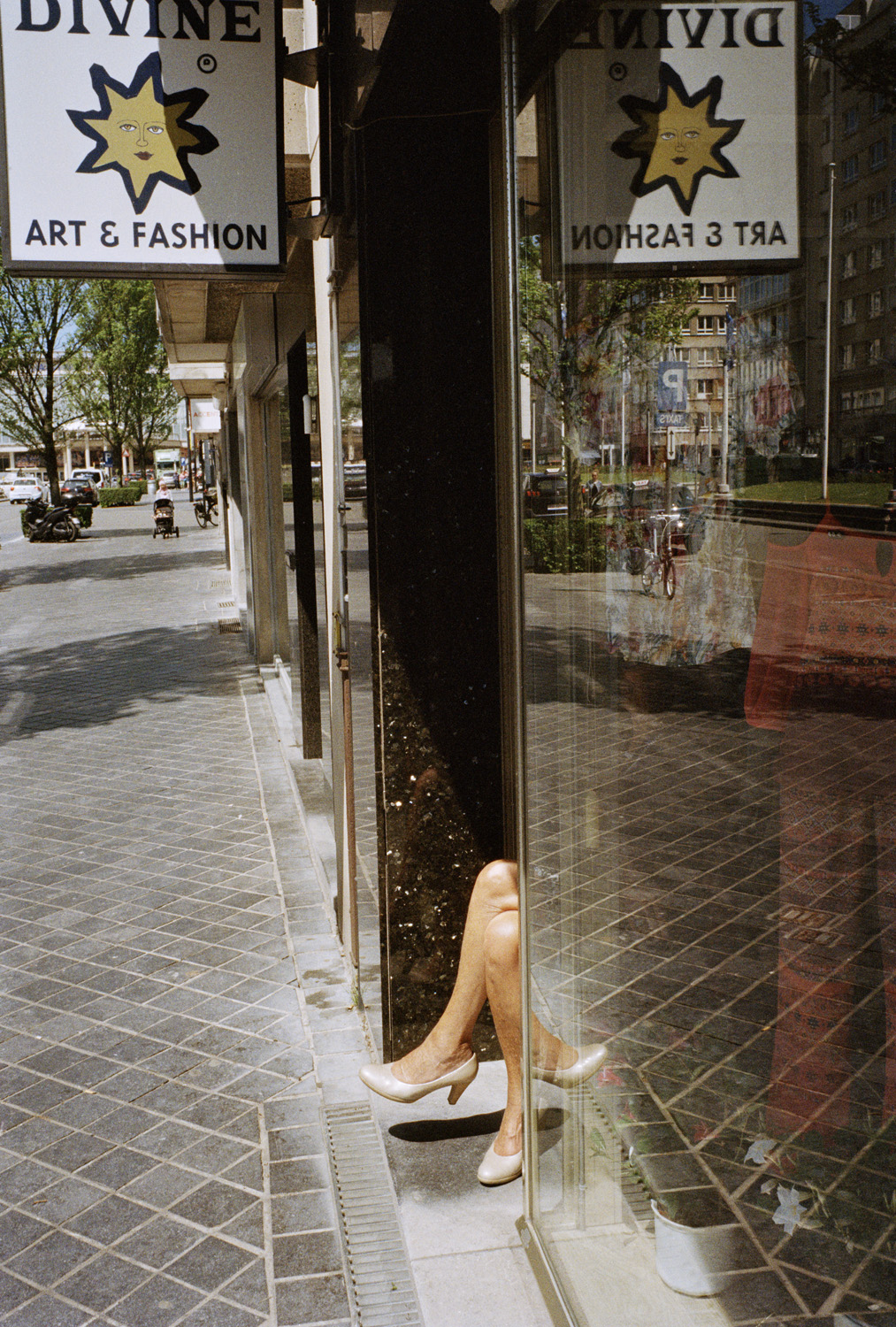 Yvon Lambert
Leopold II - laan
, 2019
Analog photography, Hahnemühle Photo Rag 308 g paper
Image : 18.5 x 13.39 in ( 47 x 34 cm )
Edition of 15 ex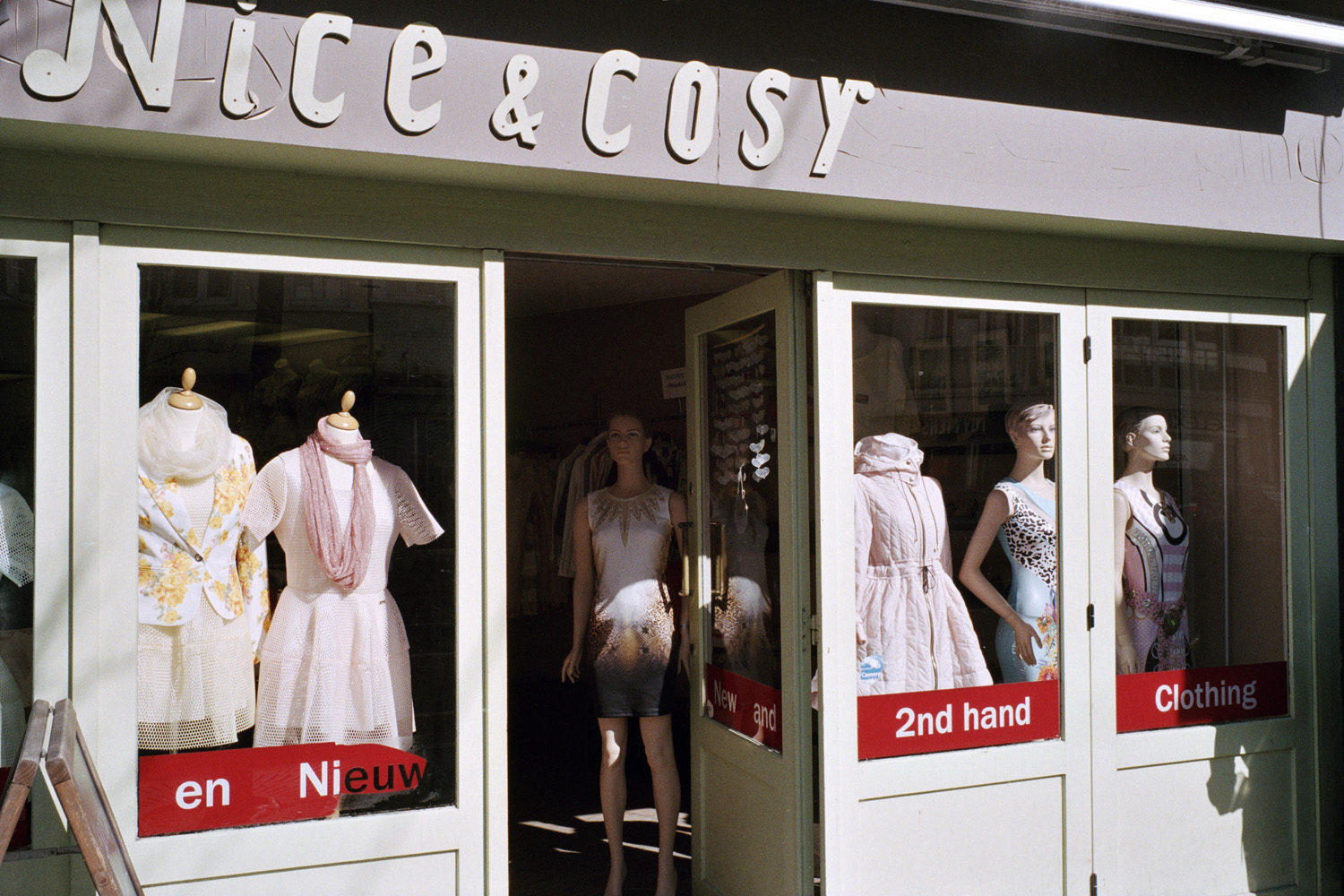 Yvon Lambert
Alfons Pieterslaan
, 2015
Analog photography, Hahnemühle Photo Rag 308 g paper
Image : 13.39 x 18.5 in ( 34 x 47 cm )
Edition of 15 ex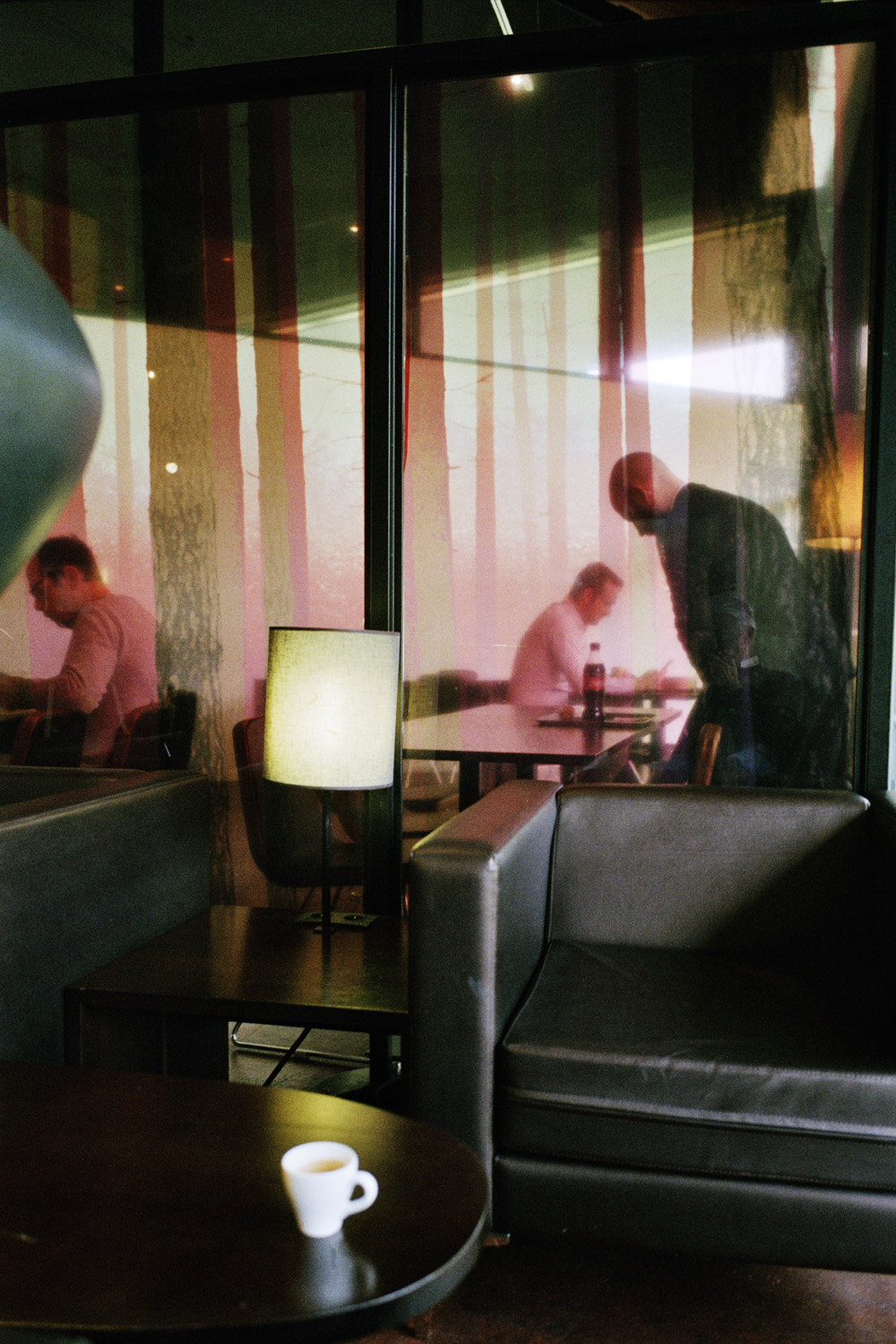 Yvon Lambert
Bar de l'hôtel
, 2019
Analog photography, Hahnemühle Photo Rag 308 g paper
Image : 18.5 x 13.39 in ( 47 x 34 cm )
Edition of 15 ex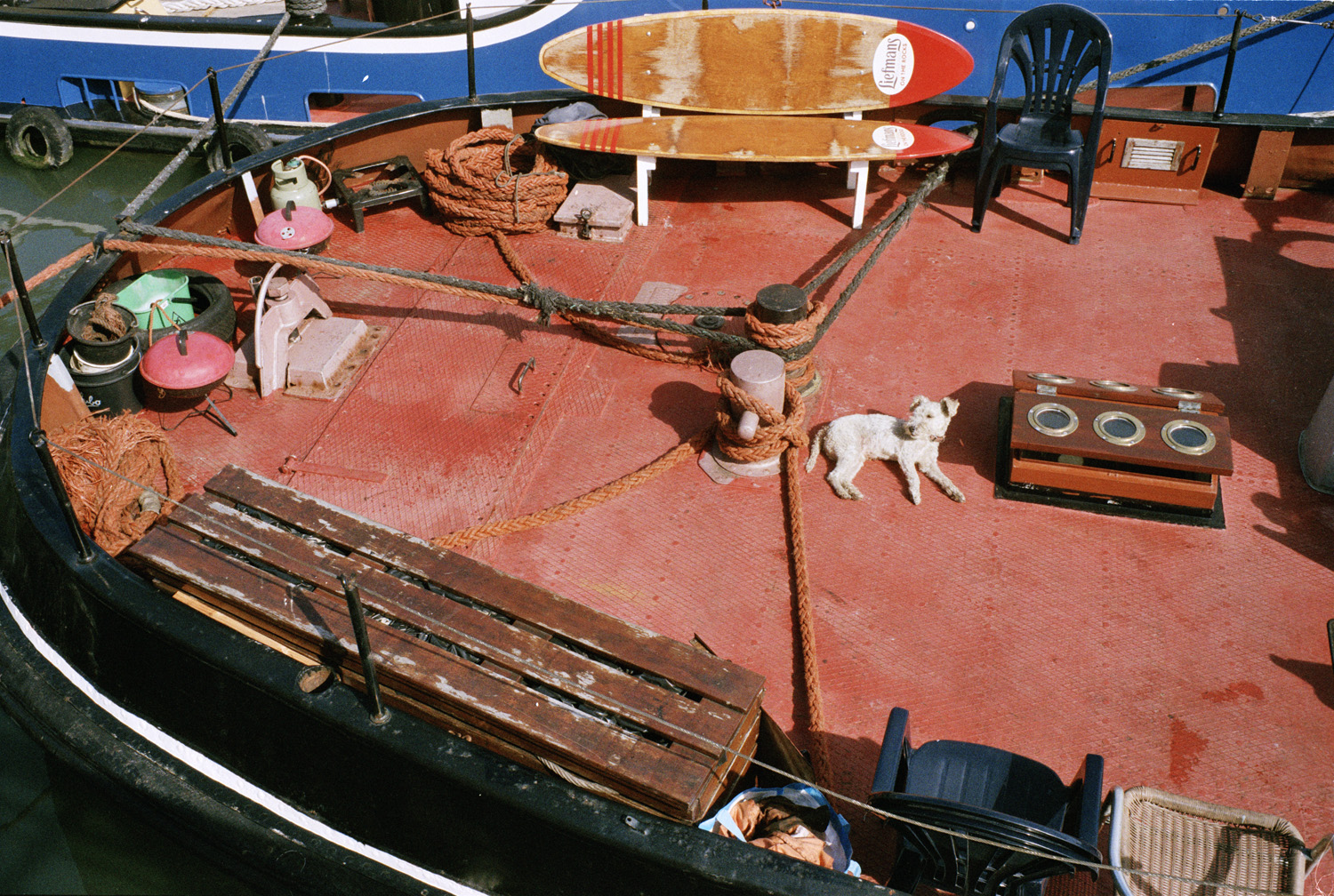 Yvon Lambert
Dans le port
, 2019
Analog photography, Hahnemühle Photo Rag 308 g paper
Image : 13.39 x 18.5 in ( 34 x 47 cm )
Edition of 15 ex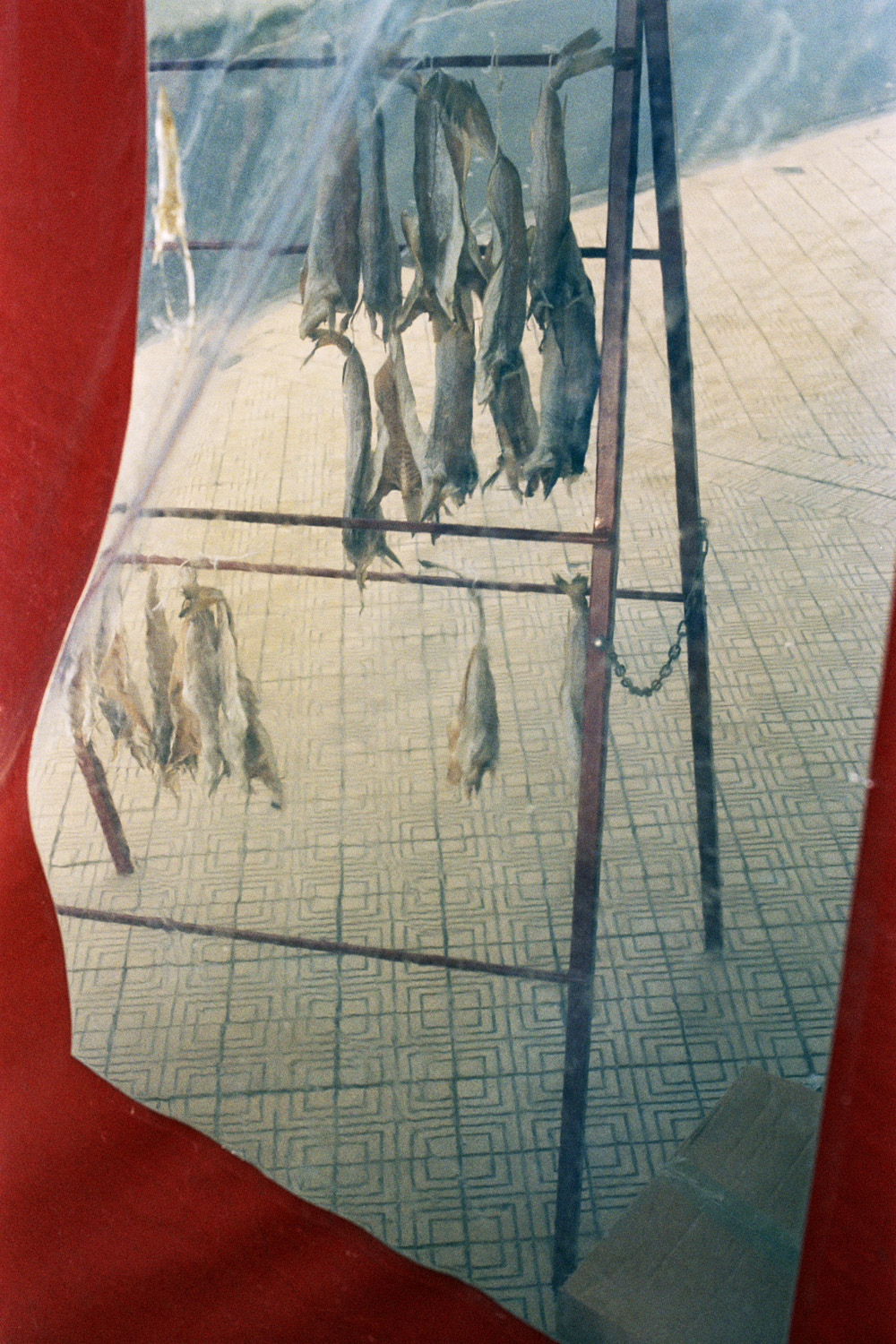 Yvon Lambert
Visserskaai
, 2014
Analog photography, Hahnemühle Photo Rag 308 g paper
Image : 42.52 x 30.71 in ( 108 x 78 cm )
Edition of 15 ex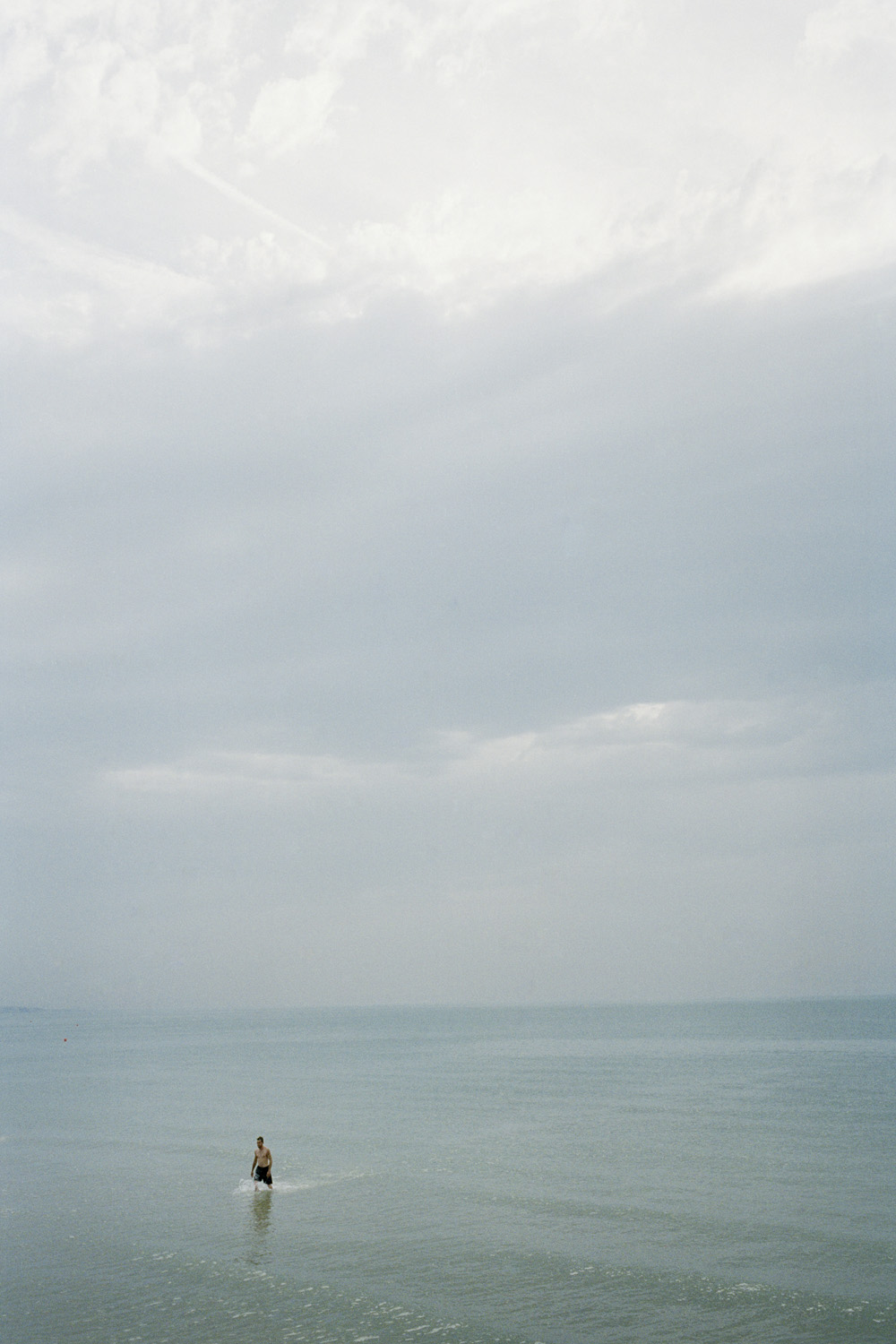 Yvon Lambert
La mer du Nord
, 2012
Analog photography
Image : 25.2 x 18.9 in ( 64 x 48 cm )
Edition of 15 ex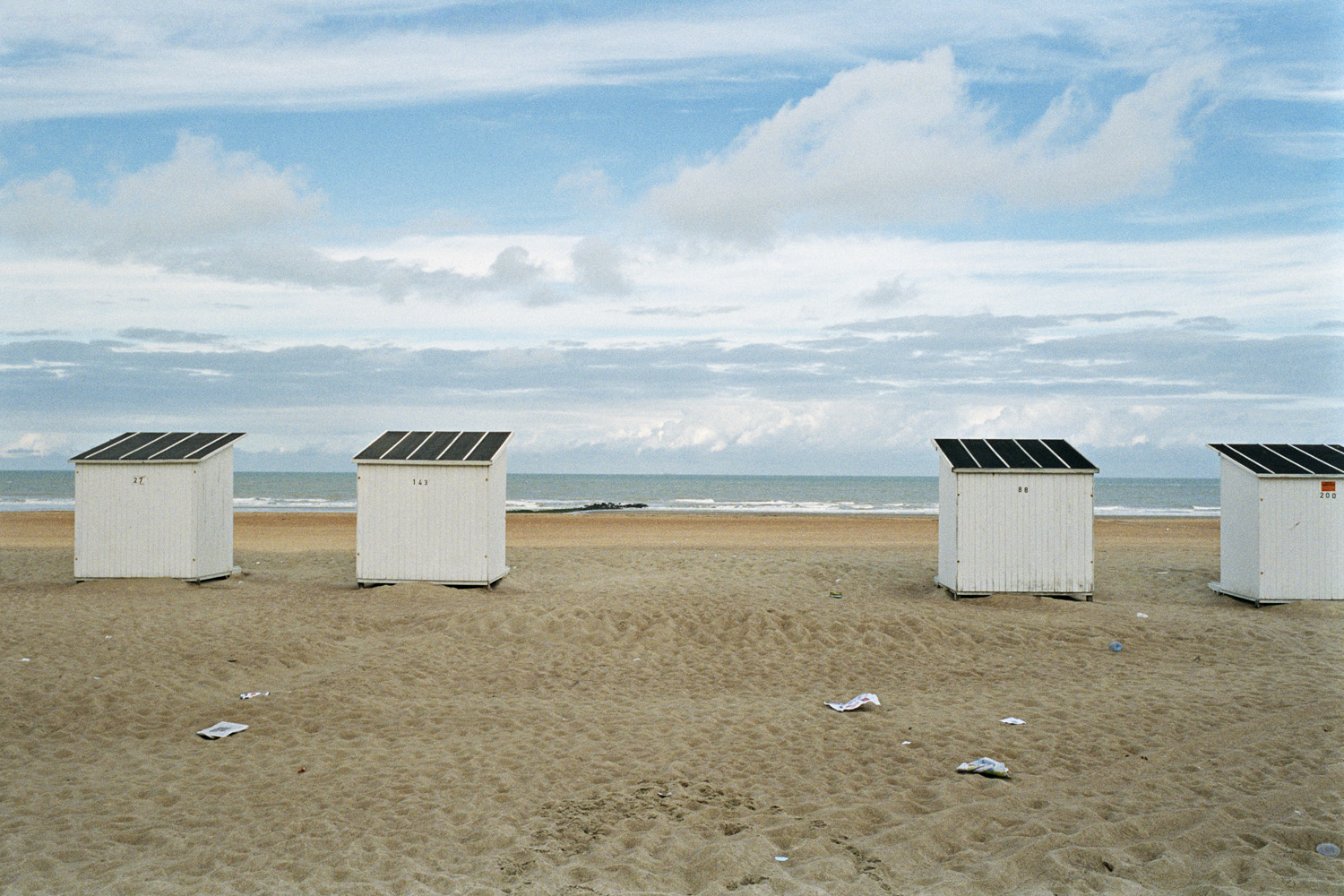 Yvon Lambert
Cabine de plage
, 2012
analog photography, Hahnemühle Photo Rag 308 g paper
Image : 14.57 x 19.69 in ( 37 x 50 cm )
Edition of 15 ex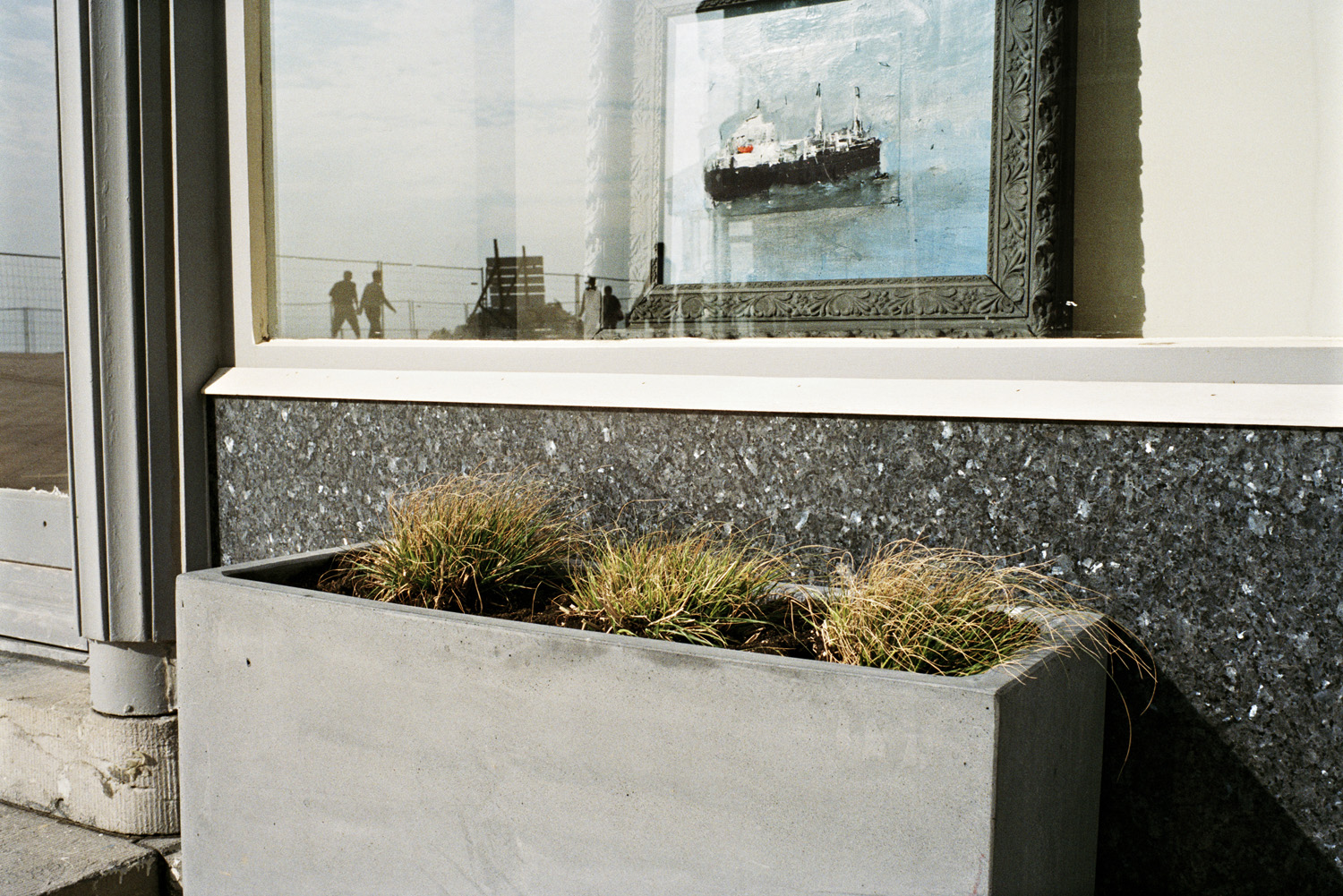 Yvon Lambert
Vitrine, Vlaanderenstraat
, 2011
Analog photography, Hahnemühle Photo Rag 308 g paper
Image : 13.39 x 18.5 in ( 34 x 47 cm )
Edition of 18 ex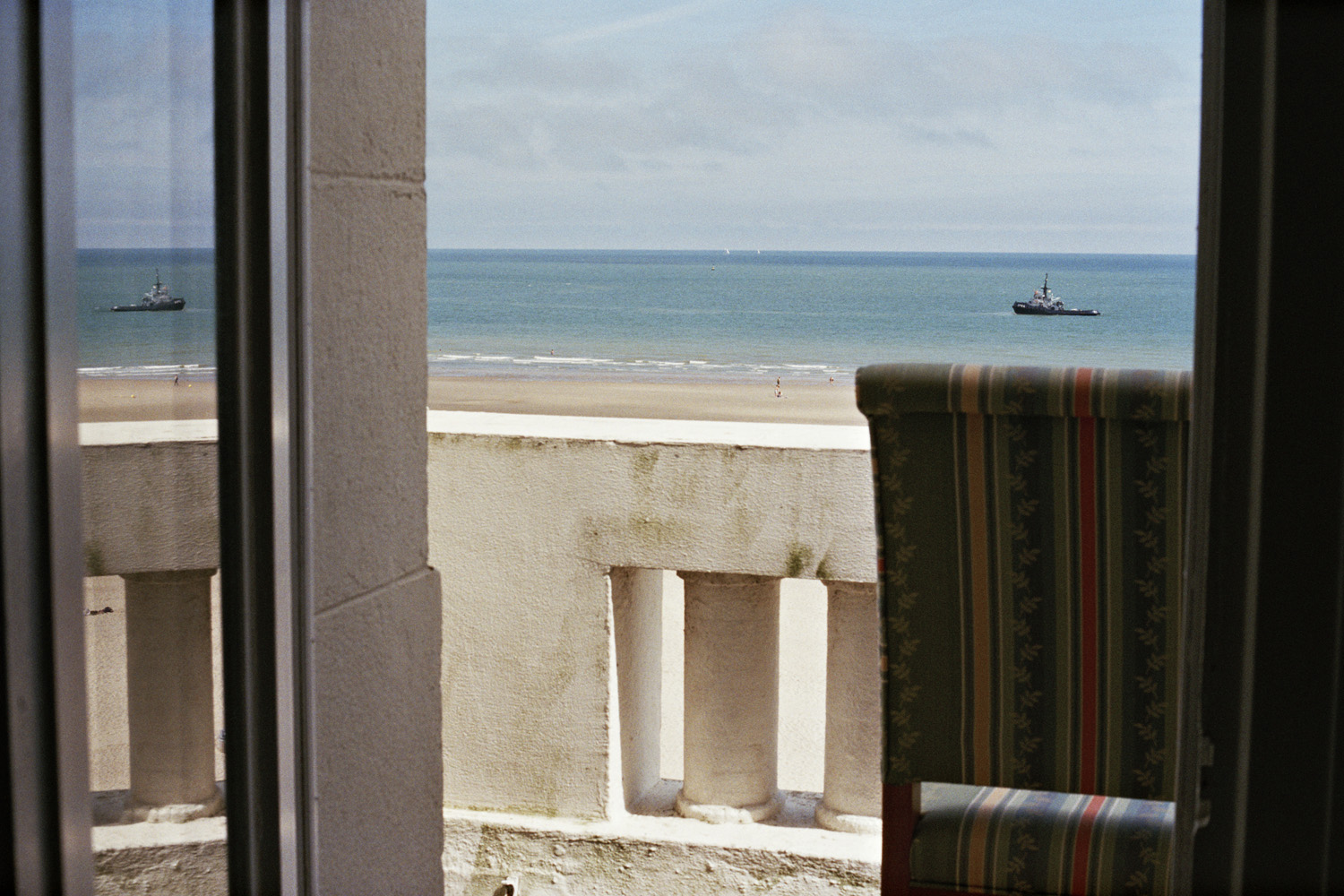 Yvon Lambert
Thermae Palace, vue sur la plage
, 2015
Analog photography, Hahnemühle Photo Rag 308 g paper
Image : 13.39 x 18.5 in ( 34 x 47 cm )
Edition of 15 ex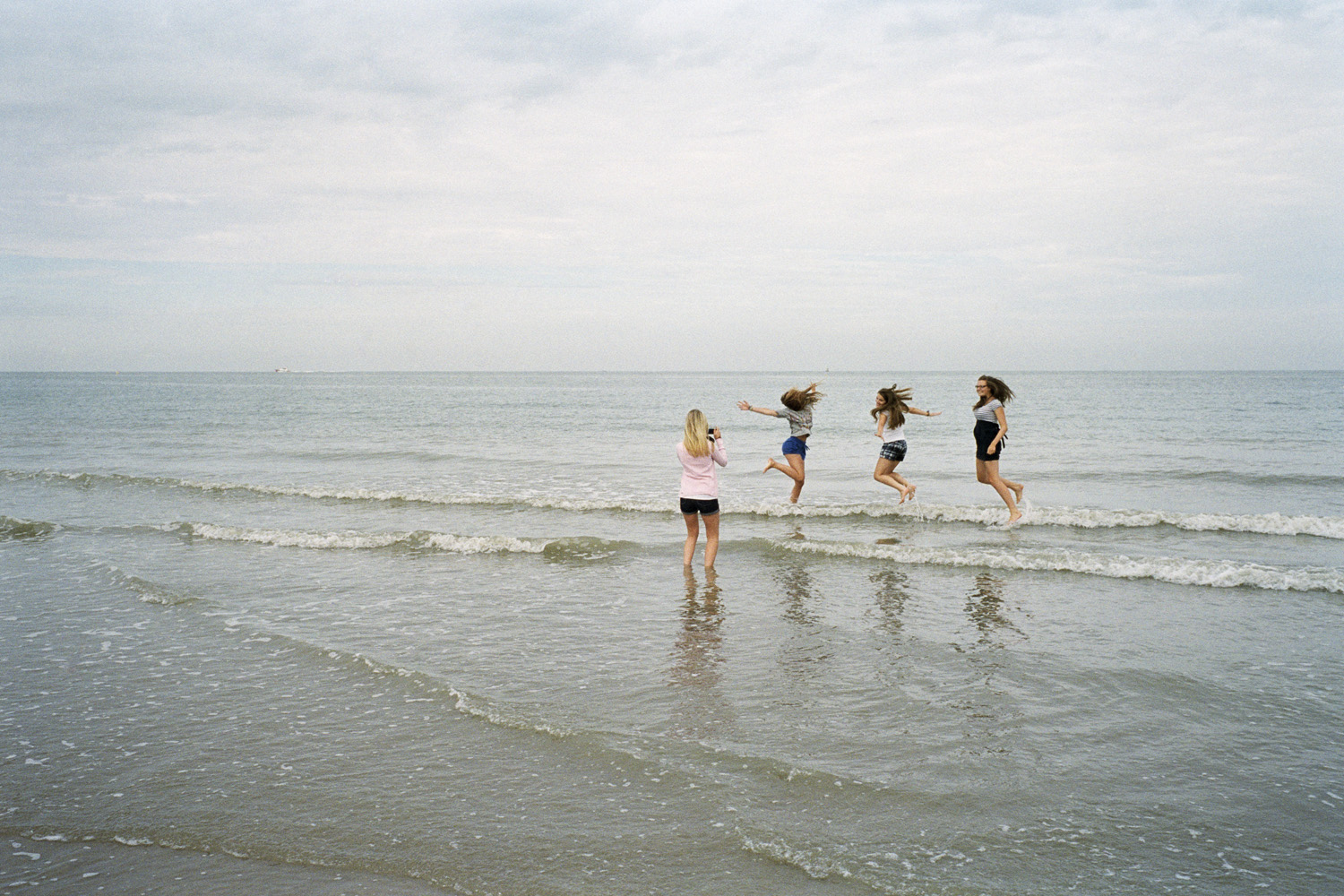 Yvon Lambert
La mer du Nord
, 2012
Analog photography, Hahnemühle Photo Rag 308 g paper
Image : 13.39 x 18.5 in ( 34 x 47 cm )
Edition of 15 ex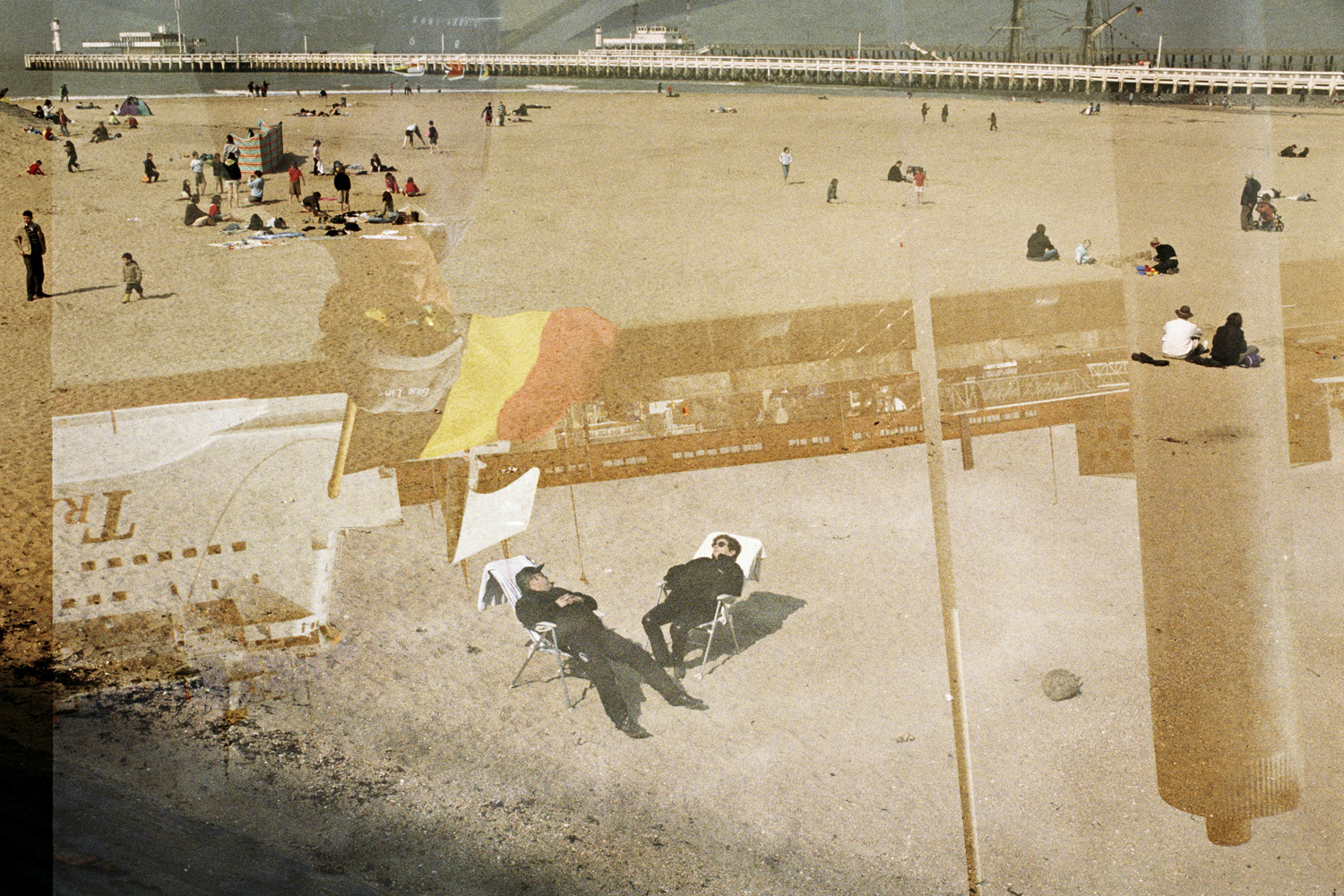 Yvon Lambert
Klein Strand/Petite plage
, 2009
Analog photography, Hahnemühle Photo Rag 308 g paper
13.39 x 18.5 in ( 34 x 47 cm )
Edition of 15 ex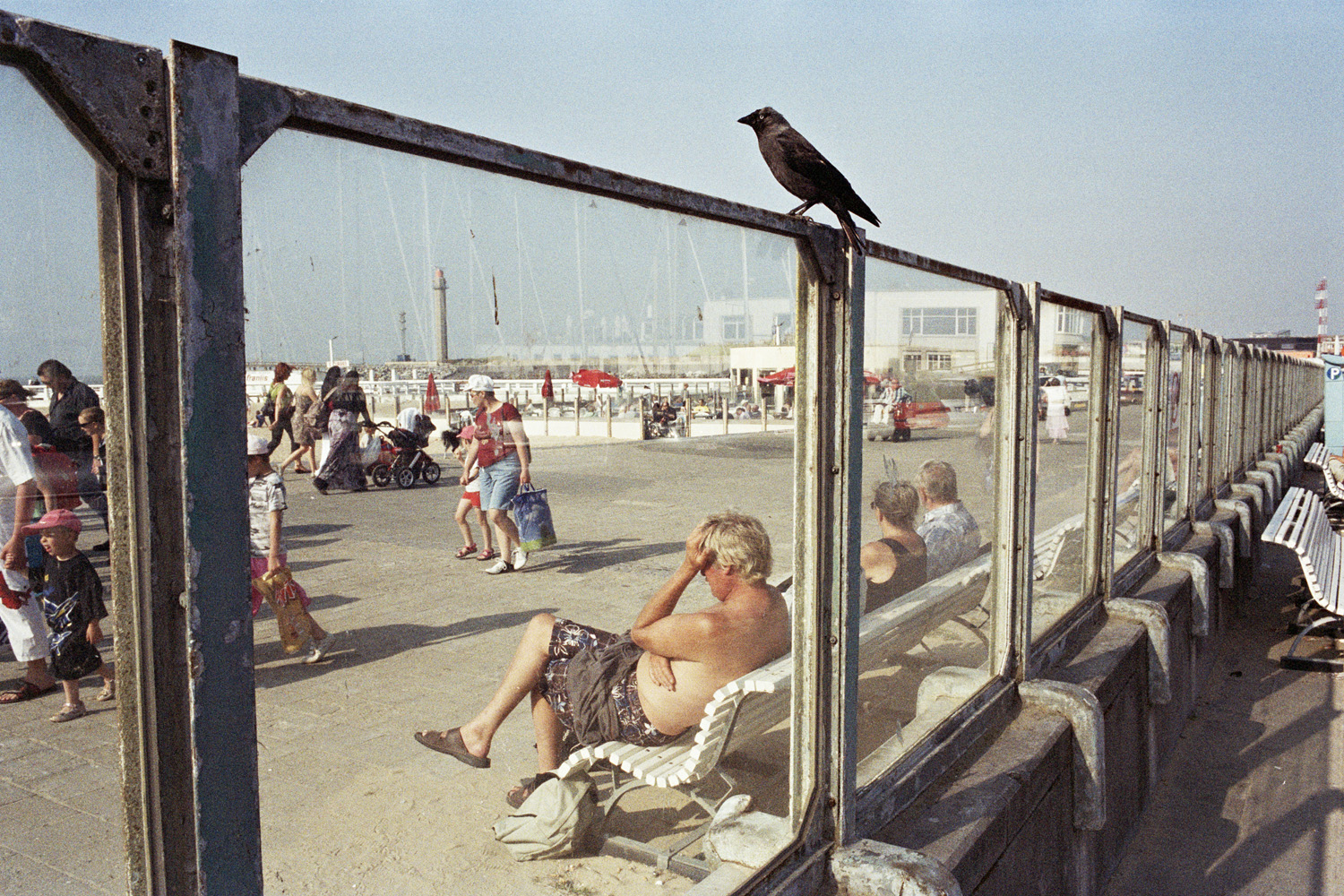 Yvon Lambert
Montgomerykaai
, 2007
Analog photography, Hahnemühle Photo Rag 308 g paper
Image : 13.39 x 18.5 in ( 34 x 47 cm )
Edition of 15 ex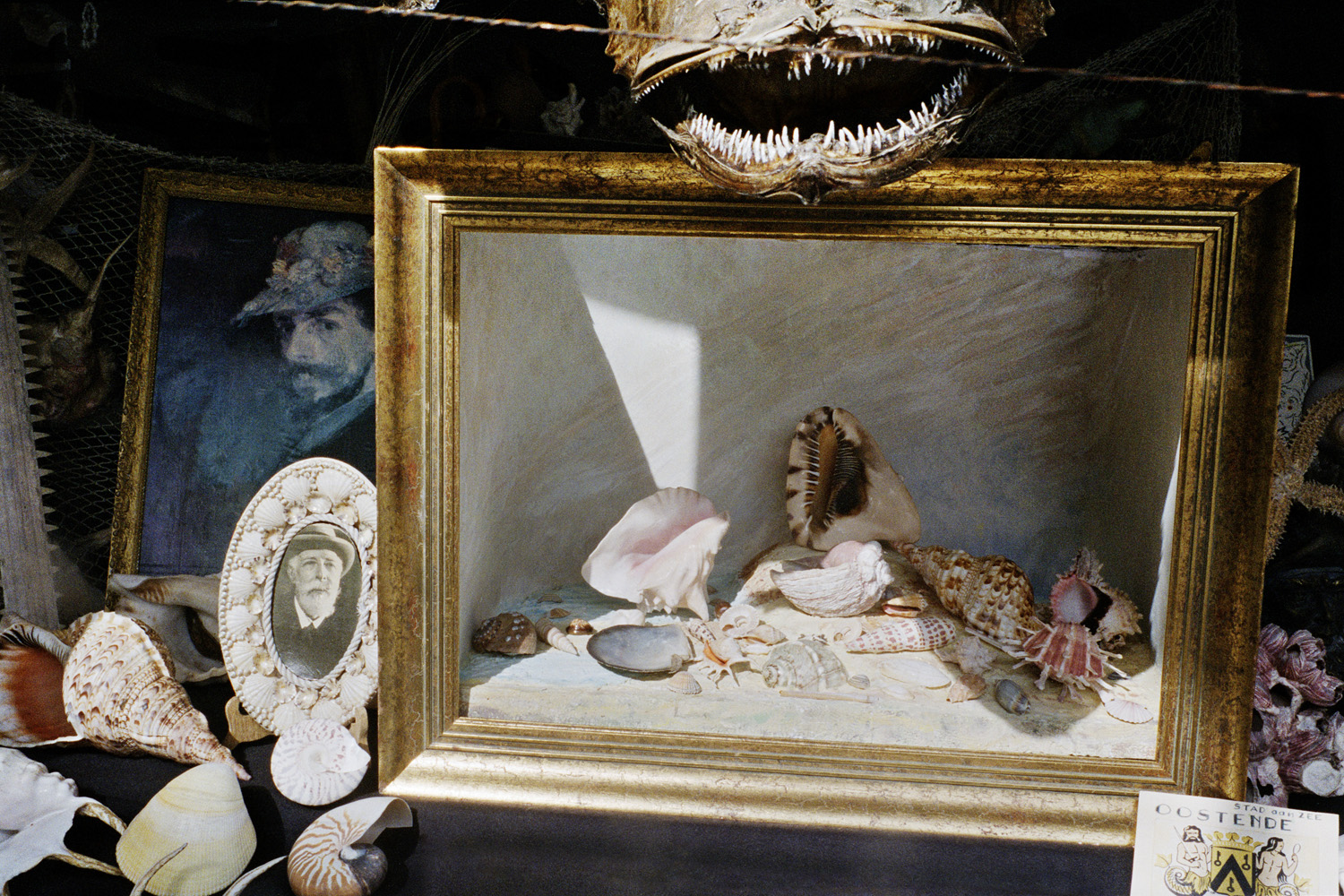 Yvon Lambert
Vitrine, Groentemarkt
, 2014
Analog photography, Hahnemühle Photo Rag 308 g paper
Image : 13.39 x 18.5 in ( 34 x 47 cm )
Edition of 15 ex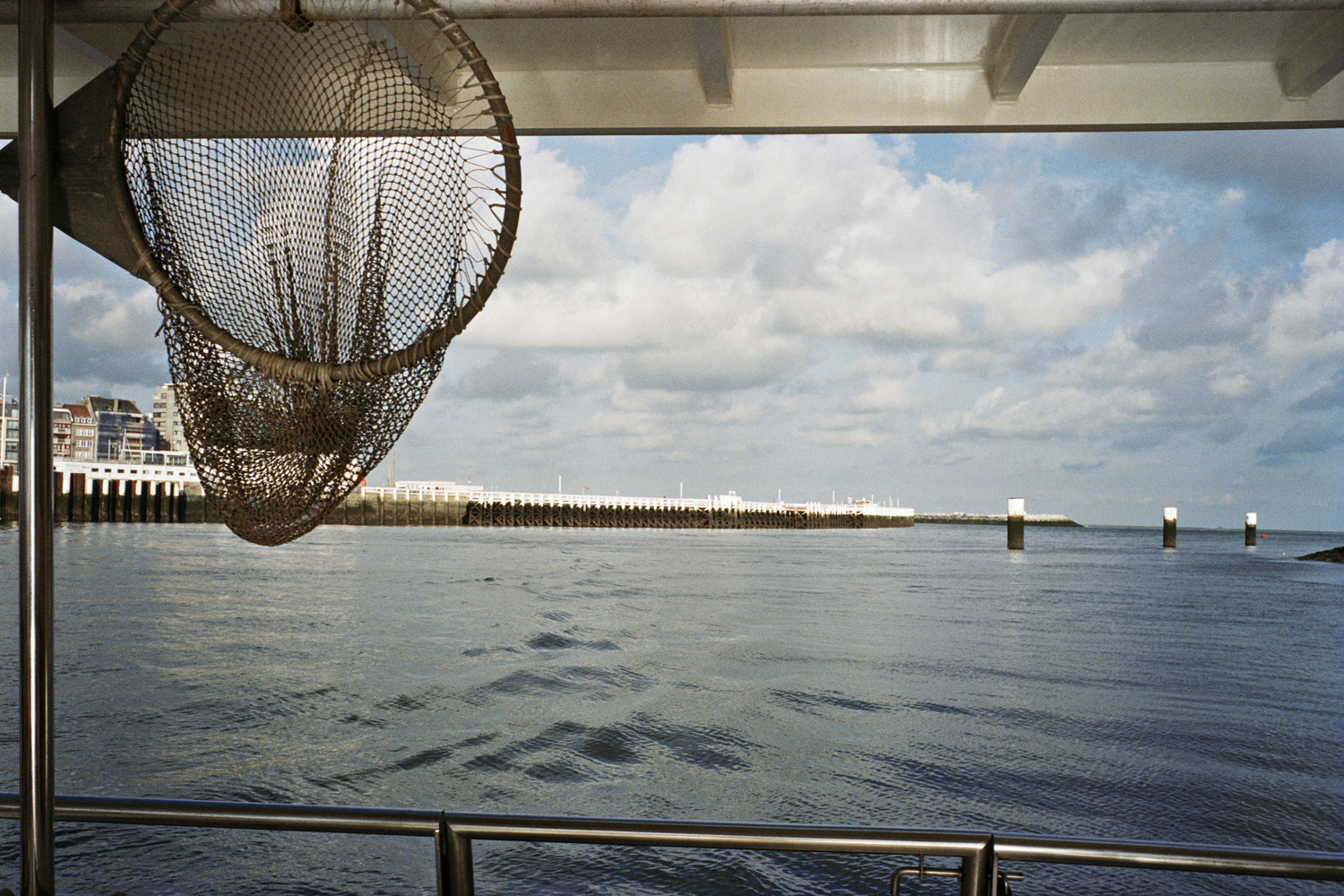 Yvon Lambert
Dans le port, traversée en Ferry (Overzetboot)
, 2014
Analog photography, Hahnemühle Photo Rag 308 g paper
Image : 13.39 x 18.5 in ( 34 x 47 cm )
Edition of 15 ex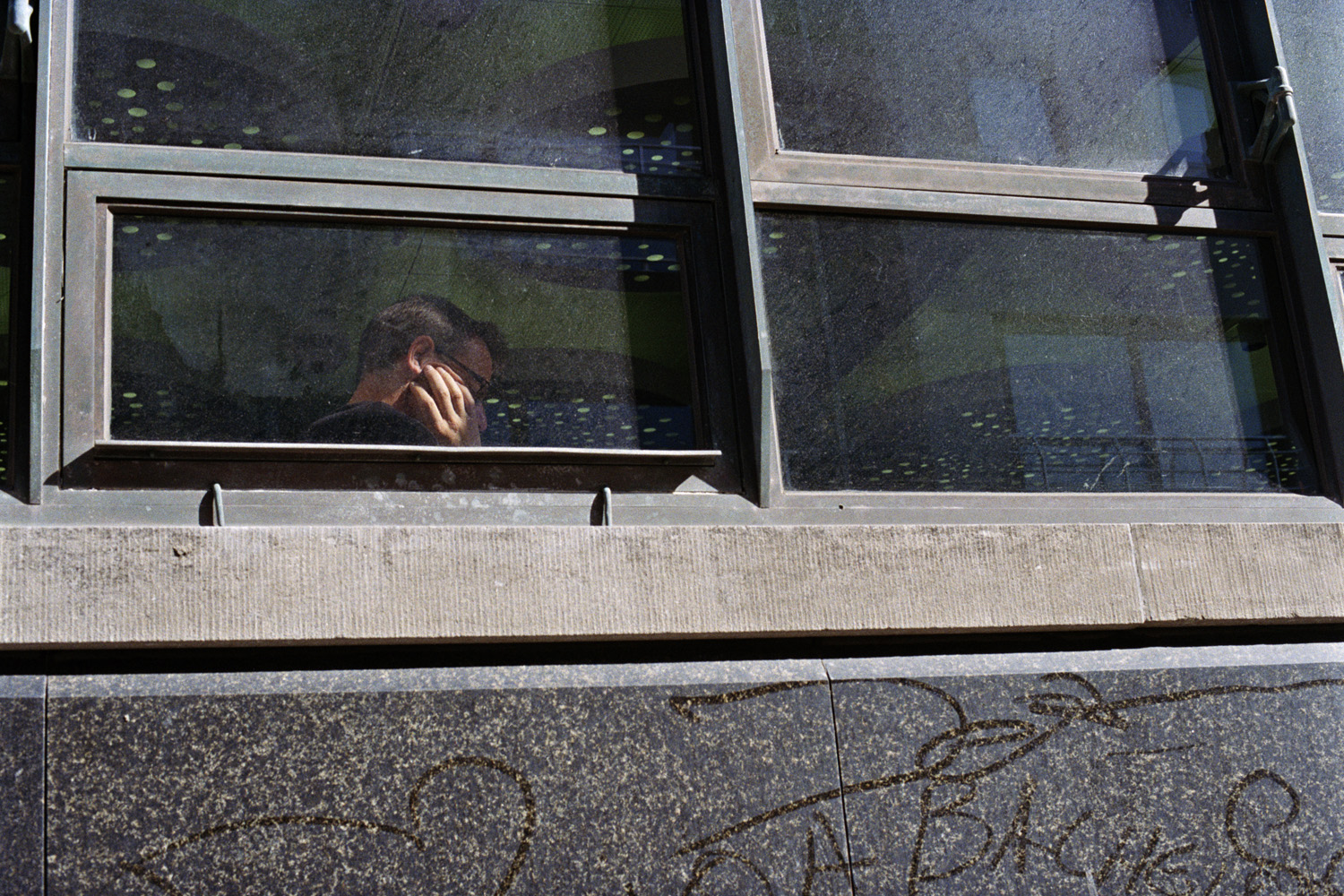 Yvon Lambert
De Grote Post
, 2015
Analog photography, Hahnemühle Photo Rag 308 g paper
Image : 13.39 x 18.5 in ( 34 x 47 cm )
Edition of 15 ex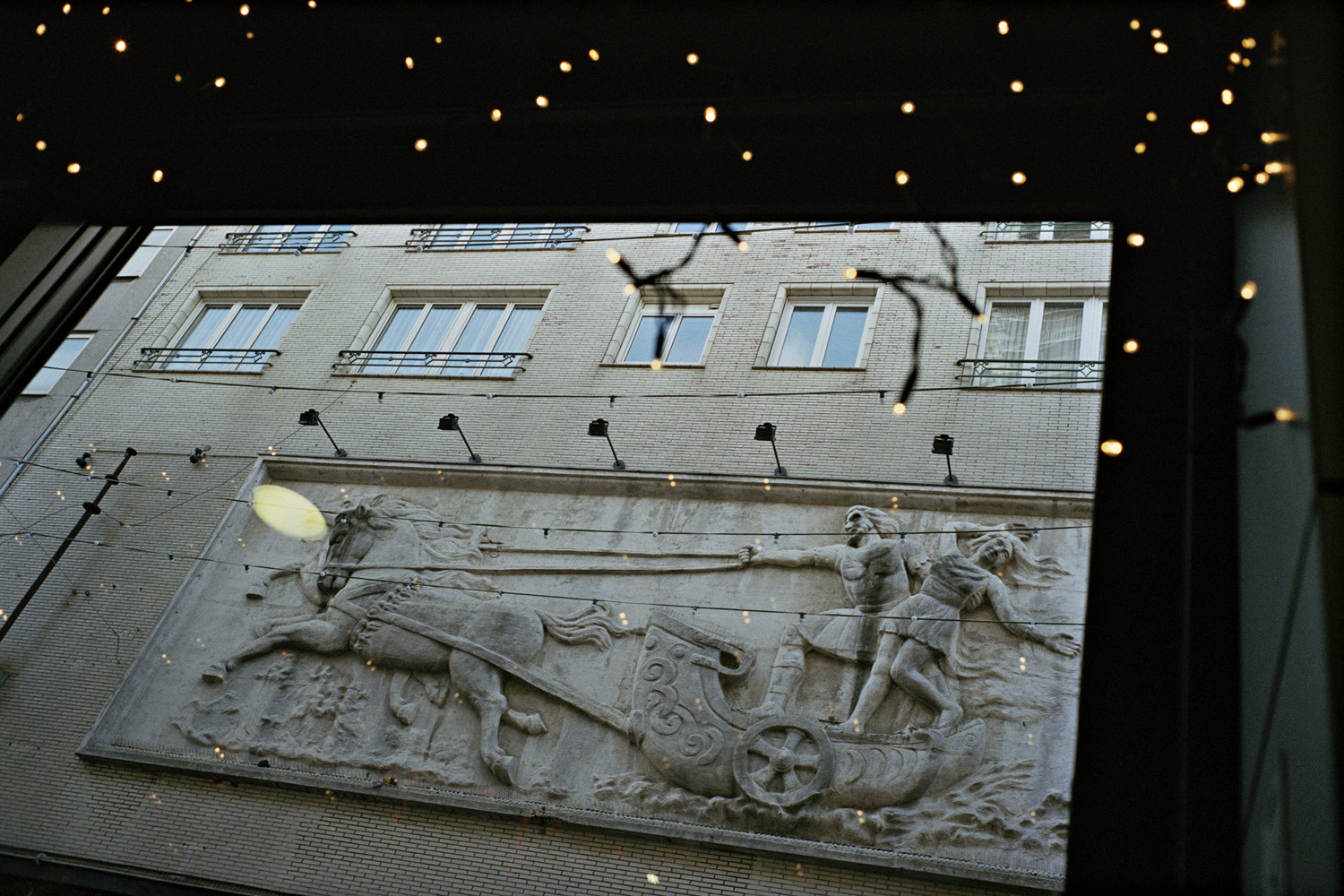 Yvon Lambert
Langestraat
, 2014
Analog photography, Hahnemühle Photo Rag 308 g paper
Image : 13.39 x 18.5 in ( 34 x 47 cm )
Edition of 15 ex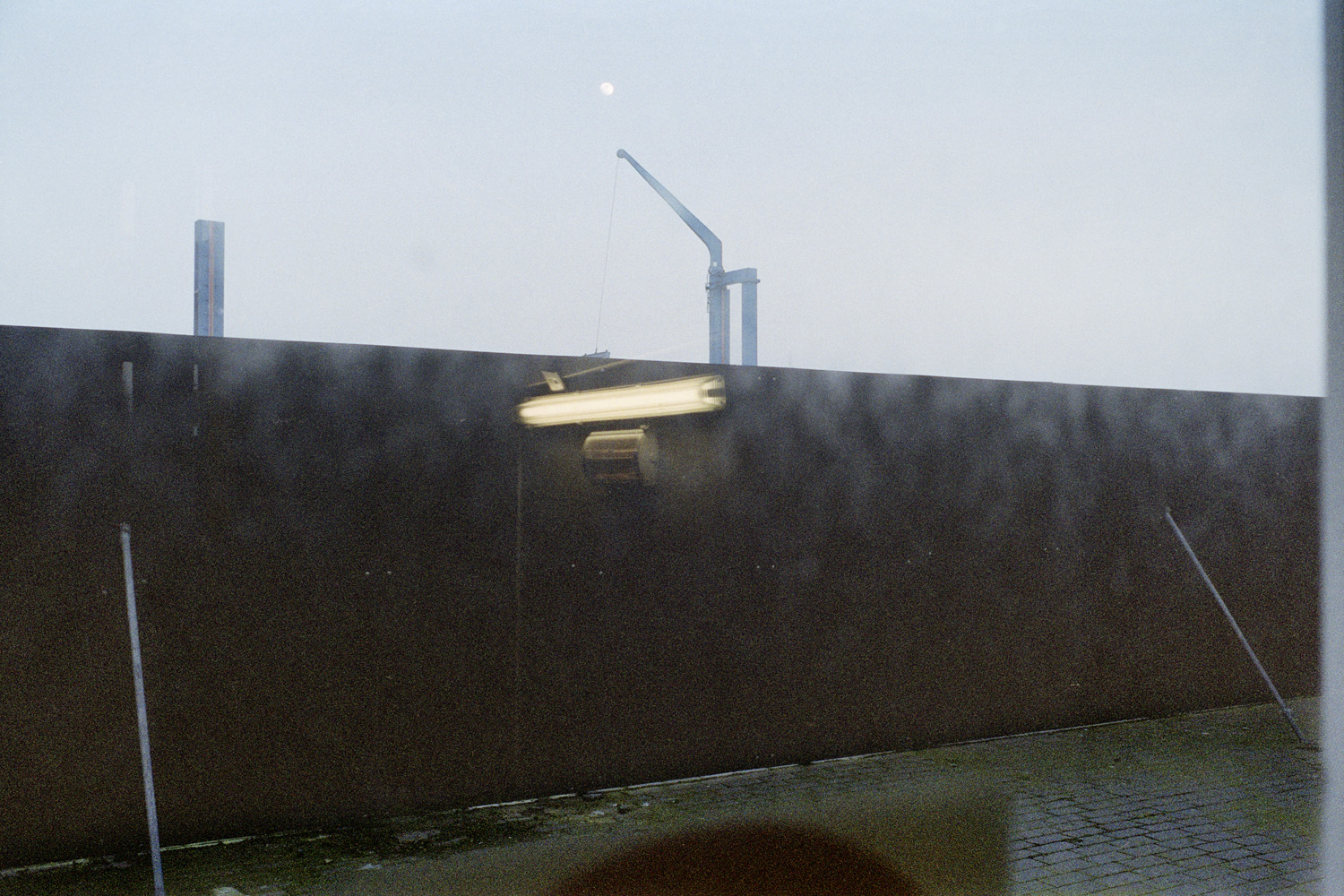 Yvon Lambert
Oostende station
, 2014
Analog photography, Hahnemühle Photo Rag 308 g paper
Image : 13.39 x 18.5 in ( 34 x 47 cm )
Edition of 15 ex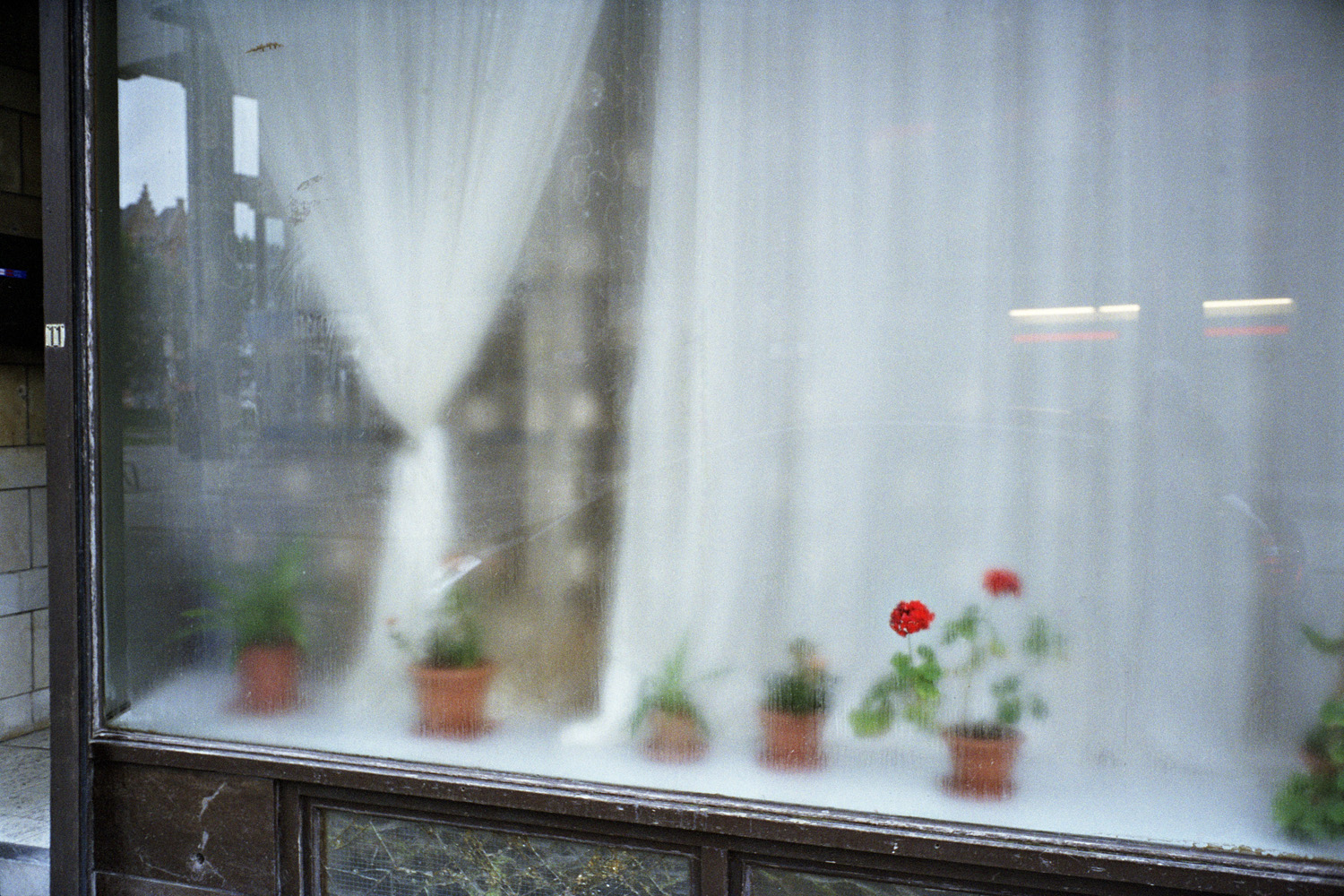 Yvon Lambert
Vitrine, Vrijhavenstraat
, 2012
Analog photography, Hahnemühle Photo Rag 308 g paper
Image : 13.39 x 18.5 in ( 34 x 47 cm )
Edition of 15 ex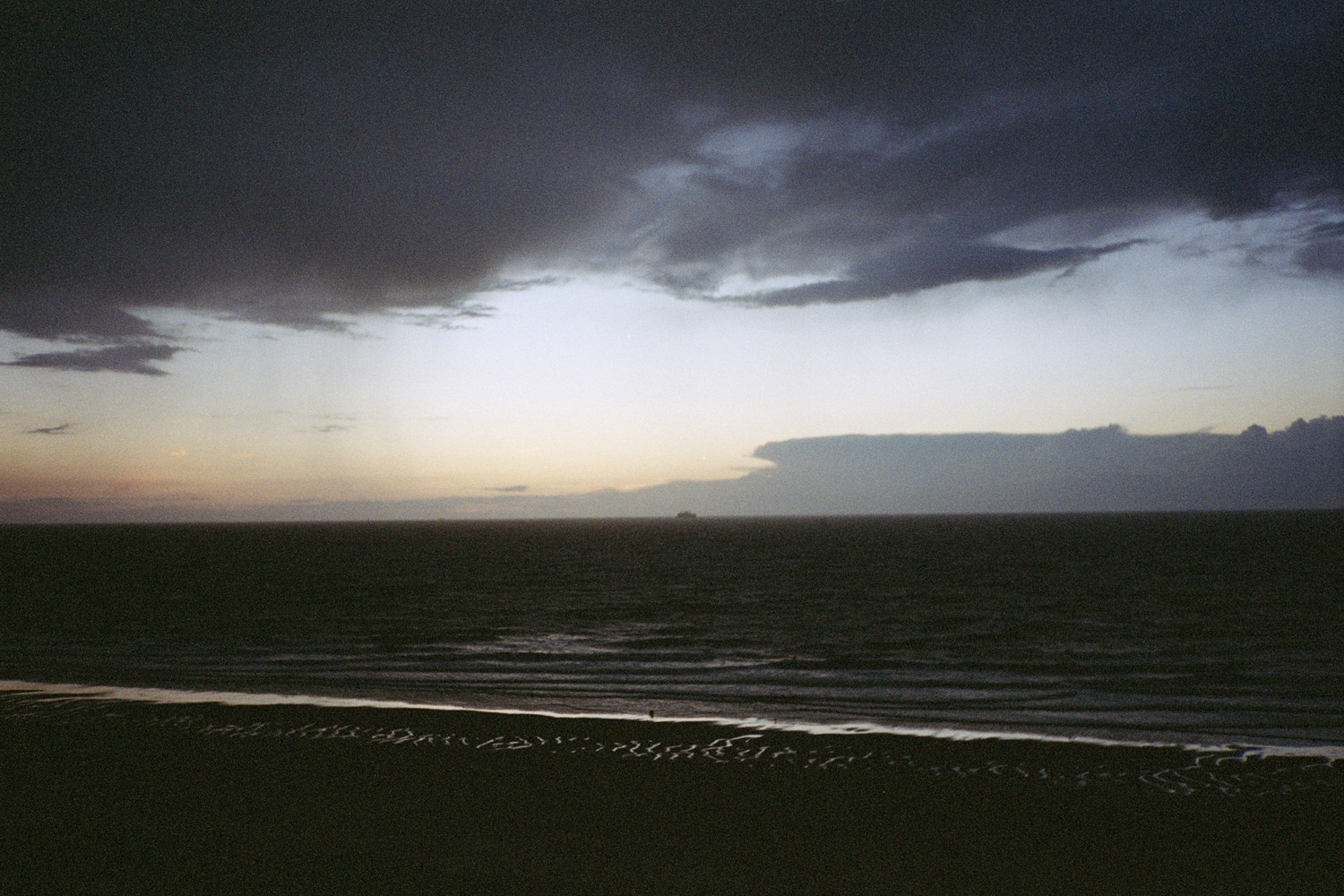 Yvon Lambert
La mer du Nord
, 2017
Analog photography, Hahnemühle Photo Rag 308 g paper
Image : 13.39 x 18.5 in ( 34 x 47 cm )
Edition of 15 ex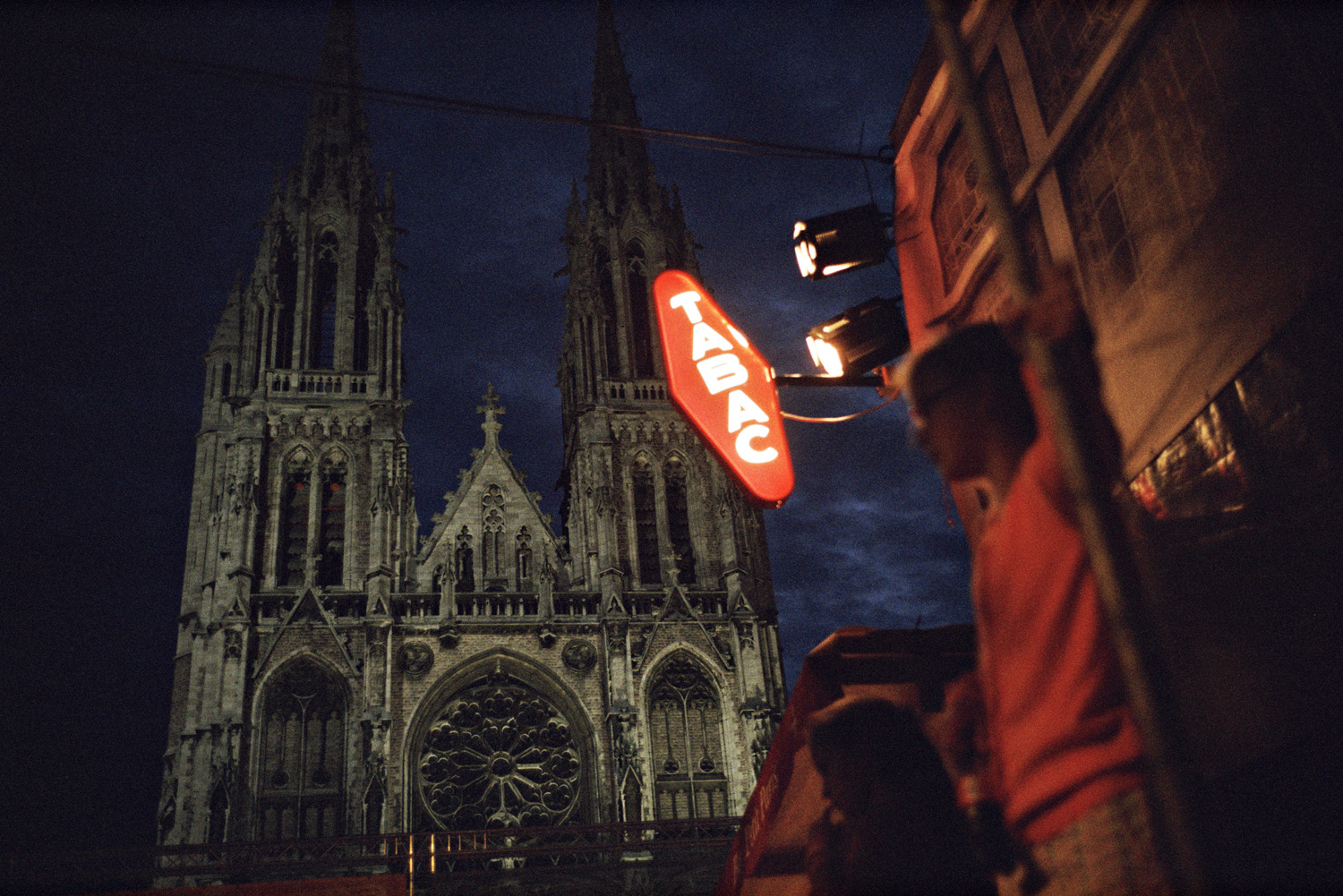 Yvon Lambert
Eglise Saints-Pierre-et-Paul
, 2015
Analog photography, Hahnemühle Photo Rag 308 g paper
Image : 13.39 x 18.5 in ( 34 x 47 cm )
Edition of 15 ex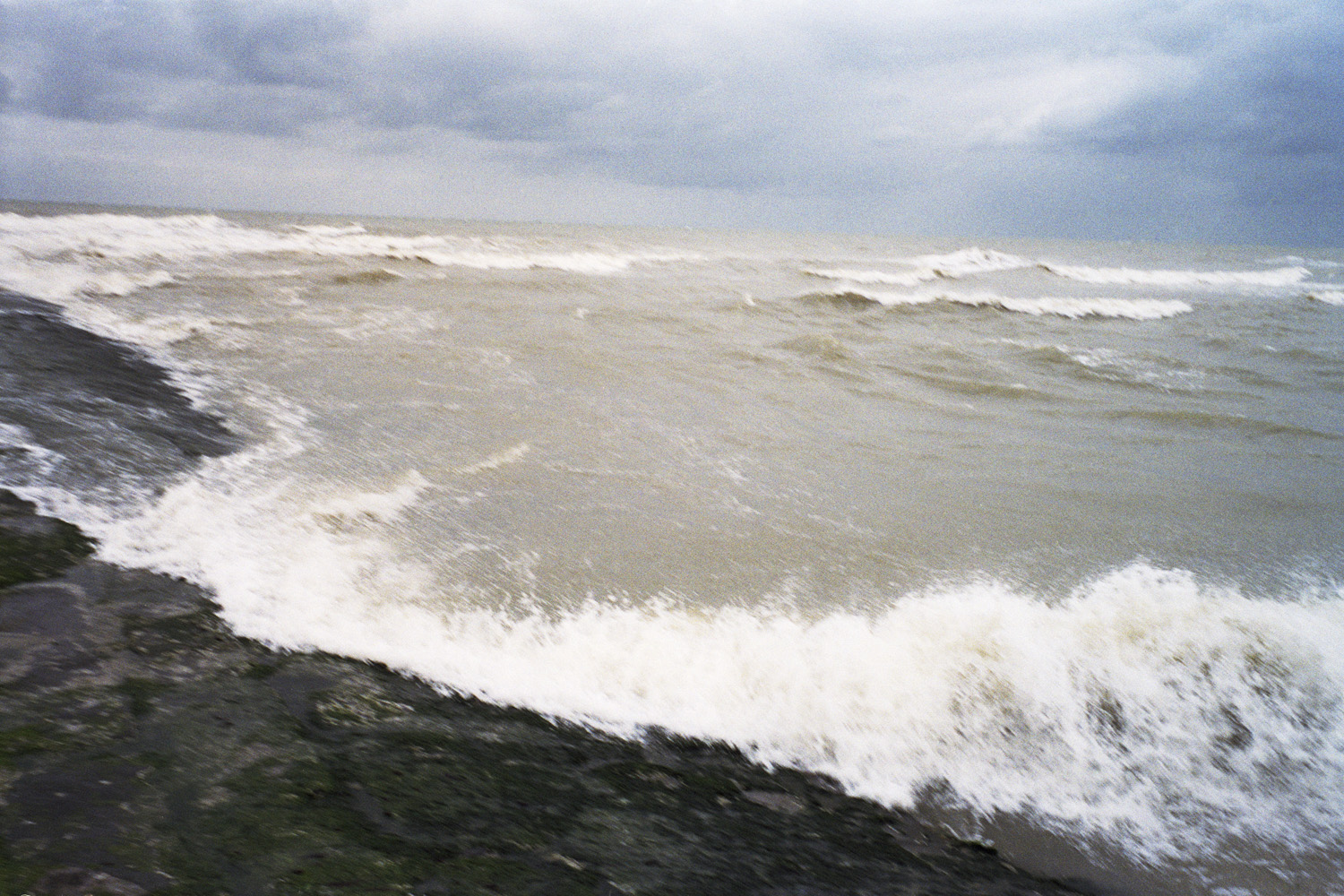 Yvon Lambert
La mer du Nord
, 2010
Analog photography, Hahnemühle Photo Rag 308 g paper
Image : 13.39 x 18.5 in ( 34 x 47 cm )
Edition of 16 ex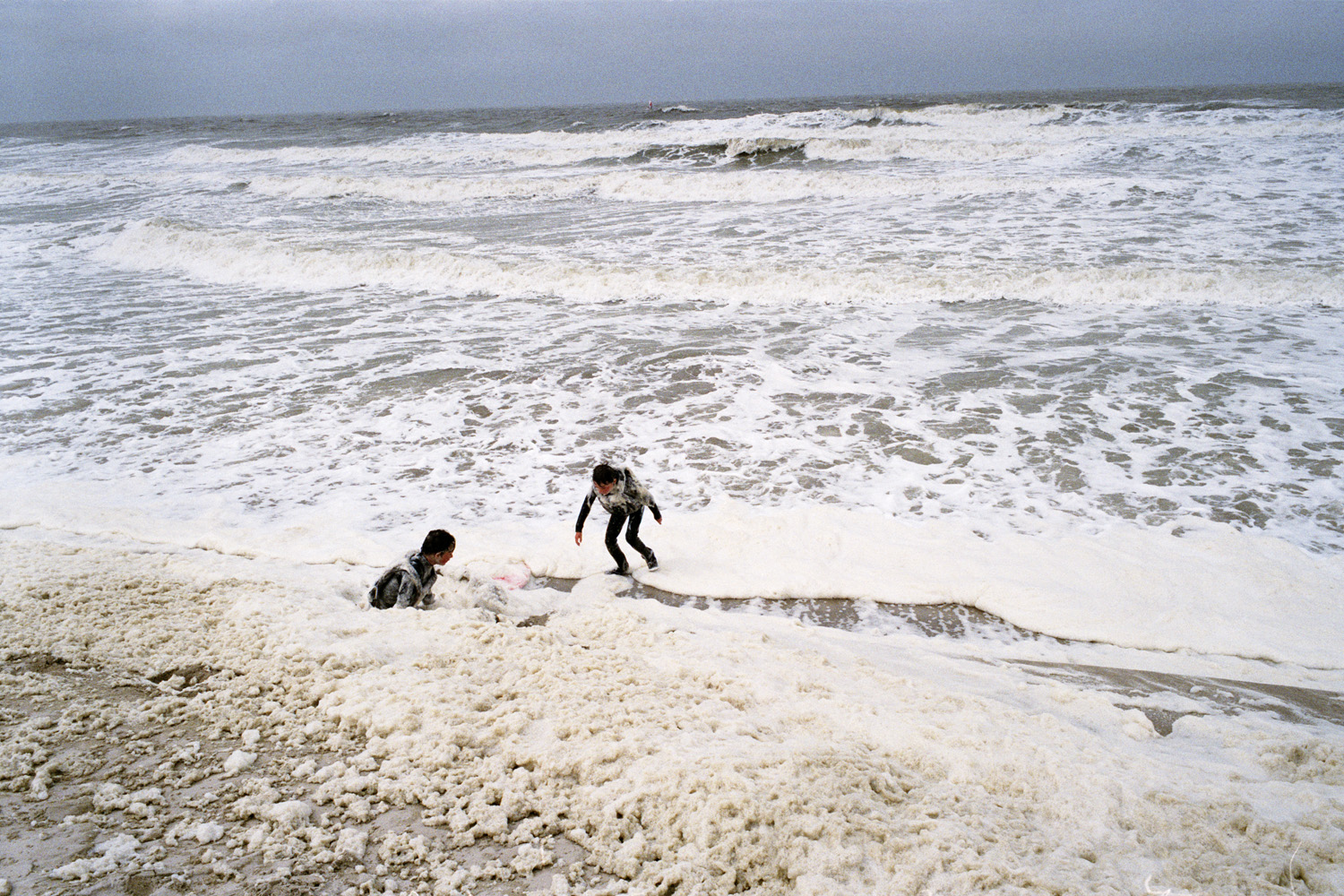 Yvon Lambert
La mer du Nord
, 2018
Analog photography, Hahnemühle Photo Rag 308 g paper
Image : 13.39 x 18.5 in ( 34 x 47 cm )
Edition of 15 ex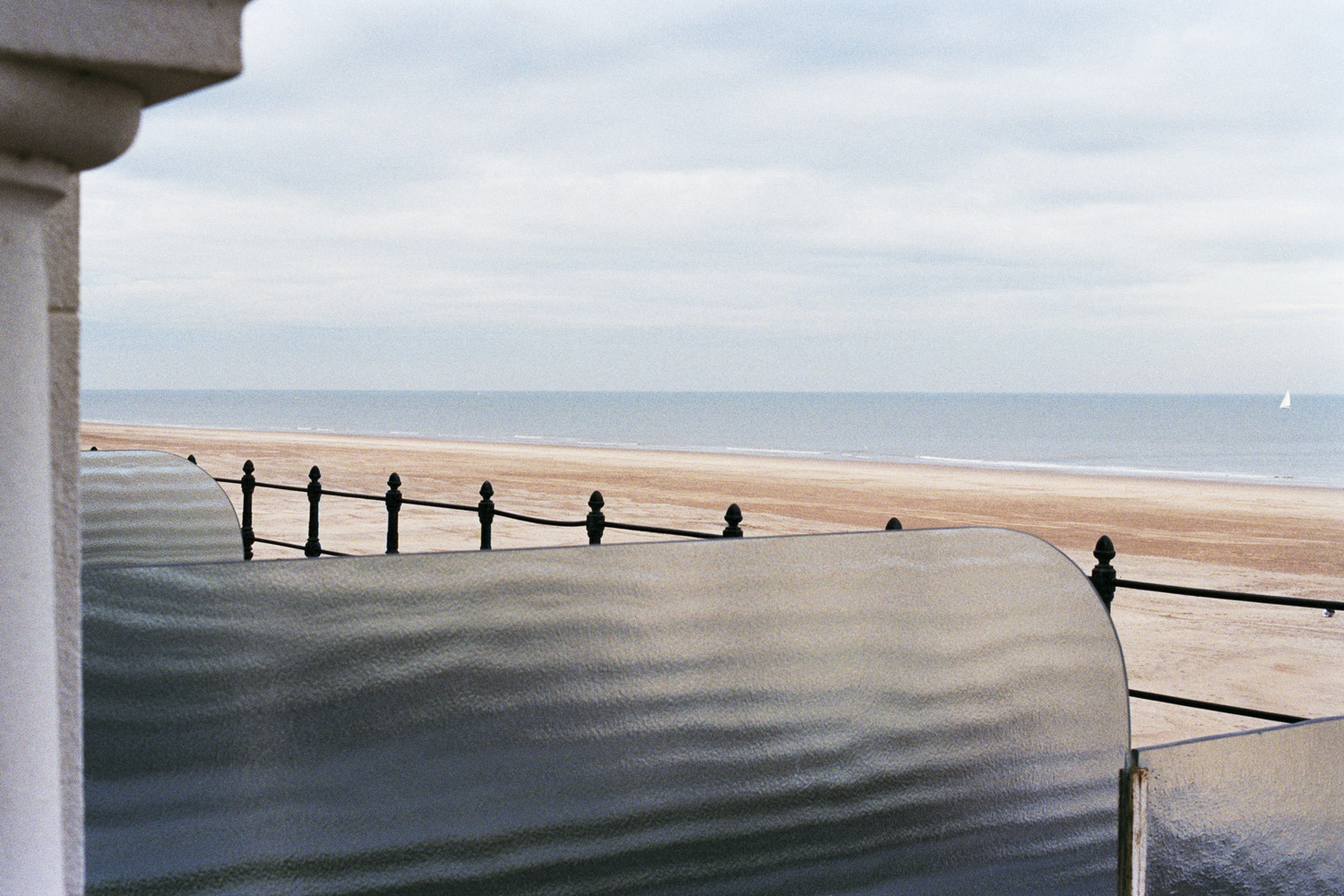 Yvon Lambert
Thermae Palace, vue vers la plage
, 2019
Analog photography, Hahnemühle Photo Rag 308 g paper
Image : 18.9 x 25.2 in ( 48 x 64 cm )
Edition of 15 ex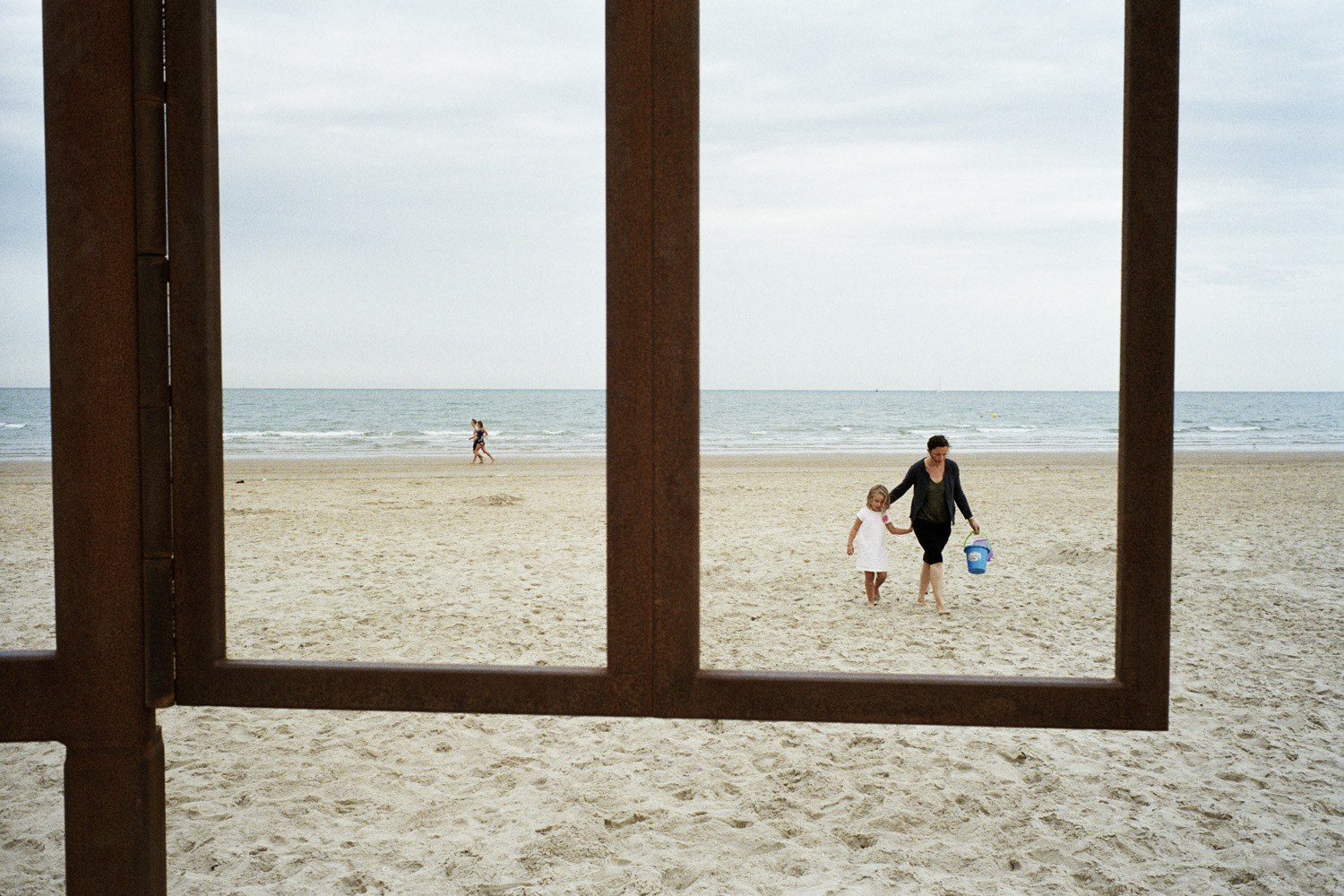 Yvon Lambert
La plage
, 2014
Analog photography, Hahnemühle Photo Rag 308 g paper
13.39 x 18.5 in ( 34 x 47 cm )
Edition of 15 ex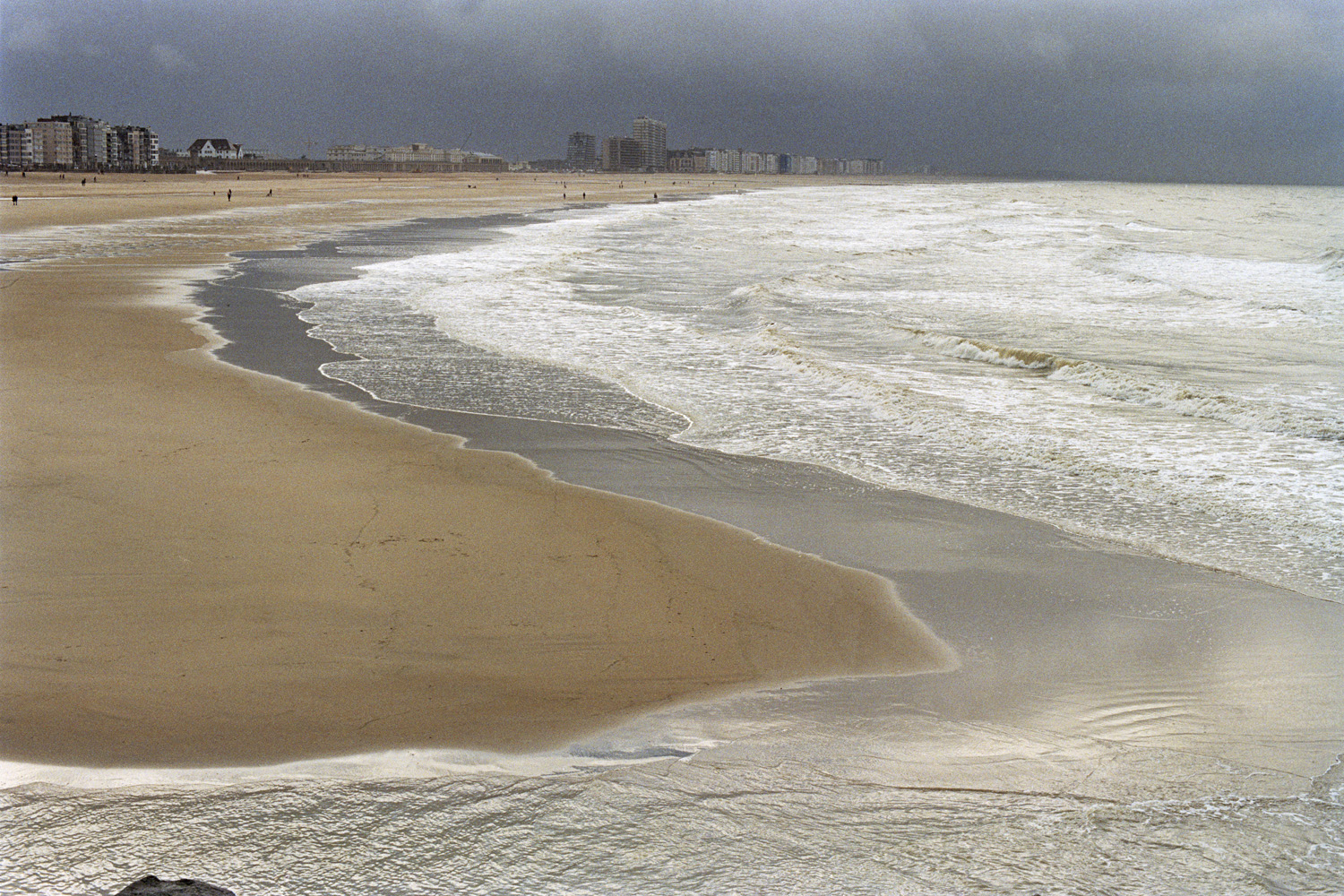 Yvon Lambert
La plage
, 2017
Analog photography, Hahnemühle Photo Rag 308 g paper
Image : 13.39 x 18.5 in ( 34 x 47 cm )
Edition of 15 ex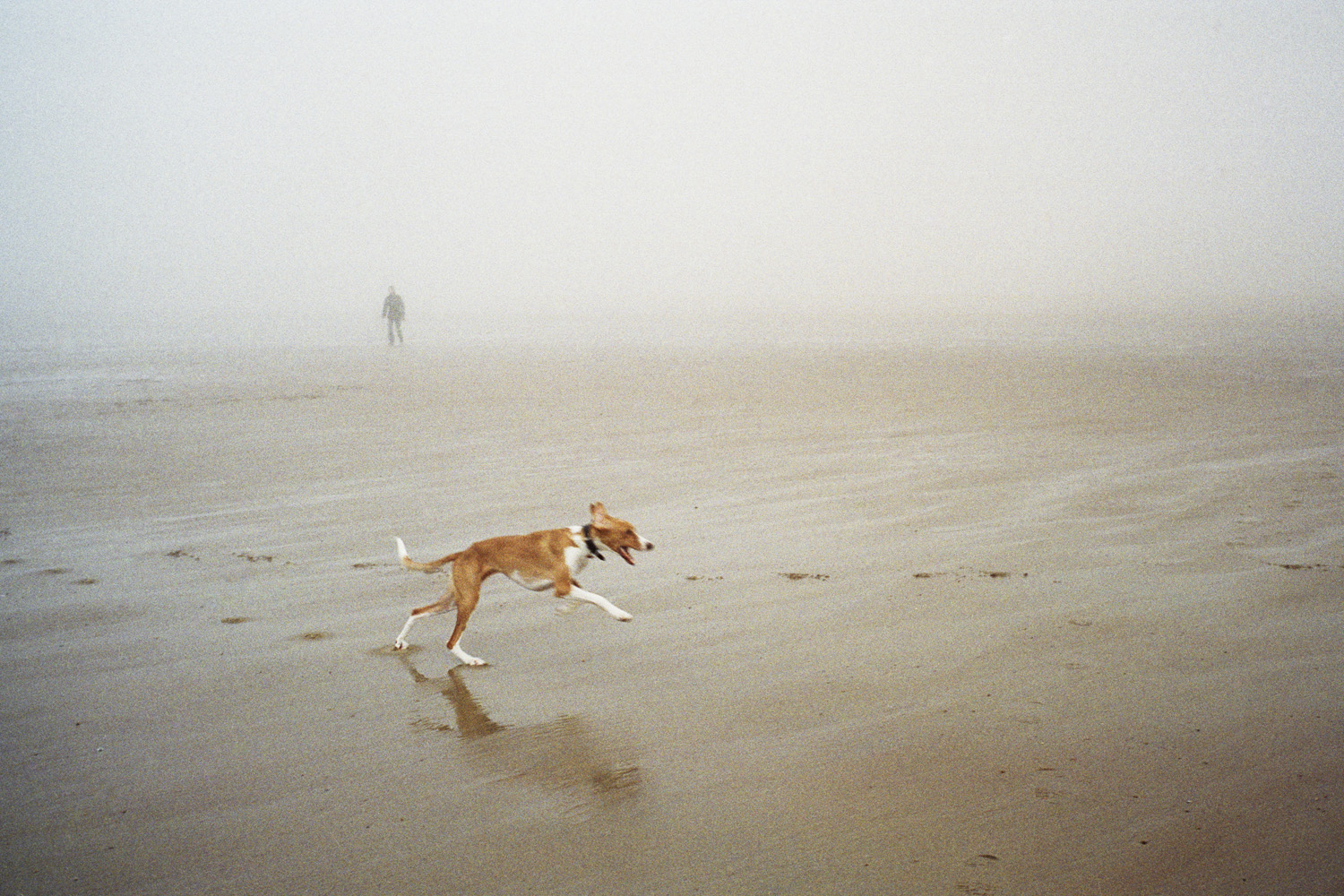 Yvon Lambert
La plage
, 2014
Analog photography, Hahnemühle Photo Rag 308 g paper
Image : 13.39 x 18.5 in ( 34 x 47 cm )
Edition of 15 ex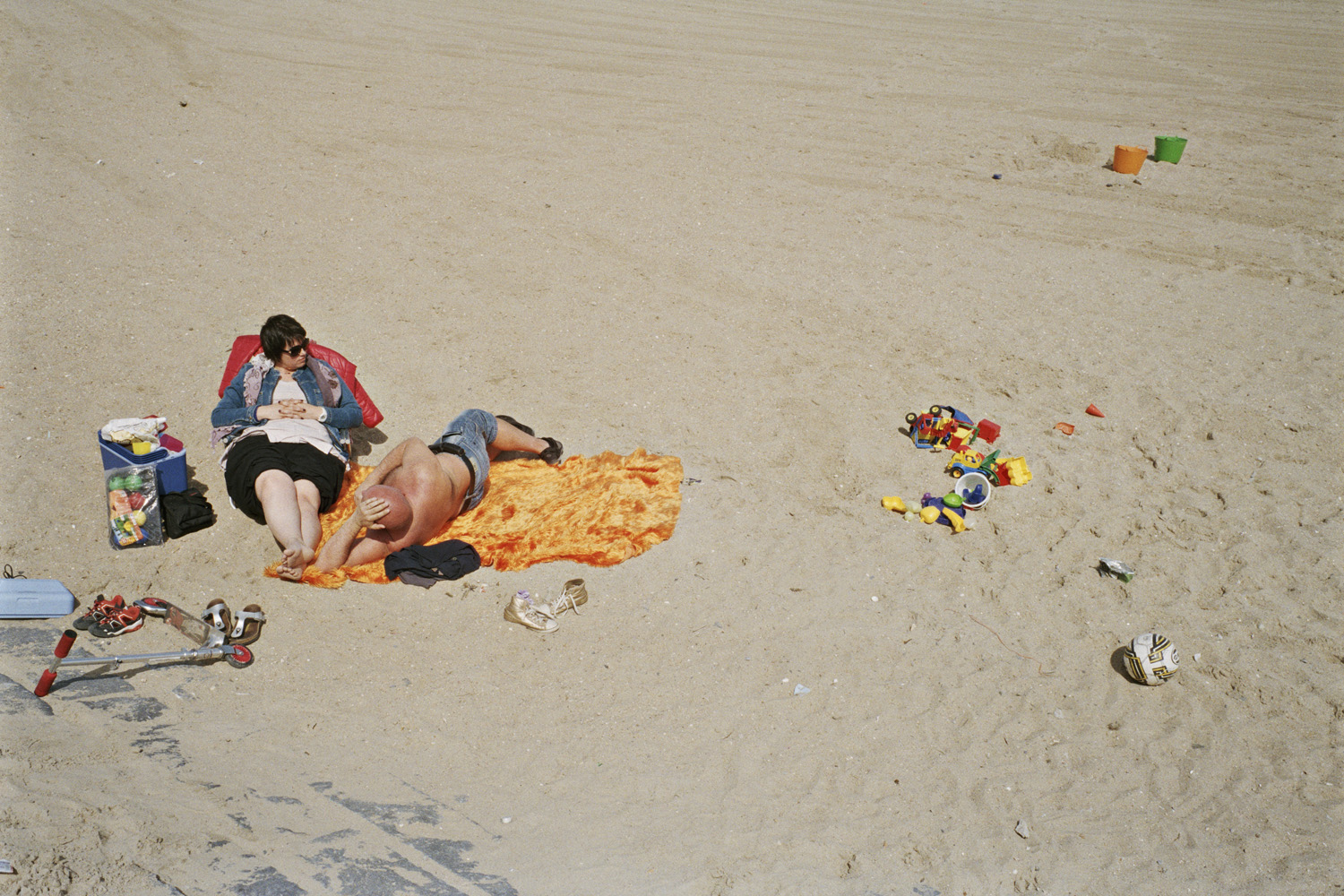 Yvon Lambert
Klein Strand/Petite plage
, 2015
Analog photography, Hahnemühle Photo Rag 308 g paper
13.39 x 18.5 in ( 34 x 47 cm )
Edition of 15 ex
Yvon Lambert
Thermae Palace, vue vers la plage
, 2015
Analog photography, Hahnemühle Photo Rag 308 g paper
Image : 13.39 x 18.5 in ( 34 x 47 cm )
Edition of 15 ex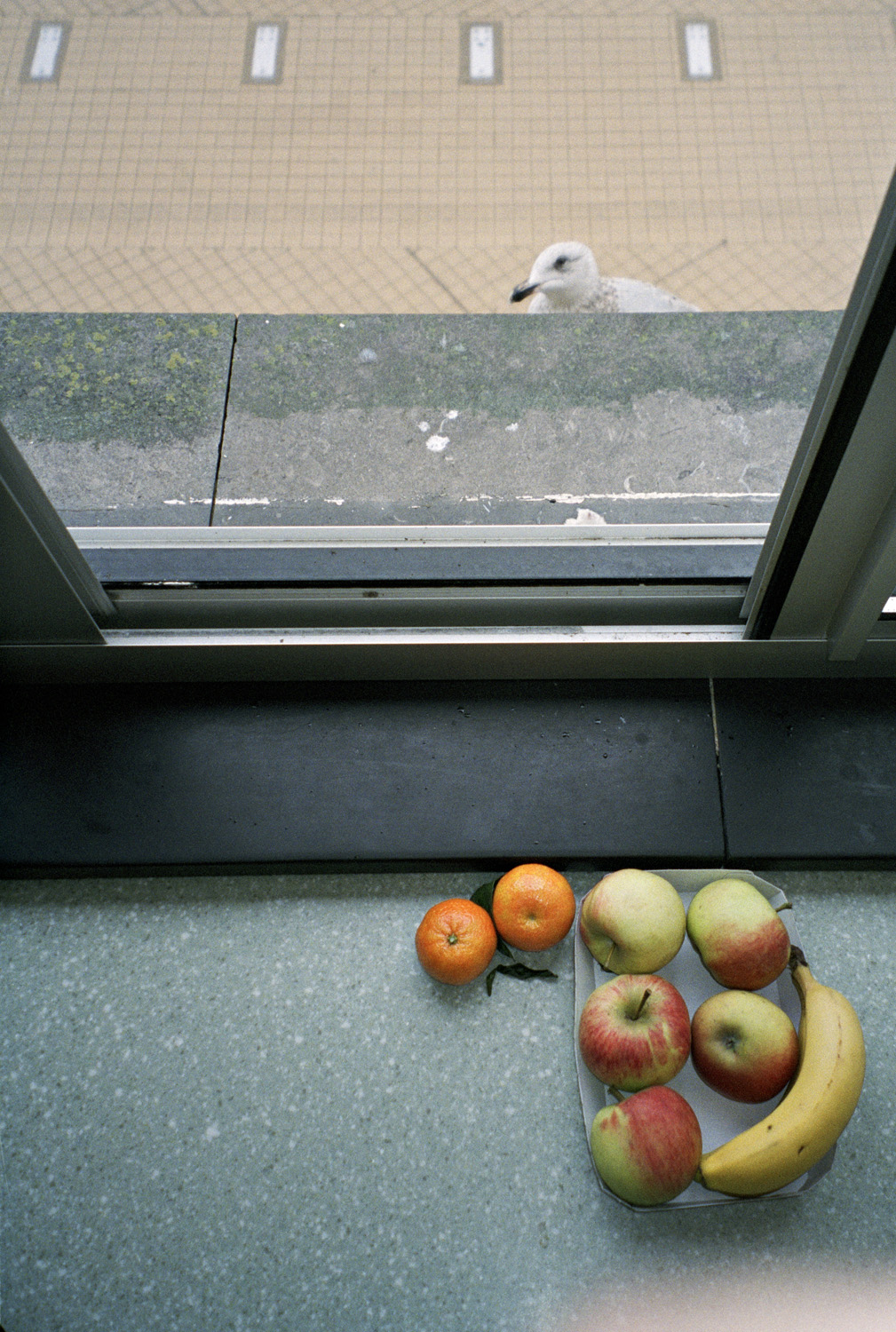 Yvon Lambert
Vue vers la Promenade Albert 1er
, 2013
Analog photography, Hahnemühle Photo Rag 308 g paper
Image : 19.69 x 14.57 in ( 50 x 37 cm )
Edition of 15 ex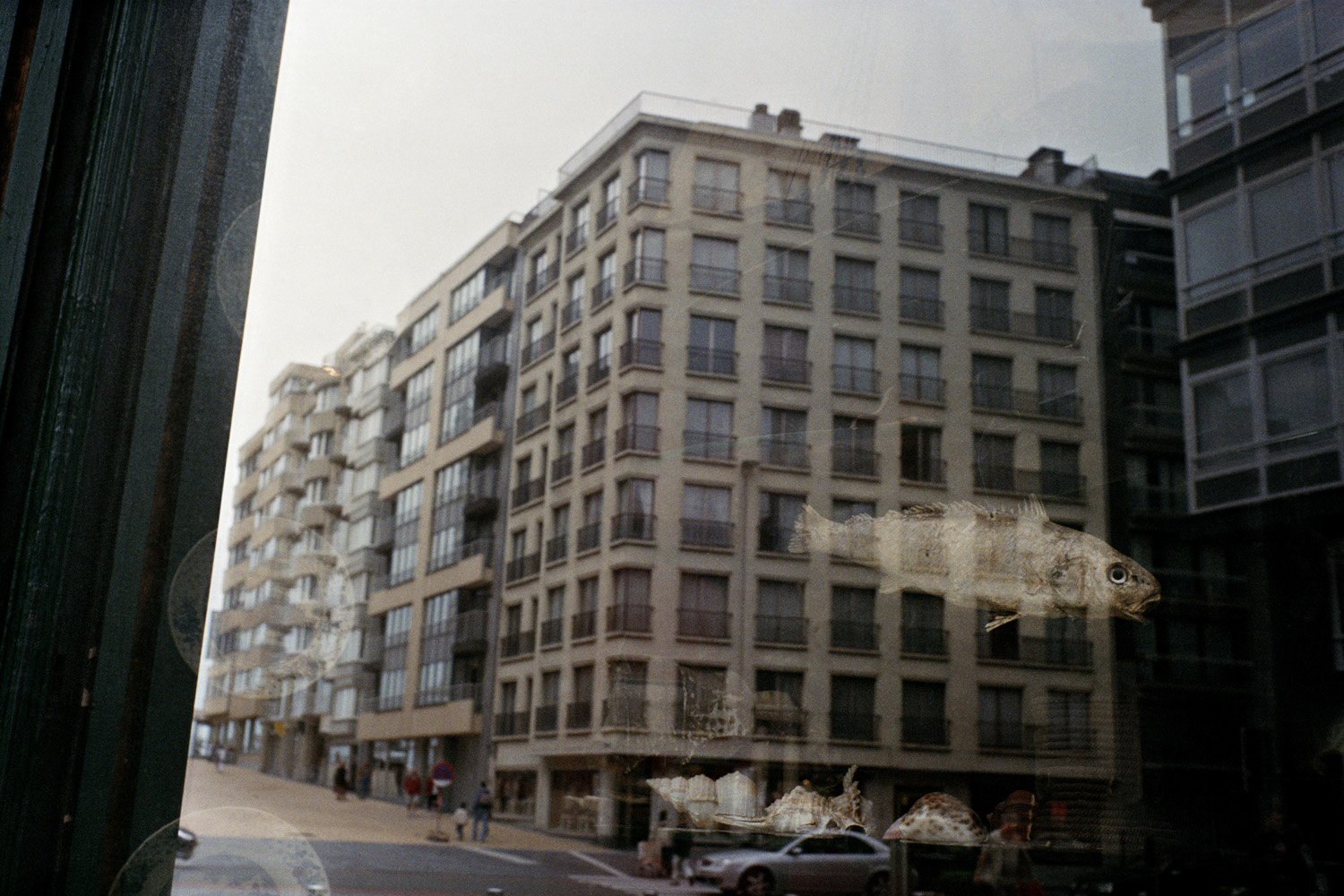 Yvon Lambert
Vitrine de la maison James Ensor
, 2011
Analog photography, Hahnemühle Photo Rag 308 g paper
Image : 13.39 x 18.5 in ( 34 x 47 cm )
Edition of 15 ex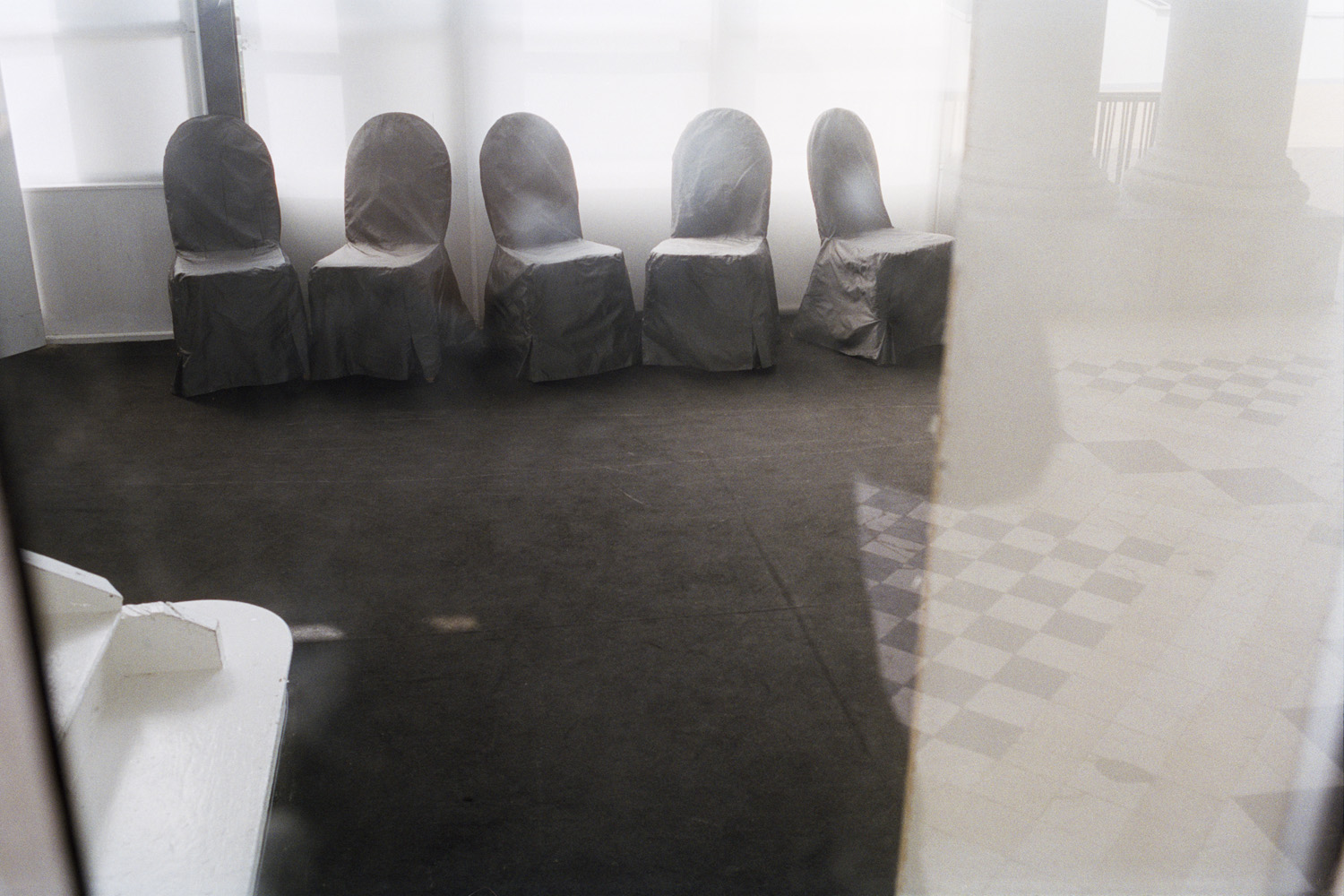 Yvon Lambert
Thermae Palace
, 2014
Analog photography, Hahnemühle Photo Rag 308 g paper
Image : 13.39 x 18.5 in ( 34 x 47 cm )
Edition of 15 ex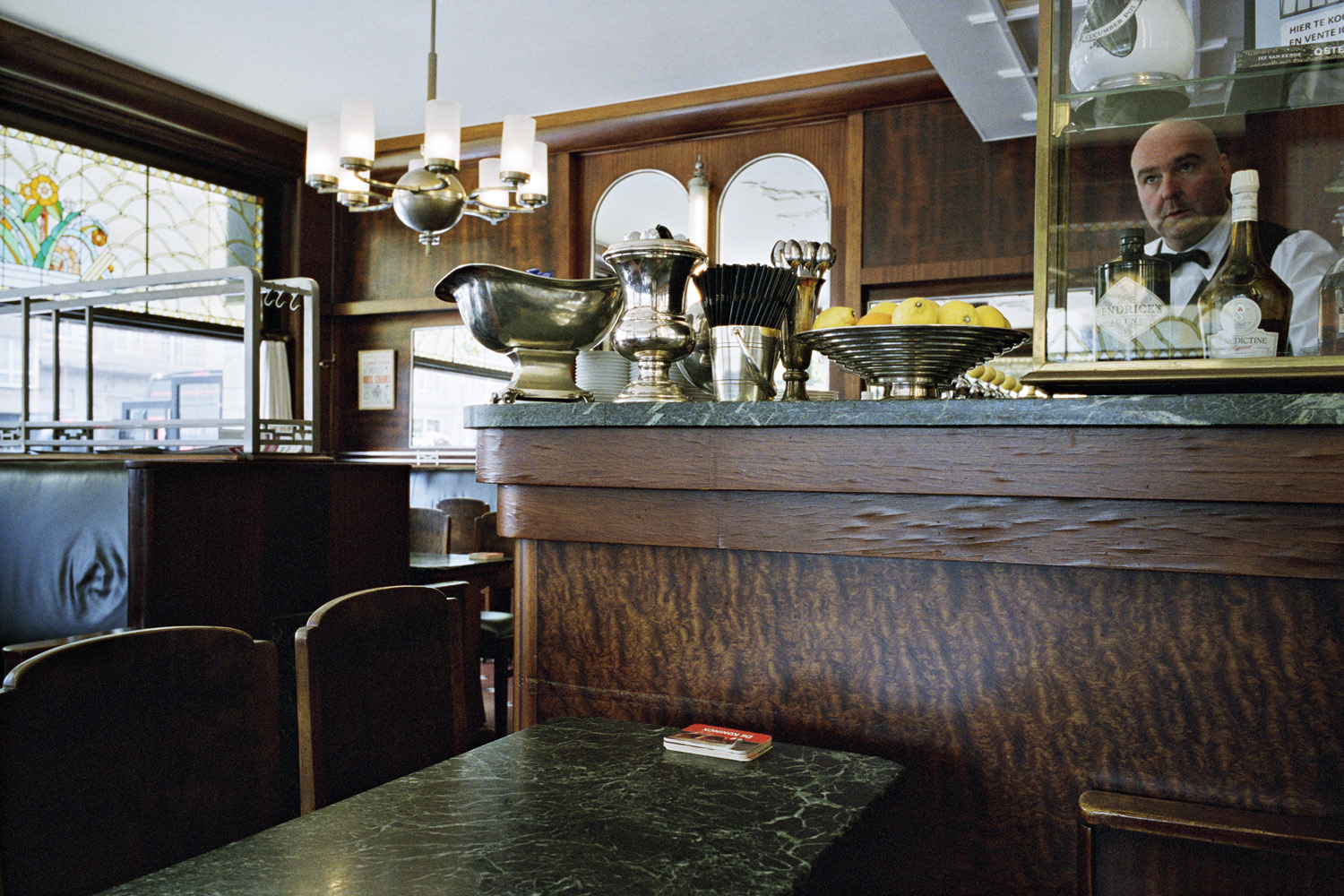 Yvon Lambert
Brasserie du Parc
, 2010
Analog photography, Hahnemühle Photo Rag 308 g paper
Image : 13.39 x 18.5 in ( 34 x 47 cm )
Edition of 15 ex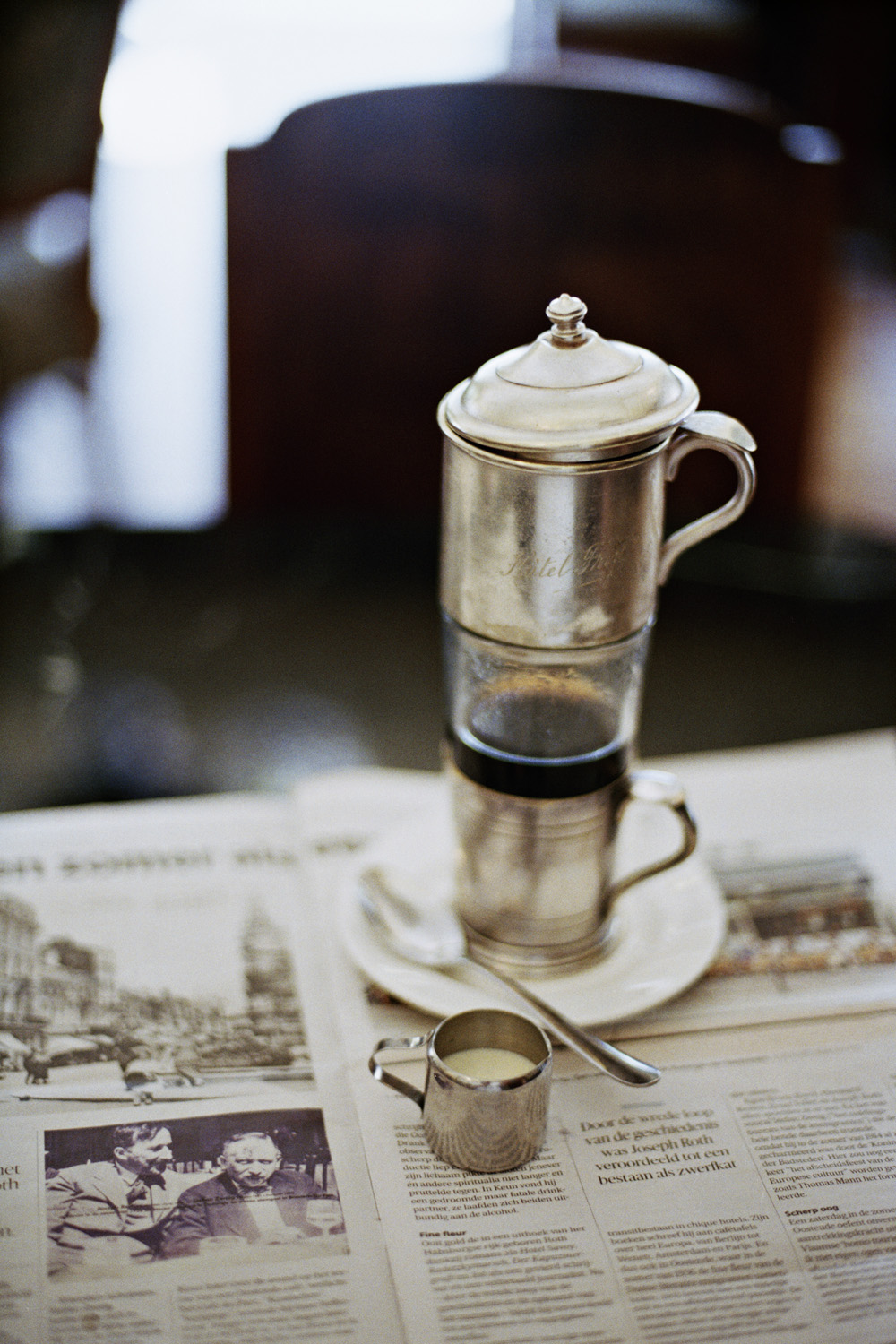 Yvon Lambert
Brasserie du Parc
, 2015
Analog photography, Hahnemühle Photo Rag 308 g paper
Image : 18.5 x 13.39 in ( 47 x 34 cm )
Edition of 15 ex
Yvon Lambert
Spinoladijk
, 2011
Analog photography, Hahnemühle Photo Rag 308 g paper
Image : 18.9 x 25.2 in ( 48 x 64 cm )
Edition of 15 ex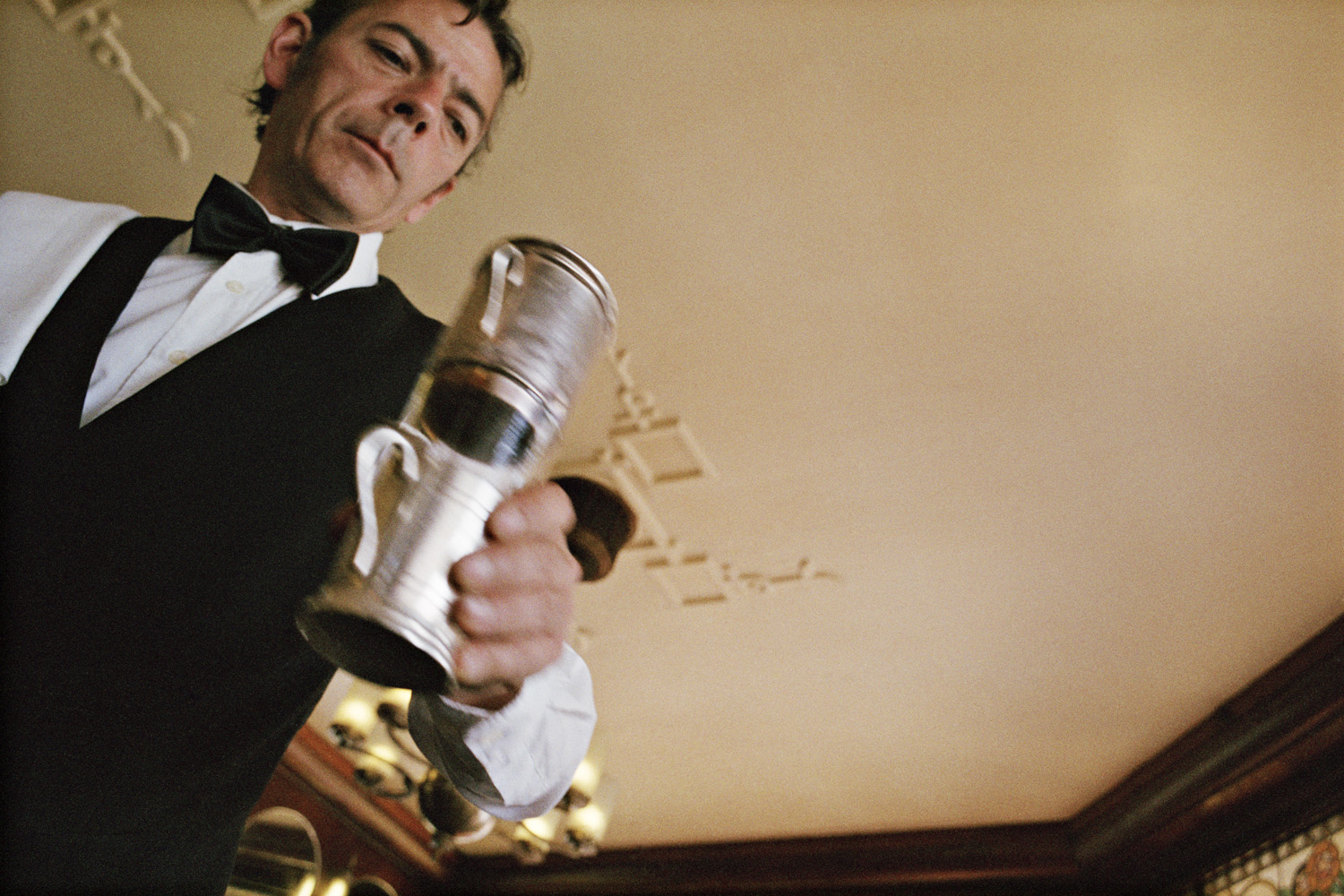 Yvon Lambert
Brasserie du Parc
, 2015
Analog photography, Hahnemühle Photo Rag 308 g paper
Image : 13.39 x 18.5 in ( 34 x 47 cm )
Edition of 15 ex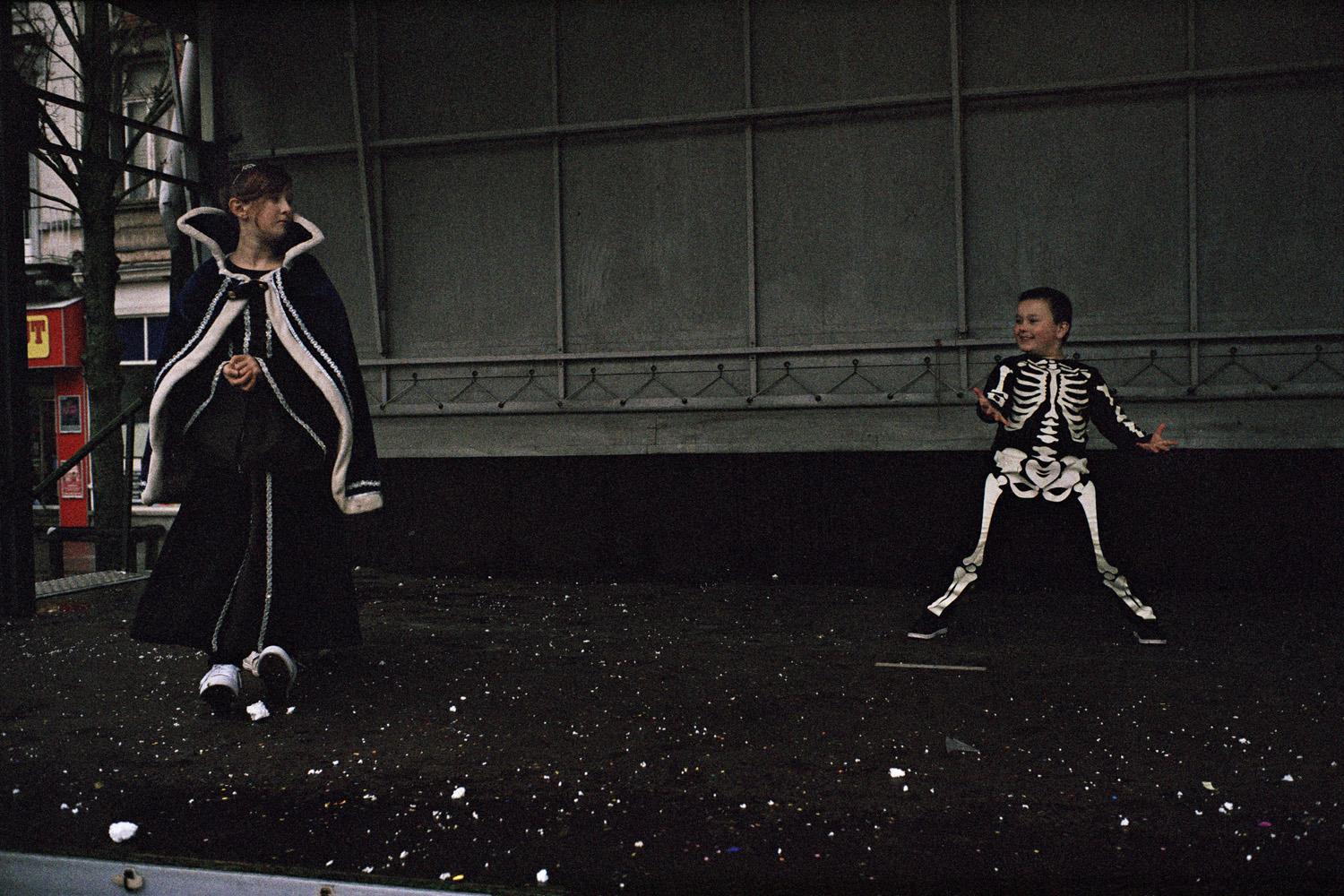 Yvon Lambert
Groentemarkt
, 2017
Analog photography, Hahnemühle Photo Rag 308 g paper
Image : 13.39 x 18.5 in ( 34 x 47 cm )
Edition of 15 ex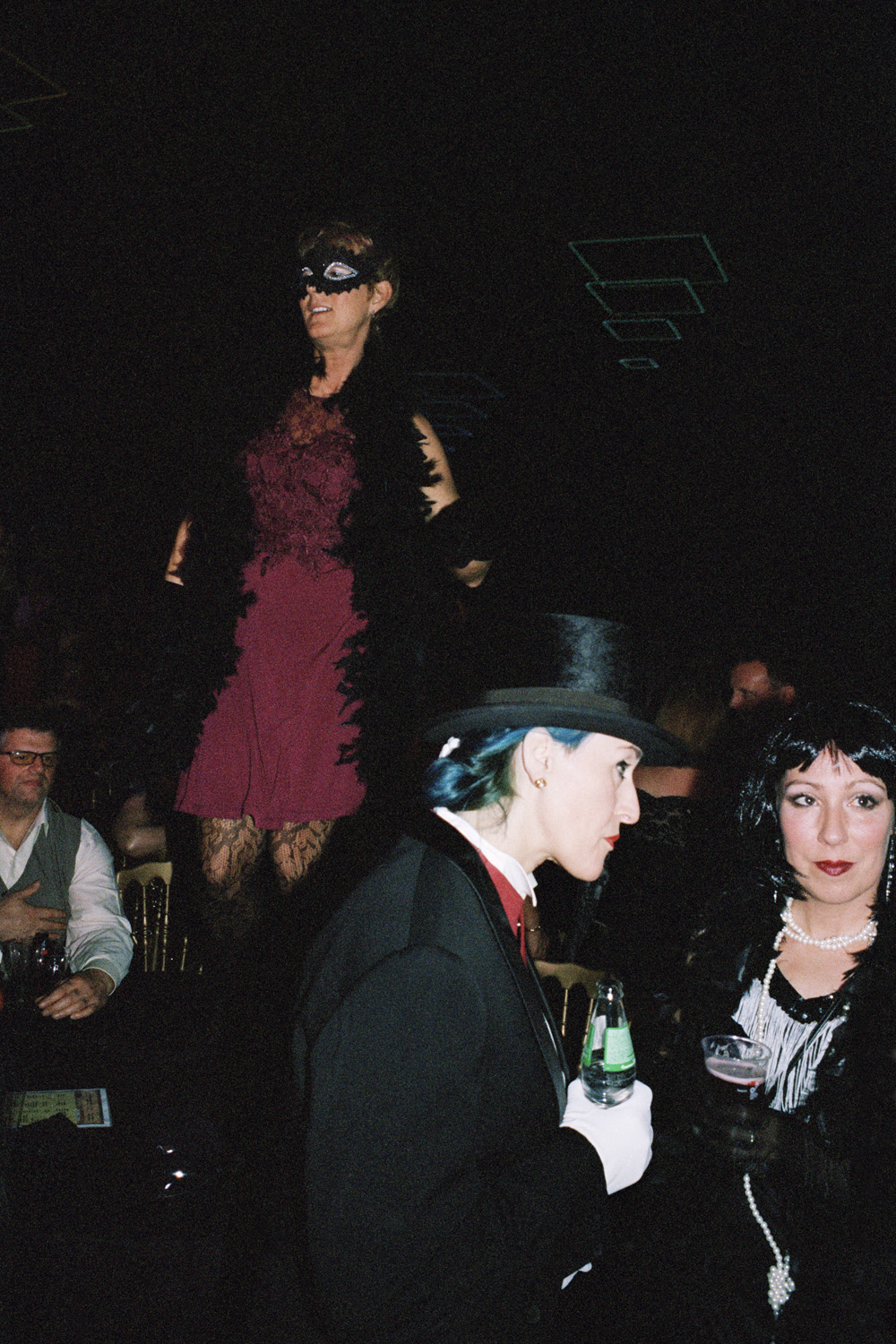 Yvon Lambert
Casino - Kursaal, Bal du Rat Mort
, 2019
Analog photography, Hahnemühle Photo Rag 308 g paper
Image : 18.5 x 13.39 in ( 47 x 34 cm )
Edition of 15 ex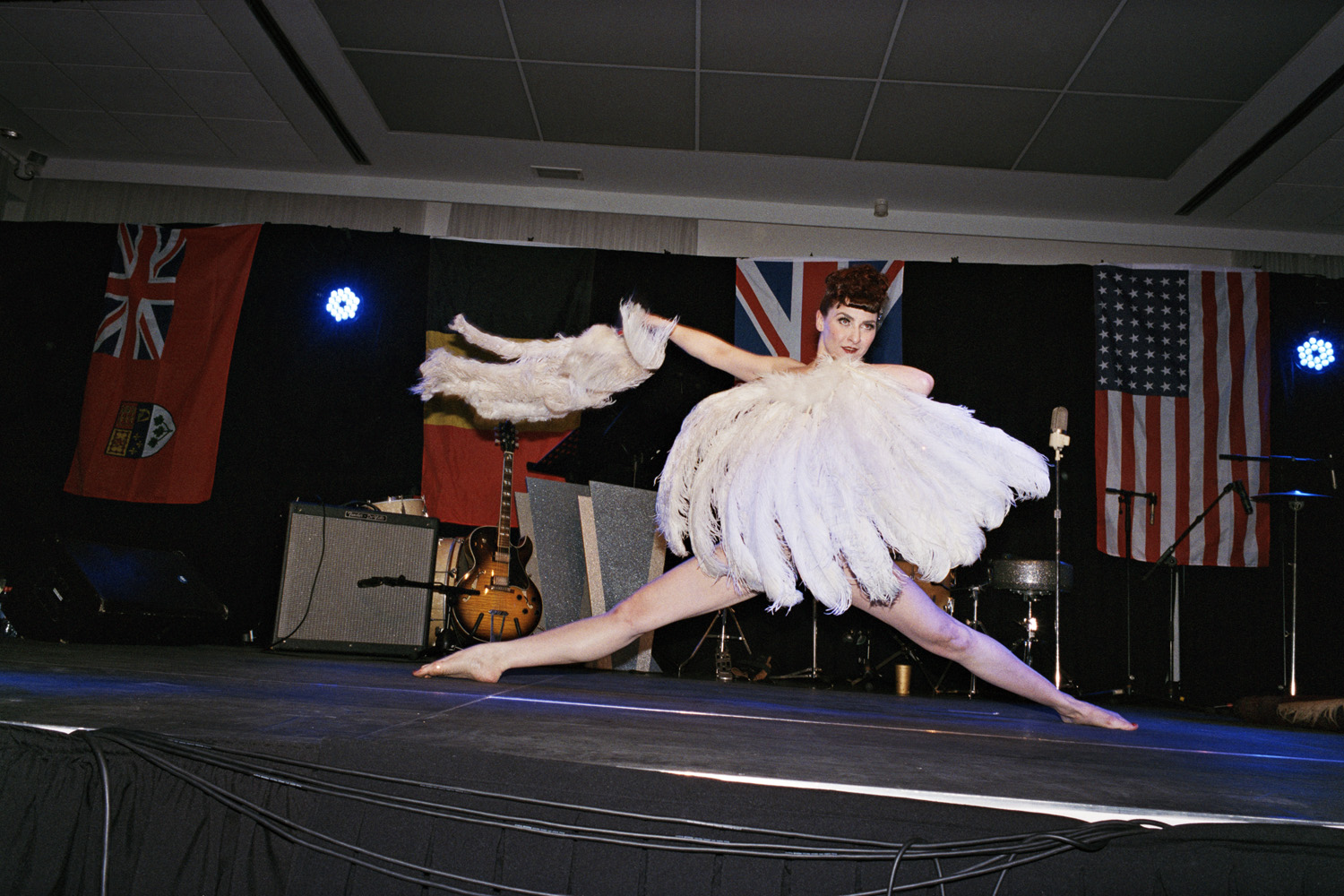 Yvon Lambert
Casino - Kursaal, Bal du Rat Mort
, 2017
Analog photography, Hahnemühle Photo Rag 308 g paper
Image : 30.71 x 42.52 in ( 78 x 108 cm )
Frame: 114
Edition of 15 ex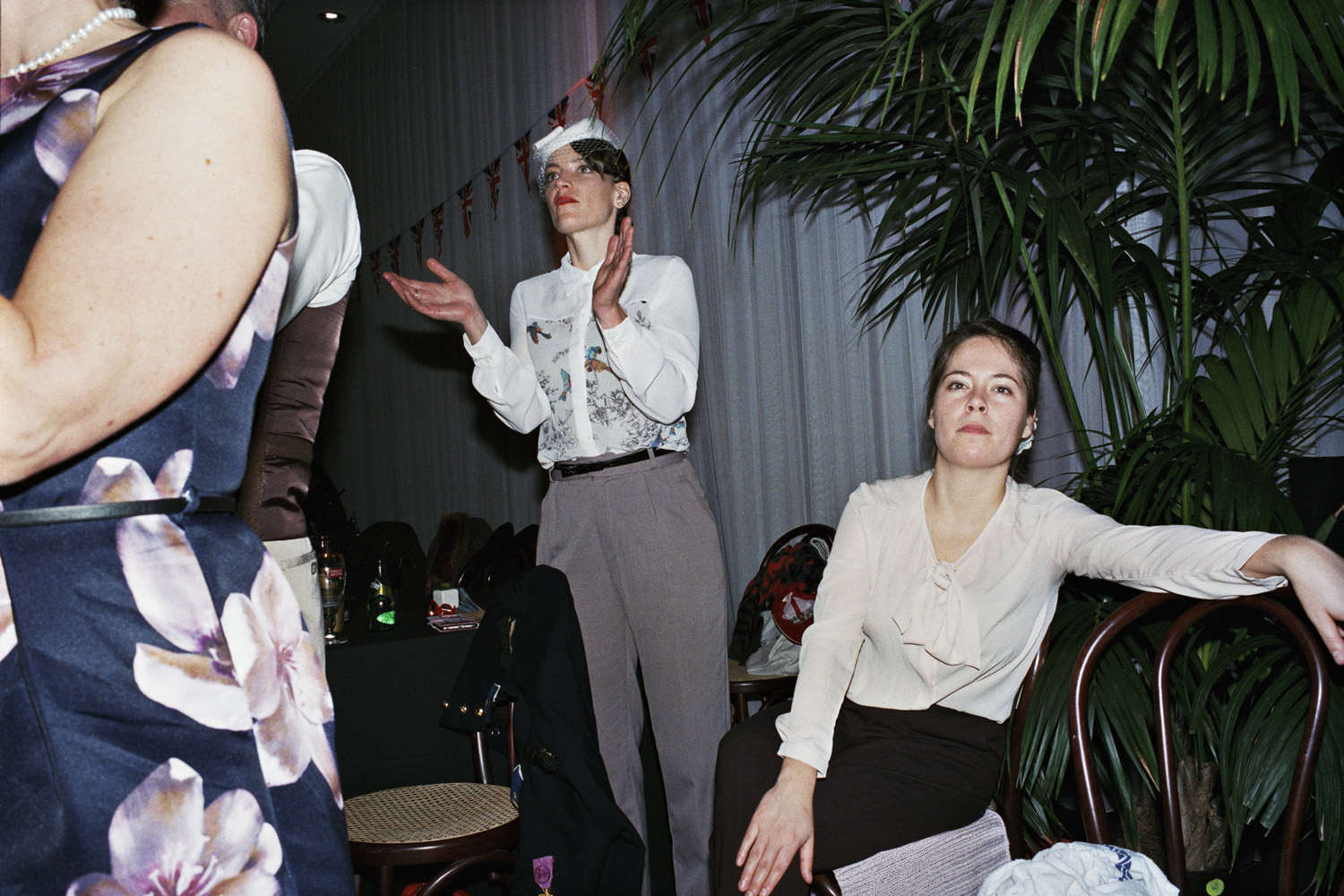 Yvon Lambert
Casino - Kursaal, Bal du Rat Mort
, 2017
Analog photography, Hahnemühle Photo Rag 308 g paper
Image : 13.39 x 18.5 in ( 34 x 47 cm )
Edition of 15 ex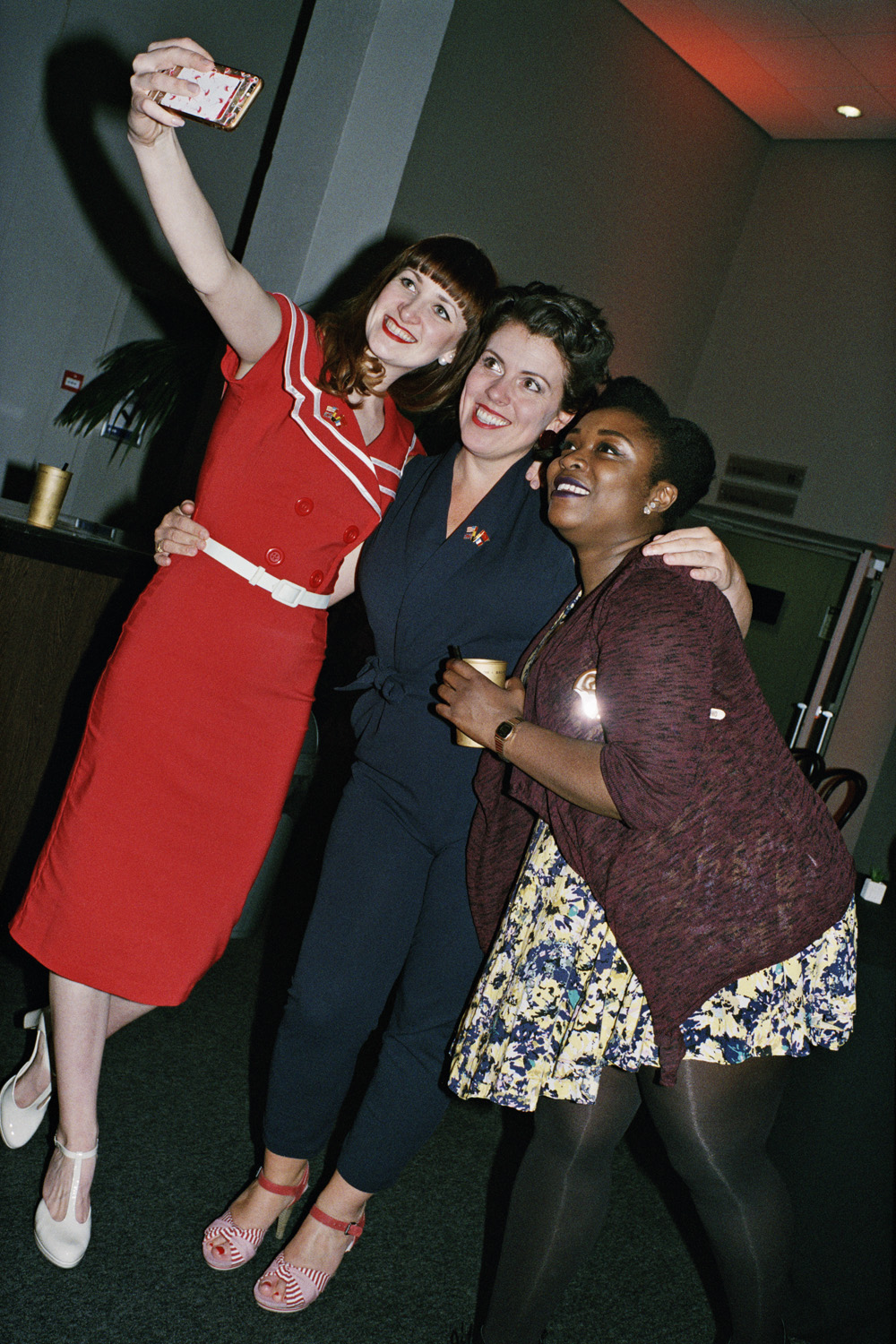 Yvon Lambert
Casino - Kursaal, Bal du Rat Mort
, 2019
Analog photography, Hahnemühle Photo Rag 308 g paper
Image : 18.5 x 13.39 in ( 47 x 34 cm )
Edition of 15 ex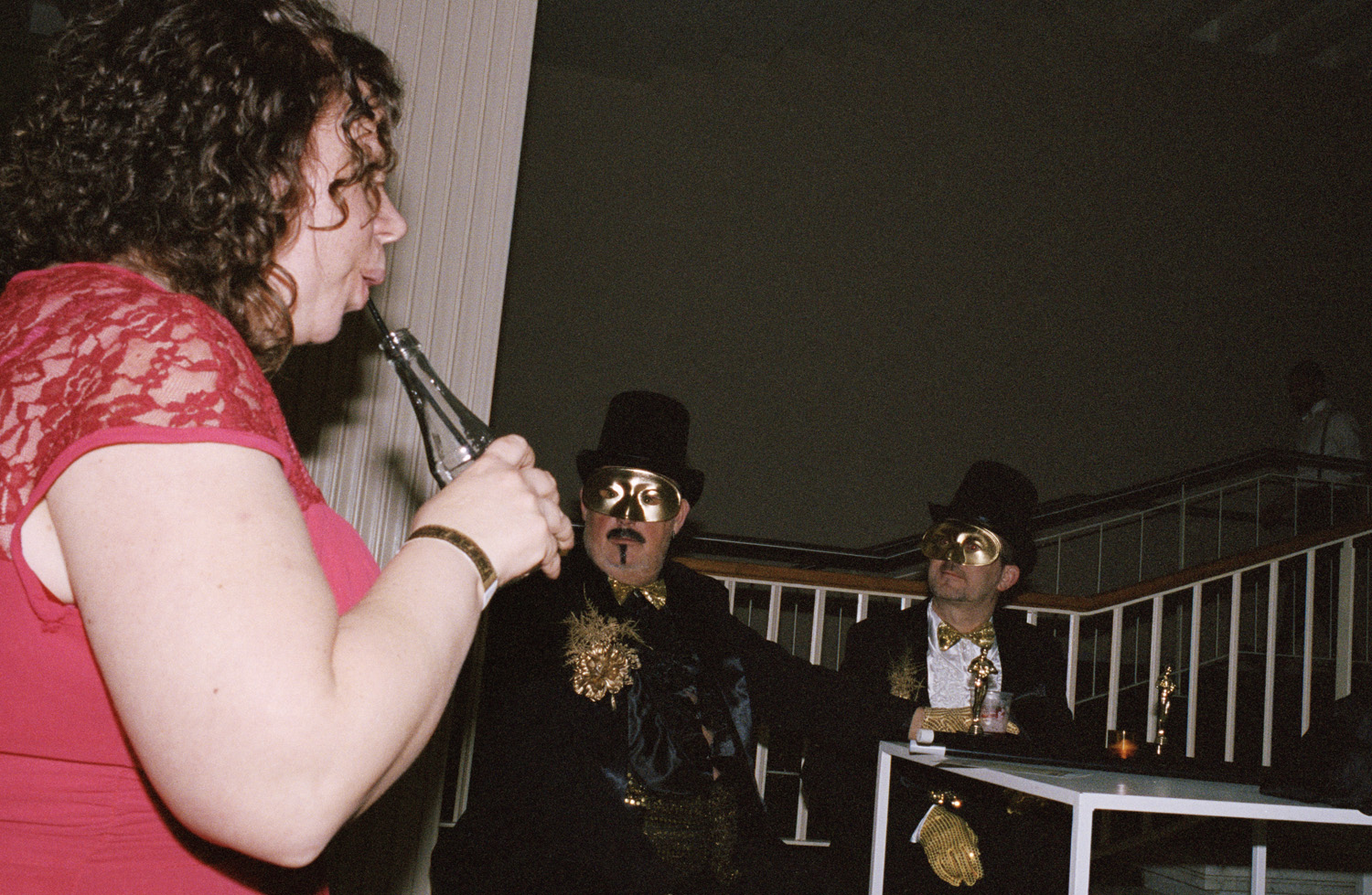 Yvon Lambert
Casino - Kursaal, Bal du Rat Mort
, 2017
Analog photography, Hahnemühle Photo Rag 308 g paper
Image : 13.39 x 18.5 in ( 34 x 47 cm )
Edition of 15 ex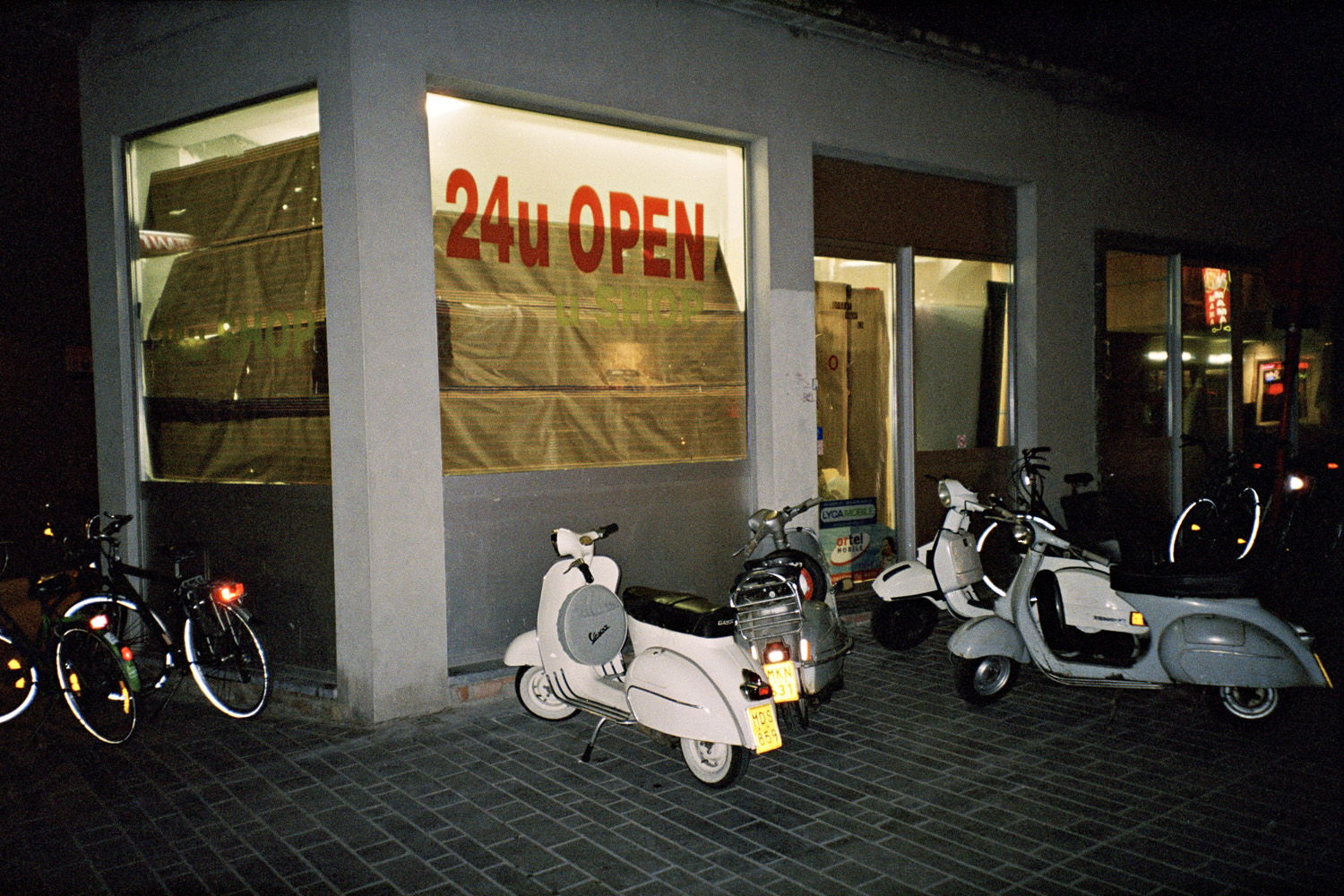 Yvon Lambert
Langestraat
, 2008
Analog photography, Hahnemühle Photo Rag 308 g paper
Image : 13.39 x 18.5 in ( 34 x 47 cm )
Edition of 18 ex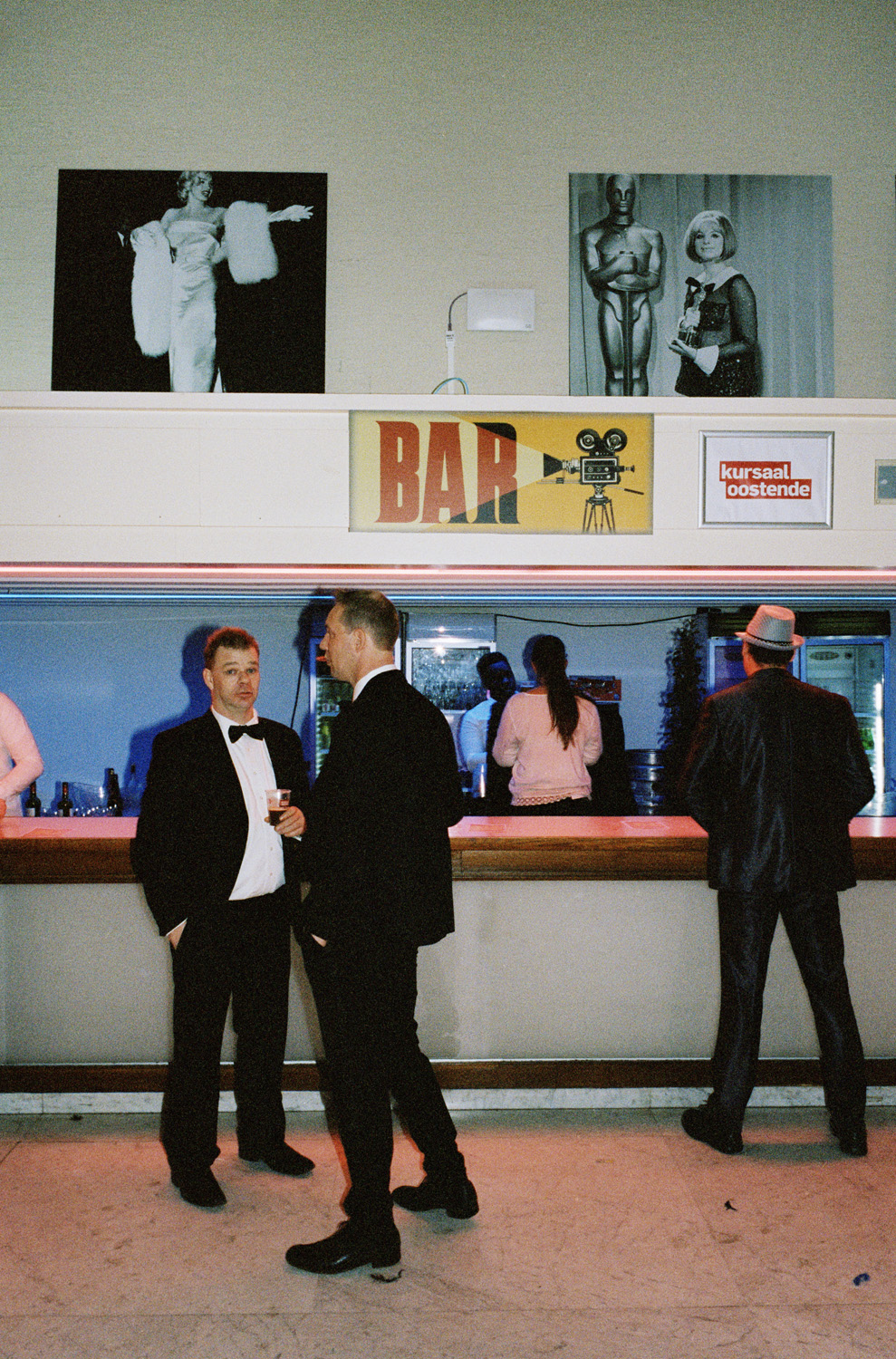 Yvon Lambert
Casino - Kursaal, Bal du Rat Mort
, 2019
Analog photography, Hahnemühle Photo Rag 308 g paper
Image : 18.5 x 13.39 in ( 47 x 34 cm )
Edition of 15 ex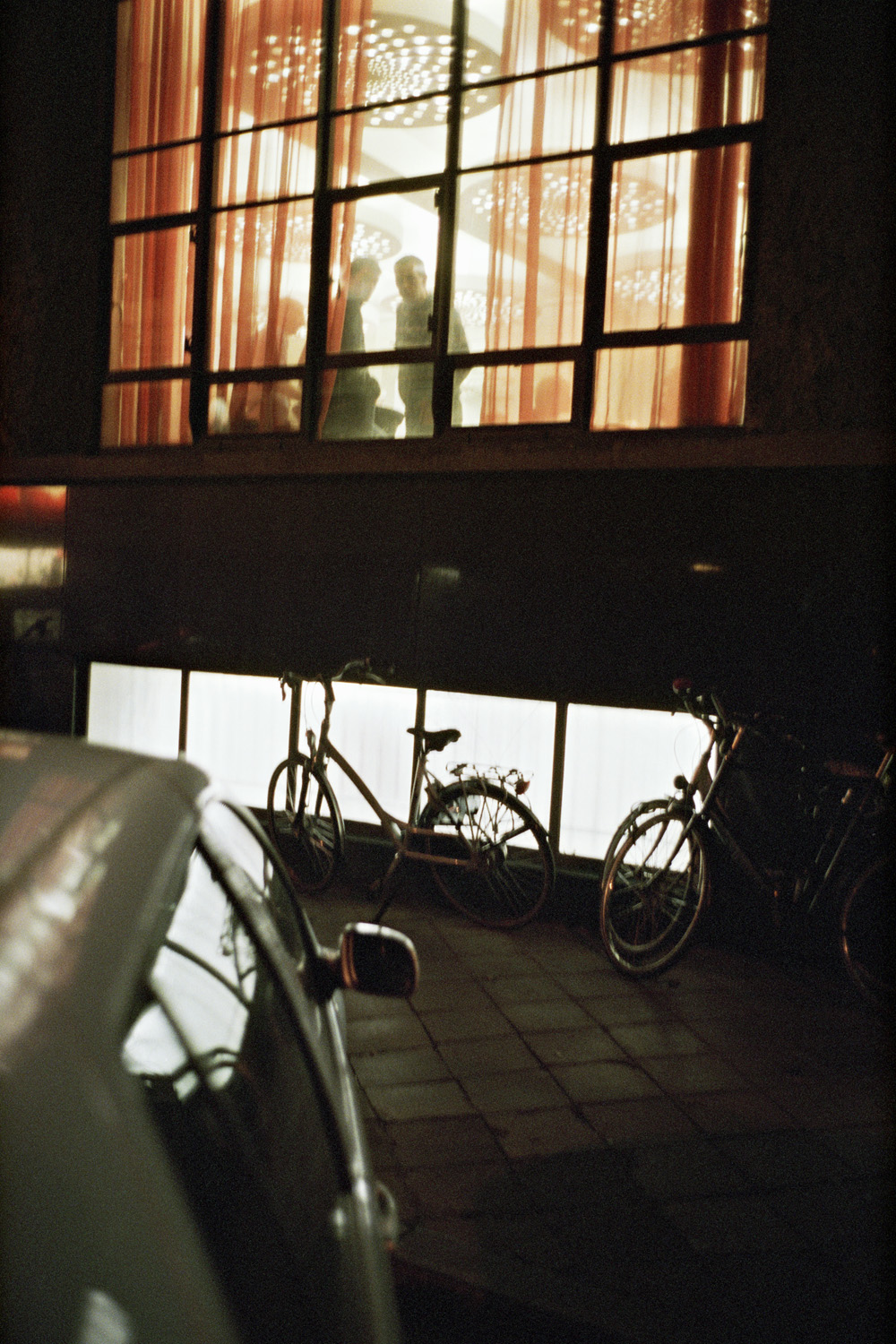 Yvon Lambert
De Grote Post
, 2013
Analog photography, Hahnemühle Photo Rag 308 g paper
Image : 19.69 x 14.57 in ( 50 x 37 cm )
Edition of 15 ex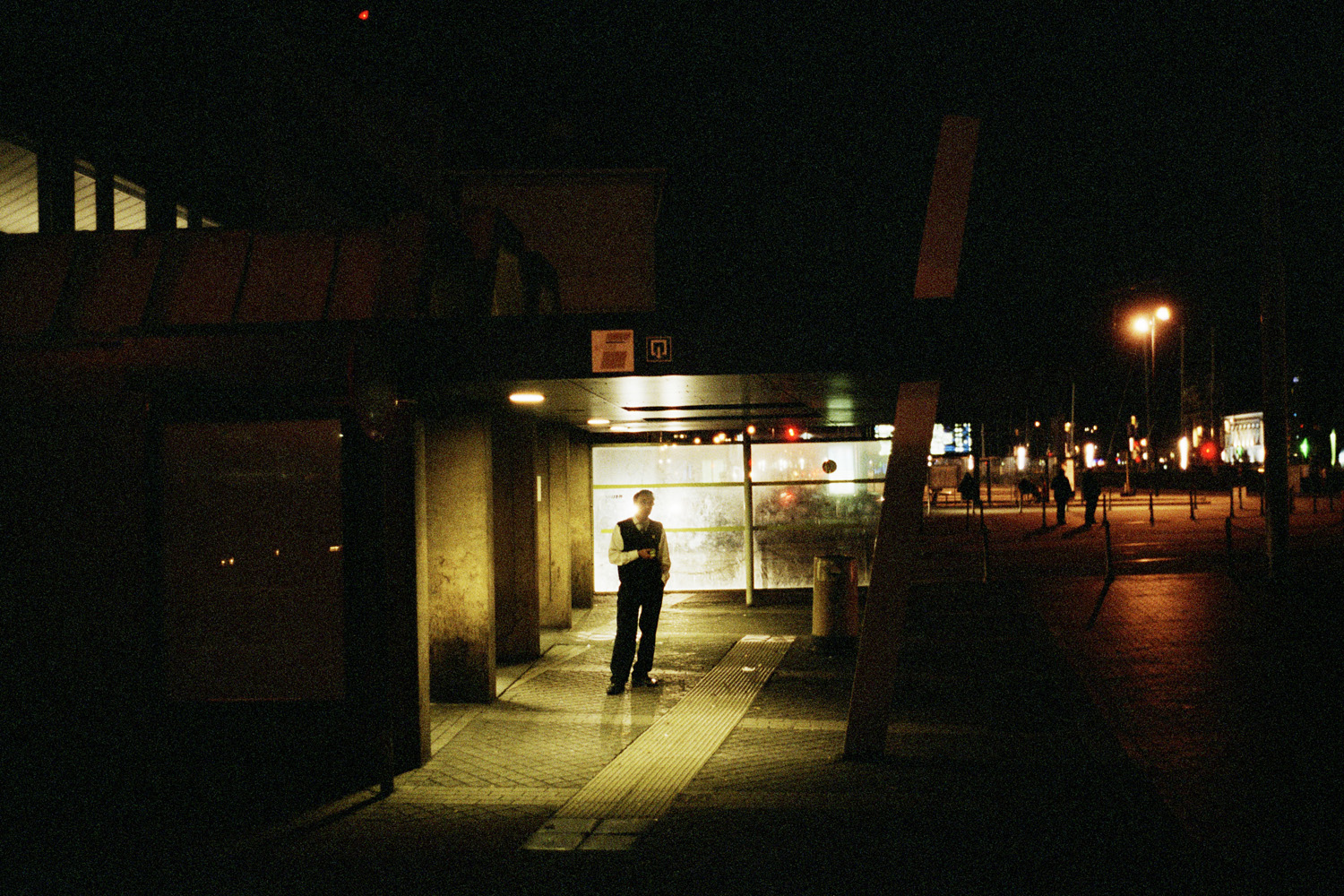 Yvon Lambert
Station De Lijn
, 2013
Analog photography, Hahnemühle Photo Rag 308 g paper
Image : 13.39 x 18.5 in ( 34 x 47 cm )
Edition of 15 ex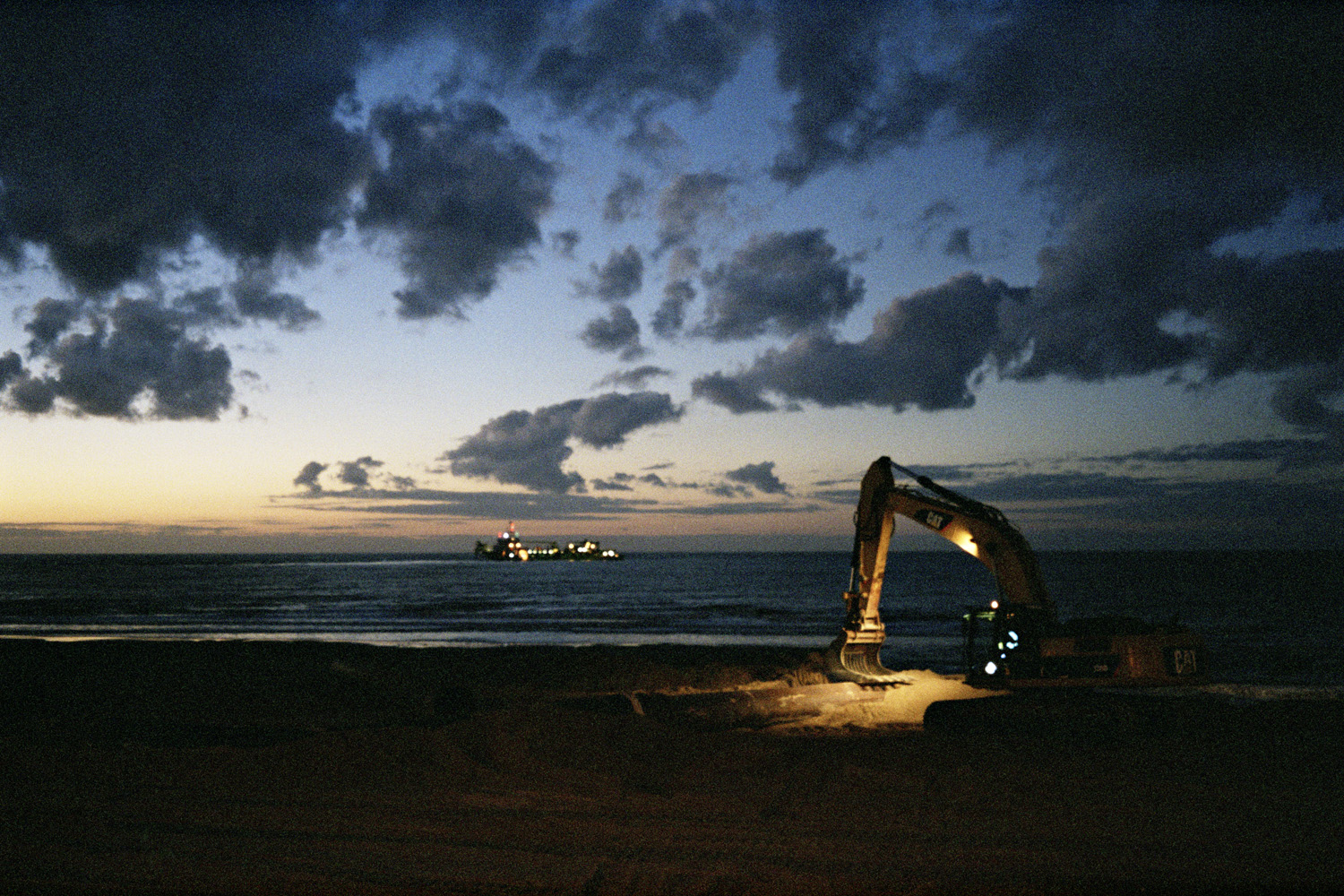 Yvon Lambert
La plage
, 2013
Analog photography, Hahnemühle Photo Rag 308 g paper
14.57 x 19.69 in ( 37 x 50 cm )
Edition of 15 ex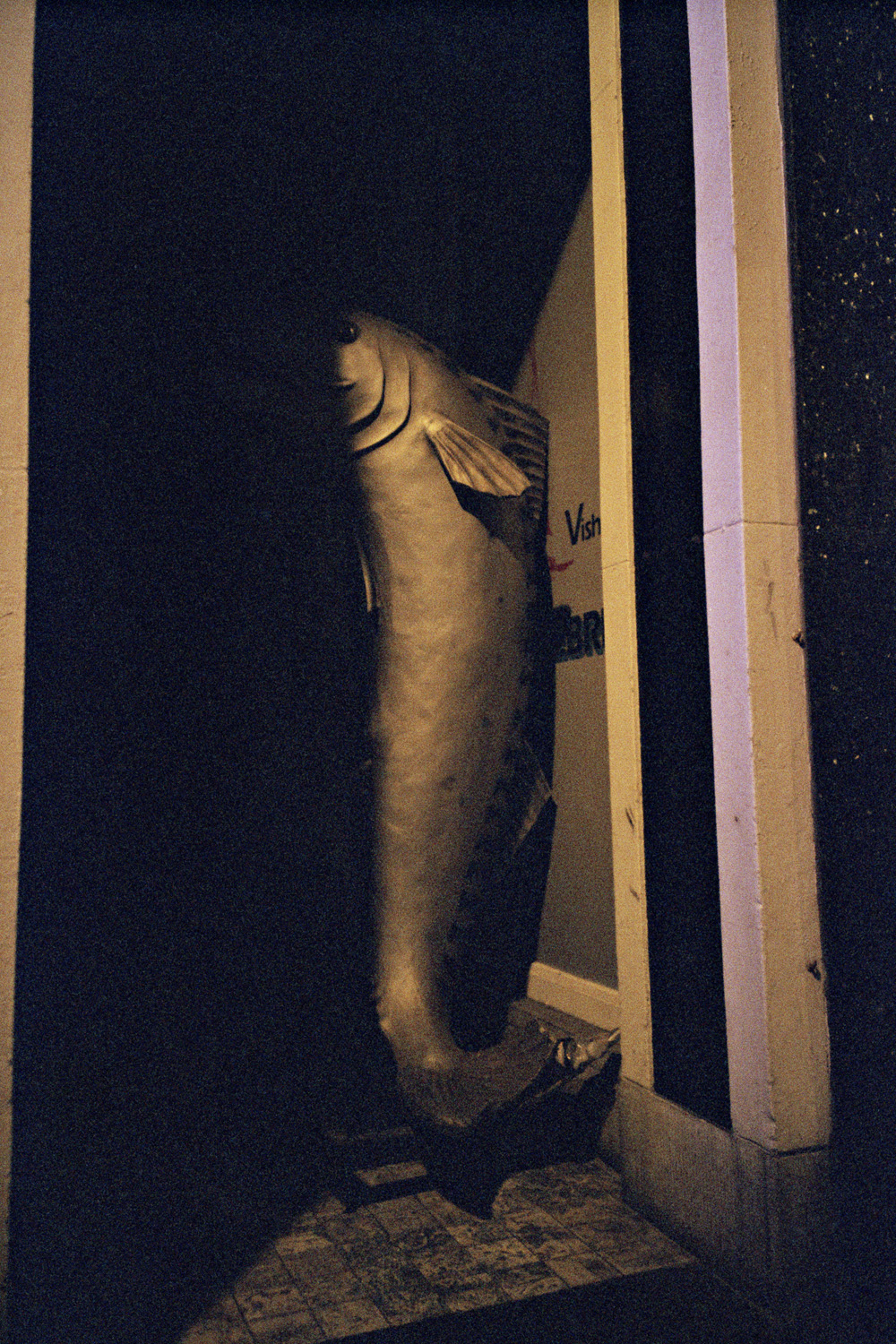 Yvon Lambert
Dwaarsstraat
, 2009
Analog photography, Hahnemühle Photo Rag 308 g paper
Image : 14.57 x 19.69 in ( 37 x 50 cm )
Edition of 15 ex
Yvon Lambert
Brasserie du Parc
, 2015
Analog photography, Hahnemühle Photo Rag 308 g paper
Image : 13.39 x 18.5 in ( 34 x 47 cm )
Edition of 15 ex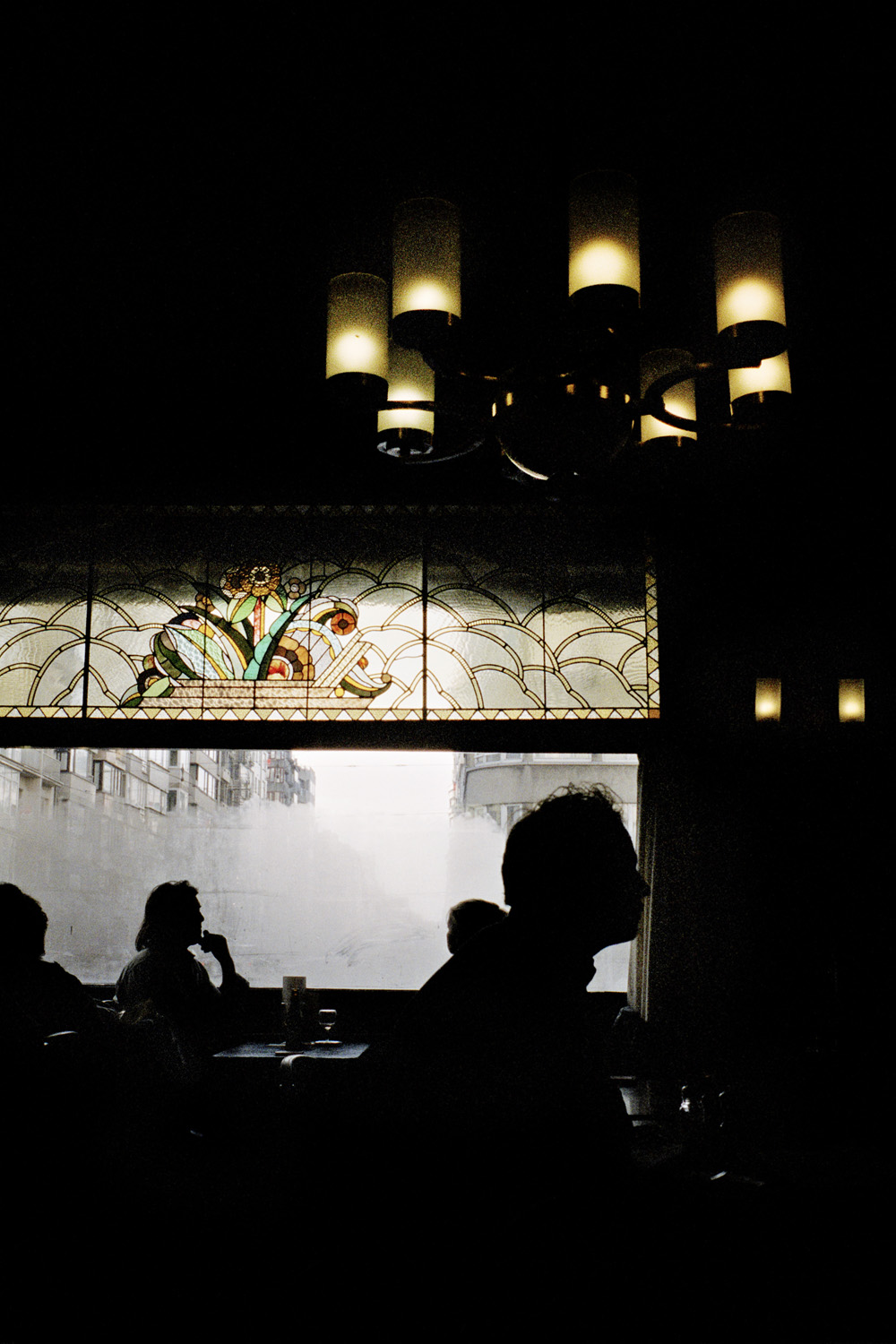 Yvon Lambert
Brasserie du Parc
, 2014
Analog photography, Hahnemühle Photo Rag 308 g paper
Image : 18.5 x 13.39 in ( 47 x 34 cm )
Edition of 15 ex
Informations
Nous avons toutes et tous « notre » Ostende. La mienne est principalement hivernale, liée à l'enfance et au début de l'adolescence. Des courses sur les planches glissantes, jusqu'au bout de l'estacade. Le va-et-vient des malles dans la rade. Le cri perçant des mouettes et des goélands. Les boutiques de bric-à-brac marin. Les crevettes épluchées à même la table du bistrot. Une dame blanche chez Georges, à deux pas de la place d'Armes et de son kiosque. Sans chantilly.
Turfistes, curistes, touristes. Des communautés qui se croisent sans se mélanger.
Ostende est plurielle et l'a toujours été. Mais que reste-t-il de sa splendeur passée ? L'hippodrome est un quasi fantôme. Les galeries royales menacent de s'effondrer, défigurées par des étançons qui leur tiennent lieu de dérisoires béquilles. Le Kursaal accueille presque exclusivement des spectacles de second ordre. Le bal du Rat mort a connu des heures plus glorieuses.
Il reste bien, çà et là, l'une ou l'autre maison de maître qui a échappé à la voracité des promoteurs, l'une ou l'autre villa toujours parée de ses ors et de ses boiseries précieuses. Il n'est désormais d'autre choix que celui de recourir aux souvenirs, de céder à la nostalgie et se laisser aller à la mélancolie.
Les ombres d'Ensor et de Spilliaert planent encore au-dessus de la ville, de la plage et de la mer, mais les débusquer demande des efforts toujours plus soutenus.
Les photographies d'Yvon Lambert me semblent proches de ces sentiments diffus, parfois contradictoires. Le passé et le présent s'y rejoignent. J'y retrouve l'essentiel de ce que j'ai aimé, de ce que j'aime encore et de ce que j'aimerai sans doute toujours à Ostende. Du grotesque et de la sérénité, du trivial et du chaotique. Yvon Lambert a photographié ce petit bout de Belgique en fin connaisseur – et d'Ostende et de la photographie.


Alain D'Hooghe


EN
We all have 'our' Ostend. Mine is predominantly wintry, related to childhood and early adolescence. Races on the slippery boards all the way to the end of the jetty. The comings and goings of ferries in the harbour. The piercing cry of seagulls. The shops with nautical bric-a-brac. Peeling shrimps on the table of the bar. Ice cream sundaes at Georges, a stone's throw from the Place d'Armes and its kiosk. No whipped cream.
Punters, spa-goers, tourists. Communities that mix but don't mingle. Ostend is diverse, and always has been. But what remains of its past splendour? The hippodrome is but a shadow of its former self. The Royal Galleries threaten to collapse, disfigured by metal struts acting as pathetic crutches. The Kursaal hosts mainly second-rate shows. The Ball du Rat mort is long past its heyday.
There remains of course the odd mansion that was spared from the greed of real-estate developers, the occasional villa still adorned with gold and precious woodwork. But today there is no other choice but to rely on memories, to give in to nostalgia and indulge in melancholy.
The ghosts of Ensor and Spilliaert still haunt the streets, the beach and the seaside, but coming across them requires ever greater efforts.
Yvon Lambert's photographs are very close to these diffuse, sometimes contradictory feelings. Past and present converge in them. I recognise in them most of what I used to love, what I still love and what I will probably always love about Ostend. The grotesque and the serene, the trivial and the chaotic. Lambert has photographed this little piece of Belgium as a connoisseur – of Ostend and of photography.


Alain D'Hooghe
Yvon Lambert
Quelques repères biographiques :

Né à Luxembourg en 1955. Après avoir travaillé comme ingénieur technicien dans la sidérurgie, il fait des études de photographie à Bruxelles 1984-87. Son premier projet photographique publié s'intitule Naples un hiver, un travail réalisé grâce aux Pépinières Européennes en 1990-91. Depuis 1994 il travaille régulièrement sur le thème des frontières en Europe, projet pour lequel il sera primé au Grand Prix de la ville de Vevey en 1995. Il participe à l'exposition Frontières, Le tropisme des lisières, présentée à la BPI du Centre Georges Pompidou à Paris. Pour le ministère de l'Agriculture (France) et la BPI du Centre Georges Pompidou, il réalise un reportage en Roumanie en 1994 et prend part à l'exposition D'Est en Ouest, chemins de terre et d'Europe. Premier séjour au Japon pour le projet TOKYO TODAY grâce à EU JAPAN Fest en 1996. La Japan Foundation le soutiendra en 1999 pour la réalisation au Japon du projet Nature/Culture. Il séjournera au Laos en 2001 et au Vietnam en 2002, projets commandés par le Ministère de la Coopération du Luxembourg. En 2004 le photographe a édité Retours de Roumanie, après de multiples reportages en Roumanie. En collaboration avec l'écrivain Nico Helminger il publiera en 2003 Brennweiten der Begegnung, un portrait d'une ville au Luxembourg. En 2007 Yvon Lambert réalise le projet Lézardes qui donne à voir le quotidien à La Havane (Cuba), avec l'écrivaine cubaine Karla Suarez et édité par les éditions HUSSON. En 2010 le photographe travaille sur le thème de l'Agriculture, terres fermes, une commande du CNA (LU). 2011 Une nouvelle exposition et publication : NAPOLI, grâce à la ville de Differdange. 2013 On Vacation, une résidence d'artiste pour Clervaux, cité de l'image. Il expose Histoires de Frontières en 2015 au Festival ImageSingulières de Sète. Grâce à une commande du Fonds du Kirchberg, le photographe travaille sur le quartier du Kirchberg à Luxembourg en 2015-16. En 2020, Yvon Lambert expose son travail sur la ville d'Ostende à la BOX galerie à Bruxelles. 2021 le projet Derniers Feux sera exposé aux Archives nationales de Luxembourg.

Les photographies d'Yvon Lambert sont distribuées par l'agence de photographes VU' à Paris.



Bibliographie :

Naples un hiver, 1993

Derniers Feux (1ère version), 1998

Retours de Roumanie, 2004

Brennweiten der Begegnung, 2005

Lézardes, 2007

NAPOLI, 2011

terres fermes, 2012

On Vacation, 2013

Kirchberg, 2017

Derniers Feux (2ème version), 2021


Documents
Download Press Kit
Yvon Lambert

Oostende
- Conversations du bord de mer -

20.10.22 - 19.11.22
Vernissage jeudi 20 octobre à 18h