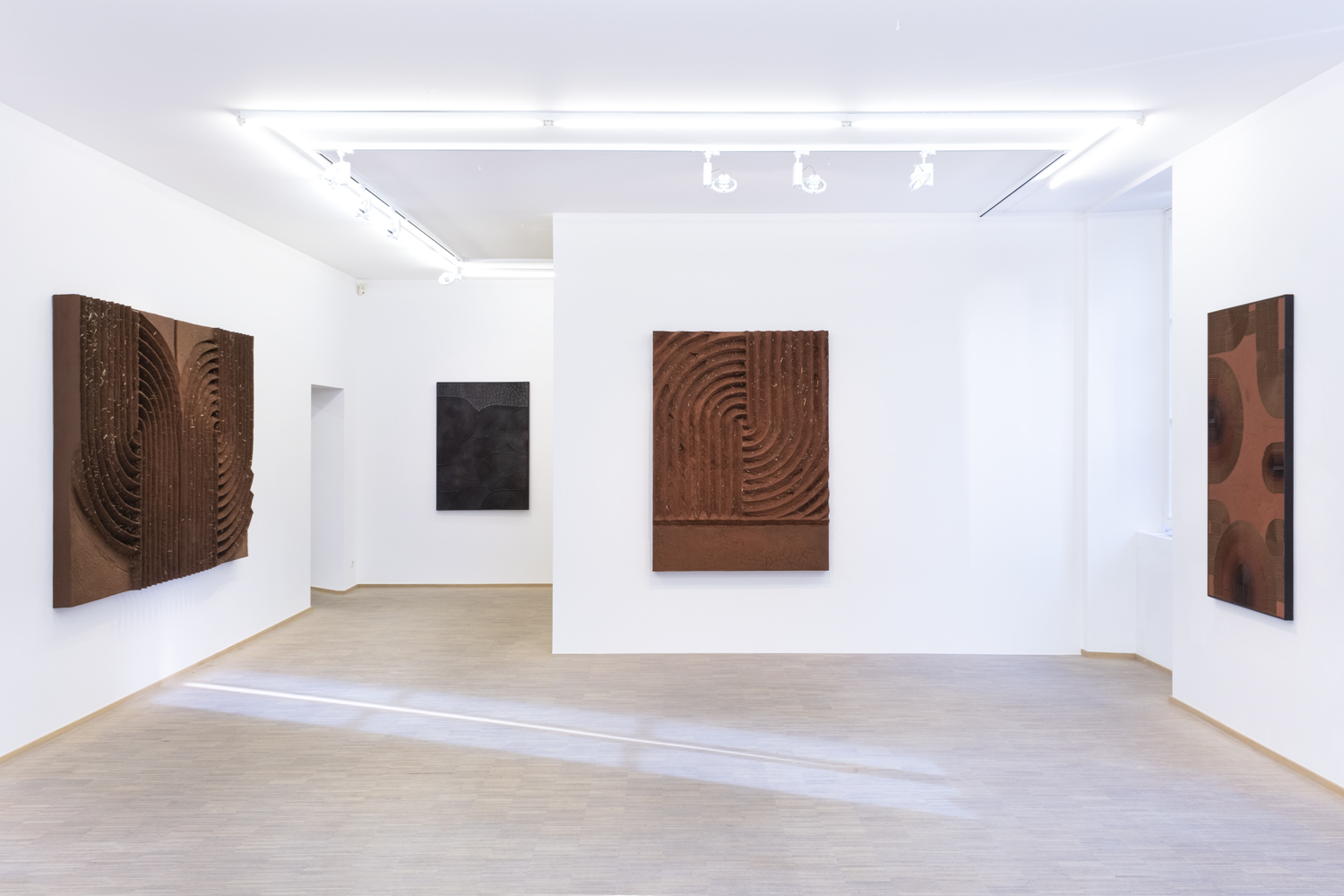 Exhibition view, Nosbaum Reding, Luxembourg, 2022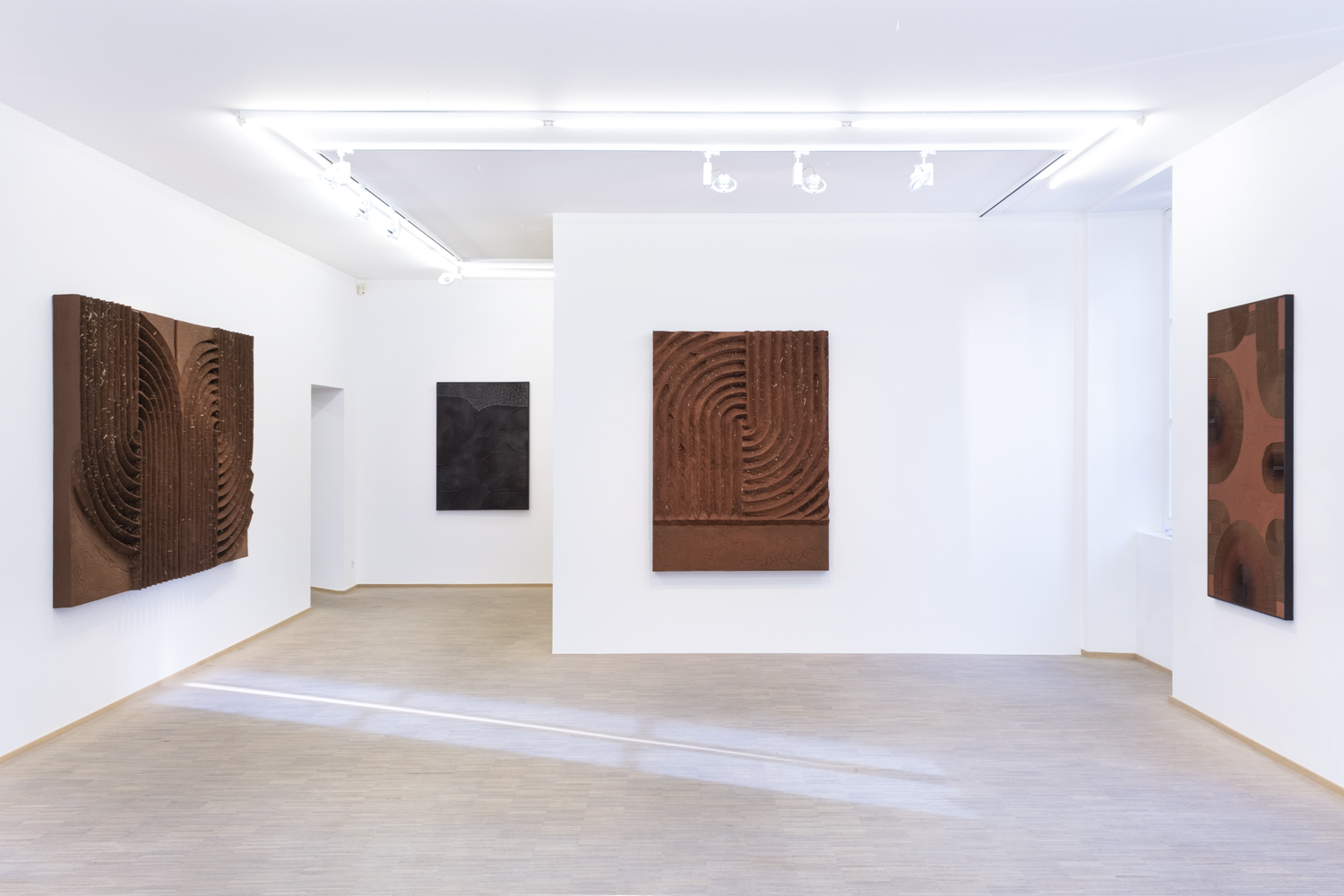 Exhibition view, Nosbaum Reding, Luxembourg, 2022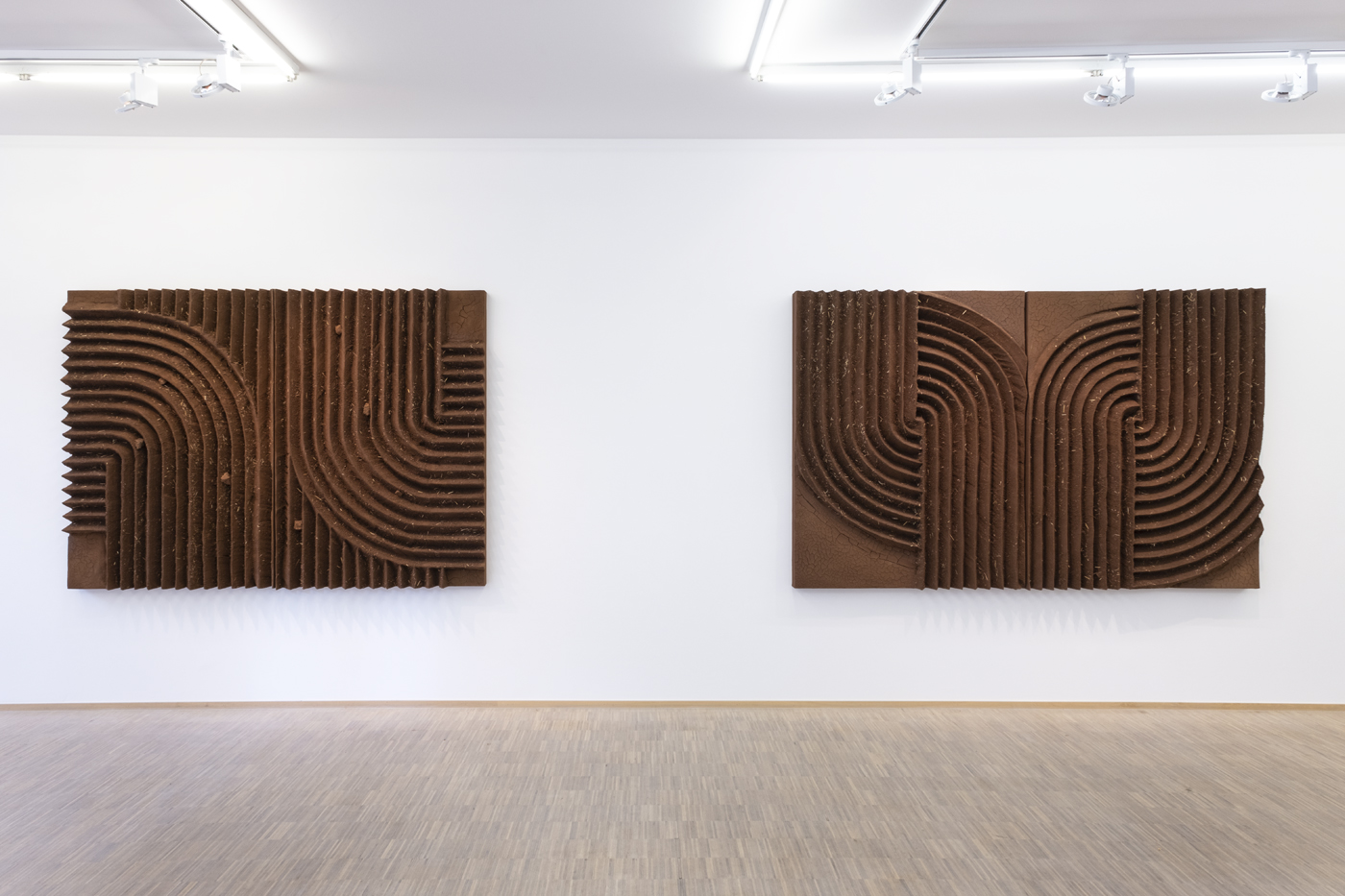 Exhibition view, Nosbaum Reding, Luxembourg, 2022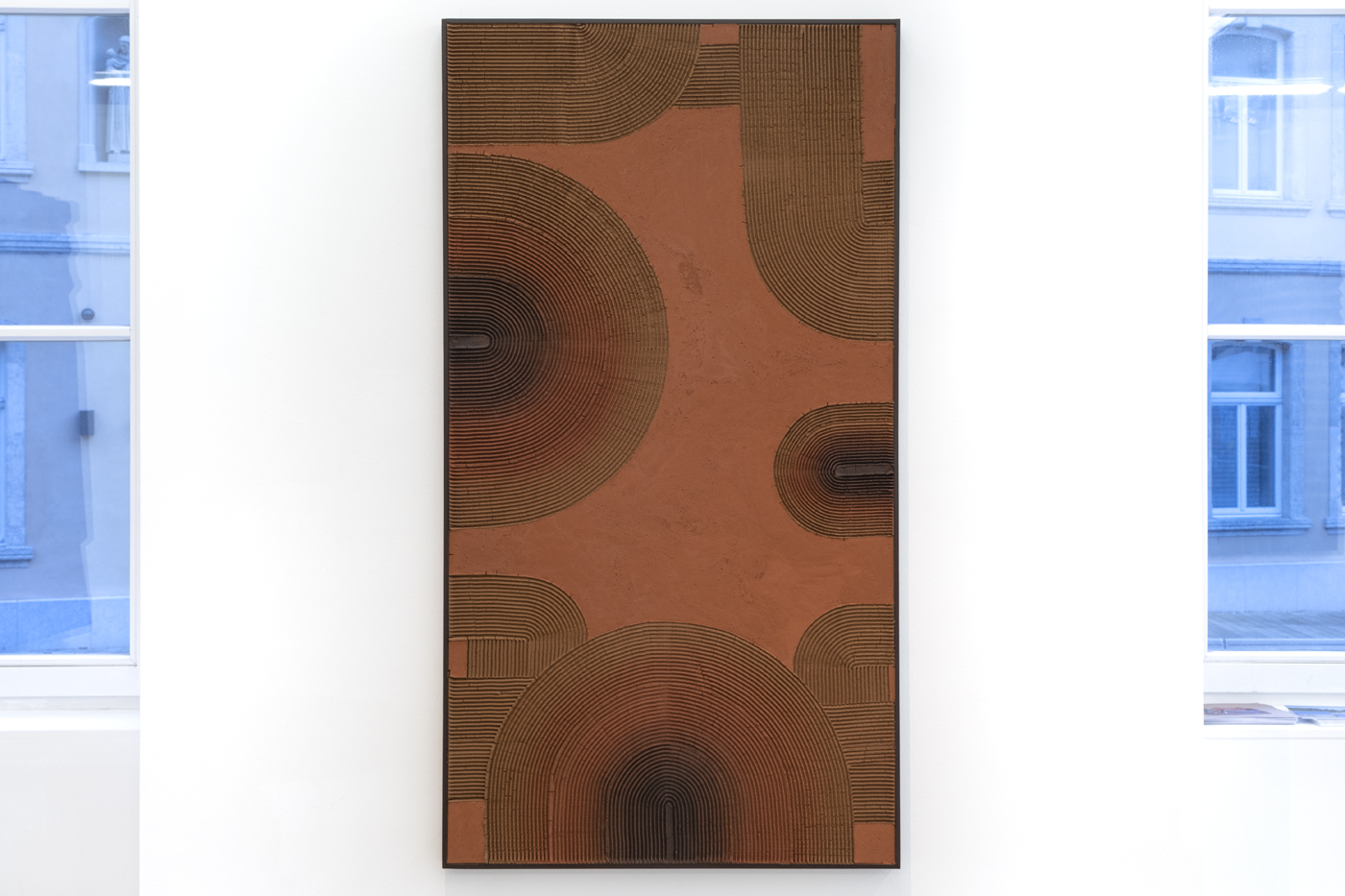 Exhibition view, Nosbaum Reding, Luxembourg, 2022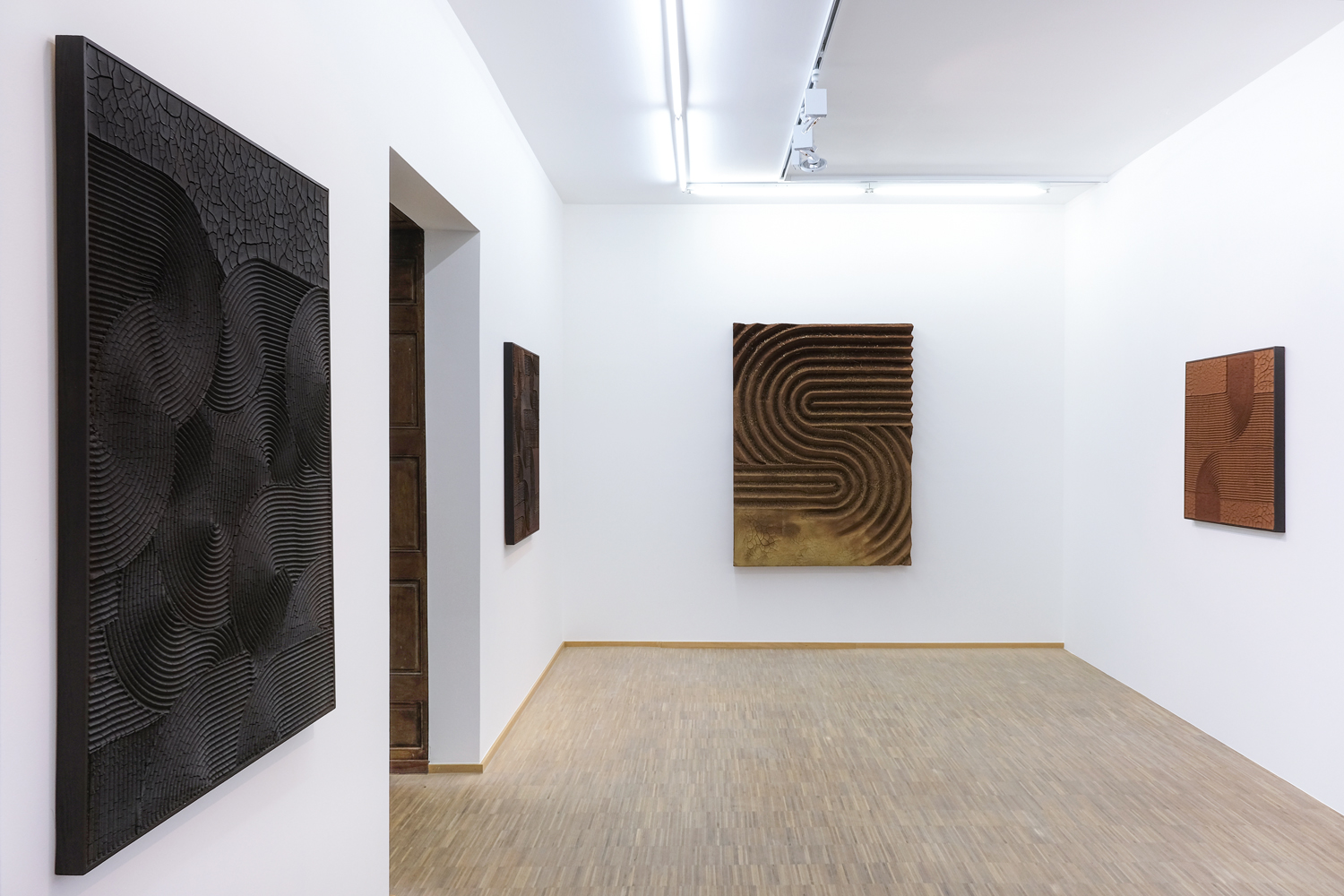 Exhibition view, Nosbaum Reding, Luxembourg, 2022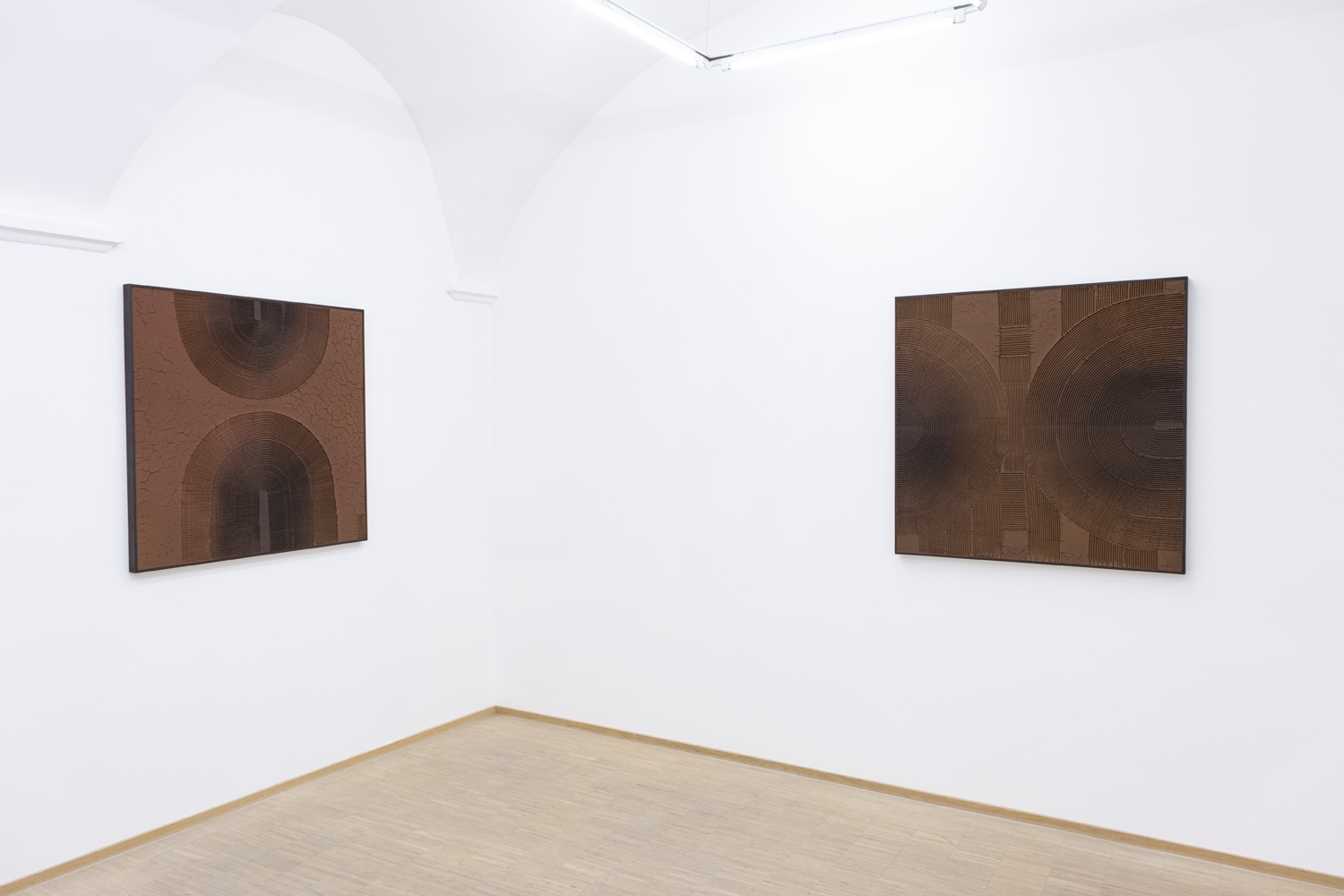 Exhibition view, Nosbaum Reding, Luxembourg, 2022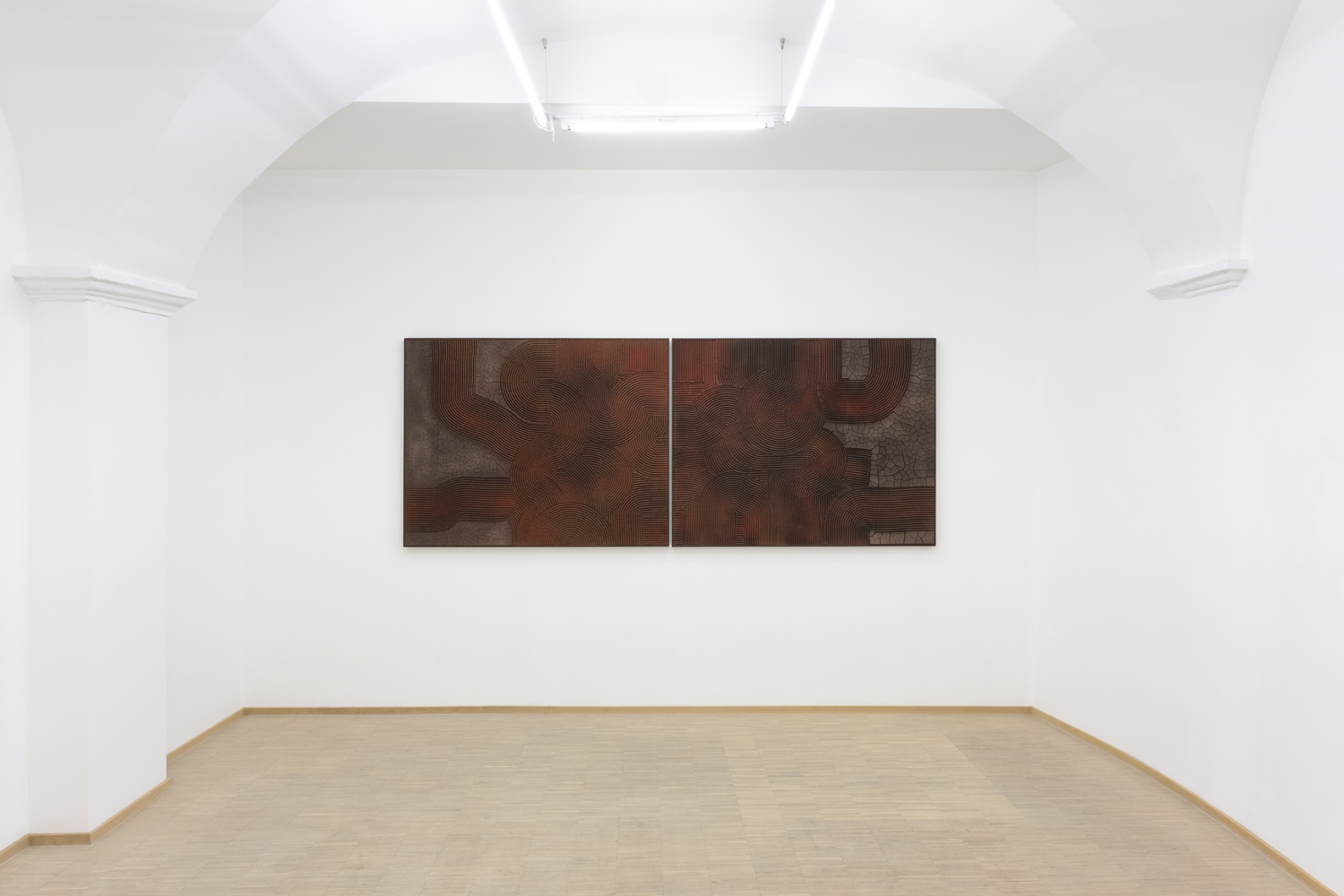 Exhibition view, Nosbaum Reding, Luxembourg, 2022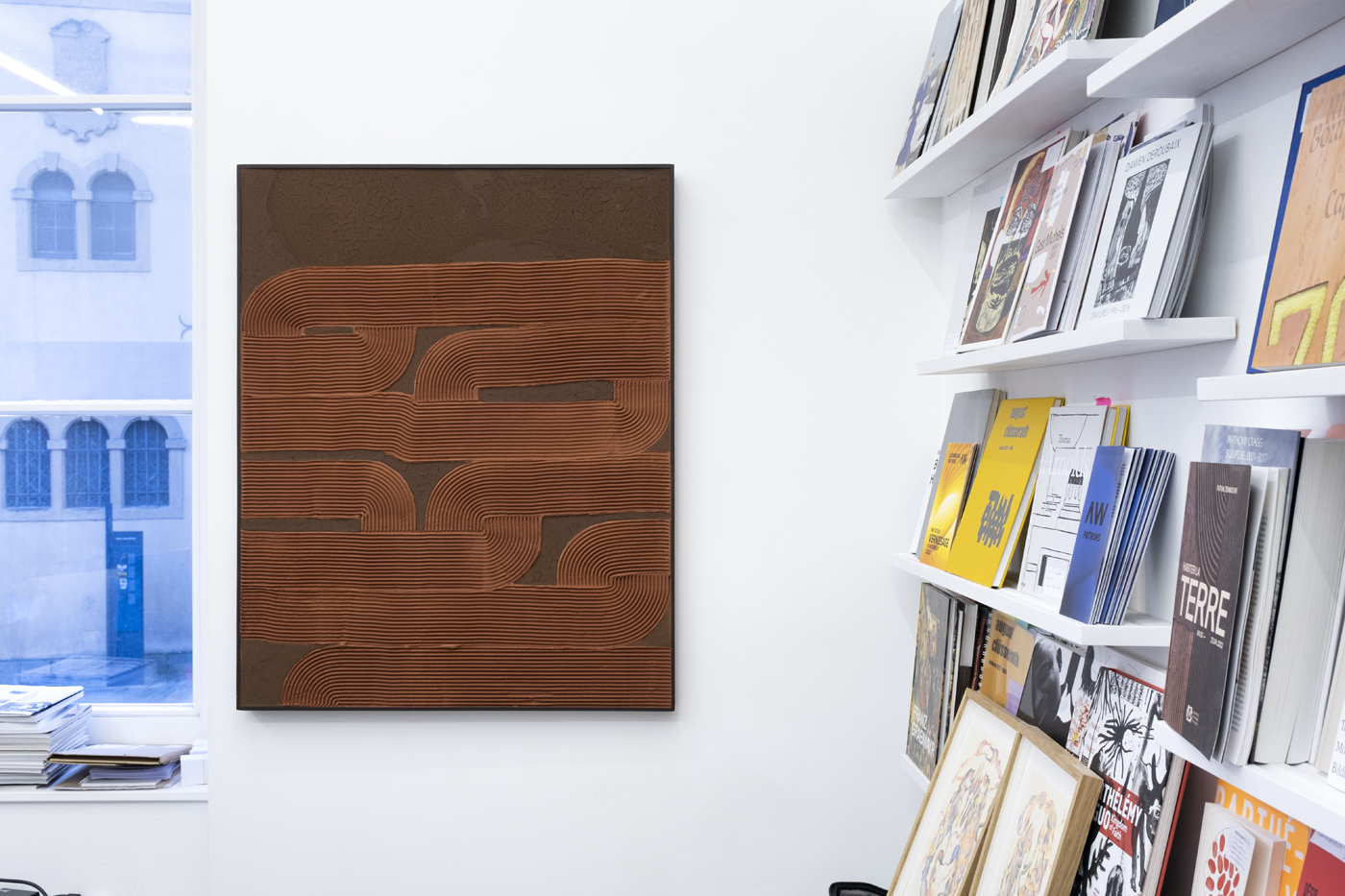 Exhibition view, Nosbaum Reding, Luxembourg, 2022
Exhibited Works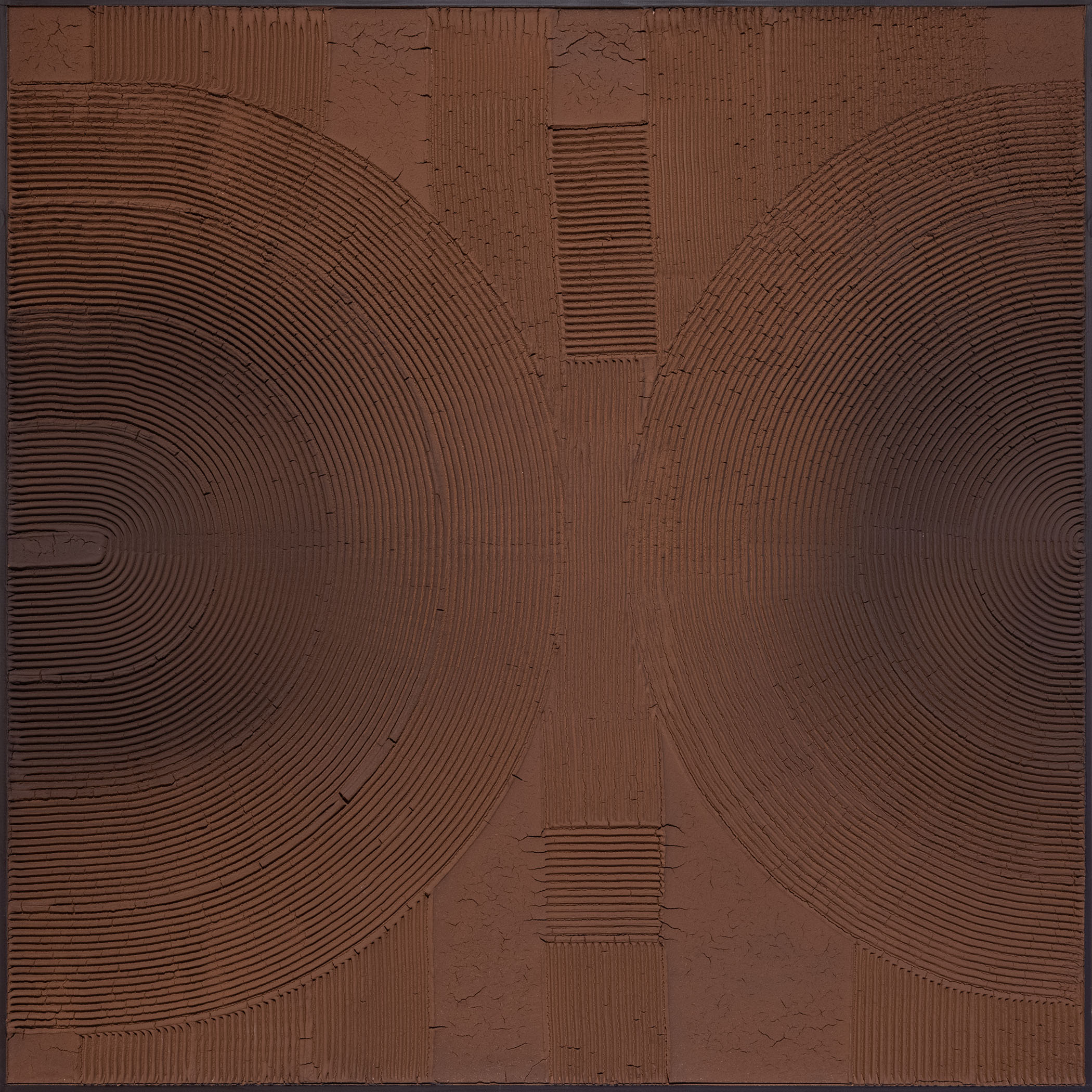 Fatiha Zemmouri
Fertilité
, 2022
Earth and pigment on wood
39.37 x 39.37 in ( 100 x 100 cm )
Not available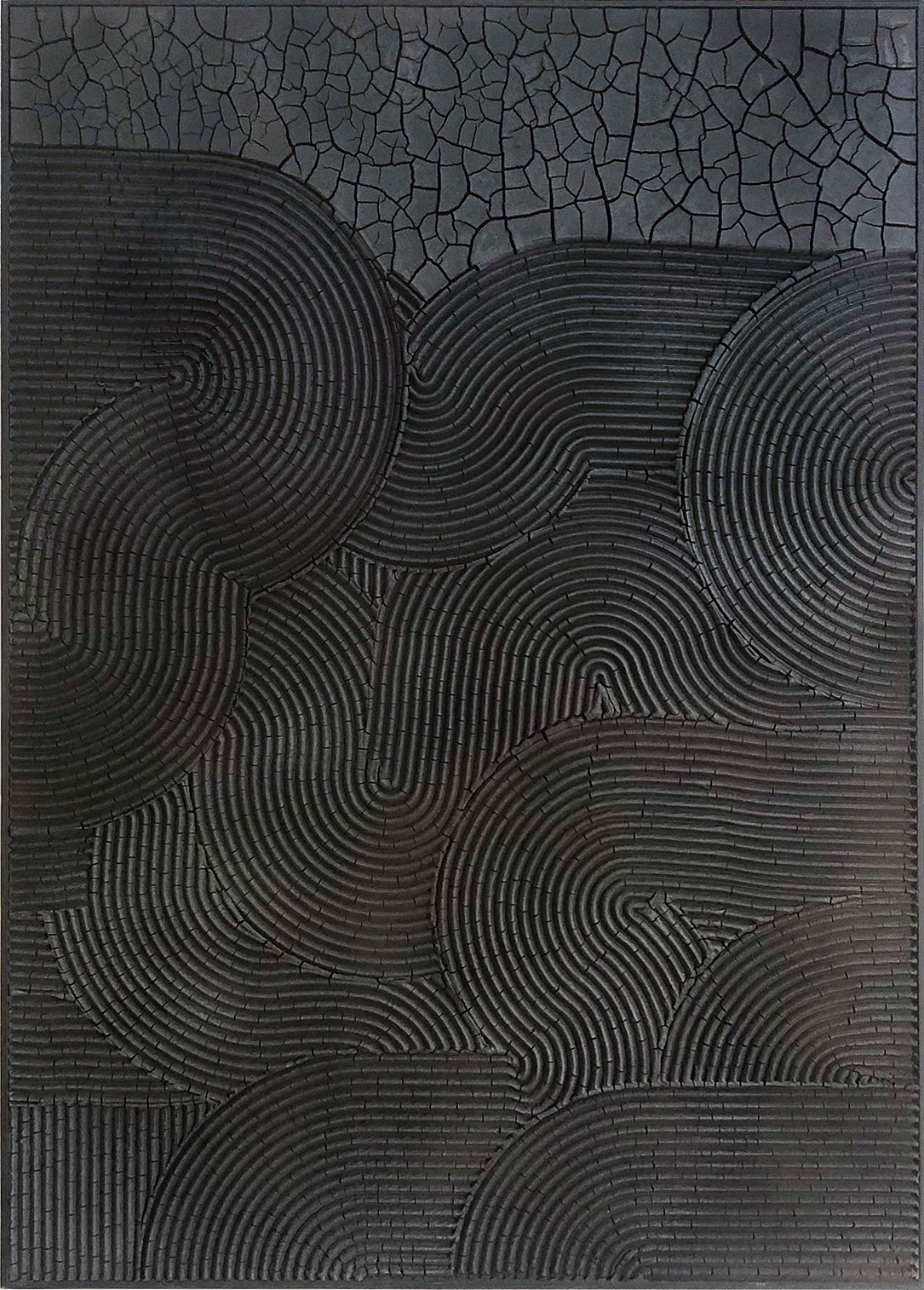 Fatiha Zemmouri
Terre noire
, 2022
Earth and pigment on wood
51.18 x 38.19 in ( 130 x 97 cm )
Not available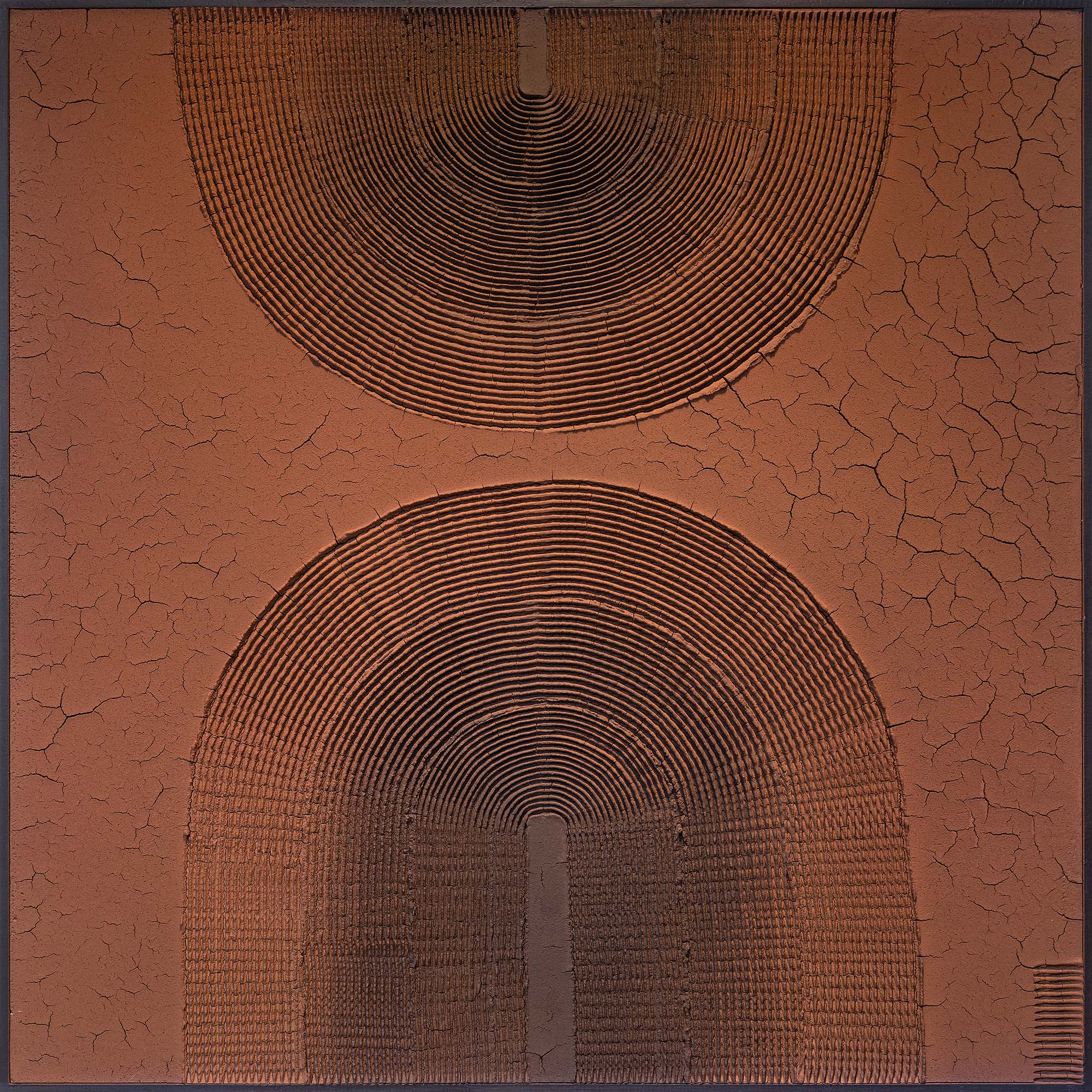 Fatiha Zemmouri
Nourrice
, 2022
Earth and pigment on wood
39.37 x 39.37 in ( 100 x 100 cm )
Fatiha Zemmouri
Les tournesols
, 2022
Earth and pigment on wood
59.84 x 31.89 in ( 152 x 81 cm )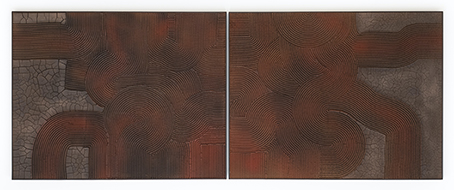 Fatiha Zemmouri
Cronos
, 2022
Dyptique (110 x 140 cm) x 2
Earth and pigment on wood
43.31 x 110.24 in ( 110 x 280 cm )
Not available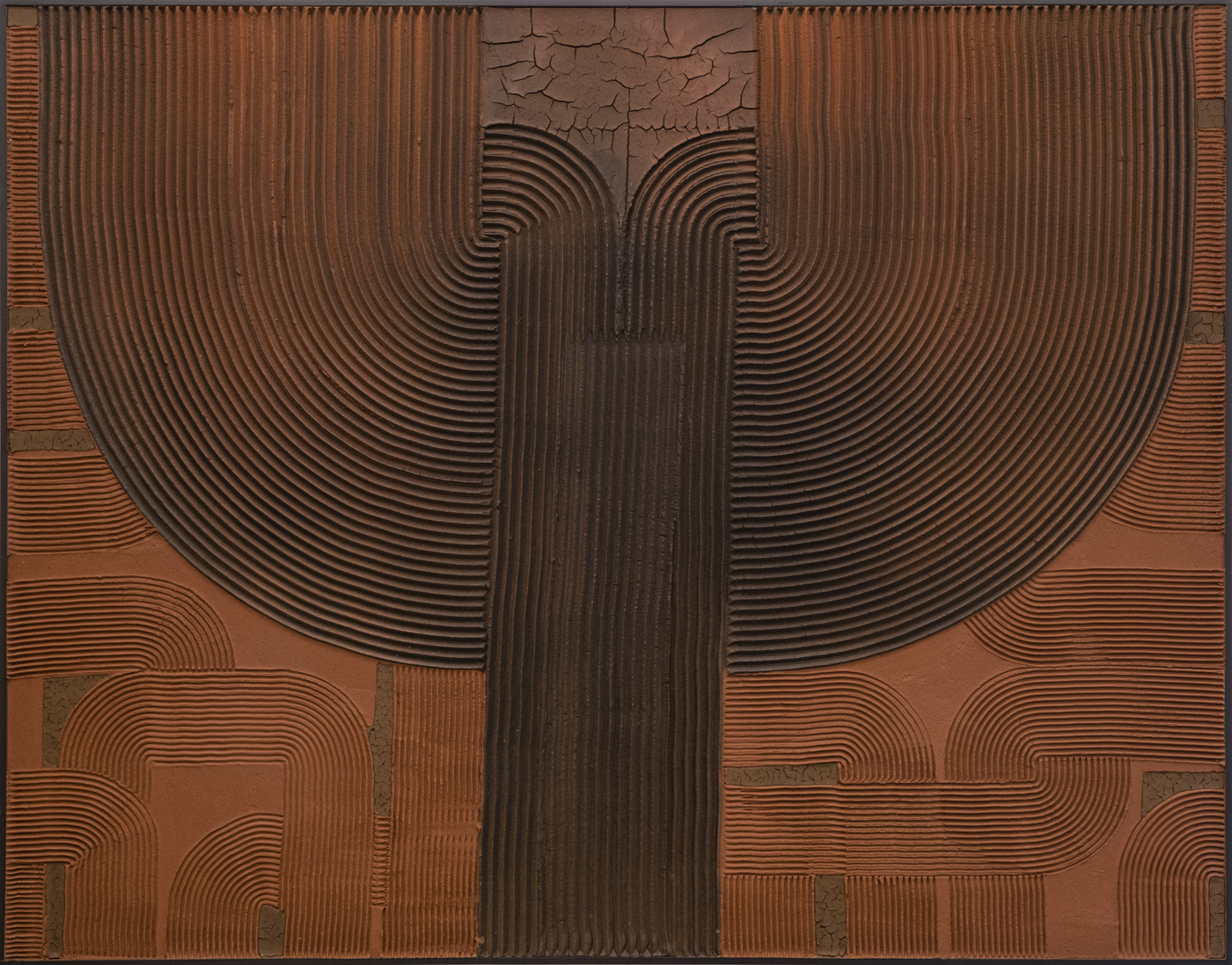 Fatiha Zemmouri
Jennah
, 2022
Earth and pigment on wood
44.09 x 55.91 in ( 112 x 142 cm )
Not available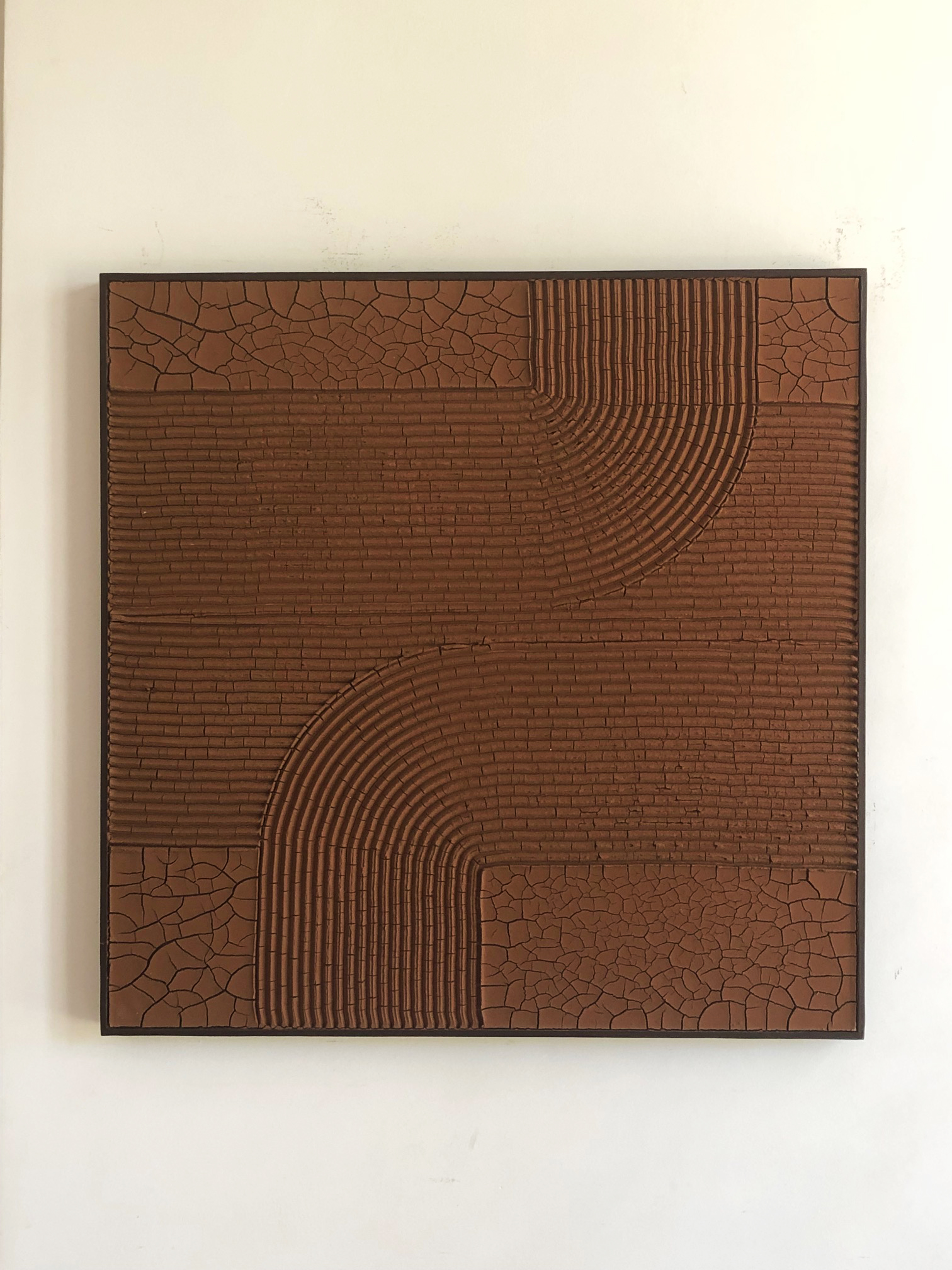 Fatiha Zemmouri
Source
, 2022
Earth and pigment on wood
31.5 x 31.5 in ( 80 x 80 cm )
Not available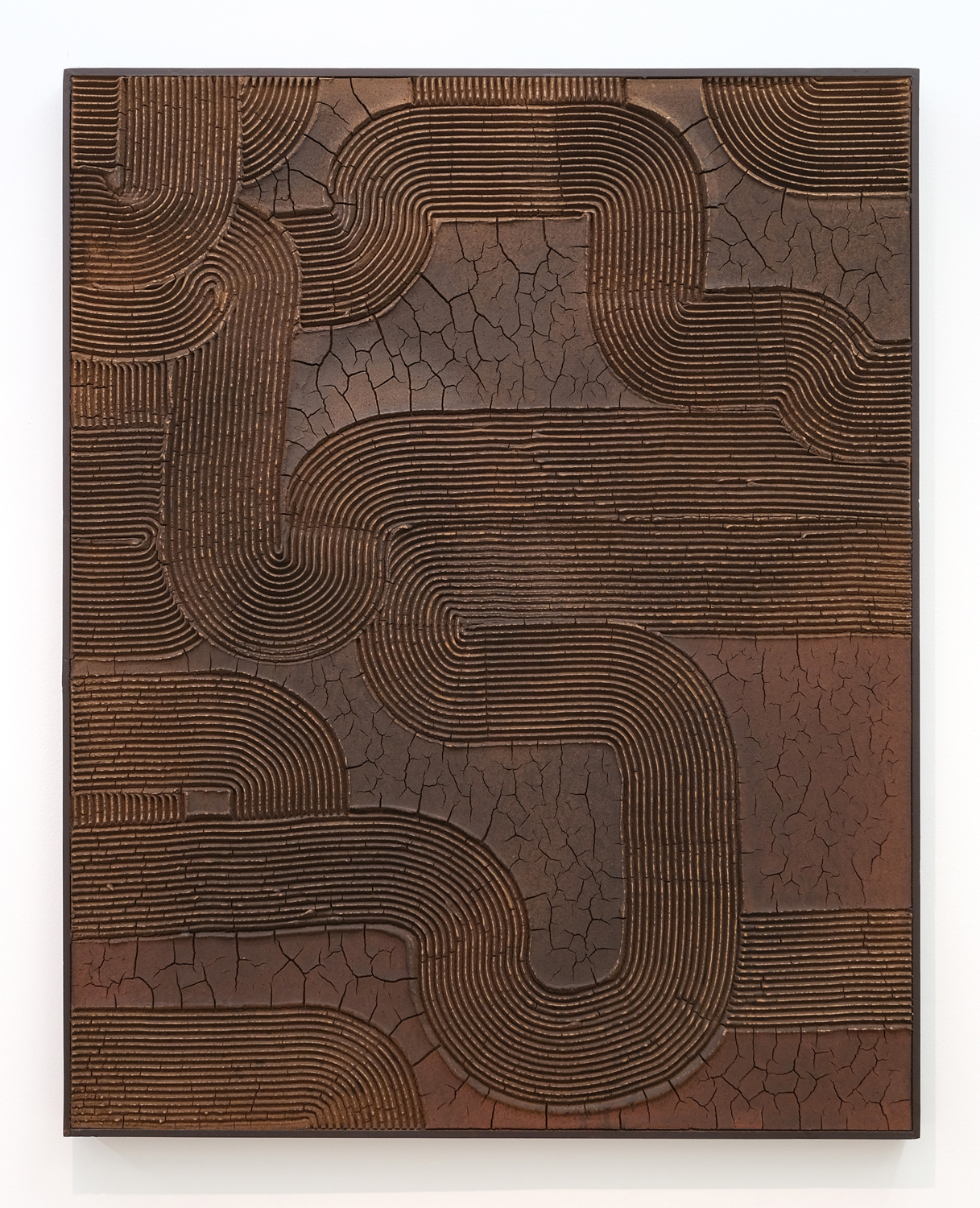 Fatiha Zemmouri
Semis
, 2022
Earth and pigment on wood
39.76 x 31.89 in ( 101 x 81 cm )
Not available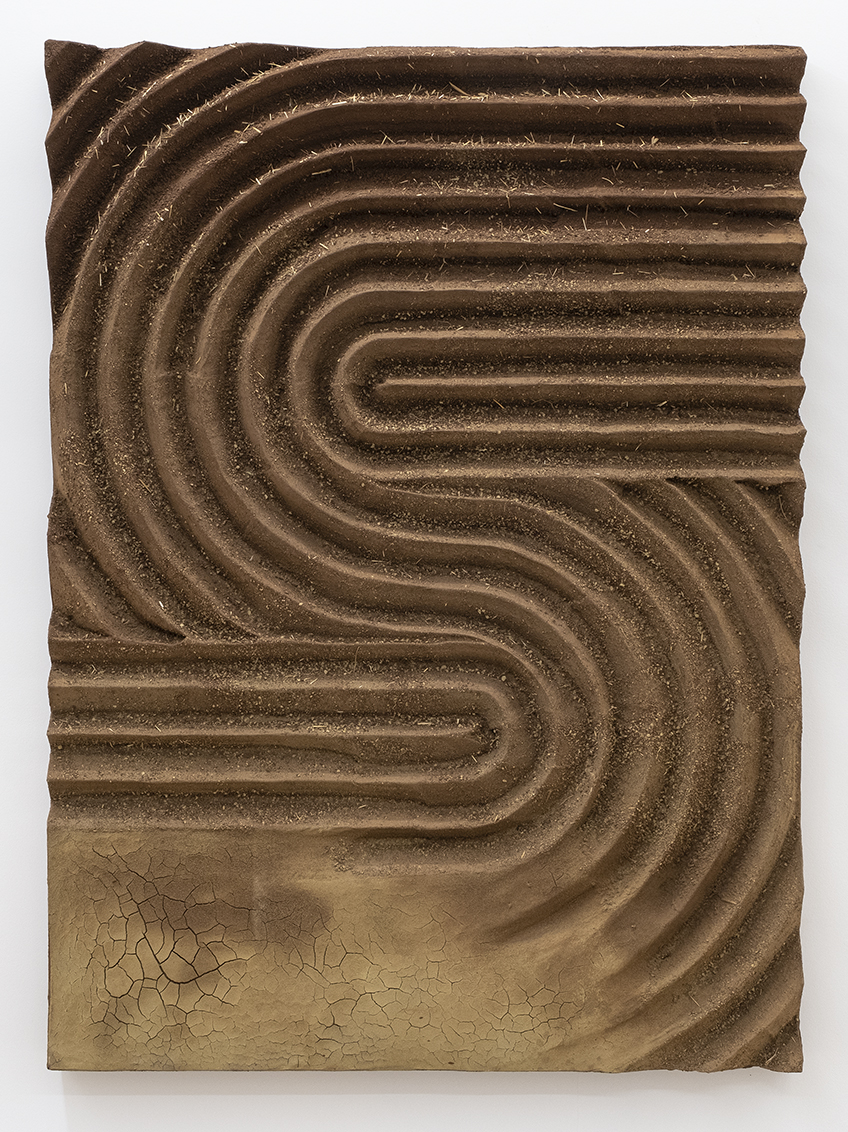 Fatiha Zemmouri
Cérès
, 2022
Earth, polyster and fibreglass on wood
66.93 x 49.21 in ( 170 x 125 cm )
Not available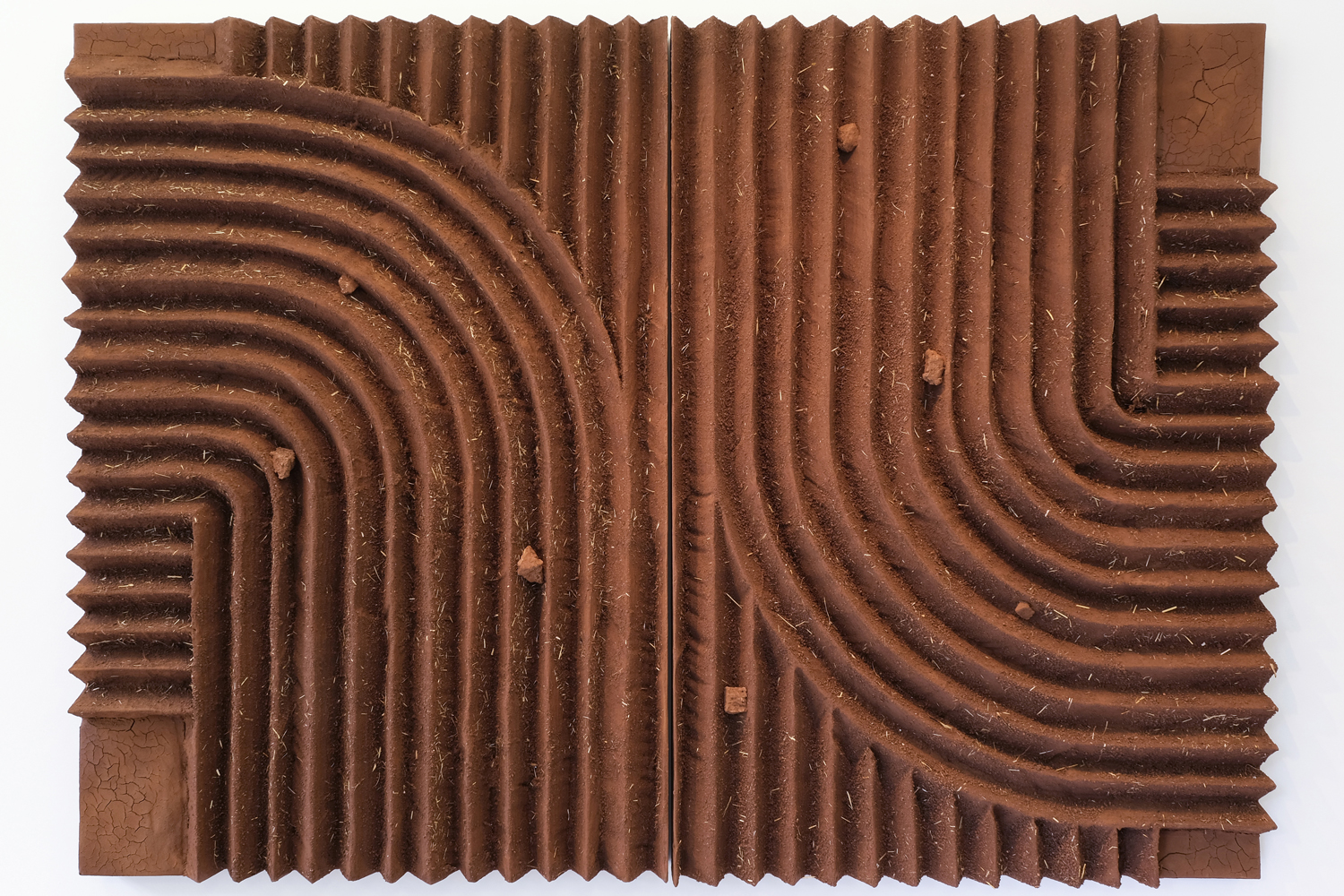 Fatiha Zemmouri
Intimité
, 2022
Dyptique (162 x 112 cm) x 2
Earth, polyster and fibreglass on wood
63.78 x 88.19 in ( 162 x 224 cm )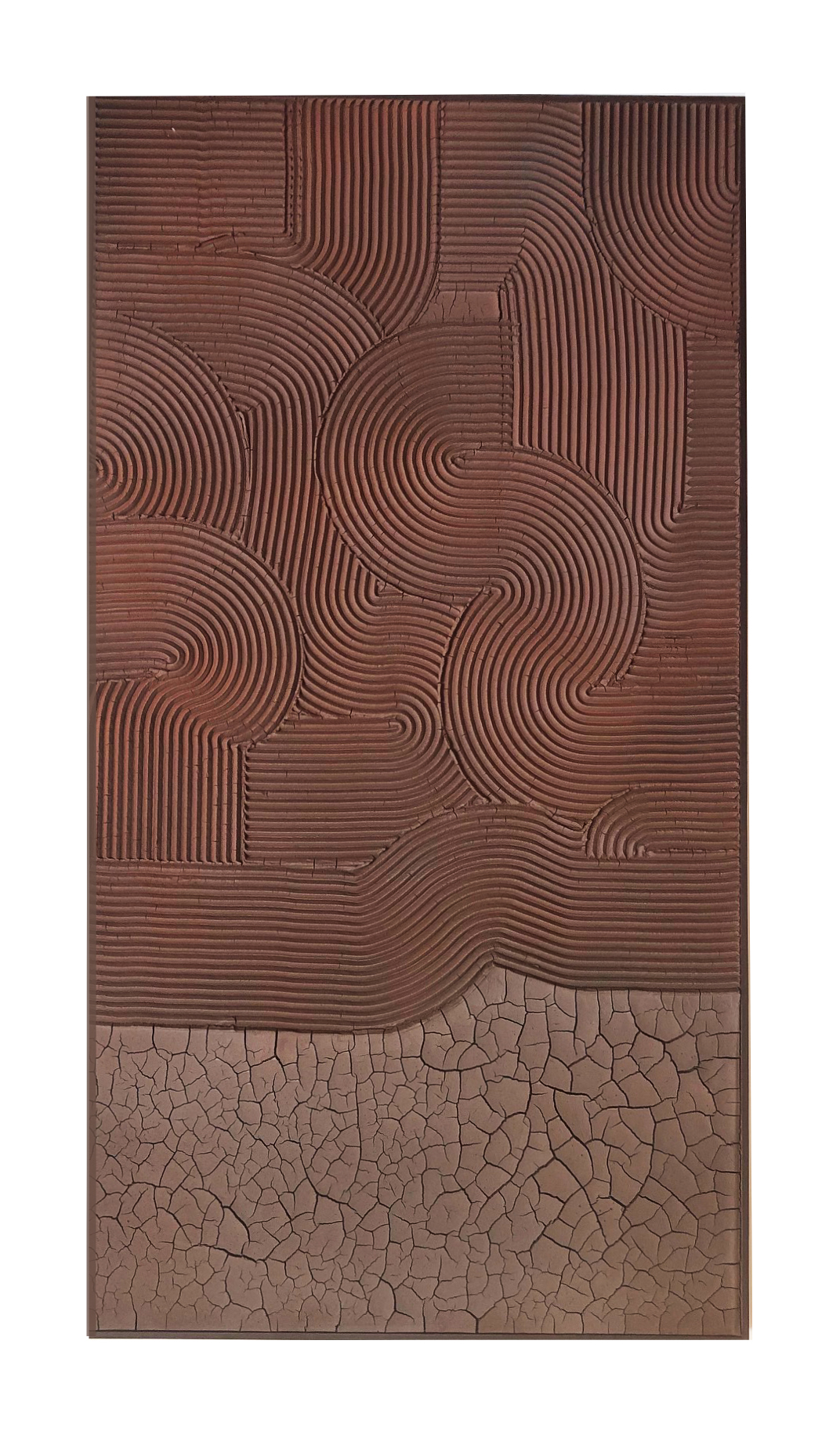 Fatiha Zemmouri
Labours
, 2022
Earth and pigment on wood
59.84 x 31.89 in ( 152 x 81 cm )
Not available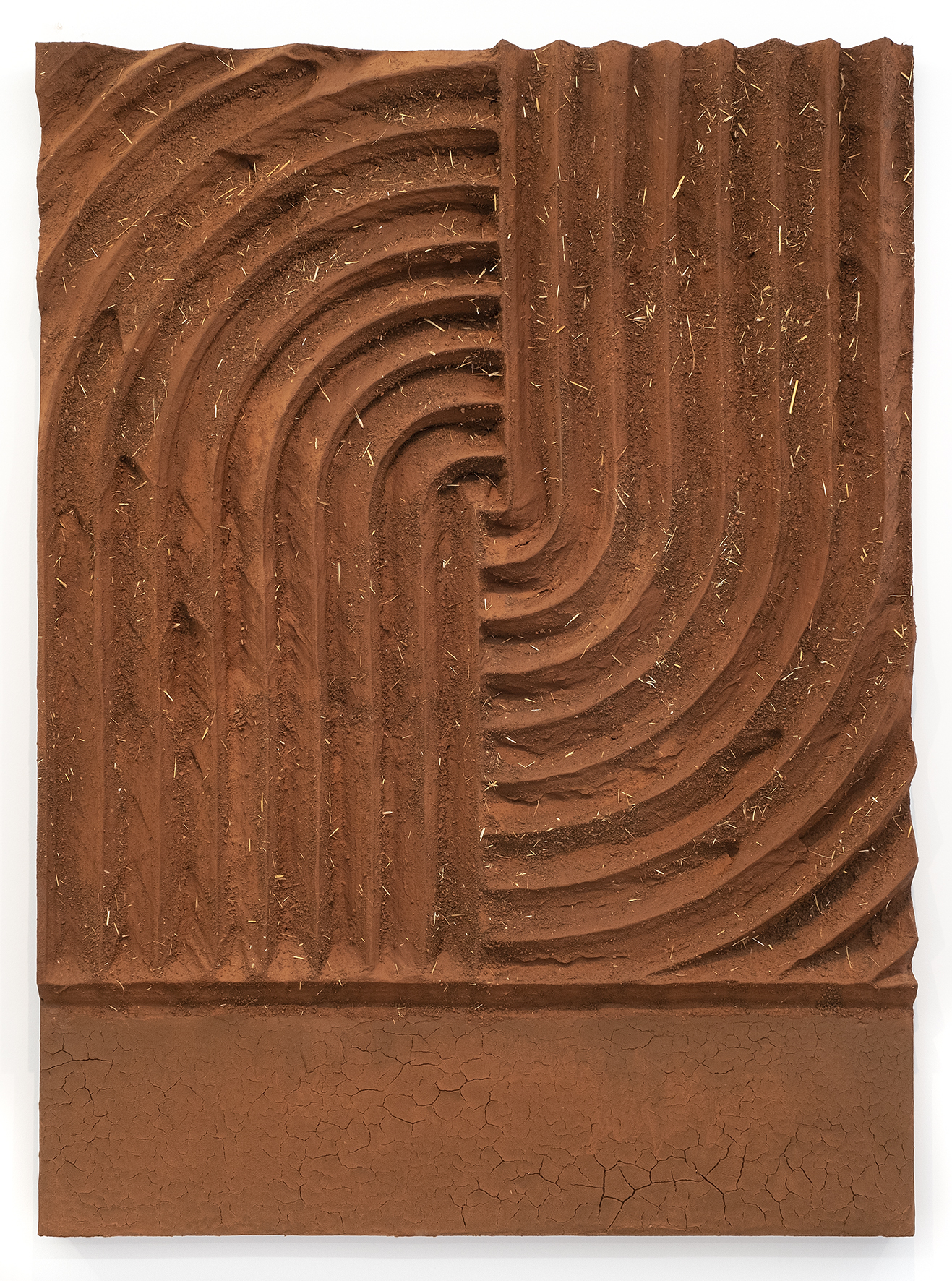 Fatiha Zemmouri
Terre Rouge
, 2022
Earth, polyster and fibreglass on wood
66.93 x 49.21 in ( 170 x 125 cm )
Not available
Fatiha Zemmouri
Flower
, 2022
Dyptique (162 x 125 cm) x 2
Earth, polyster and fibreglass on wood
63.78 x 98.43 in ( 162 x 250 cm )
Documents
Download Press Kit
Fatiha Zemmouri

Hors-Sol

08.11.22 - 07.01.23
Vernissage le mardi 8 novembre à 18h

Hors-Sol se présente comme une œuvre du renversement. L'action séminale de sa conception repose en effet sur l'inversement des ordres naturels de l'horizontalité et de la verticalité, du haut et du bas, du terrestre et du céleste, du fécond et de l'infertile, en offrant à notre regard ce qui habituellement s'y échappe, la terre sous nos pieds.
Fatiha Zemmouri développe depuis plusieurs années une forme d'éthique de la matérialité intimement liée à sa terre, Tahanaout où elle a choisi de s'installer il y a plusieurs années, ville au pied du haut atlas où le paysage est modelé par la terre rouge, que Zemmouri prélève pour tracer, mais l'on pourrait tout aussi dire herser, les formes graphiques contenues dans les objets-tableaux présentés pour la première fois à la galerie Nosbaum Reding. L'enduit utilisé est une pâte composée de terre et d'eau, parfois rehaussés de pigments naturels tels que la terre de sienne brûlée ou la terre d'ombre naturelle. Dans certaines œuvres (voir Intimité, Terre rouge, Flower, Cérès),l'enduit est augmenté de polyester et de fibre de verre permettant une plus grande résistance de la matière et ouvrant le champ d'un travail plus en profondeur sur le plein et le creux. Le geste graphique, entre langage vernaculaire et abstraction formelle, laisse également la place à une réflexion sur la trace et l'empreinte offrant au spectateur la possibilité de retracer le processus créatif de l'artiste.
Ce positionnement éthique face à la matière s'incarne dans une réflexion sur le dedans et le dehors, l'endogène et l'exogène, du site de production au site d'exposition, ce dernier constituant le hors-sol de l'œuvre. L'attachement au contexte de création, l'atelier-maison-paysage de l'artiste, se manifeste par la célébration des tâches du soin et de la culture de la terre : niveler, retourner, labourer, semer, germer, planter ; ainsi que les outils d'un labeur agricole non-invasif, la herse notamment. Les titres des œuvres font échos à ces pratiques du soin, et à la terre qui donne en retour (voir Source, Nourrice, Labours, Semis, Fertilité). L'opposition entre les surfaces craquelées, formées par l'eau se rétractant de la terre, et les espaces striés ; tour à tour labyrinthiques, sinueux, enchevêtrés, réguliers, courbés ; constitue le fondement du propos de l'artiste : ce qui est nourricier vient du mouvement et de l'énergie.
L'idée de mouvement nécessaire à la vie s'incarne également dans l'expérience cinétique offerte au spectateur. La répétition et la régularité des sillons créent une illusion d'optique de mouvement, leurs différentes profondeurs produisent des jeux d'ombres et de lumières démultipliant l'espace du tableau aux murs de la galerie. Les pièces se présentent alors comme des cartographies d'un sol célébré en tant que tissu vibrant donc vivant.
Fatiha Zemmouri nous invite à réinvestir la notion de hors-sol, non pas pensée en tant que rupture, mais davantage comme une nouvelle posture esthétique et éthique, celle de la prise de hauteur, de l'expérience et de la contemplation.
- Maud Houssais -
Biographie de l'artiste
Née en 1966 à Casablanca, Fatiha Zemmouri vit et travaille entre Casablanca et Marrakech. Elle est diplômée de l'école des Beaux-Arts de Casablanca.

À travers une œuvre polymorphe, Fatiha Zemmouri mène une réflexion approfondie autour des notions de construction, déconstruction, régénération et transformation. Elle développe un travail élaboré où les phénomènes naturels (eau, feu, terre) et les matériaux tels que le bois, le charbon et la terre, tiennent une place essentielle.
Dans toutes ses réalisations, Fatiha utilise un vocabulaire abstrait pour mieux simplifier les formes de la nature, la fragilité et la minceur des matériaux employés donnent à son travail un caractère poétique.

Elle a participé à de nombreuses expositions : Galerie Bab el Kebir/Rabat (1999), Galerie BC, Cameroun, Biennal du design Saint Etienne (2006), Institut français Casablanca (2007), Galerie Nadar/Casablanca, DAK'ART Biennale (2010), Espace CDG/Rabat, Marrakech Art Fair, (2011), Galerie Delacroix/Tanger, BCK Galerie- Marrakech (2013), Galerie 38 – Casablanca (2012 et 2014), Billboard Festival – Casablanca, Dar El Kitab/Casablanca, Bank Almaghrib/Rabat (2015), 6ème Biennale de Marrakech, Artspace Gallery/Dubaï, (2016), Musée Mohamed VI d'art moderne et contemporain/Rabat, Galerie Françoise Livinec/Paris, et Art Paris Artfair (2017), MACAAL (2019).

Son travail figure dans plusieurs collections nationales et internationales majeures.
EN
Opening: Tuesday 8 November 2022 from 6 pm.
Nosbaum Reding | Luxembourg is pleased to invite you to the opening of Fatiha Zemmouri's exhibition "Hors-Sol" on Tuesday 8 November at 6 pm.
Fatiha Zemmouri's work will also be on view during the Luxembourg Art Week at the gallery's stand.
The exhibition will be open until 7 January 2023.
Hors-Sol is presented as a work of inversion. The seminal action of her conception is based on the reversal of the natural orders of horizontality and verticality, up and down, earthly and heavenly, fertile and infertile, by offering to our gaze that which usually eludes it - the earth under our feet.
For several years now, Fatiha Zemmouri has been developing an ethics of materiality intimately linked to her land, Tahanaout, where she chose to settle several years ago, a town at the foot of the High Atlas where the landscape is shaped by the red earth which Zemmouri takes to trace (but one could also say to harvest) the graphic forms contained in the object-paintings presented for the first time at the Nosbaum Reding gallery. The plaster used is a paste composed of earth and water, occasionally enhanced with natural pigments such as burnt sienna or natural umber. In certain works (see Intimité, Terre rouge, Flower, Cérès), the coating is augmented with polyester and fibre-glass, making the material more resistant and opening up the possibility of working in greater depth on the full and hollow surfaces respectively. The graphic gesture lies somewhere between vernacular language and formal abstraction, inviting us to reflect on traces and imprints and offering the spectator the possibility of tracking the artist's creative process.
This ethical position in relation to the material is embodied in a reflection upon the inside and the outside, the endogenous and the exogenous, from the production site to the exhibition site, the latter constituting the "off-the-ground" in the work. The attachment to the creative context - the artist's workshop-home-landscape, is shown in the celebration of caring for and cultivating the land: levelling, turning over, ploughing, sowing, germinating, planting; as well as the tools of non-invasive agricultural labour - the harrow in particular. The titles of the works echo these practices of care, and the earth that gives in return (see Source, Nourrice, Labours, Semis, Fertilité). The juxtaposition between the cracked surfaces formed by water retracting from the earth, and the striated spaces, turn by turns labyrinthine, sinuous tangled, regular, curved - constitutes the basis of the artist's thesis: what is nourishing comes from movement and energy.
The idea of movement as necessary to life is also embodied in the kinetic experience offered to the viewer. The repetition and regularity of the grooves create an optical illusion of movement; their different depths produce a play of light and shadow that multiplies the space of the painting on the gallery walls. The pieces are then presented as cartographies of a soil that is celebrated as a vibrant and living fabric
Fatiha Zemmouri invites us to move away from the notion of"off-the-ground" as a rupture, and to envisage it instead as a new aesthetic and ethical posture rooted in experience, contemplation and finding new perspectives.
- Maud Houssais -
Artist biography :
Born in 1966 in Casablanca, Fatiha Zemmouri live and works between Casablanca and Marrakech.
She is graduated from Casablanca Art School.
Throught a polymorphic artwork, Fatiha Zemmouri carries a thorought thinking around the notion of construction, deconstruction, regenation and transformation.
She develops an elaborated work in wich the natural phenomenons (water, fire, earth) and materials such as wood coal, and dirt have an essantial place.
In all her works, Fatiha uses an abstract vocabulary to simplify nature's shapes , the fragility and the thinness of the employed materials give to her artworks a poetical aspect.